Index of All Cemeteries
Alphabetical Index of All Burials
Previous Page
Use the following to search across all the cemeteries listed.
Example: "Smith, Roger" (yes, use the quotes)
002 ALBION MISSIONARY BAPTIST CHURCH CEMETERY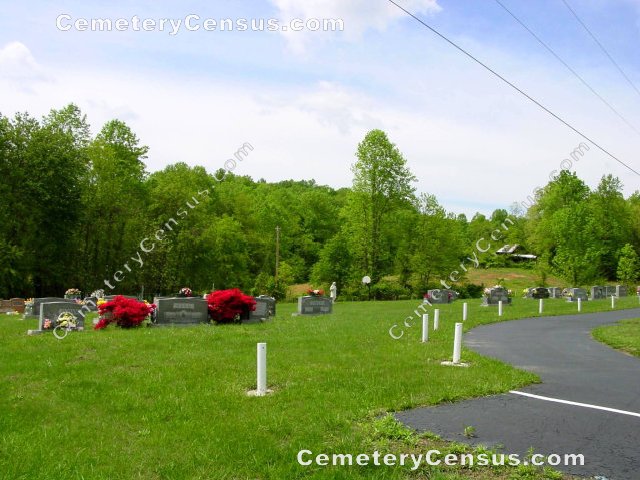 Location - 131 Big Sky Trail (Corner of Epperson Ch Rd and Big Sky Trail), Mt. Airy, Surry Co., NC.

Coordinates: 36d 31m 12.1s N; 80d 26m 57.7s W Click here for Google maps

Directions: From intersection of S. Main St (US Hwy 52 Business) and Westfield Rd (NC Hwy 89 E) in Mt. Airy, go east on Westfield Rd for several miles then left on Albion Church Rd for 2.10 miles then left on Epperson Church Rd. Cemetery and church will be visible straight ahead.

View of the church.

Surveyed by Andy Hennis on April 1, 2006.

Also known as: Albion Baptist Church Cemetery.
Township or district: Westfield.
Public or Private: Public Access.
GPS Accuracy (ft.): 9.
Elevation above sea level (ft.): 1200.

336-351-2718.


Azelton, Hubert Vaughn (b. 31 Dec 1935 - d. 9 Oct 1989)
Campbell, Dennis Daniel, Sr (b. 29 May 1925 - d. 26 Jun 1998)
Collins, Ada Susan Ring (b. 22 Aug 1889 - d. 30 Jul 1982)
Collins, James Robert "Bob" (b. 16 Jul 1885 - d. 14 Jun 1949)
Cooke, Alene Belle Collins (b. 14 Dec 1912 - d. 20 Dec 1973)
Cooke, Roger Dean, Sr (b. 15 Aug 1936 - d. 12 May 2004)
Cooke, Weldon Ralph (b. 15 Jan 1904 - d. 23 Apr 1974)
Davis, Alice Juanita Jessup (b. 21 Dec 1930 - d. 6 Jul 1971)
Davis, Ed Winfield (b. 16 Feb 1908 - d. 11 Feb 1976)
Davis, Tiny Jane Bingman (b. 18 Mar 1911 - d. 3 May 1998)
Gammons, James Oakley (b. 19 Dec 1920 - d. 14 Sep 1989)
Gammons, Odie Marie Wood (b. 11 May 1923 - d. 15 Aug 1989)
Gammons, Ruby Mae Forrest (b. 12 Aug 1924 - d. 29 May 2007)
George, Nellie Mae Inman (b. 23 Jun 1904 - d. 11 Sep 1995)
George, Robah Lee (b. 26 Oct 1909 - d. 11 Feb 1988)
Gilley, Sandra Rae (b. 6 May 1955 - d. 29 Apr 2009)
Goins, Harvey (b. 14 Feb 1906 - d. 29 Dec 1972)
Goins, Nannie Lou Willard (b. 15 Dec 1910 - d. 20 Jul 1994)
Goins, Ronda Annette (b. 20 Nov 1964 - d. 11 Feb 1973)
Goins, Thomas James (b. 8 Oct 1929 - d. 9 May 1978)
Hayden, Leon Tommy (b. 16 Oct 1941 - d. 7 Apr 2001)
Holt, Alvis Daniel (b. 27 Oct 1923 - d. 6 Feb 1984)
Holt, Hal (b. 27 Oct 1923 - d. 14 Dec 1991)
Holt, Opal Elizabeth Inman (b. 5 Jan 1926 - d. 11 Feb 2000)
Hutchens, Tammy Marie Myers (b. 4 Jul 1969 - d. 26 Jul 2002)
Inman, Annie Mae Bolt (b. 13 May 1922 - d. 16 Oct 1997)
Inman, Graham Hayes (b. 15 Sep 1914 - d. 19 Feb 1989)
Inman, Harvey Reid (b. 5 Jul 1914 - d. 26 Sep 1996)
Inman, Matt (b. 7 Mar 1882 - d. 24 Jun 1975)
Inman, Richard Lane, Sr (b. 5 Aug 1942 - d. 21 Feb 2011)
Inman, Sallie Ann Adams (b. 22 Dec 1883 - d. 12 Jan 1974)
Jessup, Mary Inez Martin (b. 21 Nov 1932 - d. 21 Jan 2006)
Jessup, Sally Frances Chilton (b. 22 May 1920 - d. 3 Sep 1994)
Jessup, William Leffard (b. 3 Jul 1916 - d. 12 Dec 1983)
Jones, Clinton Douglas "Doug" (b. 25 Dec 1980 - d. 23 Jul 1995)
King, Annie (b. 1 Jan 1903 - d. 27 Mar 1992)
King, Frank (b. 25 Oct 1927 - d. 26 Sep 1977)
Lawson, Barbara E. George (b. 18 Jul 1931 - d. 26 Apr 2009)
Lawson, Elbert Lee (b. 3 Mar 1928 - d. 1 Sep 2007)
Lawson, Warren (b. 8 Jun 1910 - d. 24 Feb 1975)
Martin, Bertha Mae Inman (b. 22 May 1912 - d. 1 May 2005)
Martin, Curties Lamer (b. 13 Sep 1897 - d. 4 May 1982)
Martin, Jesse Graham (b. 10 Mar 1924 - d. 2 Nov 2008)
Myers, Gladys Marie Stevens (b. 16 May 1942 - d. 17 Nov 1974)
Rogers, Bernie Thompson (b. 9 Aug 1929 - d. 22 Dec 1984)
Rogers, Erna Mae George (b. 3 Feb 1929 - d. 29 Jan 2006)
Rogers, Infant Son (b. 28 Mar 1964 - d. 28 Mar 1964)
Rogers, Lewis (b. 5 Feb 1901 - d. 23 Aug 1963)
Rogers, Lewis Dean (b. 7 Jan 1952 - d. 10 Apr 1993)
Rogers, Minnie Lee Inman (b. 27 Mar 1909 - d. 11 Aug 1976)
Sisk, Cardell Brown (b. 16 Oct 1933 - d. 13 Apr 2003)
Sisk, Donald William (Rev.) (b. 16 Jun 1963 - d. 8 May 2003)
Stevens, Judy Ann (b. 2 Oct 1951 - d. 8 Apr 2000)
Stevens, Sandra Dianna Campbell (b. 23 Oct 1946 - d. 26 Apr 1998)
Terry, Pearlie Darlene Holt (b. 6 Dec 1948 - d. 9 Apr 2009)
Tilley, Ellen Tex Goins (b. 8 Jan 1932 - d. 10 Jul 2011)
Wood, James Daniel (b. 24 Apr 1926 - d. 13 Jun 1980)
Web page updated 14 July 2016
Index of All Cemeteries
Alphabetical Index of All Burials
Previous Page