Index of All Cemeteries
Alphabetical Index of All Burials
Previous Page
Use the following to search across all the cemeteries listed.
Example: "Smith, Roger" (yes, use the quotes)
001 ALBION COMMUNITY CHURCH CEMETERY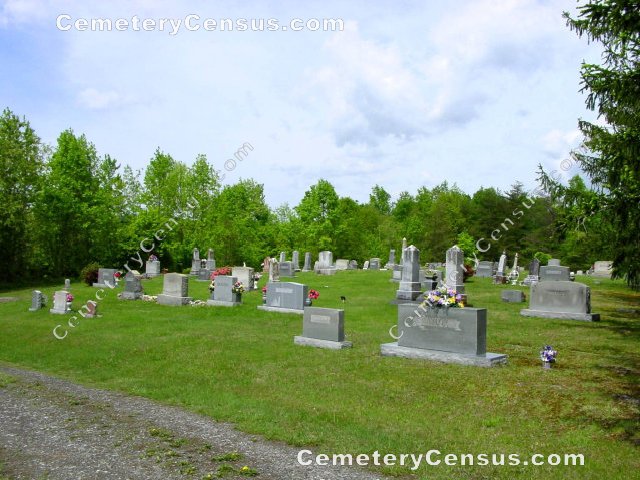 Location - Albion Ch Rd (Just south of Woodville Rd), Mt. Airy, Surry Co., NC.

Coordinates: 36d 30m 55.0s N; 80d 26m 58.6s W Click here for Google maps

Directions: From intersection of S. Main St (US Hwy 52 Business) and Westfield Rd (NC Hwy 89 E) in Mt. Airy, go east on Westfield Rd for about 8 miles, then left on Albion Church Rd. Follow Albion Church Rd for 1.7 miles to church on the right.

Panoramic view of the cemetery. View of the church.

Surveyed by Andy Hennis on April 1, 2006.
Township or district: Westfield.
Public or Private: Private property.
GPS Accuracy (ft.): 11.
Elevation above sea level (ft.): 1225.

Burials survey submitted in July 2012.


Anderson, Jesse Franklin (b. 18 Feb 1885 - d. 9 Aug 1951)
Bingman, Eldridge Martin (b. 18 Apr 1882 - d. 19 Dec 1917)
Burkhart, Barry Hughes (b. 20 Nov 1916 - d. 24 Jul 1975)
Burkhart, Mary Ruth (b. 25 May 1943 - d. 2 Jun 1943)
Chaney, Mary Stovall (b. 28 Oct 1899 - d. 30 Sep 1965)
Chilton, Archie D. (b. 6 Jan 1895 - d. 8 Jan 1965)
Chilton, Mollie Ann Slate (b. 10 Mar 1895 - d. 27 Mar 1939)
Chilton, William Ira (b. 25 May 1874 - d. 14 Feb 1948)
Collins, James Walter (b. 30 Mar 1919 - d. 3 Jul 1919)
Collins, Nina Jessup (b. 2 Jan 1886 - d. 11 May 1962)
Collins, Warren Lee (b. 30 Nov 1923 - d. 25 Dec 2011)
Collins, William Andrew (b. 17 Nov 1883 - d. 9 May 1963)
Cook, Ella Shelton (b. 20 Nov 1865 - d. 26 Jun 1956)
Cook, Mary Jane Hooker (b. 1861 - d. 1921)
Cook, W. Jeff (b. 3 Apr 1861 - d. 24 Dec 1915)
Cook, William Taft (b. 4 Oct 1907 - d. 17 Apr 1964)
Dollyhite, Cora Inman (b. 20 Dec 1879 - d. 18 Jan 1915)
Dollyhite, Delia Venable (b. 1876 - d. 25 Oct 1956)
Dollyhite, Killis (b. 22 Aug 1874 - d. 12 Mar 1952)
Draughn, Helen Audree Chilton (b. 4 Dec 1926 - d. 8 Mar 2001)
Epperson, George Washington (b. 15 Oct 1856 - d. 24 Dec 1935)
Epperson, Leatha Louise (b. 12 Apr 1903 - d. 15 Mar 1985)
Epperson, Sarah Nester (b. 30 Aug 1871 - d. 30 Jun 1945)
Flippin, James Claburn "Clabe" (b. 15 Sep 1857 - d. 17 Mar 1942)
Flippin, Jesse Albert (b. 28 Mar 1877 - d. 16 Feb 1922)
Flippin, Melissa Joyce (b. 4 Jul 1875 - d. 2 Sep 1962)
Flippin, Ruth Adams (b. 21 Sep 1823 - d. 29 May 1906)
George, Infant Boy (b. 29 Apr 1929 - d. 2 May 1929)
Goins, Mary (b. 1832 - d. 11 Dec 1916)
Gray, Permelia Frances (b. 21 Sep 1839 - d. 13 Jul 1916)
Hollingsworth, Bethania (b. 24 Dec 1845 - d. 15 Feb 1928)
Hollingsworth, Christena Shelton (b. 16 May 1846 - d. 7 Oct 1941)
Hollingsworth, Jennie Watson (b. 1901 - d. 18 Mar 1930)
Hollingsworth, Lee Vester (b. 10 Aug 1844 - d. 1 Jan 1923)
Hollingsworth, Luther Ray (b. 15 Jun 1887 - d. 28 Jan 1964)
Holt, Infant Girl (b. 25 Jan 1931 - d. 27 Jan 1931)
Holt, Joseph Phillips "Joe" (b. 15 Jun 1883 - d. 4 May 1954)
Holt, Mary Tilley (b. 19 Nov 1899 - d. 15 Apr 1925)
Holt, Moses Howard (b. 7 Apr 1877 - d. 6 Oct 1938)
Holt, Myrtle Elinor Inman (b. 21 Mar 1902 - d. 31 Jan 1931)
Hooker, Catherine Frances Newman (b. 7 May 1839 - d. 8 Jun 1921)
Hooker, Clara Bell (b. 24 Apr 1917 - d. 3 Jun 1918)
Hooker, Dimpsy B (b. 2 Aug 1931 - d. 3 Jun 1932)
Hooker, Frances Rowena Hooker (b. 23 Oct 1876 - d. 13 Jun 1970)
Hooker, Jesse Melvin (b. 7 Jun 1869 - d. 26 Jul 1947)
Hooker, Josie Opal (b. 1924 - d. 1930)
Hooker, Nannie Mae (b. 12 Jun 1903 - d. 22 Sep 1934)
Hooker, Nellie Lee Epperson (b. 27 Jun 1900 - d. 12 Jun 1962)
Hooker, Nellie Lee Epperson (b. 27 Jun 1900 - d. 12 Jun 1962)
Hooker, Pencie Ann Goins (b. 30 Oct 1877 - d. 15 Jun 1945)
Hooker, Romney L (b. 11 May 1905 - d. 29 Dec 1911)
Hooker, Samuel Henry (b. 21 Jun 1838 - d. 7 Mar 1912)
Hooker, Silas McKinley (b. 22 Oct 1896 - d. 10 Jan 1959)
Hott, Howard Leonard (b. 14 Feb 1925 - d. 3 Jul 1925)
Hundley, Nancy Jane Cooke (b. 4 Nov 1865 - d. 29 Oct 1930)
Inman, Emma Lee Joyce (b. 26 Aug 1880 - d. 17 May 1964)
Jessup, Alice King (b. 3 Aug 1903 - d. 11 Mar 1940)
Jessup, Charles Allen (b. 26 Aug 1885 - d. 17 Aug 1963)
Jessup, Delilah Shelton (b. 1855 - d. 30 Dec 1918)
Jessup, Donnie (b. 1894 - d. 23 Feb 1939)
Jessup, Elijah F (b. 23 Apr 1859 - d. 11 Oct 1911)
Jessup, Elma Lou (b. 18 Feb 1879 - d. 20 Sep 1970)
Jessup, Gus Aaron (b. 1880 - d. 8 May 1920)
Jessup, Ida J Hollingsworth (b. 19 Nov 1865 - d. 9 Dec 1957)
Jessup, Infant Child (b. 17 Nov 1929 - d. 17 Nov 1929)
Jessup, Jesse A. (b. 26 Nov 1855 - d. 21 Feb 1930)
Jessup, John Dixie (b. 15 Jun 1895 - d. 27 Sep 1943)
Jessup, Maggie Lillian Lawson (b. 21 Mar 1886 - d. 9 Dec 1971)
Jessup, Roscoe Lee (b. 1 Jun 1900 - d. 26 Oct 1937)
Jessup, Samuel B. (b. 28 Sep 1853 - d. 14 Apr 1939)
Jessup, Sarah Savannah Cook (b. 26 Jan 1859 - d. 9 Dec 1916)
Jessup, Surrilda S. Shelton (b. 28 Dec 1863 - d. 18 Dec 1934)
Jessup, Thomas (b. 6 Apr 1854 - d. 30 May 1915)
Jessup, William Beverly (b. 30 Nov 1932 - d. 24 Dec 1932)
Joyce, Ruth J. Slate (b. 10 Jul 1840 - d. 30 Nov 1920)
Joyce, William Snider (b. 11 Jun 1836 - d. 11 Mar 1916)
Lawson, Emily Hall (b. 1 Mar 1870 - d. 18 Feb 1953)
Lawson, Fred Arthur (b. 19 Oct 1897 - d. 19 Oct 1920)
Lawson, Hester (b. 15 Nov 1888 - d. 12 Nov 1962)
Lawson, L. Caney (b. 11 May 1865 - d. 21 May 1944)
Lawson, Martha Evelyn Flippin (b. 10 Mar 1863 - d. 12 Jan 1923)
Lawson, Moses Columbus (b. 28 Jun 1858 - d. 30 Jan 1936)
Leake, Fleta (b. 28 May 1907 - d. 22 Mar 1916)
Love, Sylvester (b. 6 May 1860 - d. 21 Feb 1917)
Martin, Columbus C (b. 1867 - d. 24 Nov 1925)
Martin, Dennis Owen (b. 13 Jul 1929 - d. 24 Apr 1939)
Martin, Elisha Patterson (b. 18 Apr 1901 - d. 26 Apr 1955)
Martin, Martha E Overby (b. 17 Dec 1875 - d. 17 Dec 1925)
Martin, Pearlie Ann Hooker (b. 28 Jan 1898 - d. 14 Feb 1932)
Martin, Pvt Earnest F (b. 6 Feb 1898 - d. 16 Sep 1918)
Nester, Fred (b. 1898 - d. 1 Jan 1925)
Newman, Claude (b. 4 Apr 1922 - d. 14 Jan 2003)
Newman, Mavel (b. 20 Apr 1922 - d. 22 Jun 1923)
Noah, Allie Hayden (b. 1887 - d. 31 Mar 1920)
Nunn, Nancy Elizabeth Bingman (b. 26 Dec 1845 - d. 19 Feb 1917)
Overby, Franklin "Frank" (b. 1870 - d. 27 May 1928)
Palmer, Jewel Christine Taylor (b. 16 Feb 1938 - d. 15 Sep 2007)
Reynolds, Jonah Franklin (b. 5 Jan 1840 - d. 20 Nov 1922)
Reynolds, Nancy Jane Shelton (b. 18 Jun 1849 - d. 8 Mar 1934)
Shelton, Elizabeth (b. 1842 - d. 7 Jan 1914)
Smith, Albert (b. 15 May 1842 - d. 11 May 1918)
Smith, Lemina Jane Adams (b. 24 Sep 1842 - d. 29 Feb 1916)
Taylor, Barbara Dawn (b. 14 Jul 1939 - d. 4 Aug 1956)
Taylor, Jasper Clayburn (b. 14 Nov 1916 - d. 19 Feb 1966)
Tilley, Horace Glen (b. 3 Jun 1914 - d. 5 Jun 1914)
Tilley, Janet Louise Bugner (b. 26 Oct 1918 - d. 25 Oct 2004)
Tilley, John Reid (b. 5 Mar 1886 - d. 19 Mar 1950)
Tilley, John Walter (b. 16 Jan 1912 - d. 1 Dec 1992)
Tilley, Reid Elijah (b. 29 Mar 1918 - d. 7 Jun 1943)
Waller, Fannie Jessup (b. 11 Nov 1848 - d. 2 Aug 1938)
Ward, Thomas O. (b. 1 Aug 1887 - d. 11 Mar 1914)
Web page updated 14 July 2016
Index of All Cemeteries
Alphabetical Index of All Burials
Previous Page