Index of All Cemeteries
Alphabetical Index of All Burials
Previous Page
Use the following to search across all the cemeteries listed.
Example: "Smith, Roger" (yes, use the quotes)
008 RHODES FAMILY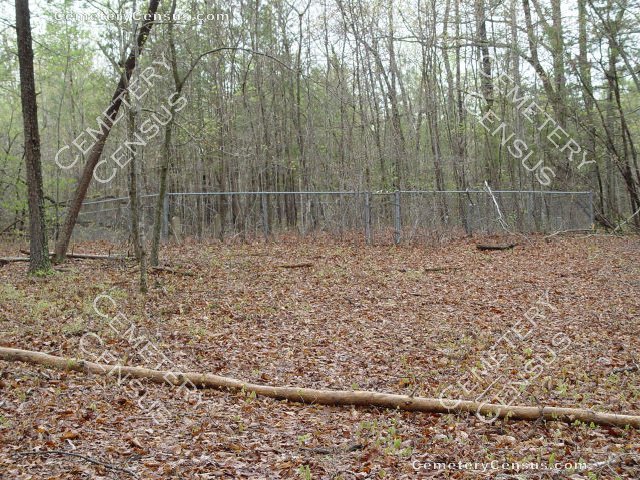 Location - off Beasley School Road in Shelton Store Community of Northern Stokes County.

Coordinates: 36d 31m 24.7s N; 80d 08m 35.5s W Click here for Google maps

Directions: From downtown Danbury, go east on Shepard Mill Road (becomes Delta Church Road) for 8.3 miles to NC 704. Turn left on NC 704 through Sandy Ridge for 4.6 miles to Beasley School Road on the right. Turn on Beasley School Road for 0.5 mile. The cemetery is located to the left of road about 0.7 mile off Beasley School Road. Field with deer hunting stand and utility pole in the distance. Closer view of deer stand with utility pole. Drive around north edge of field for 0.2 mile to deer hunting stand and utility power pole # 12-93-01-05. Park and walk, following an old farm road into the woods - when road forks, follow the right fork for a total of about 500 yards. Cemetery is inside a chain link fence.

View #2 of cemetery. View #3 of cemetery.

Surveyed and photographed by Barry Martin and Jack Luffman on 16 April 2013. Cemetery is located partially on the property of Hilda Bullins, who lives on Beasley School Road.

Township or District:
Public or Private: Private - permission required.
GPS Accuracy (ft): 16 ft.
Elevation above sea level (ft): 1103
Status of cemetery: abandoned


Knight, Infant (b. 29 Apr 1914 - d. 27 May 1914)
Son of C. T. and M. J. Knight
Daughter of C. T. and M. J. Knight
Husband of 1) Sarah Ann Edwards Martin and 2) Sally Andrews Martin.
Second wife of B. J. Martin, (according to Kenneth Martin Survey, Cemetery Records of Rockingham and Stokes Counties, NC 1978, Vol. 1.)
First wife of Berryman Jennings Martin
Son of R. W. and N. E. Plaster
Wife of Richard Sanford Rhodes, killed in Civil War and born in Richmond, VA.
Wife of W. Joel Rhodes. Daughter of Berryman Jennings Martin and Sarah Ann Edwards Martin.
Daughter of W. J. and P. F. Rhodes
Daughter of W. J. and P. F. Rhodes
Husband of Paulina Martin Rhodes
Web page updated 1 June 2017
Index of All Cemeteries
Alphabetical Index of All Burials
Previous Page