Index of All Cemeteries
Alphabetical Index of All Burials
Previous Page
Use the following to search across all the cemeteries listed.
Example: "Smith, Roger" (yes, use the quotes)
006 BRIMS GROVE BAPTIST CHURCH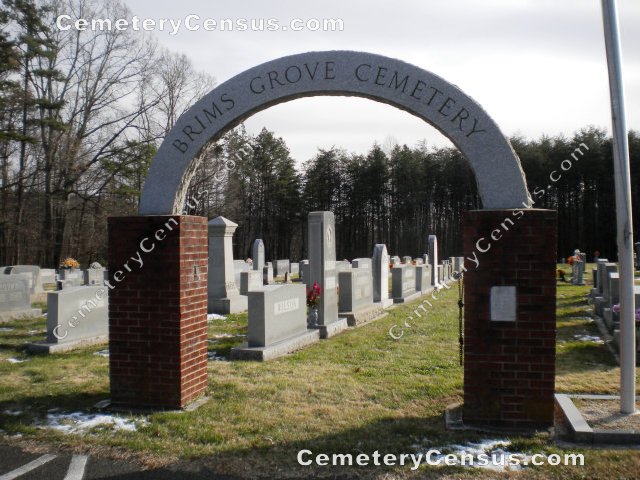 Location - on Hwy 268 east of Pilot Mountain in Westfield township.

Coordinates: 36d 24m 37.2s N; 80d 25m 01.7s W Click here for Google maps

Directions: From the intersection of Main and Key Streets in Pilot Mountain go East (straight ahead) on Hwy 268 for 3/10 mile to dead end at Old Hwy 52. Turn right and go 9/10 mile and turn left onto Hwy 268 East. Travel 3.0 miles to fork in the road and veer right on NC Hwy 268. Then go 3/10 of a mile and turn right onto a private paved road directly across from the Brims Grove Baptist Church sign which is on the left.

View of the church. Panorama of entire cemetery.

Public or Private: Public Access
GPS Accuracy: 14 feet
Elevation: 1240 feet
Surveyed By: Bob Carter
Survey Date: December 10, 2010
Status: Maintained
Cemetery Notes: Very large cemetery with about 500-700 graves.


Adams, Nancy Jane Lynch (b. 24 Aug 1863 - d. 29 Aug 1936)
Angel, Hab (b. 1896 - d. 20 Oct 1952)
Ankrom, Della G Joyce (b. 31 Dec 1912 - d. 18 Feb 1983)
Anzley, Lester (b. 8 Jul 1929 - d. 14 Jul 1990)
Arrington, Clarence Wayne (b. 6 Jul 1913 - d. 15 Mar 2007)
Arrington, Maude Estelle Joyce (b. 8 Dec 1915 - d. 3 Jul 2011)
Atkins, Betty Manuel (b. 26 Mar 1943 - d. 1 Jul 2005)
Barker, James William (b. 19 Aug 1922 - d. 1 Jan 1997)
Barnes, Addie Owen (b. 12 Dec 1899 - d. 14 Jul 1978)
Barnes, Albert Smith (b. 14 Apr 1892 - d. 17 Nov 1987)
Barringer, Myrtle Venable (b. 15 Jan 1912 - d. 24 Jul 1994)
Beasley, Dorothy Ann Lynch (b. 28 Apr 1948 - d. Unknown)
Beasley, Matilda (b. 7 Jan 1874 - d. 21 Jan 1907)
Beasley, Winnie Beatrice Roberts (b. 8 Jun 1904 - d. 17 Nov 1926)
Beck, Eugene (b. 9 Oct 1935 - d. 8 Aug 2002)
Beeson, Jerry R (b. 26 Aug 1937 - d. 14 Oct 2013)
Bennett, Lorena May (b. 23 Apr 1920 - d. 19 Jan 1954)
Billings, Hillery Eli (b. 10 Aug 1903 - d. 24 Feb 1974)
Billings, Hillery Eli, Jr (b. 11 Jan 1929 - d. 28 Apr 1974)
Billings, Jimmy Harold (b. 22 Jan 1938 - d. 30 Oct 1996)
Billings, Nina Pauline Joyce (b. 22 Aug 1905 - d. 3 Jul 1980)
Black, Jack Robinson (b. 14 May 1931 - d. 1 Jan 1997)
Black, Linda M (b. 21 Mar 1945 - d. Unknown)
Boaz, Billy Ray (b. 2 Sep 1932 - d. 26 Mar 1993)
Boaz, Edna Louise Parrish (b. 22 Jul 1933 - d. Unknown)
Boaz, Jacqueline Simmons (b. 21 May 1931 - d. 14 Apr 1976)
Boaz, James Robert "Jim" (b. 13 Nov 1922 - d. 10 Apr 2000)
Boaz, Jemima Edna Brim (b. 15 Nov 1862 - d. 28 Apr 1917)
Boaz, Maggie Luella Lawson (b. 15 Nov 1895 - d. 21 Dec 1964)
Boaz, Raleigh Jefferson (b. 6 Apr 1885 - d. 17 Feb 1966)
Boaz, Raleigh Jefferson, Jr (b. 1 Sep 1926 - d. 13 Jul 1958)
Boaz, Robert Abraham (b. 23 Feb 1858 - d. 18 Apr 1936)
Boaze, James Monroe (b. 20 Jun 1891 - d. 30 Mar 1924)
Boaze, Jemima Edna Brim (b. 15 Nov 1862 - d. 28 Apr 1917)
Boaze, Mary Ida Tilley (b. 7 Jun 1893 - d. 11 Sep 1971)
Boaze, R A (b. 1917 - d. 1978)
Boaze, Robert Abraham (b. 23 Feb 1858 - d. 18 Apr 1936)
Boaze, Roxie Sechrist (b. 7 Feb 1902 - d. 18 Jul 2003)
Bondurant, Ethel Stella Frye (b. 5 Jan 1924 - d. 25 Oct 1998)
Bottoms, Roy Bobby "R. B." (b. 30 Aug 1939 - d. 15 Jun 2008)
Bowman, Danny Gray (b. 7 Jun 1970 - d. 26 Feb 1975)
Bowman, Donald Gray (b. 12 Jan 1941 - d. 7 Feb 1986)
Bowman, Jerry Lee (b. 12 Jul 1914 - d. 11 Dec 1967)
Bowman, Jethro Pickett (b. 3 Sep 1922 - d. 19 Jul 2005)
Bowman, John Henry (b. 28 Dec 1877 - d. 3 Dec 1953)
Bowman, Mary Faye (b. 6 May 1942 - d. 26 Sep 1999)
Bowman, Mary Gordy (b. 26 Jan 1946 - d. Unknown)
Bowman, Matilda E. Bowman (b. 2 Jul 1916 - d. 3 Aug 1966)
Bowman, Nellie J Didienna (b. 24 Mar 1912 - d. 17 Mar 1990)
Bowman, Raymond W (b. 12 Mar 1930 - d. 23 Aug 1943)
Bowman, Reuben Abner (b. 23 Jan 1906 - d. 3 Jul 1926)
Bowman, Verda Lou Collins (b. 12 Feb 1925 - d. 26 Mar 2001)
Bowman, Willie Elmer (b. 15 Mar 1912 - d. 18 Jun 1991)
Boyd, Cynthia Chappell (b. 14 Jun 1963 - d. 1 May 2013)
Boyles, Colonel Kermit (b. 10 Dec 1883 - d. 18 May 1951)
Boyles, Daisy Virginia Bullington (b. 3 Jun 1888 - d. 15 Jan 1979)
Boyles, Doctor Luther "Doc" (b. 8 May 1882 - d. 8 May 1960)
Boyles, Jane B (b. 31 Jan 1940 - d. 21 Feb 2006)
Boyles, John Luther (b. 17 Mar 1926 - d. 14 Nov 1989)
Boyles, John Mark (b. 26 Mar 1970 - d. 6 Aug 1987)
Boyles, Kermit Wilson (b. 31 Oct 1914 - d. 6 Nov 1970)
Boyles, Lela Smith (b. 9 Jun 1887 - d. 10 Feb 1951)
Boyles, Lois Opal Needham (b. 18 Sep 1920 - d. 27 Sep 2002)
Boyles, Oren Tillotson (b. 14 Oct 1921 - d. 25 Aug 1989)
Brim, Grace McDaniel (b. 19 Nov 1893 - d. 8 Jan 1971)
Brim, James M (b. 20 May 1865 - d. 25 Mar 1918)
Brim, Louella Wilkes (b. 30 Aug 1865 - d. 1 Oct 1949)
Brim, Raleigh P "Dillard" (b. 18 Dec 1887 - d. 30 Dec 1972)
Brim, Robert Swanson "Bobby" (b. 17 Jul 1932 - d. 10 Jan 2008)
Brim, Willie Mae (b. 1 Jan 1911 - d. 2 Nov 1914)
Bruner, Mazie Matthews (b. 1 Aug 1923 - d. 31 Dec 1994)
Bullington, Arthur Blake (b. 17 Apr 1926 - d. 24 Jan 1995)
Bullington, Billie (b. 11 Oct 1918 - d. 11 Jan 1920)
Bullington, Ida Augusta Nelson (b. 11 Mar 1886 - d. 8 Nov 1972)
Bullington, John Henry (b. 5 Mar 1860 - d. 10 Apr 1938)
Bullington, John Peter (b. 31 Dec 1912 - d. 15 Feb 1994)
Bullington, Maggie Ethel (b. 13 Mar 1892 - d. 14 Sep 1988)
Bullington, Novella Cruise (b. 6 Sep 1909 - d. 17 Feb 1993)
Bullington, Susan Anna Gordon (b. 3 May 1865 - d. 10 Mar 1925)
Bullington, William Henry (b. 2 Jun 1890 - d. 22 Oct 1963)
Cain, Junior (b. 1928 - d. Unknown)
Cain, Martha Ellen Wilson (b. 27 Aug 1891 - d. 21 Dec 1980)
Cain, Samuel "Sam" (b. 16 May 1903 - d. 26 Mar 1984)
Carson, Joseph Elmer (b. 21 Mar 1880 - d. 11 Feb 1945)
Carson, Surlenia Hill (b. 25 Dec 1881 - d. 5 Mar 1970)
Caudle, John Wesley (b. 15 May 1876 - d. 25 Jul 1948)
Caudle, Laura Lee Emma (b. 9 Jul 1880 - d. 30 Jul 1966)
Chaney, Lester Matthew (b. 22 Sep 1915 - d. 23 Oct 1992)
Chaney, Mildred Harriett Frye (b. 1 May 1922 - d. 31 Jan 2003)
Chapman, Jasmine Alexandria (b. 29 Nov 2005 - d. 8 Jan 2006)
Chilton, Noel A (b. 27 Aug 1969 - d. 19 May 2010)
Clark, Dorotha Mae Riley (b. 17 Feb 1918 - d. 24 Oct 1995)
Clark, J B, Jr (b. 10 Jan 1913 - d. 28 Jun 1915)
Clark, Lamont (b. 10 May 1925 - d. 20 Dec 1997)
Clinard, Florence Venable (b. 7 Jun 1899 - d. 21 May 1987)
Coins, Raymond W (b. 28 Jan 1904 - d. 2 Jun 1998)
Coins, Ruby K (b. 30 May 1902 - d. 4 Oct 1997)
Cole, Flora Hall (b. 14 Jul 1901 - d. 7 Oct 1989)
Cole, Thomas Graham (b. 8 Apr 1929 - d. 12 Dec 1940)
Collins, Barbara Lorene Cummings (b. 10 May 1939 - d. 21 Jan 1984)
Collins, Clyde Manuel (b. 11 Mar 1918 - d. 12 May 1986)
Collins, Cordie Lee Roberts (b. 31 Jul 1895 - d. 8 Oct 1980)
Collins, Donald Ray (b. 15 Sep 1951 - d. 5 Jul 1971)
Collins, Drew Manuel (b. 30 May 1891 - d. 1 Jun 1974)
Collins, Flemie Busie Lawson (b. 10 May 1908 - d. 11 Nov 1990)
Collins, George Lee (b. 7 Mar 1933 - d. 2 Feb 1994)
Collins, Infant Daughter (b. 20 May 1908 - d. 20 May 1908)
Collins, Leo (b. 17 May 1936 - d. 14 Dec 1985)
Collins, Lorene (b. 20 Mar 1927 - d. 26 Jan 1930)
Collins, Major Lee (b. 15 Jul 1900 - d. 6 May 1944)
Collins, Marion Cecil (b. 19 Dec 1935 - d. 2 Sep 1976)
Collins, Mattie Lou Coins (b. 3 Mar 1905 - d. 16 Sep 1992)
Collins, Richard Franklin (b. 9 May 1933 - d. 3 May 1980)
Collins, Ruth W (b. 8 Jan 1928 - d. Unknown)
Collins, Samuel Meadows (b. 19 Jun 1901 - d. 31 Dec 1991)
Collins, Wiley Ray (b. 2 May 1925 - d. 4 Feb 1960)
Collins, William Elbert (b. 6 Feb 1933 - d. 7 Dec 1953)
Combs, Clyde Raymond (b. 19 Feb 1903 - d. 4 Aug 1957)
Combs, Georgia Sams (b. 6 Feb 1899 - d. 2 Sep 1951)
Combs, Infant Son (b. 14 Feb 1928 - d. 14 Feb 1928)
Cooke, Thelma Lynch (b. 26 Sep 1917 - d. 2 Aug 2008)
Covington, Bertha Bullington (b. 14 Apr 1901 - d. 11 Apr 1992)
Covington, Bertha Elon Gordon (b. 21 Jun 1909 - d. 2 Nov 2003)
Covington, Carl Raymond (b. 7 Jun 1902 - d. 14 Oct 1990)
Covington, Carl, Jr (b. 19 Nov 1934 - d. 19 Nov 1934)
Covington, Caroline V. Pulliam (b. 6 Mar 1841 - d. 10 Jan 1935)
Covington, Daisy Belle Boyles (b. 27 Apr 1885 - d. 30 Mar 1973)
Covington, Dorey Cheek (b. Unknown - d. Unknown)
Covington, Edgar Alphonso (b. 20 Jul 1879 - d. 3 Oct 1931)
Covington, Hattie V Cox (b. 15 Jul 1872 - d. 8 Feb 1923)
Covington, Ida Cox (b. 9 Mar 1907 - d. 18 Mar 1999)
Covington, James Polk (b. 12 Sep 1845 - d. 6 May 1922)
Covington, James Rufus (b. 30 Apr 1870 - d. 18 Mar 1938)
Covington, James Thomas (b. 14 May 1909 - d. 24 Mar 1982)
Covington, Joann (b. 4 Sep 1931 - d. 4 Sep 1931)
Covington, Mary Jane Gibson (b. 10 Oct 1851 - d. 12 Dec 1908)
Covington, Oliver B (b. 22 Jul 1906 - d. 12 Oct 1906)
Covington, Perry Fawn (b. 30 Oct 1924 - d. 30 Nov 1924)
Covington, Robert (b. 17 Dec 1840 - d. 21 Mar 1914)
Covington, Ruth Dean (b. 9 Nov 1929 - d. 9 Nov 1929)
Covington, Sarah Ellen Nunn (b. 29 Jun 1862 - d. 8 Oct 1918)
Covington, Thomas Jefferson (b. 11 Aug 1889 - d. 27 Nov 1918)
Covington, William M (b. 28 Feb 1878 - d. 1 Dec 1910)
Covington, William Rankin (b. 31 Jul 1860 - d. 7 Nov 1943)
Cox, Chester Odell (b. 9 Jul 1923 - d. 10 Jul 1944)
Cox, George Elmer (b. 1 May 1890 - d. 1 Jan 1981)
Cox, Hattie Elizabeth Lynch (b. 12 Feb 1892 - d. 25 Dec 1958)
Cox, Joe Bill (b. 31 Jul 1932 - d. 27 Apr 1953)
Cox, Mary Elizabeth Essick (b. 15 Apr 1876 - d. 4 May 1943)
Cox, Posie Edward (b. 15 Mar 1902 - d. 2 Feb 1970)
Cox, Sandy Lee (b. 2 Mar 1873 - d. 12 Apr 1945)
Cox, Viola Hunter (b. 24 Mar 1906 - d. 16 Jan 2001)
Craddock, Betty Jo (b. 9 Jul 1945 - d. 14 Jul 1945)
Craddock, James Alvis (b. 1915 - d. 1967)
Craddock, Josephine Collins (b. 1922 - d. 1991)
Craddock, Virginia Ann Moore (b. 7 Feb 1948 - d. 12 Nov 2010)
Crissman, Peggy Lou Joyce (b. 7 Oct 1940 - d. 23 Oct 1974)
Crissman, Sharon Lynn (b. 15 Sep 1967 - d. 15 Sep 1967)
Crissman, Thomas Jackson (b. 10 Jul 1942 - d. 24 Oct 1996)
Cromer, Ashley Michelle (b. 13 Dec 1990 - d. 21 Nov 1992)
Cromer, Paul Vernon (b. 11 Feb 1968 - d. 9 Dec 2006)
Dalton, Billy Gray (b. 14 Apr 1930 - d. 3 Jul 1931)
Dalton, Loma Alvah Boyles (b. 17 Mar 1908 - d. 30 Oct 1931)
Dalton, Lomax Eugene (b. 28 Oct 1928 - d. 15 Dec 1928)
Davis, Dorothy Mae Joyce (b. 16 Mar 1931 - d. 27 Mar 1989)
Davis, Elmer Clinton (b. 30 Jun 1922 - d. 18 Jun 2004)
Doby, Harden Wayne "Wayne" (b. 27 Sep 1920 - d. 30 Jun 1970)
Doby, Infant Daughter (b. 22 Oct 1942 - d. 22 Oct 1942)
Doby, Shelby Jean (b. 1956 - d. 1956)
Dodson, Donna (b. Unknown - d. 1958)
Dumon, Doris Lee (b. 21 Nov 1925 - d. 24 Dec 1925)
Dunman, Murphy Lee Venable (b. 22 Oct 1907 - d. 25 Jun 1996)
Dunman, William Gale (b. 1 May 1937 - d. 1 May 1937)
Dunman, William Ollie "Will" (b. 21 Aug 1903 - d. 29 Aug 1981)
Dunmon, Daisy Adeline Wilson (b. 25 Nov 1902 - d. 1 Nov 1956)
Dunmon, Doris Lee (b. 21 Nov 1925 - d. 24 Dec 1925)
Dunmon, James Palmer "Dick" (b. 2 Aug 1862 - d. 7 Jan 1947)
Dunmon, James Robert "Jim" (b. 23 Jun 1881 - d. 30 Nov 1967)
Dunmon, Lonnie Ray (b. 14 May 1930 - d. 17 Feb 2006)
Dunmon, Ruby Mae Bottoms (b. 7 Nov 1930 - d. 17 May 2011)
Dunmon, Ruth Opal (b. 28 Jan 1923 - d. 24 Sep 2006)
Dunmon, Sallie Maria Cook (b. 29 Jul 1867 - d. 3 Sep 1926)
Durham, Carlos Ray (b. 28 Jun 1940 - d. 14 Sep 1941)
Durham, Ellis Claborn (b. 8 Aug 1915 - d. 21 Feb 1995)
Durham, James Graham, Jr (b. 1 Apr 1929 - d. 22 Mar 2002)
Durham, Mary Alice Flippin (b. 28 Feb 1923 - d. 24 Dec 2012)
Durham, Mary Frye (b. 2 Jun 1930 - d. 6 Dec 2008)
East, Beulah Irene (b. 30 Nov 1915 - d. 18 Aug 1919)
East, Estelle Tilley (b. 23 Dec 1886 - d. 29 Mar 1966)
East, Jesse R (b. 19 Aug 1897 - d. 10 Aug 1946)
East, Lillie Josephine (b. 5 May 1932 - d. 16 Dec 1998)
East, Lillie Mae Lynch (b. 27 Jun 1898 - d. 20 Jun 1980)
East, Sam (b. 19 Jun 1900 - d. 13 Oct 1928)
East, Ulice Matthew (b. 22 Jun 1926 - d. 2 Dec 1984)
Eaton, Charles Andrew (b. 6 Apr 1920 - d. 23 Jun 1956)
Eaton, Hazel Elizabeth Martin (b. 21 Nov 1923 - d. 16 Jul 2013)
Eaton, Ross J (b. 2 Sep 1923 - d. 29 Jun 1946)
Eldrith, Ray F (b. 21 Nov 1935 - d. 30 Dec 2011)
Elliott, George Winford (b. 23 Jun 1928 - d. 5 Dec 1999)
Elliott, Roslyn Russell Kennedy "Rosie" (b. 17 Aug 1938 - d. 4 Jun 2012)
Essick, Annie Lilla Nunn (b. 1 Apr 1883 - d. 30 Aug 1946)
Essick, Charlie Lee (b. 14 Apr 1873 - d. 31 Jul 1967)
Essick, Delmon Hazel Smith (b. 25 Oct 1919 - d. 29 Jun 2009)
Essick, Infant Daughter (b. 12 Jul 1912 - d. 12 Jul 1912)
Essick, Jane Freedle (b. 30 Jun 1852 - d. 27 Jun 1937)
Essick, John D. (b. 25 Dec 1849 - d. 15 Apr 1922)
Essick, Johnny Lewis (b. 1 Jun 1916 - d. 22 Dec 1997)
Essick, Linzy Lee (b. 6 Jun 1887 - d. 1 Mar 1969)
Essick, Matilda Catherine Adams (b. 2 Nov 1893 - d. 27 Dec 1969)
Flinchum, Dennis William (b. 17 Apr 1967 - d. 17 Apr 1967)
Flinchum, Frances F Sechrest (b. 16 Aug 1864 - d. 7 Feb 1961)
Flinchum, John Samuel (b. 30 May 1851 - d. 24 Apr 1928)
Flynt, Stella Mae Joyce (b. 7 Sep 1921 - d. 5 Jan 2013)
Flynt, William Hillary (b. 22 Jan 1906 - d. 25 May 2001)
Forest, Anna Mae Robertson (b. 13 Feb 1921 - d. 4 Jul 2005)
Forest, Ellis Reid, Sr. (b. 13 Sep 1916 - d. 26 Dec 1999)
Francour, Sarah Elizabeth Waller (b. 12 Jul 1949 - d. 21 Jan 2005)
Frank, Stephen Richard (b. 21 Mar 1921 - d. 15 Aug 2007)
Fry, Susan (b. 5 May 1852 - d. 11 Dec 1912)
Frye, Agnes Roberta (b. 1881 - d. 25 Dec 1958)
Frye, Beatrice Belle Shermer (b. 24 Oct 1912 - d. 4 Nov 1979)
Frye, Bessie Vaden (b. 2 Jan 1897 - d. 29 Jun 1973)
Frye, Cecil Holcomb (b. 1 Aug 1906 - d. 13 Sep 1984)
Frye, Donald Ray (b. 27 Jul 1939 - d. 20 May 2005)
Frye, Ida Sizemore (b. 2 Feb 1882 - d. 12 Nov 1958)
Frye, Iris Louise (b. 5 Feb 1933 - d. 3 Apr 1990)
Frye, James Carl, Sr (b. 5 Dec 1930 - d. 27 May 2014)
Frye, Jessie Reid (b. 15 Apr 1877 - d. 21 Jul 1958)
Frye, Joseph Howard (b. 12 Jan 1941 - d. 22 Mar 2001)
Frye, Loman Crawford (b. 8 Jan 1916 - d. 31 Mar 1998)
Frye, Luther L (b. 1 Jul 1876 - d. 18 Sep 1938)
Frye, Mary Arena Napier (b. 10 Dec 1878 - d. 20 Mar 1959)
Frye, Mary Katherine Dobbins (b. 21 Aug 1907 - d. 6 Dec 2007)
Frye, Minnie Martin (b. Unknown - d. 31 Dec 1940)
Frye, Perry Oscar (b. 28 Sep 1876 - d. 13 Jul 1959)
Frye, Robert Lee (b. 6 Jul 1895 - d. 11 Mar 1940)
Frye, Tilton Samuel (b. 4 Mar 1903 - d. 7 Mar 1919)
Frye, Walter Lee (b. 19 Mar 1893 - d. 15 Aug 1967)
Frye, William Meigs (b. 1 Oct 1873 - d. 30 Jan 1913)
Frye, Willie (b. 19 Sep 1913 - d. 6 Jul 1914)
Fulk, Beaula Vernell Gordon (b. 21 May 1904 - d. 18 Jan 1986)
Fulk, Dawn Elaine (b. 21 Apr 1970 - d. 23 Sep 1972)
Fulk, Shirley S (b. 17 Oct 1946 - d. 23 Jan 2004)
Fulk, Sidney Ray (b. 8 Feb 1932 - d. 1 Apr 1983)
George, Mary Ann Jessup "Annie" (b. 1 Oct 1895 - d. 27 Aug 1987)
Gibson, Carl Paul (b. 24 Nov 1923 - d. 16 Jul 1966)
Gibson, George Robert (b. 12 Oct 1898 - d. 18 Dec 1931)
Gibson, James Millard (b. 9 Jul 1895 - d. 3 Mar 1966)
Gibson, Jettie Collins (b. 29 Mar 1893 - d. 24 Feb 1987)
Gibson, Lucy Jane Turner (b. 17 Feb 1912 - d. 21 May 1999)
Gibson, Nannie J (b. 1868 - d. 1940)
Gibson, William Walter (b. 3 May 1867 - d. 17 Feb 1954)
Gibson, Willie Roscoe (b. 4 May 1912 - d. 13 Jan 2000)
Gilbert, Ruth Lee (b. 1 Jan 1925 - d. 17 Feb 2009)
Gilbert, Thomas, Sr (b. Mar 1923 - d. 14 Jul 1980)
Goins, Andrew (b. 10 Feb 1900 - d. 3 Mar 1985)
Goins, Annie F (b. 29 May 1904 - d. 15 Mar 1997)
Golden, Elizabeth (b. 1 Jan 1869 - d. 16 Dec 1939)
Gordon, Ada Inman (b. 12 Sep 1900 - d. 5 Jul 1987)
Gordon, Ada Mitchell (b. 18 Oct 1894 - d. 12 Sep 1986)
Gordon, Aston Junior (b. 3 Mar 1944 - d. 9 Nov 1980)
Gordon, Basil G (b. 9 Nov 1932 - d. Unknown)
Gordon, Cebron (b. 23 May 1891 - d. Jul 18)
Gordon, Charles Arthur (b. 31 Aug 1915 - d. 25 Jun 1984)
Gordon, Charles R (b. 19 May 1875 - d. 8 Sep 1951)
Gordon, Dallas Everette (b. 8 Jun 1891 - d. 7 Oct 1981)
Gordon, DeWitt R "Dee" (b. 10 Jul 1870 - d. 13 Mar 1946)
Gordon, Edith Louise Tilley (b. 24 Jun 1946 - d. 21 May 2006)
Gordon, Elizabeth Owen (b. 13 Feb 1904 - d. 19 Jan 1991)
Gordon, Elmer Murphy (b. 20 Feb 1908 - d. 27 Nov 1974)
Gordon, Hallie Earline Vaughn (b. 1 Dec 1928 - d. Unknown)
Gordon, Harlie Lee (b. 6 Sep 1927 - d. 7 Dec 2008)
Gordon, Hazel Pauline Vaughn (b. 15 Feb 1925 - d. 20 Feb 1960)
Gordon, Infant Son (b. 11 Jan 1910 - d. 15 Jan 1910)
Gordon, Ira G Cebron (b. 25 Jul 1891 - d. 19 Jul 1968)
Gordon, Irene Lynch (b. 11 Mar 1914 - d. 25 Oct 1989)
Gordon, James Charlie (b. 2 Nov 1899 - d. 12 Sep 1971)
Gordon, Janice J (b. 22 Aug 1932 - d. Unknown)
Gordon, Lilla Covington (b. 26 Aug 1874 - d. 13 May 1923)
Gordon, Martha L Freedle (b. 10 Jul 1873 - d. 1 Dec 1923)
Gordon, Mary Cathryn George "Molly" (b. 31 Mar 1866 - d. 13 Jun 1937)
Gordon, Mary Elizabeth Owen (b. 13 Feb 1904 - d. 19 Jan 1991)
Gordon, Mary Frances (b. 4 Sep 1941 - d. 4 Sep 1941)
Gordon, Ola L (b. 3 Dec 1917 - d. Unknown)
Gordon, Rebecca Ann (b. 26 Nov 1946 - d. Unknown)
Gordon, Robert Eugene, Jr (b. 19 Jun 1929 - d. 1 Mar 1976)
Gordon, Roy Edgar (b. 28 Aug 1897 - d. 9 Jun 1982)
Gordon, Ulyss Aston (b. 2 Jun 1910 - d. 26 Jan 1964)
Gordon, Warren Harden (b. 24 Jun 1926 - d. 18 Aug 1966)
Gordy, Juanita Elizabeth Inman (b. 14 May 1924 - d. 22 Aug 2013)
Gordy, Winford Marshall, Sr (b. 7 Sep 1918 - d. 3 Mar 1968)
Gravitte, Alice M (b. 24 Dec 1902 - d. 27 Mar 1996)
Gravitte, Robert T (b. 21 Sep 1892 - d. 12 Sep 1998)
Gray, Billy (b. 14 Apr 1930 - d. 3 Jul 1931)
Green, Delores Gaye Dunman (b. 15 Mar 1939 - d. 22 Jan 1986)
Gunnell, Brenda Lynn (b. 13 Feb 1960 - d. 28 Jun 1992)
Gunnell, Fletcher (b. 9 Nov 1925 - d. 2 Jun 1993)
Gunnell, Virginia Hicks (b. 10 Jun 1926 - d. 21 Jan 2012)
Hall, Alene Sadie Jones (b. 5 Sep 1922 - d. 8 Sep 1967)
Hall, Annie Cameron (b. 9 Oct 1909 - d. 27 Jul 1999)
Hall, Audrey E. Inman (b. 24 May 1932 - d. 4 Jan 2007)
Hall, Avis Gordon (b. 12 Dec 1908 - d. 25 May 1993)
Hall, Carol Sykes (b. 20 Jul 1930 - d. 24 Apr 1992)
Hall, David Oscoe (b. 9 Jun 1898 - d. 25 Jun 1950)
Hall, Durward Cook "Dagwood" (b. 11 Jun 1935 - d. 4 Mar 2002)
Hall, Irene Virginia George (b. 12 Jul 1913 - d. 30 Sep 2000)
Hall, James Preston (b. 27 Jan 1896 - d. 14 Feb 1973)
Hall, John Junior (b. 31 Dec 1926 - d. 17 Mar 1983)
Hall, Lala Ruth Cook (b. 30 Apr 1900 - d. 15 Dec 1995)
Hall, Mary Christine (b. 22 Dec 1935 - d. 14 Feb 1936)
Hall, McKinley (b. 6 Sep 1916 - d. 22 Feb 1954)
Hall, Merle Maude Key (b. 5 Jan 1933 - d. 5 Feb 1994)
Hall, Ralph William (b. 27 Jun 1908 - d. 8 Mar 1961)
Hall, Thomas Junior (b. 2 Sep 1924 - d. 5 Jan 2002)
Hall, Vada Jane (b. 9 Mar 1888 - d. 11 Feb 1993)
Hall, William Gray (b. 29 Jan 1937 - d. 23 Aug 2013)
Hamlin, Elsie Mae Sisk (b. 16 Feb 1919 - d. 7 Nov 1992)
Hamlin, Ester Sands Collins (b. 17 Jul 1901 - d. 5 Nov 1940)
Hamlin, Monroe (b. 25 Aug 1916 - d. 2 Jun 1991)
Hamlin, Rosa Lee Sisk (b. 26 Aug 1922 - d. 2 Mar 1990)
Harrison, Lela Lawson (b. 27 Aug 1908 - d. 29 May 1992)
Hauser, Vera Lawson (b. 25 Sep 1911 - d. 12 Dec 1988)
Haynes, Harry Holbert (b. 19 Oct 1935 - d. 28 Nov 2009)
Hiatt, Janice Linda Hawks (b. 10 Dec 1933 - d. 3 Oct 2013)
Hiatt, McArthur (b. 1 Oct 1944 - d. 16 Jan 2012)
Hicks Ratliff, Blanche Disher (b. 7 Mar 1936 - d. 9 Jan 2014)
Hicks, Arzia B (b. 17 Feb 1911 - d. 1 Oct 1960)
Hicks, Betty Ruth (b. 20 Jul 1933 - d. 23 Oct 2011)
Hicks, Elijah Alonzo (b. 8 Feb 1907 - d. 10 Jan 2002)
Hicks, Eliza Lueller Sams (b. 6 Sep 1875 - d. 16 Sep 1952)
Hicks, Fannie Corina Sams (b. 10 Jan 1893 - d. 31 Oct 1985)
Hicks, Flora Ann Cox (b. 23 Apr 1904 - d. 8 Nov 1995)
Hicks, Homer Benard (b. 20 Jun 1931 - d. Unknown)
Hicks, Ida Belle Carson (b. 15 May 1910 - d. 22 Oct 1997)
Hicks, James A (b. Jan 1913 - d. Jun 1914)
Hicks, John F (b. 1 Nov 1874 - d. 4 Feb 1925)
Hicks, John William (b. 24 Sep 1881 - d. 6 Jun 1960)
Hicks, Lillian Ethel (b. 16 May 1909 - d. 19 Jun 2001)
Hicks, Lizzie King (b. 1 Aug 1886 - d. 15 Feb 1936)
Hicks, Lorena Sams (b. 17 Apr 1878 - d. 27 Nov 1974)
Hicks, Martha Ann Thore (b. 1 Jan 1877 - d. 12 Jul 1962)
Hicks, Ora Joyce (b. 27 Jul 1907 - d. Jun 1977)
Hicks, Oscar Thomas (b. 22 Sep 1882 - d. 2 Sep 1944)
Hicks, Paul Green (b. 7 Dec 1923 - d. 21 Nov 1988)
Hicks, Robert Leve (b. 18 Dec 1880 - d. 20 Jan 1943)
Hicks, Rufus Columbus (b. 29 Nov 1883 - d. 2 Nov 1982)
Hicks, Shirley A (b. 11 Jan 1942 - d. Unknown)
Hicks, William Frank, Sr (b. 27 Jul 1931 - d. 17 Jun 2011)
Hicks, William John "Will" (b. 28 Jul 1899 - d. 15 Jan 1958)
Hill, Infant Son (b. 1 Apr 1912 - d. 1 Apr 1912)
Hill, Lilla Elizabeth Mitchell (b. 25 Nov 1883 - d. 20 Nov 1934)
Hill, Nora Covington (b. 19 Feb 1890 - d. 8 Oct 1908)
Hill, Robert William (b. 17 Apr 1868 - d. 16 Sep 1933)
Himes, Anna Belle Sechrist (b. 4 Dec 1925 - d. 21 Jun 2014)
Holt, Bobby Lee (b. 7 Mar 1947 - d. 25 Aug 2004)
Holt, Carrie Holt (b. 28 Aug 1920 - d. 31 Jan 1975)
Holt, Clarence R (b. 14 Nov 1936 - d. 17 Dec 2000)
Holt, Dewey Ray (b. 19 Sep 1939 - d. 2 Jan 1980)
Holt, Jack, Jr (b. 27 Jul 1953 - d. 23 Nov 1973)
Holt, Jack, Sr (b. 1 May 1919 - d. 23 Mar 1988)
Holt, James Jackson (b. 13 Aug 1926 - d. 1 Dec 1972)
Holt, Jerry Wayne (b. 28 Apr 1955 - d. 25 Sep 1967)
Holt, Joe (b. 9 May 1902 - d. 15 Jun 1980)
Holt, Joe, Jr (b. 28 Mar 1934 - d. 12 Dec 2009)
Holt, Pauline Willard "Polly" (b. 10 Dec 1903 - d. 10 Feb 1994)
Hooker, Dora Mae (b. 19 Jul 1914 - d. 19 Jul 1914)
Hooker, James Walter (b. 13 Mar 1917 - d. 17 Mar 1917)
Hooker, Mary Jane Peel (b. 5 Jun 1882 - d. 22 Jan 1923)
Hooker, Robert Augusta (b. 19 Jun 1879 - d. 15 Mar 1963)
Hooker, Thomas (b. 23 May 1911 - d. 12 Jul 1913)
Horsley, Roy Dennis (b. 25 Oct 1958 - d. 9 Jun 1998)
Hudson, C Bernard (b. 5 Nov 1939 - d. 8 Jan 2007)
Hudson, Jeanette (b. 14 Aug 1941 - d. 29 Apr 2004)
Hunter, Hattie Ethel (b. 29 May 1911 - d. 30 Apr 2007)
Hunter, Helen Louise Chilton (b. 20 Mar 1923 - d. 8 Dec 2010)
Hunter, Jerry Robie (b. 10 Mar 1905 - d. 18 Jun 1977)
Hunter, LeeAnna Carson (b. 24 Apr 1910 - d. 11 Oct 1994)
Hunter, Martha Ella Lynch (b. 19 Mar 1886 - d. 22 Dec 1961)
Hunter, Nettie Mae Lynch (b. 23 Aug 1912 - d. 18 Dec 2001)
Hunter, Robert Andrew "Bob" (b. 11 Mar 1881 - d. 1 Apr 1965)
Hunter, Robert Clevo (b. 3 Jun 1921 - d. 8 Apr 2007)
Inman, Ada (b. 1900 - d. 5 Jul 1987)
Inman, Betty Ann Joyce (b. Unknown - d. Unknown)
Inman, Elder William McKinley "Will" (b. 6 Sep 1897 - d. 10 May 1977)
Inman, Ethel Mae Inman (b. 21 Apr 1920 - d. 3 Sep 2010)
Inman, Henry Madison, Jr (b. 16 Feb 1938 - d. 24 Jun 1969)
Inman, Pearl Elizabeth Tilley (b. 5 Jun 1899 - d. 16 Apr 1980)
Inman, Richard (b. 3 Apr 1925 - d. 28 Dec 2002)
Inman, Willie Lou (b. 15 Dec 1930 - d. 4 Oct 1972)
James, Ada McDaniel (b. 26 Apr 1899 - d. 4 Jul 1983)
James, Willis Tawdy (b. 3 Jul 1899 - d. 1 Feb 1973)
Jarrett, Ernest Franklin (b. 23 Aug 1882 - d. 15 Dec 1964)
Jarrett, Mary Edwards (b. 8 Jul 1848 - d. 19 Sep 1944)
Jarrett, William Sidney (b. 16 Oct 1886 - d. 29 Jun 1968)
Jessup, Annie (b. 1 Oct 1895 - d. 27 Aug 1987)
Jessup, Bobby Wayne (b. 19 Sep 1942 - d. 8 Aug 2008)
Jessup, Boyd Rufus (b. 9 Nov 1919 - d. 7 Jul 1999)
Jessup, Broze Miller (b. 13 Jun 1893 - d. 25 Dec 1963)
Jessup, Carol Jeannette Boyles (b. 5 Oct 1942 - d. 1 Feb 2012)
Jessup, Dwight Chilton (b. 7 Aug 1933 - d. 8 Apr 1985)
Jessup, Edward Leo (b. 20 Jun 1924 - d. 11 Feb 2006)
Jessup, Ezra, Jr (b. 29 Apr 1920 - d. 28 Mar 1994)
Jessup, Ezra, Sr (b. 29 Nov 1883 - d. 21 Nov 1970)
Jessup, Fannie Lynch (b. 6 Mar 1884 - d. 10 Nov 1963)
Jessup, Faty (b. 30 Aug 1913 - d. 9 Feb 1923)
Jessup, Gene Douglas "Doug" (b. 30 Sep 1939 - d. 27 Nov 2002)
Jessup, James Robert (b. 22 Sep 1931 - d. 24 Apr 2011)
Jessup, James Sanford (b. 1 Jul 1905 - d. 28 Dec 1969)
Jessup, Lucy Ann Jessup (b. 11 Apr 1907 - d. 29 Jul 2001)
Jessup, Lula Myrtle Slate (b. 5 Jan 1905 - d. 27 Jul 1988)
Jessup, Mary Elizabeth Lynch (b. 8 Oct 1865 - d. 15 Feb 1954)
Jessup, Mellie Mozell (b. 27 Dec 1923 - d. 4 Jan 1925)
Jessup, Myrtle Aline Voss (b. 21 Oct 1920 - d. 17 May 2000)
Jessup, Ollie (b. 23 Feb 1906 - d. 21 Dec 1980)
Jessup, Phoebe Elaine Jessup (b. 17 Sep 1908 - d. 16 Jun 1943)
Jessup, Robert William (b. 8 Aug 1855 - d. 17 Nov 1934)
Jessup, Roxie Ellen (b. 23 Mar 1892 - d. 23 Apr 1963)
Jessup, Ruby Mae Lynch (b. 19 Jan 1928 - d. 15 Sep 2010)
Jessup, Thomas Broze (b. 29 Feb 1935 - d. 21 Jan 1998)
Jewett, Frederick N (b. 30 Jun 1944 - d. 15 Jul 1972)
Johnson, Bradford H (b. 9 Jul 1947 - d. 1 Mar 1983)
Jones, Geraldine J (b. 10 Dec 1934 - d. Unknown)
Jones, James Morris (b. 3 Dec 1930 - d. 7 Nov 1971)
Jones, Joe A (b. 27 Apr 1934 - d. Unknown)
Jones, Louise T (b. 14 Dec 1930 - d. 2 Mar 2008)
Joyce, Alma McDaniel (b. 3 Oct 1910 - d. 12 Apr 1995)
Joyce, Alta Lillian Jessup (b. 21 Dec 1910 - d. 1 Mar 1996)
Joyce, Avoline Lynch (b. 1 Jun 1935 - d. 4 Feb 1995)
Joyce, Bertha C (b. 22 Aug 1893 - d. 10 Jun 1966)
Joyce, Birtie Anne Wilson (b. 12 Jun 1892 - d. 26 Nov 1982)
Joyce, Burnie Ray (b. 18 Feb 1918 - d. 16 Nov 1918)
Joyce, Charles Allen, Sr (b. 2 Aug 1919 - d. 21 Oct 2014)
Joyce, Charles Fountain (b. 16 Oct 1895 - d. 13 Sep 1965)
Joyce, Clarence E (b. 7 Jun 1919 - d. 11 Feb 1971)
Joyce, Clarence Odell (b. 28 Dec 1922 - d. 3 Mar 2005)
Joyce, Daniel Rover (b. 23 Feb 1901 - d. 28 Oct 1962)
Joyce, Elijah Robert "Elige" (b. 23 Oct 1890 - d. 24 Apr 1983)
Joyce, Eliza Jane Gordon (b. 1 Jun 1869 - d. 6 Oct 1930)
Joyce, Evelyn King (b. 14 Aug 1914 - d. 11 Aug 1956)
Joyce, F H "Jack" (b. 5 Jan 1920 - d. 29 May 1994)
Joyce, Floyd Perrian (b. 12 Aug 1883 - d. 7 Jun 1962)
Joyce, Gardner (b. 23 Oct 1900 - d. 30 Dec 1959)
Joyce, George H (b. 6 Mar 1887 - d. 16 Mar 1928)
Joyce, Gladys Irene Jessup (b. 16 Feb 1918 - d. 21 Aug 1994)
Joyce, Ida Inman (b. 7 Mar 1906 - d. 22 Feb 1989)
Joyce, Infant Girl (b. 27 May 1921 - d. 27 May 1921)
Joyce, J Gardner (b. 23 Oct 1900 - d. 30 Dec 1959)
Joyce, James Harvey (b. 20 Jan 1912 - d. 21 Jul 1985)
Joyce, Jennie Belle Lynch (b. 20 Jun 1906 - d. 25 Jan 1990)
Joyce, Jennie May (b. 3 Sep 1914 - d. 18 Dec 1942)
Joyce, Jerry A (b. 5 Oct 1937 - d. Unknown)
Joyce, Jim Thomas "Tom" (b. 24 Feb 1908 - d. 7 Mar 1973)
Joyce, Jimmy G (b. 22 Oct 1945 - d. 9 Feb 1997)
Joyce, Johnny H (b. 3 Jul 1935 - d. 10 Jan 2011)
Joyce, Joseph Edgar (b. 13 Sep 1880 - d. 20 Feb 1963)
Joyce, Joseph J (b. 18 Mar 1931 - d. 2 Aug 2008)
Joyce, Joseph Sherman (b. 16 Jun 1893 - d. 23 Aug 1965)
Joyce, Judy J (b. 25 Jan 1949 - d. Unknown)
Joyce, LaNelle S (b. 1929 - d. 1993)
Joyce, Lillian Bertha Boaz (b. 9 Jun 1913 - d. 4 Feb 1990)
Joyce, Lois V (b. 26 May 1921 - d. 17 Jan 1924)
Joyce, Mallie Ann Gordon (b. 3 Jan 1911 - d. 15 May 2004)
Joyce, Martha Elizabeth Collins "Lizzie" (b. 30 Jan 1885 - d. 25 Jun 1973)
Joyce, Mary G (b. 16 Jul 1918 - d. 13 Mar 1968)
Joyce, Maude Elizabeth Jessup (b. 10 Apr 1887 - d. 9 Nov 1966)
Joyce, Maxine B (b. 30 Apr 1945 - d. Unknown)
Joyce, Moir Davis (b. 22 Oct 1915 - d. 25 Aug 1988)
Joyce, Naomi Frances (b. 10 Mar 1917 - d. 21 Apr 2002)
Joyce, Nellie Lee Jackson (b. 14 Nov 1914 - d. 6 Jan 1972)
Joyce, Nomi Francis (b. 10 Mar 1927 - d. 21 Apr 2002)
Joyce, Nora M (b. 10 Apr 1906 - d. 19 Mar 1980)
Joyce, Oscar Lloyd (b. 30 Mar 1917 - d. 7 May 1984)
Joyce, Paulina Lorena Essick (b. 23 Jan 1878 - d. 6 Sep 1960)
Joyce, Ray H (b. 21 Nov 1905 - d. 2 Apr 1943)
Joyce, Ricie Oliver (b. 1 Mar 1906 - d. 21 Oct 1960)
Joyce, Robert Everett (b. 5 Jan 1882 - d. 11 Jan 1945)
Joyce, Rufus Marion (b. 15 Mar 1863 - d. 10 Aug 1965)
Joyce, Ruth Venable (b. 29 Jul 1913 - d. 3 Jan 1946)
Joyce, Sam Dillard (b. 18 Dec 1890 - d. 7 Feb 1971)
Joyce, Sandra Kay (b. 20 Jun 1951 - d. 21 Jun 1951)
Joyce, Sarah Venable (b. 17 Nov 1862 - d. 24 Jul 1949)
Joyce, Thomas Reginald "Bill" (b. 23 Sep 1928 - d. Unknown)
Joyce, Thomas Virgil (b. 23 Dec 1916 - d. 21 Nov 1985)
Joyce, Verda Moorefield (b. 23 Mar 1889 - d. 17 Apr 1939)
Joyce, Wayne Odell (b. 29 Apr 1953 - d. 3 Jan 1954)
Joyce, Woodrow (b. 6 Mar 1923 - d. 28 Jun 1923)
King, Alexander Martin, Jr "Pete" (b. 5 Jan 1862 - d. 15 Jul 1948)
King, Bertha Ann Joyce (b. 25 Nov 1894 - d. 28 Apr 1982)
King, Howard Washington (b. 8 Nov 1913 - d. 8 Jan 1998)
King, Lula Roberts (b. 29 Sep 1868 - d. 30 Nov 1954)
King, Nancy Ella (b. 9 Mar 1939 - d. 10 Jan 1947)
King, Nannie Kate Atkinson (b. 25 Mar 1890 - d. 9 Mar 1928)
King, Orange Columbus (b. 15 Feb 1889 - d. 27 Nov 1965)
King, Steller (b. 31 Dec 1915 - d. 6 Feb 1917)
King, Thomas William (b. 3 Feb 1892 - d. 14 Nov 1983)
Lawson, Annie Kate Hall (b. 15 Jun 1939 - d. 13 Oct 2011)
Lawson, Ariel Marie (b. 5 May 1990 - d. Unknown)
Lawson, Bertha E (b. 11 Oct 1910 - d. 2 Jul 1996)
Lawson, Canie Weldon (b. 29 Aug 1900 - d. 1 Dec 1984)
Lawson, Ella Woods (b. 3 Sep 1903 - d. 28 Mar 1994)
Lawson, Ernie Braxton (b. 30 Apr 1910 - d. 11 Sep 1982)
Lawson, Gladys Mozelle (b. 19 Mar 1929 - d. 8 Aug 1931)
Lawson, Lueler Lynch (b. 8 May 1876 - d. 15 Mar 1918)
Lawson, Mary Magdaline Hall "Maggie" (b. 11 Jul 1918 - d. 22 Apr 1995)
Lawson, Wallace J (b. 30 Sep 1928 - d. 30 Jul 2010)
Lawson, Walter C, R (b. 15 Aug 1908 - d. 24 Aug 1997)
Lynch, Annie Renee (b. 18 Apr 1968 - d. 13 Oct 1986)
Lynch, Caleb (b. 9 Apr 1852 - d. 17 Jul 1935)
Lynch, Catherine Leticia Pell (b. 29 Mar 1879 - d. 16 Feb 1959)
Lynch, Cecil Calvert (b. 13 Sep 1909 - d. 26 May 2007)
Lynch, Connie Faye Holt (b. 11 Nov 1945 - d. 20 Oct 2008)
Lynch, Cornella J (b. 3 Jul 1928 - d. Unknown)
Lynch, Delia Ann Ring (b. 8 Aug 1907 - d. 1 Apr 1990)
Lynch, Elijah L (b. 13 Feb 1884 - d. 9 Feb 1950)
Lynch, Elsie Alma Smith (b. 17 Sep 1910 - d. 7 Jan 1979)
Lynch, Emma Bell McBride "Emer" (b. 29 Oct 1867 - d. 16 May 1941)
Lynch, Eugene Millard (b. 12 May 1928 - d. 25 Sep 1975)
Lynch, Exonie Octave (b. 29 Jun 1880 - d. 6 Dec 1916)
Lynch, Frank L (b. 1886 - d. 1943)
Lynch, Frankey J Smith (b. 14 Jan 1855 - d. 17 Feb 1916)
Lynch, Franklin D (b. 21 Feb 1934 - d. 27 Sep 1952)
Lynch, Fred (b. 1 Apr 1925 - d. 22 Jan 1944)
Lynch, G Luther (b. 10 Dec 1893 - d. 8 Feb 1916)
Lynch, George W (b. 20 Apr 1897 - d. 9 Nov 1967)
Lynch, J P (b. 1848 - d. 1923)
Lynch, James Millard (b. 13 Mar 1903 - d. 24 Jan 1999)
Lynch, James Richard (b. 23 Aug 1860 - d. 5 Dec 1938)
Lynch, James Walter "Boss" (b. 7 Jun 1888 - d. 30 Jul 1975)
Lynch, Jane (b. Unknown - d. 18 Jan 1923)
Lynch, Jean Rogers (b. 18 Mar 1943 - d. Unknown)
Lynch, Jerry Mire (b. 27 Apr 1903 - d. 16 Aug 1969)
Lynch, John L (b. 2 Jun 1887 - d. 23 May 1958)
Lynch, John P (b. 7 Feb 1908 - d. 19 Oct 1962)
Lynch, Karina Carol (b. 30 Oct 1961 - d. Unknown)
Lynch, Larkin A (b. 21 Oct 1850 - d. 13 Aug 1936)
Lynch, Laura Ellen Pell (b. 15 Apr 1886 - d. 26 Dec 1961)
Lynch, Leon D (b. 18 Aug 1931 - d. 16 Jun 1994)
Lynch, Mary Frances Norris (b. 24 Jan 1922 - d. 28 Aug 2006)
Lynch, Mary V Turpin (b. 8 Oct 1852 - d. 7 Jun 1936)
Lynch, Matt Franklin (b. 9 May 1953 - d. 18 May 2013)
Lynch, Matt Oliver (b. 27 Jun 1875 - d. 3 Jul 1940)
Lynch, Mattie Elizabeth Frye (b. 6 Jan 1898 - d. 19 Sep 1993)
Lynch, Mattie L Everhart (b. 6 Nov 1895 - d. 22 Jan 1959)
Lynch, Minnie S (b. 28 Feb 1940 - d. Unknown)
Lynch, Nannie Elizabeth Smith (b. 28 Jan 1873 - d. 4 Jun 1947)
Lynch, Ned (b. 1 Apr 1923 - d. 20 May 1998)
Lynch, Opal M (b. 24 Jul 1929 - d. Unknown)
Lynch, Ray W (b. 1917 - d. 1918)
Lynch, Rena Elza Stewart (b. 16 Apr 1907 - d. 3 Mar 1987)
Lynch, Robert Tug (b. 3 Jul 1869 - d. 5 Feb 1959)
Lynch, Rosetta (b. 7 May 1902 - d. 26 Mar 1929)
Lynch, Ruby Mae Johnson (b. 24 Oct 1917 - d. 2 Apr 2004)
Lynch, Russell Calvert (b. 1 Apr 1941 - d. Unknown)
Lynch, Thompson (b. 7 Sep 1915 - d. 1 Nov 1918)
Lynch, Thompson G (b. 1 Nov 1913 - d. 1 Nov 1913)
Lynch, Timothy Ray "Timmy" (b. 11 May 1964 - d. 10 Oct 2013)
Lynch, Tony Gaithor (b. 13 Apr 1914 - d. 28 Dec 1997)
Lynch, Vergie (b. 17 Jan 1905 - d. 24 Oct 1918)
Lynch, Violet R (b. 27 Mar 1935 - d. 7 Oct 1964)
Lynch, William Powell (b. 20 Sep 1932 - d. 20 Nov 1989)
Manuel, Vivian Cordella Barker (b. 16 Feb 1926 - d. 21 Mar 2011)
Manuel, William Warren "Bill" (b. 14 Sep 1922 - d. 15 Apr 2003)
Marion, Barbara Coins (b. 14 Dec 1941 - d. 1 Dec 1983)
Marion, Eddie Gray (b. 29 May 1943 - d. Unknown)
Marion, Monte Gray (b. 29 Aug 1973 - d. Unknown)
Martin, Edgar C (b. 10 Jul 1897 - d. 23 Jun 1956)
Martin, Jack A (b. 16 Apr 1868 - d. 29 Nov 1933)
Martin, Malissa Jane Page "Sissie" (b. 6 Dec 1869 - d. 8 Dec 1915)
Martin, Stella Holder (b. 14 Aug 1898 - d. 12 Apr 1970)
Matthews, Alma Ola (b. 8 Mar 1927 - d. 15 Dec 1947)
Matthews, Beulah (b. 15 Feb 1918 - d. 18 May 1974)
Matthews, Dalma Grover (b. 8 Mar 1927 - d. 31 May 1977)
Matthews, James E (b. 3 Aug 1881 - d. 28 Aug 1974)
Matthews, Roland L (b. 20 Apr 1920 - d. 18 Sep 1952)
Matthews, Sheppard Schouler (b. 17 Aug 1901 - d. 24 Apr 1992)
Matthews, Verna Mae (b. 2 Mar 1915 - d. 25 Jan 1986)
McCreary, Ada J Essick (b. 25 Mar 1919 - d. 20 Jun 2002)
McCreary, Thomas Fenton (b. 11 Sep 1916 - d. 6 Oct 2004)
McDaniel, James W (b. 5 Mar 1865 - d. 6 Apr 1945)
McDaniel, Robert Lindo (b. 8 Jun 1901 - d. 4 Nov 1950)
McDaniel, Ruth Owen (b. 2 Jun 1915 - d. Unknown)
McDaniel, Sarah P Jessup (b. 7 Aug 1861 - d. 19 Dec 1942)
McDaniel, W Walter (b. 26 Dec 1885 - d. 30 Jan 1934)
McGee, Bobby Ray (b. 16 Sep 1938 - d. 10 Jan 1989)
McGee, Lillie Sizemore (b. 1900 - d. 1997)
McGee, MacArthur (b. 26 Feb 1944 - d. 15 Jun 1988)
McGee, Pauline Gray (b. 24 Oct 1922 - d. 12 Jul 1927)
McGee, W Ernest (b. 1892 - d. 1966)
McMillian, Hazel Alene (b. 16 Sep 1932 - d. 3 Jul 2012)
McMillon, Anne Mae (b. 5 Feb 1933 - d. 5 Feb 1933)
McMillon, Dorothy Elizabeth (b. 1 Jun 1914 - d. 27 Feb 1958)
McMillon, John Thomas (b. 1906 - d. 1994)
Merritt, Clinard Bernard (b. 11 Apr 1931 - d. 12 Nov 2011)
Mitchell, Anna Elsie Chilton (b. 28 Jun 1899 - d. 26 Aug 1991)
Mitchell, Edna Carson (b. 6 Jun 1871 - d. 28 Nov 1959)
Mitchell, Helen L. Grace (b. 8 Jun 1903 - d. 12 Apr 1987)
Mitchell, Howard Orvan (b. 14 Nov 1899 - d. 9 Dec 1962)
Mitchell, James A (b. 26 Mar 1880 - d. 6 Mar 1943)
Mitchell, James Gideon (b. 13 Jun 1865 - d. 27 May 1952)
Mitchell, Jerry M (b. 11 Jan 1860 - d. 31 Jul 1930)
Mitchell, Mamie (b. 15 Jul 1905 - d. Unknown)
Mitchell, Ralph Owen (b. 3 Mar 1904 - d. 6 Feb 1950)
Mitchell, Sarah Ware Nunn "Sallie" (b. 14 Dec 1869 - d. 19 Oct 1945)
Mitchell, Wesley (b. 25 Dec 1896 - d. 12 Aug 1964)
Mitchell, William Fulton "Bill" (b. 9 Dec 1927 - d. 4 Mar 2013)
Moore, Bessie Mae Collins (b. 13 May 1918 - d. 23 Dec 2001)
Moore, David Lee (b. 26 Nov 1938 - d. 18 Feb 1983)
Moore, Lewis Calvin, Sr (b. 8 Oct 1916 - d. 2 May 2005)
Moorefield, Joseph (b. 1842 - d. 1910)
Moorefield, Nanny (b. 1863 - d. 1936)
Moorefield, Nonnie Mae Nunn (b. 7 Aug 1917 - d. 13 Dec 1987)
Moorefield, R F (b. 13 Apr 1893 - d. 25 Jan 1942)
Moorefield, R H (b. 25 Dec 1864 - d. 11 Jan 1935)
Moorefield, Raymond F (b. Unknown - d. Unknown)
Moorefield, Rebecca C (b. 11 Aug 1852 - d. 22 Nov 1924)
Moorefield, Susan Savannah Owens "Susie" (b. 11 Aug 1892 - d. 27 Oct 1968)
Moorefield, William Herman (b. 5 Sep 1918 - d. 29 Jul 1956)
Morefield, R H (b. 25 Dec 1864 - d. 11 Jan 1935)
Morefield, Rebbaca C (b. 14 Aug 1852 - d. 22 Nov 1924)
Morefield, Wright Franklin (b. 3 Apr 1893 - d. 23 Jan 1942)
Morrison, Anson Gray (b. 7 Dec 1986 - d. 11 Dec 1986)
Mulloy, Nora Boaz (b. 15 Jan 1882 - d. 21 Jun 1965)
Myers, Jimmy Lee (b. 18 Mar 1948 - d. 13 Mar 2007)
Napier, Ida Augusta Francis (b. 26 Nov 1853 - d. 4 Feb 1929)
Napier, Infant Daughter (b. 25 Aug 1908 - d. 25 Aug 1908)
Napier, James T (b. 17 Jun 1907 - d. 19 Jul 1907)
Napier, Mary M (b. 15 Jul 1881 - d. 14 Sep 1908)
Napier, Thomas A (b. 1845 - d. 1917)
Needham, C W (b. 19 Jan 1926 - d. 19 Jan 1926)
Needham, Infant Girl (b. 25 Mar 1939 - d. 25 Mar 1939)
Needham, Infant Son (b. 25 Mar 1939 - d. 25 Mar 1939)
Needham, Infant Son (b. 4 Dec 1927 - d. 4 Dec 1927)
Nelson, Helen Bateman (b. 1 Apr 1931 - d. Unknown)
Nelson, James Spencer (b. 1 Nov 1926 - d. Unknown)
Nelson, Johnny Boyd (b. 26 Apr 1926 - d. 23 Feb 2006)
Nelson, Mary Ruth B (b. 28 Jul 1920 - d. 20 Oct 1984)
Nunn Hicks, Ida Belle Carson (b. 15 May 1910 - d. 22 Oct 1997)
Nunn, Alberdean (b. 18 Nov 1927 - d. 9 Mar 1993)
Nunn, Albert Monroe (b. 31 May 1905 - d. 29 Mar 1976)
Nunn, Charles Auston "Charlie" (b. 5 May 1881 - d. 17 Apr 1952)
Nunn, Delmer Herman (b. 22 Feb 1913 - d. 8 Dec 1935)
Nunn, Elliott Theodore, Jr (b. 3 Apr 1941 - d. 3 Apr 1941)
Nunn, Emma Lee Collins (b. 15 Jun 1904 - d. 10 Mar 1982)
Nunn, Francis (b. Sep 1939 - d. Unknown)
Nunn, Geraldine Mae (b. 1941 - d. 1942)
Nunn, Janice Ilene Starbuck (b. 8 Oct 1943 - d. 21 Aug 2010)
Nunn, John Henry (b. 14 May 1891 - d. 28 Jul 1953)
Nunn, Joseph Franklin "Frank" (b. 1879 - d. 1959)
Nunn, Joseph Lee (b. 21 Feb 1926 - d. Unknown)
Nunn, Josephus "Joe" (b. 19 Sep 1940 - d. 17 Apr 2013)
Nunn, Kymberly E (b. 1958 - d. Unknown)
Nunn, Lewis Columbus "Lum" (b. 29 Sep 1856 - d. 19 Feb 1917)
Nunn, Lilly Mae Young (b. 25 Sep 1909 - d. Unknown)
Nunn, Lois Viola Cox (b. 17 Jan 1924 - d. 26 Nov 2011)
Nunn, Marie (b. 17 Apr 1938 - d. Unknown)
Nunn, Martha Etta Cain (b. 28 Feb 1887 - d. 5 Jan 1971)
Nunn, Mary Ann Lynch (b. 11 Jun 1857 - d. 25 Dec 1945)
Nunn, Nancy Jane Pell (b. 28 Nov 1883 - d. 11 Mar 1961)
Nunn, Nellie Iona Snow (b. 7 Feb 1928 - d. 6 Jun 2010)
Nunn, Rachel Avadell Hice (b. 3 Dec 1943 - d. 26 Apr 1985)
Nunn, Rufus Dillard (b. 9 Apr 1885 - d. 1 Jun 1955)
Nunn, Thomas Woodrow (b. 8 Nov 1918 - d. 3 Dec 1974)
Nunn, Troy Monroe (b. 10 Aug 1908 - d. 12 Feb 2004)
Nunn, Ula Jane Carson (b. 10 Dec 1902 - d. 11 Jul 1994)
Nunn, Verlie Ann Southern (b. 12 Oct 1888 - d. 2 Nov 1955)
Nunn, Zackery Allen (b. 22 Sep 1962 - d. 8 May 1996)
Owen, Alma Harrison (b. 25 Dec 1911 - d. 7 Feb 2003)
Owen, C W (b. 28 Apr 1868 - d. 28 Dec 1928)
Owen, Harvey Woodrow (b. 1913 - d. 1989)
Owen, Nancy Franklin Gordon "Nannie" (b. 12 Oct 1876 - d. 12 Mar 1950)
Owen, Thomas Lester (b. 29 Apr 1909 - d. 22 Aug 2006)
Parker, George H (b. 1885 - d. 1968)
Parks, George Hartwell (b. 26 Mar 1885 - d. 4 Mar 1968)
Parks, Ida M (b. 1882 - d. 1967)
Pell, Alma Cleo (b. 15 Aug 1913 - d. 12 Feb 1936)
Pell, Beatrice Malinda Gordon "Bea" (b. 11 Dec 1930 - d. 22 Mar 2011)
Pell, Carl Ray (b. 1 Feb 1928 - d. 20 Oct 1998)
Pell, Elmar (b. 28 Feb 1916 - d. 18 Mar 1916)
Pell, Erma (b. 13 Oct 1911 - d. 13 Oct 1911)
Pell, Fera Gray (b. 26 Apr 1941 - d. 25 Feb 2011)
Pell, Harrison Odell (b. 13 Feb 1920 - d. 30 Sep 1936)
Pell, Hettie Josephine Boyles (b. 8 May 1920 - d. 30 Dec 1997)
Pell, James S (b. 5 Feb 1872 - d. 5 Jun 1949)
Pell, Lester Robert (b. 17 Jul 1917 - d. 23 Feb 1998)
Pell, Lillie M (b. 8 May 1882 - d. 24 Dec 1932)
Poteat, (b. Unknown - d. Unknown)
Poteat, Ada Irene Gibson (b. 2 Aug 1925 - d. 7 Dec 2008)
Poteat, Claude Shelton (b. 26 May 1929 - d. 1 Oct 2003)
Pucket, Matthew Lane (b. 10 Jul 1991 - d. 10 Jul 1991)
Ray, Bonnie Jean (b. 3 Feb 1939 - d. Unknown)
Ray, Drury Maxwell (b. 8 Feb 1930 - d. 29 Oct 1996)
Reid, Lois Boaz (b. 10 May 1895 - d. 1 Aug 1962)
Rhodes, Daisy V (b. 12 Jan 1886 - d. 9 Oct 1958)
Rhodes, Margaret Louise (b. 28 Feb 1922 - d. 20 Jul 1923)
Rhodes, Thomas (b. Unknown - d. 20 Oct 1923)
Rhodes, Thomas T (b. 20 Nov 1876 - d. 15 Jul 1942)
Ring, Betty Collins (b. 4 May 1931 - d. 9 Nov 2013)
Roberts, Cora Frances Linville (b. 29 May 1876 - d. 12 Oct 1955)
Roberts, Eliza (b. 22 Sep 1839 - d. 12 Aug 1922)
Roberts, Lera Joyce (b. 18 Sep 1911 - d. 7 Jun 1974)
Roberts, Raleigh Richard (b. 25 Feb 1871 - d. 14 Feb 1948)
Robertson, Alfred Lee (b. 25 Jul 1913 - d. 17 Dec 1936)
Robertson, Anna King (b. 1 Oct 1896 - d. 16 Aug 1973)
Robertson, James Edward (b. 10 Jun 1891 - d. 29 Jan 1966)
Romine, Lillian M (b. 21 Apr 1926 - d. 16 Jun 2004)
Rutledge, Darrell Gray (b. 22 Nov 1963 - d. 22 Oct 1968)
Rutledge, Ellen Regina (b. 22 Sep 1965 - d. 23 Sep 1965)
Rutledge, Gladys Cook (b. 9 May 1918 - d. Unknown)
Rutledge, Jack (b. 1905 - d. 1925)
Rutledge, M Verlie (b. 29 Jul 1884 - d. 23 Mar 1942)
Rutledge, Marie (b. 1898 - d. 1924)
Rutledge, Martha J East (b. 11 Mar 1902 - d. 14 Feb 1980)
Rutledge, O M (b. 8 Jun 1873 - d. 20 Oct 1937)
Rutledge, Pete O (b. 17 Aug 1900 - d. 17 Dec 1948)
Rutledge, Ronald Wade (b. 13 Mar 1964 - d. 15 Mar 1964)
Rutledge, Samuel Allen (b. Unknown - d. 8 Jul 1951)
Rutledge, Samuel Hershel (b. 5 Jul 1902 - d. 16 May 1958)
Rutledge, Sandra Ronette (b. Unknown - d. 15 Aug 1966)
Rutledge, Vance Joe Bill (b. 5 Jan 1913 - d. 2 Mar 1964)
Sams, Clara Ora (b. 1 Nov 1902 - d. 19 Dec 1989)
Sams, Elijah R (b. 18 Apr 1891 - d. 2 Sep 1973)
Sams, Elijah, Jr (b. 12 Nov 1923 - d. 31 May 2002)
Sams, Fannie J (b. 26 Nov 1860 - d. 19 Jul 1943)
Sams, Irene Sheppard (b. 1 Sep 1918 - d. 30 Apr 2000)
Sams, James Y (b. 20 Jun 1908 - d. 1 Jun 1979)
Sams, John Wesley (b. 20 Nov 1898 - d. 16 Jun 1972)
Sams, Johnny F (b. 3 Oct 1938 - d. 8 Oct 1938)
Sams, Mcarthur (b. 24 Feb 1942 - d. 2 Jan 1944)
Sams, Nina S (b. 9 Aug 1900 - d. 13 Sep 1979)
Sams, Raleigh R (b. 8 Nov 1903 - d. 17 Jun 1969)
Sams, Rebecca H (b. 17 Apr 1893 - d. 18 Feb 1961)
Sams, Stephen Wesley (b. 6 Nov 1969 - d. 7 Nov 1969)
Sams, Vera J (b. 27 May 1909 - d. 9 Feb 1995)
Sams, William Clade (b. 23 Dec 1905 - d. 11 Oct 1991)
Sams, Yancy F (b. 19 Apr 1855 - d. 8 Mar 1943)
Sands, Lulla Missouri Hicks (b. 1876 - d. 22 Mar 1926)
Sawyers, Donnie Edward (b. 8 Mar 1952 - d. 13 Mar 2009)
Schepper, Ora Stone (b. 23 Sep 1895 - d. 14 Sep 1986)
Sechrest, Daniel Curtis (b. 21 Jun 1911 - d. 17 Feb 2009)
Sechrest, Mary Ann Welborn (b. 15 Sep 1917 - d. 31 Oct 1991)
Sechrist, Agnes S (b. 26 May 1920 - d. 19 Oct 1980)
Sechrist, Alfred Lee (b. 13 Jan 1929 - d. 22 Feb 1930)
Sechrist, Bobbie Lee (b. 12 Dec 1913 - d. 6 Nov 1988)
Sechrist, Clyde (b. 15 Jul 1919 - d. 13 Jul 1999)
Sechrist, Davis W (b. 13 Aug 1924 - d. 29 Sep 2009)
Sechrist, Flora J (b. 7 Jul 1888 - d. 9 Dec 1980)
Sechrist, Garland Wendell, Sr (b. 23 Dec 1927 - d. 31 Jul 2010)
Sechrist, J Ralph (b. 4 Mar 1918 - d. 1 Nov 1938)
Sechrist, Jack (b. 17 Jul 1928 - d. Unknown)
Sechrist, James Paul (b. 8 Oct 1916 - d. 19 Oct 2003)
Sechrist, Jesse Reid (b. 3 May 1897 - d. 20 Oct 1979)
Sechrist, John W (b. 27 Oct 1892 - d. 18 Jan 1961)
Sechrist, Killian (b. 31 Mar 1854 - d. 14 Dec 1955)
Sechrist, Leona Ellis (b. 2 Nov 1921 - d. Unknown)
Sechrist, Mallie Mae Wilson (b. 12 Oct 1896 - d. 19 Apr 1992)
Sechrist, Rebecca J (b. 29 Jul 1968 - d. 28 Nov 2009)
Sechrist, Samuel H (b. 24 May 1900 - d. 28 Jan 1986)
Sechrist, Savannah Lynch (b. 13 Apr 1878 - d. 5 Feb 1970)
Sechrist, Vada (b. 25 Mar 1925 - d. Unknown)
Shelton, Ida Bell Frye (b. 22 Sep 1879 - d. 6 May 1963)
Shelton, John Abe (b. 22 Sep 1877 - d. 21 Jan 1954)
Shelton, Obera (b. 16 Jun 1912 - d. 25 Feb 1917)
Sheppard, Georgia Wilson "Georgie" (b. 13 Jan 1906 - d. 5 Jul 1984)
Sheppard, James Jeff (b. 11 Dec 1903 - d. 9 Mar 1939)
Sheppard, Roe (b. 30 Mar 1914 - d. 6 May 1914)
Sheppard, Ronald Gray (b. 3 Dec 1936 - d. 1 Feb 2013)
Simmons, Martha Ann Cook (b. 4 Jan 1883 - d. 12 Oct 1912)
Sisk, Carol Jean Hunter (b. 15 Dec 1931 - d. 27 Oct 2010)
Sisk, Herbert Harlue Malendy (b. 8 Feb 1929 - d. 6 Apr 1995)
Slate, Irene Elizabeth Boaz "Betty" (b. 7 May 1920 - d. 9 Feb 2006)
Slate, Mary Lynn (b. 26 May 1960 - d. 1 Jan 1983)
Slawter, Alma Mary Joyce (b. 15 Sep 1917 - d. 24 Dec 2010)
Slawter, Edward Alton (b. 15 Dec 1916 - d. 1 Dec 1986)
Smith, Dewitt Lovelace (b. 12 Apr 1869 - d. 1 Aug 1940)
Smith, Hazel Ruth (b. 2 Nov 1921 - d. 4 Jun 1928)
Smith, Ida Mae Sechrist (b. 23 Sep 1900 - d. 1 Jan 1998)
Smith, Irene Hunter (b. 14 Mar 1914 - d. 22 Dec 1959)
Smith, Jennie Lynn (b. 6 Mar 1891 - d. 7 Mar 1968)
Smith, Louis Edgar (b. 19 Mar 1884 - d. 19 Oct 1971)
Smith, Lowell A (b. 8 Jan 1913 - d. 8 Oct 1947)
Smith, Lulare O (b. 6 Sep 1876 - d. 15 May 1938)
Smith, Mary Powell Powell (b. 15 Sep 1909 - d. 21 Dec 2006)
Smith, Minnie Lee tilley (b. 28 Jul 1888 - d. 11 Mar 1936)
Smith, Peter Paul (b. 13 Mar 1897 - d. 14 Jun 1980)
Smith, Roy (b. 5 Oct 1921 - d. 1 Aug 1926)
Smith, Ruth (b. 5 Oct 1924 - d. 25 Aug 1926)
Smith, Ruth (b. 2 Nov 1921 - d. 4 Jun 1928)
Snider, Elizabeth S (b. 25 Dec 1932 - d. Unknown)
Snider, Vernon Emanuel (b. 27 Mar 1938 - d. 15 Feb 2008)
Soriano, Betty G (b. 1 Oct 1935 - d. 2 Dec 1992)
Southern, Berlena Hicks (b. 12 Feb 1920 - d. 12 Nov 1972)
Southern, Bobby Joe (b. 16 Jan 1939 - d. 16 Jun 1998)
Southern, James Woodrow (b. 24 Feb 1917 - d. 30 Jan 1991)
Southern, Phyllis Ann Joyce (b. 13 Jun 1942 - d. 13 Aug 2011)
Southern, Ray Monroe (b. 4 May 1938 - d. 2 Apr 1998)
Southern, Tamera Lynn (b. 11 May 1966 - d. 9 Jan 2014)
Spillman, Debra Tilley (b. 12 Aug 1955 - d. 21 Jun 2006)
Starbuck, Ethel Luiza Hicks (b. 30 May 1921 - d. 18 Jul 2013)
Stone, Caleb M (b. 8 Sep 1911 - d. 24 May 1985)
Stone, Cleo J (b. 29 Jan 1911 - d. Unknown)
Stone, Flora Ann Sams (b. 26 May 1886 - d. 29 Oct 1930)
Stone, James Robert (b. 23 Nov 1914 - d. 9 Apr 1994)
Stone, John Robert (b. 5 May 1893 - d. 6 Sep 1944)
Stone, Kay Loyce (b. 31 Jul 1932 - d. 31 Jul 1932)
Tate, Clyde A (b. 29 Jun 1944 - d. 11 Sep 1993)
Tate, Irene F "Kitty" (b. 18 Mar 1946 - d. Unknown)
Taylor, Rhumell Coins Collins (b. 4 Oct 1929 - d. 14 Oct 1999)
Thore, Billy Wade (b. 16 Oct 1944 - d. 25 Sep 2014)
Thore, Frances Ann Joyce (b. 25 May 1857 - d. 8 Jun 1922)
Thore, John Wesley (b. 6 Sep 1878 - d. 26 Mar 1922)
Thore, Thomas Floyd (b. 11 Nov 1850 - d. 5 Jan 1934)
Tilley, Alevene Melissa (b. 18 Aug 1928 - d. 5 Nov 1959)
Tilley, Annette (b. 9 Jan 1954 - d. 17 Feb 1954)
Tilley, Audrey Felicia Gordon (b. 28 May 1916 - d. 5 Sep 2005)
Tilley, Bud (b. 28 Dec 1889 - d. 18 Jun 1964)
Tilley, Cornelius W (b. 10 Oct 1856 - d. 17 Oct 1918)
Tilley, Ethel Wilson (b. 8 Dec 1906 - d. 6 Aug 1995)
Tilley, Florida E Nelson (b. 7 Oct 1895 - d. 14 Nov 1963)
Tilley, Garrell V (b. 13 Jul 1902 - d. 2 Mar 1919)
Tilley, Hassell Cornelious (b. 26 May 1930 - d. 7 Oct 1950)
Tilley, Henrietta Mariah Boaz (b. 12 Jun 1859 - d. 27 Aug 1933)
Tilley, Ila Bowman (b. 27 Jul 1916 - d. 6 Dec 2000)
Tilley, J Reid (b. 23 Feb 1894 - d. 9 Apr 1974)
Tilley, James Cornelius (b. 19 May 1930 - d. 30 May 1966)
Tilley, James E (b. 20 Jun 1858 - d. 26 Jan 1939)
Tilley, Jimmy Wayne, Jr (b. 21 May 1968 - d. 1 Aug 2000)
Tilley, John Otis (b. 11 Jun 1921 - d. 19 Dec 1986)
Tilley, Lloyd George, Sr (b. 23 Nov 1919 - d. 22 Aug 1989)
Tilley, Loyd George, Jr "L.G." (b. 2 Mar 1942 - d. 6 Jan 2013)
Tilley, Mattie M Shelton (b. 3 Jul 1927 - d. 25 Dec 1973)
Tilley, Michael G (b. 24 Dec 1962 - d. 12 Mar 2008)
Tilley, Nancy Elizabeth Lawson (b. 15 Jun 1860 - d. 20 Sep 1940)
Tilley, Otis Steven (b. 15 Sep 1948 - d. 15 Oct 1948)
Tilley, Theodore Lafaette (b. 6 Jun 1917 - d. 3 Aug 1986)
Tilley, Walter L (b. 13 Apr 1882 - d. 27 Jan 1906)
Tucker, James Howard, Sr (Rev.) (b. 15 Sep 1919 - d. 19 Feb 2013)
Tucker, Lillian Ruby Inman (b. 29 Apr 1913 - d. 5 Feb 2001)
Tucker, Ora Lee Lynch (b. 26 Sep 1915 - d. 23 Mar 2001)
Vaden, Jimmy William (b. 16 Jan 1947 - d. 1 Apr 1963)
Vaden, Ruby Olivia Frye (b. 3 Feb 1917 - d. 16 Feb 1989)
Vaden, William Harvey (b. 21 Apr 1917 - d. 14 Sep 2004)
Vaughn, Dock Almer (b. 21 Oct 1889 - d. 29 Aug 1971)
Vaughn, Herman Gray (b. 15 Mar 1920 - d. 20 Sep 2011)
Vaughn, Homer Max (b. 5 Jul 1938 - d. 28 Dec 2005)
Vaughn, Mary Frances Venable (b. 11 Jun 1920 - d. 9 Jun 1992)
Vaughn, Mattie Lelia Forkner (b. 18 Dec 1898 - d. 24 Jan 1971)
Vaughn, Patti Gayle Rogers (b. 28 Oct 1939 - d. Unknown)
Venable, Alexander (b. 4 Jun 1867 - d. 17 Oct 1929)
Venable, Annie Bell (b. 9 Nov 1944 - d. 9 Nov 1944)
Venable, C Ray (b. 28 Feb 1900 - d. 21 Jun 1986)
Venable, Callie K (b. 16 Jan 1916 - d. 27 May 1999)
Venable, Carrie Spencer Slawter (b. 28 Dec 1883 - d. 19 Nov 1975)
Venable, Cyrus J (b. 3 Sep 1896 - d. 7 Mar 1976)
Venable, David Dalton (b. 13 Apr 1879 - d. 29 Aug 1964)
Venable, Emily P Bullington (b. 5 Apr 1864 - d. 20 Dec 1958)
Venable, Eugene (b. 8 Feb 1936 - d. Unknown)
Venable, Ida Augusta Simmons (b. 31 Aug 1904 - d. 10 Nov 1988)
Venable, Infant (b. 9 Feb 1949 - d. 9 Feb 1949)
Venable, Infant Son (b. 7 Nov 1918 - d. 7 Nov 1918)
Venable, James Martin (b. 11 Jun 1865 - d. 9 Jul 1945)
Venable, Kary E (b. 10 May 1906 - d. 18 Nov 1906)
Venable, Kersey (b. 8 Jun 1879 - d. 9 Nov 1933)
Venable, Lillian (b. 31 Mar 1902 - d. 8 Nov 1985)
Venable, Lurico (b. 13 Mar 1896 - d. 6 Aug 1944)
Venable, Lurico O "Rico" (b. 20 Aug 1873 - d. 12 Nov 1942)
Venable, Maggie Mozel (b. 29 Aug 1913 - d. 21 Apr 1915)
Venable, Martin (b. 15 Oct 1824 - d. 18 Nov 1906)
Venable, Mary Jane Boyles (b. 9 May 1878 - d. 7 Mar 1969)
Venable, Mary O (b. 6 Dec 1907 - d. 2 Feb 1908)
Venable, Nancy J (b. 22 Apr 1833 - d. 8 Feb 1911)
Venable, Nancy M (b. 11 Jun 1865 - d. 9 Sep 1965)
Venable, R Arnold (b. 9 Nov 1910 - d. 1 Feb 1994)
Venable, Ray (b. 28 Feb 1900 - d. 21 Jun 1986)
Venable, Rex Marion (b. 17 Aug 1937 - d. 29 Apr 1972)
Venable, Rhumell J (b. 27 Jan 1922 - d. 14 Oct 1990)
Venable, Samuel Harvel (b. 5 Aug 1904 - d. 1 Nov 1970)
Venable, Samuel P (b. 9 Sep 1869 - d. 13 Mar 1924)
Venable, Sobella J (b. 11 Oct 1870 - d. 2 Feb 1908)
Venable, Susan Ella Beasley (b. 30 Apr 1874 - d. 15 May 1937)
Venable, Thomas W (b. 18 May 1929 - d. 31 Sep 1989)
Venable, W H (b. 13 Jul 1868 - d. 30 Apr 1951)
Vestal, Arthur (b. 1917 - d. 1976)
Vestal, Helen (b. 1923 - d. Unknown)
Wagner, Dorothy Vernell Bowman (b. 19 May 1927 - d. 25 Jun 2001)
Wagner, George W (b. 1919 - d. 1996)
Wall, Fronie Lucille Billings (b. 5 May 1925 - d. 29 Oct 2012)
Wall, James Washington (b. 20 Apr 1923 - d. 3 Feb 1980)
Waller, Ruth Gordon (b. 10 Dec 1911 - d. 27 Dec 2008)
Ward, Annie Belle Lynch (b. 7 Dec 1932 - d. 4 May 2002)
Ward, Johnny B (b. 10 Apr 1954 - d. Unknown)
Ward, Paul, Jr (b. 29 Jul 1951 - d. Unknown)
Whitaker, Dorothy Jackson (b. 2 Apr 1922 - d. 3 Apr 1996)
Whitaker, James G (b. 17 Feb 1918 - d. 2 Dec 1980)
Wilkinson, Odell E (b. 4 Dec 1921 - d. 23 Sep 2009)
Wilkinson, Richard Michael (b. 25 Nov 1928 - d. 5 May 2005)
Willard, Thomas Watson (b. 15 Apr 1942 - d. 17 Jan 1981)
Wilson, Bernice (b. 5 Mar 1913 - d. 19 Jul 1941)
Wilson, Bessie L (b. 10 Sep 1906 - d. 11 Dec 1980)
Wilson, Bishop T (b. 1911 - d. 1997)
Wilson, Bobby Joe (b. 13 Sep 1932 - d. 28 Oct 1932)
Wilson, Bryan Keith (b. 3 Nov 1973 - d. 4 Feb 1975)
Wilson, Carl Samuel (b. 1 Mar 1905 - d. 20 May 1979)
Wilson, Cebron Joseph, Sr (b. 10 Sep 1890 - d. 14 Oct 1983)
Wilson, Charles Frank (b. 13 Jan 1890 - d. 28 Dec 1969)
Wilson, Claude Ray (b. 7 Mar 1899 - d. 9 Sep 1983)
Wilson, Dallas Ray (b. 29 Dec 1929 - d. 23 Apr 2004)
Wilson, Dollie Linville (b. 23 Jun 1864 - d. 1 Mar 1950)
Wilson, Elijah Lee "Elige" (b. 30 May 1897 - d. 2 Jul 1977)
Wilson, Elisha Graham (b. 6 Apr 1915 - d. 16 Feb 1917)
Wilson, Elisha Thomas (b. 3 Feb 1861 - d. 17 Jun 1945)
Wilson, Floyd H (b. 23 Jun 1893 - d. 24 Oct 1931)
Wilson, George Robert "Bob" (b. 17 Sep 1888 - d. 24 Apr 1964)
Wilson, Grace J (b. 25 Dec 1907 - d. 4 Aug 1961)
Wilson, Harry Noble (b. 1933 - d. Unknown)
Wilson, Harvey Eugene (b. 28 Dec 1929 - d. 14 Nov 1990)
Wilson, Hessie Cain (b. 5 Apr 1902 - d. 25 Sep 1989)
Wilson, James Monroe (b. 1 May 1924 - d. 1 Feb 1989)
Wilson, Kevin Bryce (b. 3 Nov 1973 - d. Unknown)
Wilson, Lora Virginia (b. 29 Jan 1928 - d. 16 Aug 1989)
Wilson, Mallie May McDaniel (b. 6 Aug 1892 - d. 2 May 1977)
Wilson, Martha Alice Nunn (b. 16 Jul 1894 - d. 6 Feb 1933)
Wilson, Mary Carson (b. 23 Apr 1869 - d. 22 Dec 1960)
Wilson, Mary Etta Boaz (b. 14 Jul 1915 - d. 28 May 2006)
Wilson, Myrtice Irene Joyce (b. 21 Feb 1915 - d. 7 Jan 1992)
Wilson, Paul O (b. 23 Jan 1913 - d. 16 Sep 1977)
Wilson, Raleigh C (b. 22 Sep 1894 - d. 23 Nov 1933)
Wilson, Roy L (b. 28 Jun 1900 - d. 23 Oct 1979)
Wilson, Sandy (b. 10 Jun 1896 - d. 5 May 1959)
Wilson, Thomas Blain (b. 5 Mar 1911 - d. 26 Feb 1976)
Wilson, Wiley T (b. 6 Nov 1894 - d. 20 Jan 1939)
Wilson, William James (b. 21 Jul 1862 - d. 30 May 1918)
Woodrow, Joseph S (b. 16 Jun 1893 - d. 23 Aug 1965)
Woodrow, Mary P (b. 5 Aug 1909 - d. 21 Dec 2006)
Woods, Elaine Margaret Hall (b. 2 Aug 1926 - d. 21 Mar 2006)
Woods, Turner Rufus (b. 26 Nov 1918 - d. 22 Mar 1979)
Wright, Bernice Lee Smith (b. 17 May 1927 - d. 26 Mar 2006)
Wright, Daniel Wade (b. 5 Mar 1954 - d. 6 Mar 1954)
Wright, James Wade (b. 4 Aug 1975 - d. 4 Jan 1977)
Wright, Rex Leo (b. 10 Jan 1928 - d. 3 Aug 2014)
Yates, C T (b. 6 Dec 1942 - d. 11 Jan 1998)
Yates, Faye N (b. 8 Nov 1939 - d. Unknown)
Web page updated 1 June 2017
Index of All Cemeteries
Alphabetical Index of All Burials
Previous Page