Index of All Cemeteries
Alphabetical Index of All Burials
Previous Page
Use the following to search across all the cemeteries listed.
Example: "Smith, Roger" (yes, use the quotes)
001 EDWARDS FAMILY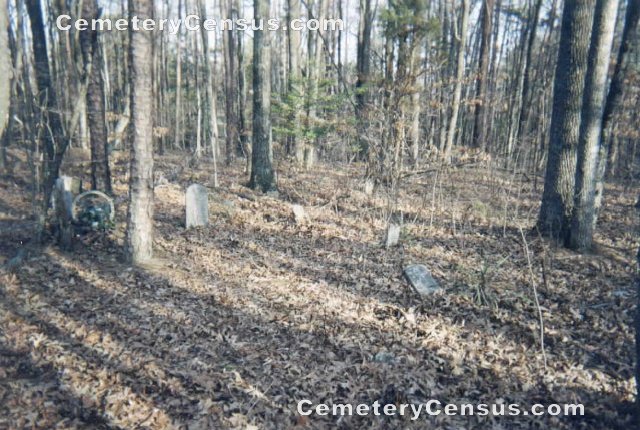 Location - on Old US Hwy 52 about 2.5 miles southeast of Pinnacle.

Coordinates: 36d 19m 11.5s N; 80d 24m 55.7s W Click here for Google maps

Directions: from Pinnacle go southeast on Old US Hwy 52 for 2 to 3 miles. Cemetery is on right side of road just before Dalton Loop Rd.

Another view of the cemetery.

Surveyed by Bob Carter in 2004.

No research was done to identify the name of this cemetery, and this name for Edwards is only as a means of identification. This cemetery has seven graves inside of a chain-linked fence and it looked like someone has been taking care of the graves since it was clean and without overgrowth. However, outside of the fenced-in area there are at least many other graves not being maintained and they are being overgrown by brush and vines. Nine of these graves were identified and listed below, but there are many more with only river-slate markers or other field stones. It is unknown how many graves are there but without any evidence of a marker.


Boyles, William (b. 20 May 1909 - d. 21 May 1920)
Son of W. S. and Nannie Boyles

Edwards, Abel (b. 15 Mar 1844 - d. 23 Nov 1924)
Husband of Luzetta Perrel

Edwards, Columbus Franklin (b. 11 May 1866 - d. 25 Jul 1911)
Columbus Franklin Edwards, son of Susanah Edwards

Edwards, Edward Emanuel (b. 23 Dec 1889 - d. 24 Oct 1931)
Son of Abel and Luzetta Edwards

Edwards, Grace Rierson (b. 4 Apr 1895 - d. 29 Oct 1994)
Wife of Edward Emanuel Edwards

Edwards, Howard Elton (b. 17 Feb 1916 - d. 6 Feb 1921)
Son of Edward E. Edwards and Grace

Edwards, J. B. (b. 1 Mar 1809 - d. 6 Jan 1890)
Head marker reads;J.B.Edwards was borned March 1st 1809 - Dec Jan 6 1890 Aged 81; foot marker had J.B.E. 1890

Edwards, J. W. (b. 7 Apr 1836 - d. 30 Jun 1887)
Brother of Abel Edwards ?

Edwards, Luzetta Perrel (b. 10 Feb 1850 - d. 5 Jul 1940)

Edwards, Wiley Perrel (b. 2 Oct 1886 - d. 14 Feb 1937)
Son of Abel and Luzetta Edwards

Martin, Randolph M. (b. 16 Aug 1882 - d. ?? Dec 1884)
Son of W. M. and J. G. Martin

Scott, Lilla (b. 10 Nov 1885 - d. 7 May 1892)
Daughter of Susan and Frank Scott

Scott, Susan (b. 6 Dec 1842 - d. 2 Aug 1918)
wife of Frank Scott; was Susanah Edwards, sister to Abel

Unknown, Lucy B. (b. - d. )
Headmarker only; no dates

Wall, Nannie S. (b. 5 Nov 1874 - d. 24 Jul 1884)
Daughter of J. T. and C. E. Wall (Notes from Bob Carter: In the 1880 Stokes County census (LDS file), there is a Nannie WALL as a daughter to James F. WALL and a Clara E. WALL, born 1875, so this could be the WALL family.)

Wall, Pearlie E. (b. 30 Nov 1887 - d. 12 May 1890)
Daughter of J. T. and C. E. Wall
Web page updated 1 June 2017
Index of All Cemeteries
Alphabetical Index of All Burials
Previous Page