Index of All Cemeteries
Alphabetical Index of All Burials
Previous Page
Use the following to search across all the cemeteries listed.
Example: "Smith, Roger" (yes, use the quotes)
407 ASHE FAMILY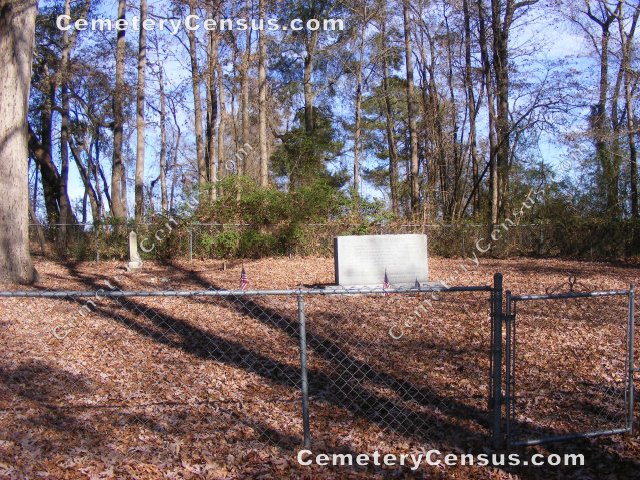 Location - at the end of Pine View Rd off of Old Raleigh Rd about 1.6 miles outside Clinton.

Coordinates: 35d 01m 07.8s N; 78d 18m 31.6s W Click here for Google maps

Directions: In Clinton on Northeast Blvd due north after passing Sampson County Emergency Management Office turn right onto the Old Raleigh Rd. Go for about 1.6 mile until reaching Pine View Rd. Turn right on Pine View Rd. Go to the end. On the left there will be a chain length fence, walk through and follow the path up the hill leading to the cemetery.

Survey compiled by Bradley Lee West, Kenneth Dale Register and Phyllis Jeanette West and published in 2004.

Photos provided by Quincy Edgerton in December 2010.


Ashe, John (Major General) (b. 1720 - d. 24 Oct 1781)
1720 born in New Hanover County, North Carolina. Son of the Hon. John B. Ashe. 1741 ca. married Rebecca Moore who is buried at Rocky Point, North Carolina. 1752 elected to General Assembly, appointed to Royal Governor's Council. 1765 elected speaker of the Assembly. 1778 commissioned a Major General of the Patriot Forces. 1781 Capt.ived by British, imprisoned, released after severe illness. 1781 Oct. 24 died at nearby Sampson Hall enroute to Hillsborough and is buried here. An exceptional statesman in peacetime and zealous patriot and effective officer in wartime.

Clinton, Richard (b. 1720 - d. 1795)

Holmes, Gabriel (b. 1767 - d. 1829)
Son of Gabriel and Mary Holmes. A native of Sampson County. Lawyer, Legislator, Governor of North Carolina,1821 - 1824. Pioneer Advocate of Public Education. Member of the US Congress, 1825 - 1829. His Wife Mary Hunter of Wake County, North Carolina.

L., M. A. (b. - d. )

L., T. (b. - d. )

Lewis, Jane (b. 29 Dec 1825 - d. 1 Jun 1900)

Lewis, John (b. 17 Jul 1813 - d. 13 Apr 1895)

Sampson, John (Colonel) (b. 1784 - d. 1759)
1734 migrated from North Ireland to New Hanover County, North Carolina. 1748 Commanded Militia during Spanish Alarm at Wilmington. 1759 married Ann Walker who is buried here. 1760 elected first mayor of Wilmington. After 1761 erected home nearby called Sampson Hall. 1768 Lieutenant General of Duplin Militia. 1776 Aligned himself with Revolutionary cause. April 1784, Sampson County named for him. Fall 1784 died and buried here. Also buried here are James Sampson and son John Lyon Sampson. Erected by Sampson County Historical Society 1983. Closeup of marker.

Sampson, John Lyon (b. - d. )
Son of Colonel John Sampson
Web page updated 29 December 2016
Index of All Cemeteries
Alphabetical Index of All Burials
Previous Page