Index of All Cemeteries
Alphabetical Index of All Burials
Previous Page
Use the following to search across all the cemeteries listed.
Example: "Smith, Roger" (yes, use the quotes)
047 MCLAMB, ISHAM FAMILY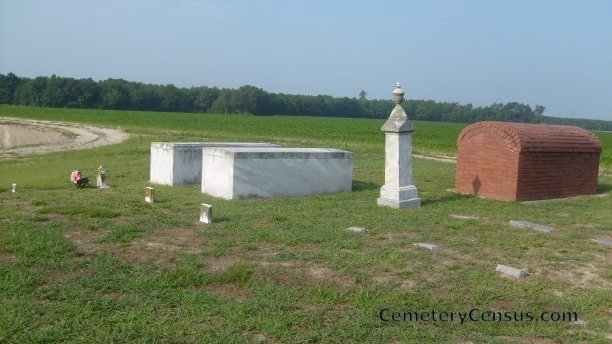 Location - in Sampson Co, NC, 1.2 miles northwest of Piney Green and the intersection of NC Hwy 242 and High House Rd (SR-1006).

Coordinates: 35d 06m 14.4s N; 78d 29m 43.1s W Click here for Google maps

Cemetery will be visible from High House Rd.

Surveyed by William R. Shatterly in August 2008.


Baggett, Mary Butler (b. 1923 - d. 1956)
McLamb, Isham (b. abt 1820 - d. 18 Apr 1903)
Aged 83 yrs, Husband of Melisha Royal McLamb

McLamb, John Robert (b. 17 May 1870 - d. 7 Nov 1944)
Husband of Mary Jane McLamb

McLamb, Mary Jane (b. 13 Sep 1879 - d. 13 Jan 1950)
Wife of John Robert McLamb

McLamb, Melisha Royal (b. - d. 1930)

McLamb, V. Crawford (b. 28 Jun 1909 - d. 14 Dec 1934)
Son of John R and Mary J McLamb

McLamb, W. Almond (b. - d. )

Tew, Danny Ray (b. 1 Sep 1948 - d. 19 Nov 1954)
Web page updated 29 December 2016
Index of All Cemeteries
Alphabetical Index of All Burials
Previous Page