Index of All Cemeteries
Alphabetical Index of All Burials
Previous Page
Use the following to search across all the cemeteries listed.
Example: "Smith, Roger" (yes, use the quotes)
045 JACKSON, MARK D. FAMILY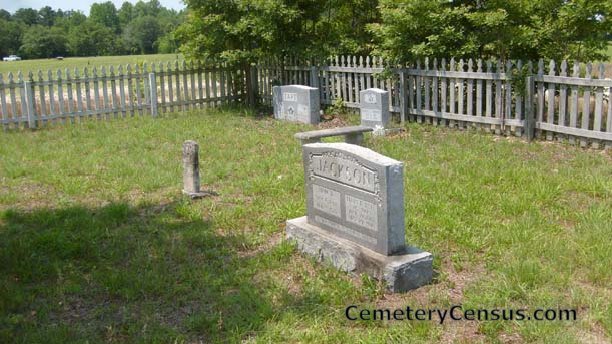 Location - in northwestern Sampson County in a field near 888 Hummingbird Lane (private road). Hummingbird Lane begins at Fayetteville Hwy (US-13) and runs north to Alvin Rd (SR-1601).

Coordinates: 35d 10m 01.2s N; 78d 35m 26.8s W Click here for Google maps

Surveyed by William R Shatterly and Charles Rudy Lockamy on June 19, 2008.


Cameron, Rodney S. (b. 12 Feb 1988 - d. 15 Jul 2000)
"Bye, I love you. Be careful."

Jackson, Hesby (b. 4 Oct 1901 - d. 1901)
Daughter of Mark and Mary Jackson

Jackson, Mark D. (b. 6 Mar 1862 - d. 9 Feb 1925)
Husband of Mary E Hall Jackson

Jackson, Mary E. Hall (b. 22 Jun 1865 - d. 29 May 1930)

Tart, Rossie H. (b. 20 Oct 1897 - d. 13 Jan 1974)

Tart, Vada B. (b. 18 Dec 1907 - d. 6 Apr 1986)
Web page updated 29 December 2016
Index of All Cemeteries
Alphabetical Index of All Burials
Previous Page