Index of All Cemeteries
Alphabetical Index of All Burials
Previous Page
Use the following to search across all the cemeteries listed.
Example: "Smith, Roger" (yes, use the quotes)
034 HAYES, DEMPSEY HAYWOOD FAMILY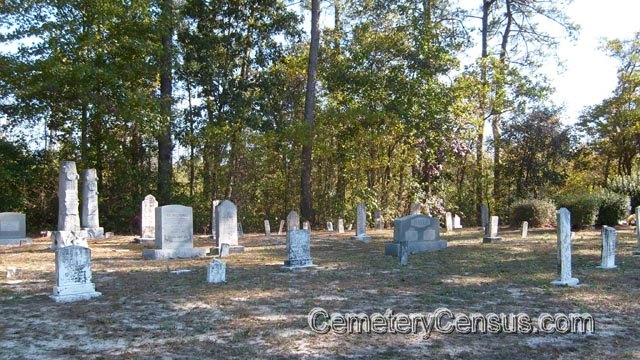 Location - Hayes Mill Rd, Clement Community, Sampson Co, NC.

Coordinates: 35d 06m 57.0s N; 78d 37m 01.0s W Click here for Google maps

Directions: From US Hwy 13 go south 2 8/10 miles on Autry Mill Rd (SR-1446) to the intersection of Hayes Mill Rd (SR-1445). Turn left onto Hayes Mill Rd. Continue 2/10 mile to a dirt lane on the right. The cemetery will be about 200 yards into the woods. This is a complete survey with all information transcribed from stones.

Surveyed and photographed by W. R. Shatterly in November 2007.


Edge, Clydar A. (b. 29 Aug 1886 - d. 25 Oct 1911)

Hayes, A. B. (b. 27 Sep 1906 - d. 18 Jul 1908)

Hayes, Brance B. (b. 9 Feb 1851 - d. 3 Dec 1918)

Hayes, Bryant B. (b. 27 Jul 1873 - d. 30 Jul 1896)

Hayes, D. H. (b. - d. 29 May 1893)
Age 68 yrs, Husband of Elizabeth Hayes

Hayes, D. H. Jr. (b. 5 Aug 1865 - d. 27 Nov 1900)
Husband of of Emily Jackson Hayes

Hayes, Edgar (b. 30 Jul 1897 - d. 19 Dec 1934)
Son of L H and Laura Hayes

Hayes, Elizabeth (b. 9 Aug 1824 - d. 22 Feb 1892)

Hayes, Elma Baggett (b. 20 Nov 1908 - d. 24 Sep 1936)

Hayes, Emily Jackson (b. 19 Mar 1866 - d. 11 Sep 1919)

Hayes, Erfie D. (b. 8 Mar 1907 - d. 13 Mar 1943)
Husband of Elma Baggett Hayes

Hayes, Eula I. (b. 2 Nov 1903 - d. 6 Mar 1934)

Hayes, Flossie M. (b. 1922 - d. 1924)
Daughter of R A and Lillie Hayes

Hayes, H. H. (b. 18 Oct 1891 - d. 23 Mar 1921)
WOW Monument, Husband of Mattie E Page Hayes

Hayes, Henry C. (b. 22 Sep 1932 - d. 25 Sep 1932)
Son of J A and Winnie N Hayes

Hayes, Henry H. (b. 3 Aug 1925 - d. 4 Jul 1983)
PFC US Army WW-II, Husband of Mary Bowling Hayes

Hayes, Infant (b. - d. )
child of Lewis Henry and Laura Hayes

Hayes, Infant (b. 22 Mar 1951 - d. 22 Mar 1951)
Son of H A and Betty C Hayes

Hayes, John J. (b. 5 Aug 1861 - d. 31 May 1897)

Hayes, Kathleen H. (b. 19 Feb 1893 - d. 26 Jan 1973)

Hayes, Kermit H. (b. 11 Sep 1911 - d. 25 Nov 1914)
Son of Lewis Henry and Laura Hayes

Hayes, Laura C. (b. 4 Jul 1920 - d. 4 Jul 1920)
Daughter of J A and Winnie Hayes

Hayes, Laura Jackson (b. 2 Jan 1868 - d. 7 Nov 1951)
Wife of Lewis Henry Hayes

Hayes, Lewis Henry (b. 21 Jun 1867 - d. 30 Aug 1930)
Husband of Laura Jackson Hayes

Hayes, Lillie A. (b. 29 Mar 1885 - d. 23 Feb 1967)

Hayes, Mary Bowling (b. 19 Jan 1925 - d. 1 Feb 2004)

Hayes, Mary C. (b. 8 Aug 1882 - d. 7 Nov 1958)

Hayes, Mary J. (b. 9 Dec 1852 - d. 2 Feb 1922)

Hayes, Mattie E. (b. 20 Sep 1898 - d. 29 Jul 1961)

Hayes, Randal (b. 5 Nov 1857 - d. 29 Sep 1885)
Son of D H and Elizabeth Hayes

Hayes, Rufus A. (b. 11 Apr 1880 - d. 9 Jul 1957)
Husband of Lillie A Hayes

Hayes, S. A. (b. 15 Feb 1914 - d. 3 Mar 1916)

Hayes, Stacy Web (b. 25 Nov 1890 - d. 19 Jul 1944)
Husband of Kathleen H Hayes

Hayes, W. D. (b. 8 Aug 1877 - d. 13 Jan 1930)

Hayes, W. R. (b. 24 Jul 1888 - d. 14 May 1913)

Horton, Infant (b. 31 Jul 1922 - d. 31 Jul 1922)
Son of G M and L M Horton

Lewis, Infant (b. 31 Aug 1945 - d. 31 Aug 1945)
Son of Delbert and Lucy Lewis

Matthews, Bertice (b. 12 Jun 1911 - d. 28 Feb 1969)
Husband of Iona Hayes Matthews

Matthews, Delbridge (b. 2 Jul 1911 - d. 30 May 1969)
M-Sgt. 623 Ordnance WW-II. Husband of Ethel T Matthews Hayes

Matthews, Ethel T. (b. 20 Oct 1919 - d. 23 Aug 1972)
Wife of Delbridge Matthews

Matthews, Infant (b. 28 Mar 1941 - d. 28 Mar 1941)
Son of Bertice and Iona Matthews

Matthews, Iona Hayes (b. 26 Sep 1917 - d. 9 Feb 1995)

Matthews, Wyman Douglas (b. 7 Nov 1933 - d. 21 Nov 1933)
Son of Stacy O and Lillian H Matthews

Stainback, Alice Hayes (b. 18 Mar 1865 - d. 21 Aug 1951)
Born Alice Hinton Jackson

Tew, Baby (b. - d. )

Tew, Ethel (b. 17 Oct 1893 - d. 3 Sep 1962)

Tew, Furman (b. 9 Jul 1893 - d. 11 Jun 1963)

Tew, Henry D. (b. 5 Jun 1929 - d. 6 Jun 1929)
Son of L E and Mary B Hayes Tew

Tew, Lonie (b. 18 Nov 1927 - d. 27 Feb 1928)

Tew, Lonnie (b. 15 Dec 1891 - d. 9 May 1971)
Husband of Mary S Tew, Husband of Mary B Hayes Tew

Tew, Mary B. Hayes (b. 23 Mar 1896 - d. 8 Jul 1929)

Tew, Mary S. (b. 11 Oct 1903 - d. 3 Jul 1977)

Tew, Pepnon E. (b. 31 Mar 1921 - d. 12 Jun 1921)

Williams, Henry Albert (b. 7 May 1895 - d. 29 Aug 1900)
Son of J D and Ida Williams

Williams, Ida Jane (b. 9 Oct 1876 - d. 17 Mar 1898)

Williams, Infant (b. - d. )
Son of J D and M M Williams

Williams, Infant (b. - d. )
Son of J D and Ida Williams

Williams, Infant (b. 26 Feb 1917 - d. 26 Feb 1917)
child of B M and D C Williams

Williams, Infant (b. 19 Apr 1921 - d. 19 Apr 1921)
child of B M and D C Williams

Williams, Infant (b. 13 Jun 1922 - d. 13 Jun 1922)
child of B M and D C Williams
Web page updated 29 December 2016
Index of All Cemeteries
Alphabetical Index of All Burials
Previous Page