Index of All Cemeteries
Alphabetical Index of All Burials
Previous Page
Use the following to search across all the cemeteries listed.
Example: "Smith, Roger" (yes, use the quotes)
002 BRIDGERS FAMILY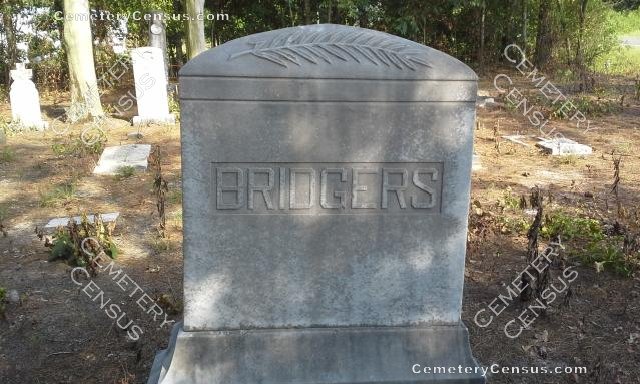 Location - on Purvis Rd, between NC Hwy 710 and US Hwy 301, Rowland.

Coordinates: 34d 34m 51.8s N; 79d 13m 33.3s W Click here for Google maps

Directions: From Rowland take US 301 north about 5 miles to Dew Road. Turn left on Dew Road, Take the left fork onto Purvis Road. Cemetery is about 0.8 mile on right.

Survey by John B. Bridgers in July 2015. Photos by John B. Bridgers in July 2015.


Bridgers, A. C. (b. 8 Sep 1847 - d. 12 Aug 1912)
Bridgers, Callie (b. 2 Dec 1870 - d. 10 Aug 1943)
Daughter of Charles R. & Nellie Bridgers
Age 74 years 11 months 5 days
Son of John & Nannie Bridgers
Son of James LeGette. and Bessie Bridgers
Husband of Nancy E. Leggette Bridgers.
Wife of John Bridgers. Daughter of Jacob & Charity Leggette.
Husband of Callie Bridgers
Wife of Joseph B. McCallum
Daughter of L. & M.J. Norment
Wife of Neill McNeill Patterson.
Son of Neill McNeill Patterson and Eliza R. Patterson.
Husband of Neill McNeill Patterson. Pvt. Co. D, 46th NC Infantry Regiment. Born in Scotland Co. NC. Died in a hospital in Wilmington NC. He was appointed a Postmaster on 16 May 1893 in Elrod, Robeson Co. NC.
Daughter of Jesse & Emma Scott
Web page updated 15 September 2017
Index of All Cemeteries
Alphabetical Index of All Burials
Previous Page