Index of All Cemeteries
Alphabetical Index of All Burials
Previous Page
Use the following to search across all the cemeteries listed.
Example: "Smith, Roger" (yes, use the quotes)
113 POPLAR RIDGE FRIENDS MEETING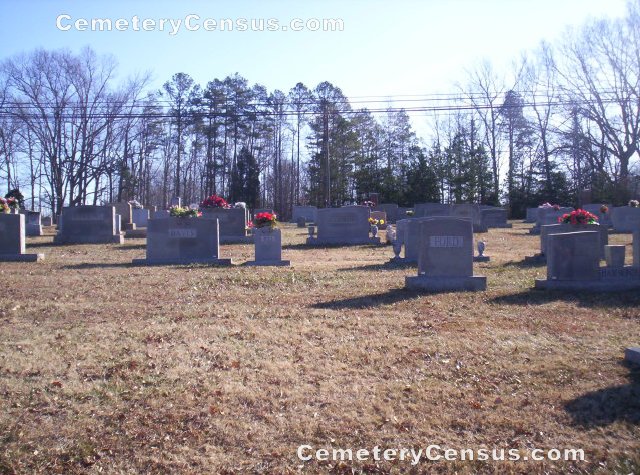 Location - 3673 Hoover Hill Rd north of Snyder Country Rd, Trinity.

Coordinates: 35d 48m 15.8s N; 79d 57m 47.5s W Click here for Google maps

Surveyed by Wayne Ham and Laurell Ham, Randleman, NC in October 2010. Photographs by Wayne Ham.

This is a complete listing as of October 2010.


Albertson, Synthia S (b. 14 Jan 1954 - d. 12 Feb 1996)
Asbill, Dakota M (b. 29 Mar 2003 - d. 29 Mar 2003)
Baker, John A (b. 1880 - d. 1962)
Baker, Lura E (b. 1882 - d. 1957)
Biggerstaff, Clifton Arthur (b. 2 Dec 1926 - d. 22 Jul 1997)
Briles, Catherine (b. Sep 1801 - d. Sep 1877)
Briles, Delinda (b. 7 Jul 1837 - d. 26 Jul 1901)
Briles, Early Lee (b. 12 Sep 1900 - d. 12 Jun 1991)
Briles, Henry (b. 17 Jul 1835 - d. 19 Mar 1903)
Briles, Jacob (b. 25 Oct 1799 - d. 10 Dec 1971)
Briles, Jacob L (b. 1 Apr 1862 - d. 12 Jun 1934)
Briles, Lyda Vivian (b. 23 Aug 1909 - d. 25 Dec 1963)
Briles, William Allen (b. 24 Oct 1860 - d. 15 May 1955)
Burns, David L (b. 30 May 1945 - d. 16 Mar 1996)
Burns, Marvin (b. 29 Jun 1942 - d. 17 Aug 2007)
Caughron, Steve M (b. 20 Nov 1955 - d. 10 Feb 1967)
Clake, Nancy Evelyn Monroe (b. 3 Aug 1944 - d. 22 Jun 2003)
Coggins, Dressie S (b. 21 Mar 1924 - d. 9 Dec 2002)
Coggins, John C (b. 19 Jan 1922 - d. 26 Apr 1991)
Coltrane, Earl M (b. 17 May 1916 - d. 3 Jun 1982)
Cox, Helen F (b. 29 Nov 1924 - d. 5 Feb 2004)
Cox, Larue B (b. 29 Mar 1918 - d. 18 Mar 1998)
Cox, Larue Byrum Jr (b. 1 Jul 1950 - d. 15 Jan 2010)
Cox, Mareia Ann (b. 2 Jun 1952 - d. 19 Jun 2002)
Crotts, Edna Frazier (b. 10 Dec 1912 - d. 26 Apr 2001)
Crotts, Thomas Reid (b. 7 May 1910 - d. 13 Apr 1995)
Davis, Alton S (b. 1 Mar 1905 - d. 10 Jul 1988)
Davis, Martha D (b. 16 Oct 1909 - d. 6 Mar 2006)
Donahue, Letha Spencer Cripps (b. 5 Oct 1894 - d. 27 Jan 1984)
Donley, John Frank (b. 1 Apr 1919 - d. 30 Mar 1908)
Dorsett, Gracie C (b. 16 Aug 1918 - d. 30 Apr 2004)
Dorsett, Jefferson A (b. 1892 - d. 1966)
Dorsett, Lawrence Farlow (b. 1 Ict 1902 - d. 2 Apr 1984)
Dorsett, Myrtle H (b. 1896 - d. 1982)
Dorsett, Truman John (b. 13 Oct 1899 - d. 27 Jan 1977)
Everhart, Donice (b. 8 Nov 1954 - d. 24 Nov 1996)
Farlow, Effie M (b. 22 Jul 1915 - d. 27 Apr 1985)
Farlow, Hannah M (b. 19 Sep 1841 - d. 3 May 1873)
Farlow, James G (b. 29 May 1916 - d. 30 Jul 1979)
Ferguson, Amelia Ruth (b. 31 Jan 1916 - d. 8 Dec 1937)
Ferguson, Fred C (b. 12 Jul 1905 - d. 18 Nov 1970)
Ferguson, Gurney (b. 28 Feb 1875 - d. 24 Nov 1933)
Ferguson, Gurney Frederick (b. 26 Sep 1936 - d. 26 Sep 1936)
Ferguson, Hubert W (b. 1907 - d. 1944)
Ferguson, Luetta Lanier (b. 2 May 1881 - d. 13 Mar 1934)
Ferguson, Margie Jean (b. 7 Dec 1937 - d. 21 Apr 1951)
Ferguson, Scenia T (b. 12 Apr 1913 - d. 30 Apr 1988)
Ferguson, T Luther (b. 1898 - d. 22 Nov 1918)
Ford, James Larry (b. 31 Aug 1948 - d. 22 Mar 1978)
Frazier, Amanda R (b. 31 Dec 1862 - d. 17 Aug 1892)
Frazier, Charles Raymond (b. Jan 1902 - d. Jun 1954)
Frazier, Charlie R (b. 27 Jul 1944 - d. 29 Jul 2003)
Frazier, D W (b. 25 Jun 1855 - d. 22 Feb 1013)
Frazier, Dora Briles (b. 18 Sep 1877 - d. 30 May 1953)
Frazier, J Donald (b. 4 Nov 1927 - d. 16 Aug 1991)
Frazier, Joseph D (b. 1946 - d. 2003)
Frazier, Peggy A (b. 2 Mar 1928 - d. 2007)
Hammonds, Grover C (b. 4 Feb 1920 - d. 26 Oct 1987)
Harrell, John C III (b. 1971 - d. 1971)
Harris, James Martin (b. 6 Mar 1910 - d. 20 Feb 1967)
Harris, Sadie Key (b. 23 Jul 1911 - d. 2 Dec 2006)
Hatfield, Robert Lee (b. 13 Dec 1940 - d. 1 Oct 2008)
Hendrick, Brenda B (b. 31 Aug 1941 - d. 9 Jul 2001)
Hendrick, Roger D (b. 4 Mar 1943 - d. 22 Jan 2001)
Hildreth, Marilyn Coggins (b. 1 Dec 1952 - d. 12 Jan 1986)
Hill, Alvin H (b. 24 Nov 1905 - d. 18 Jun 1974)
Hill, Ann D (b. 5 May 1936 - d. 28 Jun 2003)
Hill, Anna T (b. 20 Mar 1935 - d. 16 Jan 2007)
Hill, Betty Thomas (b. 27 Apr 1963 - d. 29 Apr 1963)
Hill, Cecil R (b. 24 Aug 1927 - d. 2 Mar 2008)
Hill, Charles O'Neil (b. 18 Dec 1951 - d. 14 Jan 1972)
Hill, Charlie L (b. 10 Mar 1904 - d. 3 Jun 1979)
Hill, Clara Crotts (b. 21 Dec 1910 - d. 4 Jan 1069)
Hill, Delorise (b. 26 Sep 1936 - d. 1 Oct 1992)
Hill, Dolton Lacy (b. 11 Jun 1899 - d. 21 Mar 1980)
Hill, Dona Marie (b. 20 May 1932 - d. 23 Jun 2004)
Hill, John A (b. 1908 - d. 1961)
Hill, Lena B (b. 1909 - d. 2001)
Hill, Martha Sawyer (b. 23 Nov 1900 - d. 26 Apr 2006)
Hill, Pearl S (b. 21 Feb 1909 - d. 9 Nov 1998)
Hill, Rebecca (b. 20 Jul 1806 - d. 11 Mar 1880)
Hill, Ricky Lee (b. 29 Jun 1982 - d. 29 Jun 1982)
Hill, Venia H (b. 7 Sep 1899 - d. 25 Aug 1983)
Hill, Victor Emory (b. 24 Sep 1910 - d. 27 Mar 1996)
Hill, William O (b. 10 Aug 1931 - d. 7 Aug 1995)
Hills, Fanny M (b. 28 Mar 1886 - d. 9 Jul 1930)
Hills, Joshua A (b. 11 May 1834 - d. 12 Mar 1904)
Hills, Mary (b. 6 May 1934 - d. 17 Feb 1927)
Hills, Mary Ann (b. 7 Jan 1862 - d. 17 Feb 1927)
Hoover, Charily Briles (b. 24 Feb 1867 - d. 4 May 1934)
Hoover, Charlie B (b. 25 Feb 1875 - d. 5 Feb 1958)
Hoover, Edd Walker (b. 25 Mar 1871 - d. 8 Jun 1958)
Hoover, Mamie Mary (b. 9 Feb 1911 - d. 21 May 2002)
Hoover, Mary E Briles (b. 13 Jul 1871 - d. 19 Aug 1940)
Hoover, Troy Lee (b. 31 Mar 1904 - d. 4 Jan 1965)
Huffman, Billy G (b. 2 Mar 1949 - d. 2 Jan 1982)
Huffman, Edward James (b. 15 Sep 1921 - d. 6 Sep 1996)
Huffman, Janie Ann (b. 26 Apr 1954 - d. 25 Oct 1967)
Huffman, Leon (b. 24 Apr 1951 - d. 25 Jul 1993)
Huffman, Margaret F (b. 8 Jun 1929 - d. 16 Dec 2003)
Huffman, Peggy Jean Burns (b. 1 Nov 1952 - d. 2 Dec 1993)
Hunt, Claude Allen Sr (b. 4 Aug 1918 - d. 8 Aug 1985)
Hunt, Edith Ferguson (b. 2 Feb 1911 - d. 3 Aug 1979)
Johnson, Jewell Pierce (b. 18 Sep 1927 - d. 9 Nov 2007)
Kennedy, Donald R (b. 18 Sep 1956 - d. 18 Oct 2006)
Key, Bernice Crotts (b. 11 Aug 1930 - d. 1 Jan 1993)
Key, Frank Wilson (b. 4 Aug 1927 - d. 2 Jun 2010)
Kinley Dorothy F (b. 15 Mar 1921 - d. 4 Oct 2003)
Kinley, Ila C (b. 10 Jun 1916 - d. 9 Sep 1997)
Kinley, Queen Briles (b. 28 Dec 1879 - d. 29 Nov 1946)
Kinley, Ray S (b. 20 Aug 1918 - d. 5 Jun 2002)
Lanier, Eliza Ellen (b. 16 Sep 1860 - d. 27 Jul 1936)
Lanier, Harvey Lee (b. 1887 - d. 1959)
Lanier, Harvey Lee (b. 1887 - d. 1959)
Lanier, Herbert C (b. 1 Oct 1879 - d. 13 Jan 1941)
Lanier, James (b. 1845 - d. 1930)
Lanier, Rosa F (b. 11 Jun 1884 - d. 30 Dec 1976)
Lawson, Paul Amos (b. 26 Jun 1957 - d. 6 Feb 2009)
Leonard, Infant (b. 22 Oct 1937 - d. 23 Oct 1937)
Love, Douglas, Eugene (b. 2 Jan 1942 - d. 3 Mar 1990)
Macras, Brittany Leann (b. 11 Sep 2001 - d. 8 Oct 2001)
Marsh, Jane R (b. 10 Mar 1904 - d. 16 Jan 1994)
Marsh, Jesse C (b. 8 Dec 1923 - d. 5 Jun 2005)
Marsh, Thomas O (b. 28 Dec 1920 - d. 12 Sep 1978)
McBride, Mildred F (b. 22 Feb 1928 - d. 23 Feb 1998)
McCanless, Millie M (b. 10 May 1925 - d. 20 Oct 1955)
McCanless, Warren H (b. 23 Jun 1921 - d. 20 Oct 1955)
McClure, Frank Claude (b. 3 May 1929 - d. 13 Sep 2004)
Milzzer, Euphon Sumner (b. 8 Jan 1938 - d. 22 May 1988)
Monroe, Infant Daug (b. 18 Mar 1948 - d. 18 Mar 1948)
Monroe, Margaret L (b. 27 Dec 1908 - d. 11 Jul 2006)
Monroe, Millard C (b. 30 Jan 1906 - d. 23 Jun 1976)
Murchison, Rachel T (b. 28 Feb 1824 - d. 26 Feb 2003)
Murshison, Deboe L (b. 22 Mar 1919 - d. 31 Jan 2001)
Myers, Annie Virginia (b. 1899 - d. 1952)
Myers, George Sidney (b. 1883 - d. 1944)
Neal, Albert V (b. 6 Jun 1919 - d. 12 Aug 2001)
Neal, Bertie, (b. 20 Mar 1920 - d. 18 Feb 1995)
Neal, Ether Miles (b. 14 Oct 1894 - d. 22 Oct 1958)
Neal, James Virgil (b. 30 Apr 1886 - d. 24 Nov 1966)
Neal, Jewel Elizabeth (b. 24 Feb 1921 - d. 27 Apr 1938)
Nelson, Bertie S (b. 24 Apr 1918 - d. 29 Dec 2007)
Nelson, W Allen (b. 30 Aug 1919 - d. 12 Jun 1982)
Osborne, Ruby Skeen (b. 9 Apr 1916 - d. 8 Jul 1988)
Osborne, Thomas Jesse (b. 7 Apr 1919 - d. 17 Dec 1997)
Parker, Bertha A (b. 11 Jan 1881 - d. 7 Feb 1891)
Parris, Cletus A (b. 31 Mar 1926 - d. 8 Apr 2004)
Parris, D Irene (b. 26 Oct 1914 - d. 3 Jam 2010)
Peterson, Amanda Rae (b. 17 Jan 1989 - d. 25 May 1989)
Peterson, Clarence Albert (b. 29 Jun 1914 - d. 17 Dec 1982)
Peterson, Flava L (b. 1 Oct 1909 - d. 30 Sep 2000)
Peterson, Grady Robert (b. 9 Sep 1935 - d. 18 Oct 1990)
Peterson, Grady W (b. 31 May 1912 - d. 2 Feb 1995)
Peterson, Ruth Ella Hill (b. 9 Dec 1914 - d. 21 Jan 1974)
Pierce, Columbus Theodore (b. 1917 - d. 1977)
Pierce, Dennie W (b. 16 May 1933 - d. 11 Jul 1983)
Pierce, Fannces Louise Bean (b. 29 Dec 1929 - d. 21 Jan 2005)
Pierce, Harvey A (b. 3 Nov 1882 - d. 25 Mar 1971)
Pierce, Jimmy R (b. 7 Oct 1937 - d. 30 Sep 1960)
Pierce, Lloyd B (b. 18 May 1925 - d. 7 Feb 1950)
Pierce, Michael Ward (b. 12 Feb 1963 - d. 16 Jul 2005)
Pierce, Tressie, L (b. 15 Apr 1898 - d. 12 Feb 1984)
Pope, Andrew Reese (b. 20 Dec 1942 - d. 4 Oct 2008)
Proctor, John Wesley Jr (b. 8 May 1929 - d. 25 Mar 2005)
Quate, Charles Ray Jr (b. 5 Feb 1955 - d. 11 Jun 2005)
Robbins, Coney S (b. 28 Aug 1906 - d. 4 Jan 1996)
Robbins, Harrell Savis (b. 11 Aug 1936 - d. 6 Nov 2006)
Robbins, John Lawson (b. 17 Jul 1907 - d. 9 Sep 1964)
Robbins, John Robbins (b. 24 May 1939 - d. 27 Aug 2001)
Rush, Nancy Eleanor (b. 1889 - d. 1919)
Sawyer, Henry M (b. 1915 - d. 2001)
Sawyer, Lucy M (b. 1917 - d. 1973)
Sawyer, Mary A (b. 1863 - d. 1913)
Sawyer, Robie C (b. 13 May 1884 - d. 21 May 1886)
Sawyers, Cora S (b. 10 May 1880 - d. 10 Oct 1973)
Sawyers, G W (b. 1848 - d. 1891)
Sawyers, Hazel Juanita (b. 13 Mar 1913 - d. 16 Jan 1921)
Sawyers, Joseph L (b. 28 May 1869 - d. 17 Mar 1938)
Shaw, Cora Ferguson (b. 17 Sep 1903 - d. 7 Jun 1984)
Shaw, Frank T (b. 2 Jun 1893 - d. 9 Feb 1959)
Shaw, Frank Talmadge Jr (b. 28 Jul 1933 - d. 21 Feb 1992)
Shaw, Kansas (b. 1925 - d. 1995)
Skeen, Billy (b. 22 Mar 1930 - d. 26 Mar 1930)
Skeen, Catherine (b. 7 Apr 1841 - d. May 1876)
Skeen, Daron L (b. 1 Jul 2010 - d. 1 Jul 2010)
Skeen, Elihu, (b. 9 Jun 1848 - d. 26 Nov 1887)
Skeen, Elizabeth (b. 26 Oct 1907 - d. 10 May 1984)
Skeen, Emma H (b. 6 Mar 1928 - d. 16 Sep 2008)
Skeen, Garland Reid (b. 29 Jan 1939 - d. 29 Jan 1939)
Skeen, Grace R (b. 1906 - d. 1939)
Skeen, Hazel Jester (b. 11 Mar 1924 - d. 7 Apr 2001)
Skeen, Holly (b. 1816 - d. 11 Mar 1874)
Skeen, John (b. 1809 - d. 15 Jun 1881)
Skeen, John C (b. 6 Jun 1872 - d. 18 May 1940)
Skeen, Loyd (b. 28 May 1937 - d. 12 Jun 1937)
Skeen, Lula Goins (b. 25 Mar 1878 - d. 17 Aug 1909)
Skeen, Mary E (b. 30 Jul 1850 - d. 8 Oct 1926)
Skeen, Moses L (b. 1841 - d. 1877)
Skeen, Noah R (b. 2 Sep 1901 - d. 5 Jun 1973)
Skeen, Paul C (b. 30 Nov 1921 - d. 19 Jul 2006)
Skeen, Rhonda Tucker (b. 9 Feb 1952 - d. 2 Jan 2004)
Skeen, Stella Ferguson (b. 24 Jun 1909 - d. 15 Apr 1943)
Skeen, Susannah J (b. 16 Jun 1878 - d. 26 Jan 1928)
Skeen, T Keith (b. 30 Sep 1925 - d. 17 Dec 2003)
Skeen, William D (b. 20 Nov 1873 - d. 8 Nov 1961)
Smith, Albert F (b. 11 Jan 1917 - d. 12 Mar 2007)
Smith, June A (b. 4 Oct 1921 - d. 30 Mar 2009)
Spencer, Archie M (b. 1894 - d. 1964)
Spencer, Cicero H (b. 13 Apr 1915 - d. 17 Jan 1997)
Spencer, Ethel W (b. 1903 - d. 1989)
Spencer, Flora C (b. 19 Apr 1903 - d. 11 Jun 2000)
Spencer, Flossie M (b. 15 Jul 1890 - d. 13 Apr 1953)
Spencer, George W (b. 7 Sep 1880 - d. 21 Jul 1962)
Spencer, Isaac N (b. 24 May 1878 - d. 18 Feb 1983)
Spencer, J Robert (b. 4 Sep 1900 - d. 8 Oct 1987)
Spencer, John Troy (b. 1898 - d. 1905)
Spencer, Joseph (b. 5 Feb 1800 - d. 25 Dec 1983)
Spencer, Joseph M (b. 10 Nov 1854 - d. 25 Nov 1931)
Spencer, Lois G (b. 4 Jan 1915 - d. 18 Sep 2001)
Spencer, Mamie M (b. 1914 - d. 1954)
Spencer, Martha D (b. 1894 - d. 1954)
Spencer, Mary Rosanna (b. 16 May 1887 - d. 12 Jan 1907)
Spencer, Oscar W (b. 1910 - d. 1990)
Spencer, Synthia M Kindley (b. 16 Oct 1857 - d. 4 Sep 1934)
Spenser, Nancy (b. 2 Dec 1828 - d. 19 Jul 1908)
Steed, Charles E (b. 1919 - d. 1991)
Steed, Pearl P (b. 1924 - d. 2007)
Stepp, Elizah Ryan (b. 21 May 2004 - d. 21 May 2004)
Stevens, Craig M (b. 7 Jun 1963 - d. 24 Sep 1997)
Stewart, Gene Tunney (b. 26 Sep 1925 - d. 21 Dec 1992)
Sumner, Cheryl S (b. 13 Sep 1956 - d. 31 Jul 2006)
Sumner, Grace Skeen (b. 21 Feb 1913 - d. 3 Jul 1989)
Sumner, Riley Woodrow (b. 8 Jun 1913 - d. 26 May 1982)
Ward, Roy S (b. 21 Mar 1908 - d. 23 Mar 1983)
Ward, Ruby H (b. 14 Nov 1912 - d. 17 Dec 1998)
Ward, Ruth S (b. 20 Dec 1905 - d. 5 Aug 1989)
Ward, Walter L (b. 10 Dec 1910 - d. 8 May 1999)
Webster, Arthur Lee (b. 14 Feb 1934 - d. 16 Sep 1997)
Webster, Judy C Overby (b. 15 Jan 1943 - d. 7 Apr 2010)
White, Marie Hill (b. 1 Jun 1956 - d. 28 Mar 2005)
Web page updated 13 May 2017
Index of All Cemeteries
Alphabetical Index of All Burials
Previous Page