Index of All Cemeteries
Alphabetical Index of All Burials
Previous Page
Use the following to search across all the cemeteries listed.
Example: "Smith, Roger" (yes, use the quotes)
111 MT. PLEASANT COMMUNITY CHURCH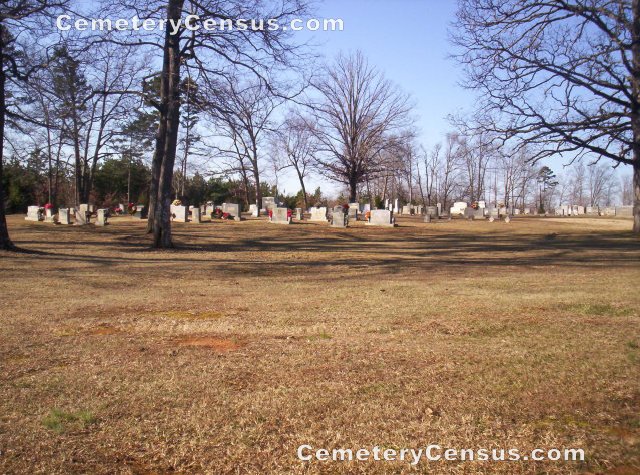 Location - Corner of Cashett Rd (SR-1636) and Hoover Hill Rd (SR-1408), Trinity.

Coordinates: 35d 46m 33.3s N; 79d 57m 54.5s W Click here for Google maps

Surveyed by Wayne Ham and Laurell Ham, Randleman, NC in October 2010. Photographs by Wayne Ham.

This is a complete listing as of October 2010.


Barker, Bernice M Lanning (b. 29 Sep 1924 - d. 26 Aug 1998)
Barnes, Crawford Lee (b. 23 Jun 1913 - d. 23 Mar 1978)
Barnes, Teddy Lee (b. 20 Aug 1933 - d. 7 Jun 2002)
Barnes, Violet Coward (b. 11 Apr 1913 - d. 2 Dec 1980)
Briles, J Hall (b. 11 Mar 1850 - d. 7 Jul 1907)
Briles, Joseph Lafayette (b. 30 Nov 1855 - d. 7 Apr 1930)
Briles, Mandy E (b. 2 Jul 1860 - d. 21 Jul 1925)
Briles, Mary J (b. 25 Nov 1884 - d. 26 Nov 1906)
Briles, Roxana Spencer (b. 10 Jan 1856 - d. 2 Aug 1930)
Briles, Troy A (b. 2 Feb 1887 - d. 3 Feb 1919)
Briles, Worth H (b. 7 May 1911 - d. 16 Aug 2004)
Brown, Gladys Gearren (b. 4 Jun 1929 - d. 23 Mar 1993)
Burleson, Gladis Irene (b. 7 Feb 1934 - d. 15 Dec 1935)
Burleson, Robert L (b. 12 Oct 1928 - d. 28 Jun 1989)
Cairrikier, Aggie Hunt (b. 18 Feb 1905 - d. 5 Sep 1932)
Cairrikier, Frank A (b. 4 Apr 1905 - d. 6 Sep 1976)
Callicutt, Justin Ross (b. 24 Feb 1983 - d. 24 Feb 1983)
Caughron, Thomas Arlon (b. 13 Sep 1937 - d. 8 Feb 1938)
Caughron, William (b. 12 Jan 1912 - d. 15 Jan 1969)
Caughron, William Dempsey (b. 9 Dec 1933 - d. 11 Aug 1934)
Childers, Douglas, James (b. 29 Mar 1984 - d. 22 May 1984)
Childers, Homer Venson Jr (b. 16 Sep 1946 - d. 5 Jun 1989)
Christopher, Steven M (b. 14 Jun 1954 - d. 30 Jan 1986)
Cooper, Mary Lee C (b. 15 Aug 1921 - d. 13 Nov 2002)
Cooper, William Bryce (b. 20 Feb 1921 - d. 4 Sep 1983)
Cromer, Clyde C (b. 1904 - d. 1965)
Cromer, Fred (b. 14 Dec 1914 - d. 14 Apr 1951)
Cromer, Hessie P (b. 1908 - d. 1983)
Cromer, Jasper E (b. 1879 - d. 1952)
Cromer, Luna Hunt (b. 1919 - d. 1943)
Cromer, Nannie Bennett (b. 6 Jan 1881 - d. 11 Oct 1963)
Cromer, Russell (b. 21 May 1910 - d. 9 Mar 1946)
Crotts, Claudie Edward (b. 22 Sep 1913 - d. 2 Apr 1982)
Crotts, Cora H (b. 11 Jul 1922 - d. 20 May 2003)
Crotts, Covia Hunt (b. 1886 - d. 1973)
Crotts, Florence Shows (b. 20 Feb 1886 - d. 11 Feb 1963)
Crotts, Helen Almetta Hunt (b. 23 Sep 1932 - d. 20 Oct 2004)
Crotts, Ina Mae (b. 29 Jan 1939 - d. 23 Sep 1985)
Crotts, John Henry (b. 4 Mar 1891 - d. 9 Mar 1951)
Crotts, Judy Meallam (b. 19 May 1943 - d. 26 Apr 2010)
Crotts, Katherine C (b. 27 Jul 1918 - d. 21 Apr 1908)
Crotts, Lee O (b. 8 Dec 1911 - d. 20 Nov 1928)
Crotts, Nancy C (b. 1860 - d. 1900)
Crotts, Nicholas C (b. 5 Nov 1944 - d. 5 Jun 1999)
Crotts, Norman O (b. 28 Sep 1928 - d. 1 May 1941)
Crotts, Paul W (b. 1917 - d. 1954)
Crotts, Ray Thomas (b. 6 Jun 1915 - d. 14 Jul 1999)
Crotts, Robert H (b. 19 May 1915 - d. 8 Nov 1969)
Crotts, Roosevelt (b. 8 Nov 1907 - d. 19 Sep 1964)
Crotts, Samuel J Jr (b. 30 Sep 1924 - d. 24 Oct 1924)
Crotts, Samuel Jacob (b. 24 Jun 1887 - d. 17 Jan 1969)
Crotts, Snody Elizabeth (b. 10 Dec 1919 - d. 22 Nov 1937)
Crotts, Teal Workman (b. 22 Mar 1888 - d. 21 May 1968)
Crotts, William T (b. 1885 - d. 1966)
Davis, Robert Kenneth (b. 3 Aug 1916 - d. 8 Jun 1998)
Davis, Ruby M Pierce (b. 26 Aug 1915 - d. 7 Feb 1997)
Dennis, Arthur Holmes (b. 24 May 1913 - d. 3 Jul 2003)
Donevan, Richard T (b. 11 Nov 1945 - d. 9 Aug 1986)
Dougan, Flora Crotts (b. 9 Sep 1909 - d. 22 May 2001)
Dougan, Moody Manley (b. 16 Apr 1909 - d. 12 Nov 1981)
Earnhardt, Clyde W (b. 1915 - d. 1984)
Earnhardt, Colene Myers (b. 19 Nov 1918 - d. 11 Feb 1958)
Earnhardt, Freddie (b. 1947 - d. 1980)
Earnhardt, Herbert (b. 15 Jul 1928 - d. 5 Feb 1966)
Earnhardt, Israel C (b. 16 Aug 1879 - d. 5 Jan 1950)
Earnhardt, Raymond Lewis (b. 23 Apr 1917 - d. 30 Jul 2001)
Earnhardt, Vadie (b. 16 Oct 1889 - d. 14 Mar 1982)
Earnhardt, William Paul (b. 20 Jan 1930 - d. 18 Nov 1976)
Ennis, James Robert (b. 28 Nov 1917 - d. 20 May 2004)
Ennis, Lillie C (b. 1 Jan 1917 - d. 6 Jan 2009)
Ennis, Thomas J (b. 21 Nov 1935 - d. 20 Mar 1936)
Evans, Ada H (b. 6 Dec 1896 - d. 30 May 1985)
Evans, Bert E (b. 14 Apr 1878 - d. 1 May 1958)
Evans, Bertha Varner (b. 10 Jul 1910 - d. 24 May 2010)
Evans, John Allen (b. 24 Nov 1906 - d. 31 May 1979)
Evans, Kermit H (b. 6 Aug 1917 - d. 8 Feb 1984)
Garner, Joel W (b. 14 Oct 1936 - d. 2 Jul 1988)
Gearren, Nannie Jane Hunt (b. 7 Oct 1893 - d. 12 May 1977)
Gearren, Nereus Hayworth (b. 30 Jun 1883 - d. 29 Aug 1942)
Gearren, Robert B (b. 18 Dec 1921 - d. 9 Aug 1924)
Glenn, Maggie Hunt (b. 16 Sep 1912 - d. 25 Mar 1952)
Gordon, Clarence O (b. 12 Aug 1898 - d. 12 Oct 1977)
Gordon, Connie Hunt (b. 14 Jan 1907 - d. 12 Jan 1985)
Gordon, Sandra Lou (b. 10 Jan 1944 - d. 28 Aug 1865)
Gray, John W (b. 1882 - d. 1964)
Gray, Mamie (b. 1889 - d. 1996)
Hicks, Colleen S (b. 27 Mar 1932 - d. 14 Jul 2000)
Hicks, Roland H (b. 18 Aug 1913 - d. 22 Mar 1981)
Hoover, Barbara R (b. 1 Dec 1935 - d. 5 May 1983)
Hoover, Hal (b. 13 Jun 1895 - d. 18 Aug 1979)
Hoover, Martha J Crotts (b. 23 Mar 1891 - d. 1 Apr 1965)
Hughes, Armenta B (b. 2 Aug 1871 - d. 10 Jan 1947)
Hughes, Early L (b. 5 Dec 1904 - d. 31 Dec 1967)
Hughes, Stephen W (b. 13 Mar 1855 - d. 1 Feb 1930)
Hunt, Alice Faye (b. 21 Mar 1941 - d. 26 Jul 1945)
Hunt, Alvia (b. 11 Feb 1920 - d. 31 Oct 1944)
Hunt, Arch Ray (b. 1933 - d. 1984)
Hunt, Bertie P (b. 19 Apr 1908 - d. 15 Dec 1978)
Hunt, Bessie R (b. 5 Apr 1914 - d. 7 Jun 1979)
Hunt, Caroldine (b. 3 Jan 1944 - d. 28 Mar 1944)
Hunt, Cynthia P (b. 30 Sep 1879 - d. 24 Jan 1961)
Hunt, David Lynn (b. 15 Jan 1961 - d. 19 Apr 1961)
Hunt, Earl Richard (b. 1936 - d. 2010)
Hunt, Early R (b. 2 May 1916 - d. 2 Dec 1976)
Hunt, Ezra S (b. 20 Apr 1930 - d. 31 Dec 1998)
Hunt, Grady Mack (b. 10 Oct 1910 - d. 27 Oct 1995)
Hunt, Howard thomas (b. 15 Sep 1919 - d. 9 Feb 1995)
Hunt, Hubert G (b. 4 Dec 1911 - d. 16 Dec 1981)
Hunt, I Lawson (b. 7 Apr 1905 - d. 8 Jan 1995)
Hunt, Infant (b. 24 Apr 1923 - d. 27 Apr 1923)
Hunt, Ira (b. 11 May 1908 - d. 30 Dec 1989)
Hunt, Iris D (b. 9 Jan 1918 - d. 27 Sep 2004)
Hunt, J Harvey (b. 1884 - d. 1951)
Hunt, J R (b. 1872 - d. 1950)
Hunt, Jesse O (b. 15 Nov 1876 - d. 8 Mar 1944)
Hunt, John F (b. 3 Jun 1919 - d. 24 Mar 1950)
Hunt, Joseph Paul (b. 3 Aug 1928 - d. 31 Oct 1995)
Hunt, Kenneth L (b. 21 Apr 1933 - d. 10 Mar 1983)
Hunt, L W (b. 1 Feb 1840 - d. 30 Jun 1927)
Hunt, Larry Allen (b. 29 Jan 1945 - d. 28 Apr 1979)
Hunt, Lelia E (b. 1889 - d. 1961)
Hunt, Lou T (b. 28 Oct 1871 - d. 22 Ape 1917)
Hunt, Lullie Robbins (b. 6 Apr 1886 - d. 6 Sep 1956)
Hunt, Marvin (b. 16 May 1898 - d. 2 Feb 1950)
Hunt, Mildred Hoover (b. 14 Apr 1923 - d. 20 Jan 2010)
Hunt, Minnie P (b. 3 Mar 1904 - d. 19 Aug 1967)
Hunt, Myrtle (b. 12 Aug 1885 - d. 30 Apr 1977)
Hunt, Pearl W (b. 30 Jul 1909 - d. 26 Feb 1988)
Hunt, R Conrad (b. 23 Nov 1942 - d. 25 Nov 1942)
Hunt, Robert Lee (b. 23 Jan 1913 - d. 16 May 1965)
Hunt, Rosie Evans (b. 1874 - d. 1969)
Hunt, Tennyson W (b. 11 Nov 1901 - d. 10 Jan 1960)
Hunt, Walter L (b. 14 Aug 1884 - d. 23 May 1948)
Hunt, William Frank (b. 7 Feb 1882 - d. 21 Jul 1963)
Jester, Elizabeth V (b. 12 Jan 1904 - d. 15 Sep 1997)
Jester, Maggie E (b. 5 Aug 1902 - d. 5 Jan 1985)
Jester, Roy (b. 26 Oct 1939 - d. 7 Oct 1940)
Jester, Roy E (b. 14 Apr 1901 - d. 1 May 1985)
Jester, W A (b. 11 May 1891 - d. 1 Sep 1960)
Johnson, Roger Albert (b. 11 May 1940 - d. 8 Oct 1997)
Jones, Louise E (b. 10 Mar 1925 - d. 15 Jul 1987)
Kindley, Myrtle Hunt (b. 12 Aug 1926 - d. 1 May 1990)
Kindley, Samuel J (b. 10 Aug 1874 - d. 19 Aug 1949)
Lamb, Christopher Hugh (b. 29 Jan 1968 - d. 2 May 1973)
Lamb, James Henry (b. 9 May 1940 - d. 27 May 2009)
Linthicum, Clyde (b. 9 Sep 1889 - d. 6 Sep 1956)
Linthicum, James lee (b. 20 Jul 1941 - d. 21 Jun 1943)
Lovett, Raymond O (b. 20 Jul 1905 - d. 24 Apr 1948)
Mastin, Jane Hoover (b. 7 Apr 1955 - d. 7 Aug 1983)
McDowell, K Jane Dowd (b. 11 Mar 1942 - d. 23 Nov 1999)
Melzer, Faye G (b. 7 Nov 1931 - d. 23 Oct 1986)
Miller, Carol A (b. 9 Oct 1937 - d. 7 Jan 2001)
Miller, Darrell, Grayson (b. 18 Jul 1972 - d. 15 Jun 2007)
Miller, Dennis Grayson (b. 5 Aug 1936 - d. 22 Apr 2002)
Parker, Mary Ann Hodge (b. 24 Feb 1859 - d. 1 Dec 1926)
Pierce, Cas A (b. 1 Jan 1849 - d. 27 Oct 1918)
Pierce, Donald Eugene (b. 21 Jun 1940 - d. 13 Nov 1998)
Pierce, Edna P (b. 17 May 1905 - d. 20 Jul 1907)
Pierce, Ila N (b. 29 Aug 1906 - d. 22 Jun 1907)
Pierce, James Edward (b. 28 Feb 1880 - d. 8 Oct 1948)
Pierce, Lula Hughes, (b. 20 Dec 1884 - d. 2 Nov 1932)
Poole, Mary Hunt (b. 15 Jan 1892 - d. 19 Sep 1971)
Pope, Claude D (b. 1910 - d. 1974)
Potts, Charles H (b. 26 May 1934 - d. 6 Jan 1994)
Potts, Virginia S (b. 9 Mar 1936 - d. 6 Jun 1977)
Ridge, Mattie Thayer (b. 30 Nov 1892 - d. 28 Nov 1978)
Robbins, Bessie Rush (b. 15 Oct 1882 - d. 1 Mar 1954)
Robbins, George D (b. 5 Jan 1907 - d. 16 Nov 1963)
Robbins, George Franklin (b. 23 Mar 1873 - d. 25 Jun 1965)
Robbins, Ruth (b. 4 May 1925 - d. 4 May 1925)
Rush, Bobby G (b. 10 Jun 1932 - d. 3 Feb 1982)
Rush, Cecil (b. 19 Dec 1924 - d. 4 Dec 1928)
Rush, Charles Lee (b. 27 Jul 1938 - d. 23 Oct 2006)
Rush, Clarence Charles (b. 28 May 1914 - d. 10 Oct 1988)
Rush, D M (b. 12 Dec 1831 - d. 15 Nov 1901)
Rush, Dallas Miller (Dr.) (b. 25 Sep 1927 - d. 9 Jul 1990)
Rush, Dora E (b. 1988 - d. 1906)
Rush, Effie K (b. 1902 - d. 1953)
Rush, Ernest A (b. 1904 - d. 1946)
Rush, Jeff H (b. 1889 - d. 1989)
Rush, Jerry Wayne (b. 24 Apr 1943 - d. 13 May 1962)
Rush, Jewel Strider (b. 27 Jun 1917 - d. 14 Apr 1999)
Rush, Laura Ann (b. 28 Apr 1936 - d. 27 Aug 2004)
Rush, Mary Jane (b. 19 Aug 1884 - d. 26 Aug 1900)
Rush, Nannie M (b. 30 Mar 1892 - d. 20 Sep 1975)
Rush, Nina, (b. 1904 - d. 1906)
Rush, Robert Jr (b. 2 Oct 1919 - d. 1 Mar 1971)
Rush, Robert Sr (b. 21 Jun 1896 - d. 12 Oct 1987)
Rush, Rosana Jane Smith (b. 20 May 1858 - d. 5 Jul 1940)
Rush, Stella R (b. 16 Apr 1898 - d. 31 Jan 1926)
Rush, Wanda Embler (b. 30 Mar 1925 - d. 30 Jul 1979)
Scarlrtt, Pauline Earnhardt (b. 11 Aug 1921 - d. 8 Mar 1974)
Seabolt, Evelyn J (b. 30 May 1951 - d. 22 Aug 1951)
Snyder, Emma L Thompson (b. 23 Apr 1886 - d. 6 Dec 1951)
Snyder, Lonnie E (b. 20 Dec 1885 - d. 18 Feb 1970)
Swany, C S (b. 28 Jun 1871 - d. 30 May 1945)
Swany, Charles T (b. 23 Jan 1905 - d. 26 Mar 1982)
Swany, Mary Ellen Lucas (b. 2 Jan 1879 - d. 21 Mar 1964)
Swany, Pearl J (b. 31 May 1915 - d. 10 Dec 1918)
Taylor, Kenneth V (b. 22 Feb 1911 - d. 17 May 2004)
Taylor, Lena P (b. 11 Apr 1913 - d. 1 Jul 1996)
Wagner, Richard J (b. 8 Jul 1938 - d. 16 Dec 1984)
Wagner, Stella H (b. 27 Jan 1913 - d. 14 Jan 1995)
Walker, Joseph Brian (b. 30 Jun 1972 - d. 30 Jun 1972)
Walker, Margaret Lucille (b. 3 Jan 1925 - d. 16 Sep 1999)
Walker, Raymond W Jr (b. 26 Dec 1924 - d. 16 Jan 1972)
Wall, Infant (b. 12 Jan 1954 - d. 12 Jan 1954)
Wall, Warren C (b. 19 Oct 1925 - d. 24 May 1994)
Walls, Charlie W (b. 23 Feb 1910 - d. 22 Mar 1926)
Walls, Roaner M (b. 11 May 1878 - d. 14 Jan 1928)
Walls, William (b. 16 Dec 1874 - d. 19 Mar 1932)
Ward, Enos S (b. 1897 - d. 1973)
Ward, Lydia Hunt (b. 1917 - d. 1990)
Woodard, Joseph Aaron (b. 14 Dec 1982 - d. 8 Sep 1993)
Web page updated 13 May 2017
Index of All Cemeteries
Alphabetical Index of All Burials
Previous Page