Index of All Cemeteries
Alphabetical Index of All Burials
Previous Page
Use the following to search across all the cemeteries listed.
Example: "Smith, Roger" (yes, use the quotes)
103 ANTIOCH BAPTIST CHURCH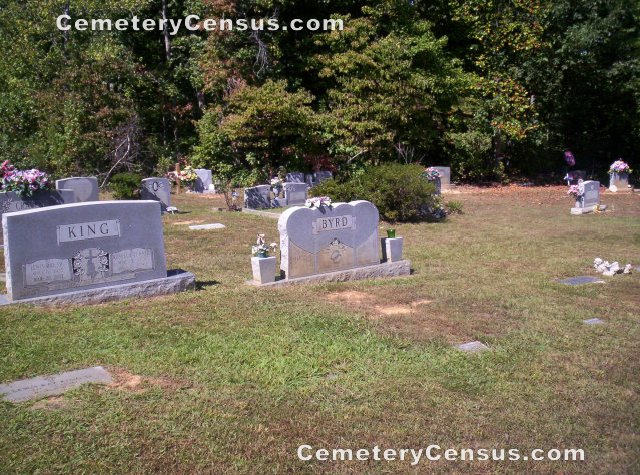 Location - 150 Drum St off of Hwy 220 South, Seagroves.

Coordinates: 35d 36m 05.3s N; 79d 48m 57.6s W Click here for Google maps

Survey provided by Wayne Ham and Laurell Ham, Randleman, NC in September 2010. Photographs by Wayne Ham.

This is a complete listing as of September 2010.


Backie, Michall D (b. 22 Aug 1923 - d. 7 Mar 1992)
Bowman, Elmer (b. 8 Aug 1924 - d. 12 Aug 2000)
Brunage, Carter Lee (b. 29 Dec 2007 - d. 7 Apr 2008)
Byrd, Patricia A (b. 23 Mar 1848 - d. 29 Jun 1994)
Conner, Elbert L (b. 2 Nov 1944 - d. 22 Apr 1986)
Craven, Lillie Needham (b. 3 Mar 1918 - d. 19 Oct 1983)
Craven, William Howard (b. 8 May 1920 - d. 24 Jul 1999)
DeHart, Betty (b. 21 Oct 1940 - d. 6 Jul 2009)
DeHart, Charles Lee (b. 23 Oct 1946 - d. 15 Sep 2006)
DeHart, Frances M (b. 23 Jun 1935 - d. 16 May 2005)
DeHart, Michael Shane (b. 15 Jun 1971 - d. 17 Oct 2005)
DeHart, Roger Dale (b. 10 Oct 1947 - d. 2 Jun 2010)
DeHart, Swanson A (b. 14 Jan 1938 - d. 5 May 1999)
Dorsett, George Franklin (b. 8 Jun 1917 - d. 10 Feb 2008)
Dunn, Mary Elizabeth Gore (b. 8 Sep 1944 - d. 24 Sep 2007)
Frye, Robert C (b. 3 Jan 1932 - d. 2 May 1093)
Garner, Dennis R (b. 1966 - d. 1976)
Garner, Lonell C (b. 1934 - d. 2000)
Hill, Ray Leon (b. 21 Aug 1937 - d. 28 Apr 2009)
Kennedy , Charlie L (b. 1 May 1925 - d. 16 Jan 1988)
Kennedy, Helen D (b. 15 Oct 1920 - d. 1 Apr 1988)
Kennedy, Ronald Lee (b. 8 Jul 1960 - d. 19 Aug 2001)
King, James Earl (b. 29 Apr 1963 - d. 13 Mar 2005)
King, Lewis Ray Sr (b. 11 May 1925 - d. 20 Mar 2002)
King, Rosella Turner (b. 3 Mar 1929 - d. 30 Jan 1981)
Ledwell, Heather Lynn (b. 25 Nov 1990 - d. 26 Nov 1990)
Loflin, Richard Marty (b. 30 Aug 1968 - d. 19 Jan 1990)
Luther, Howard Ray (b. 31 May 1934 - d. 15 May 2010)
Luther, James Larry (b. 10 Aug 1951 - d. 5 Apr 2000)
Luther, James Leroy (b. 5 Aug 1978 - d. 10 Apr 2007)
Luther, Linda Weaver (b. 20 May 1949 - d. 13 Dec 2001)
Maness, Nolan H (b. 10 Nov 1931 - d. 12 Sep 2010)
Millikan, Iris Marie (b. 24 May 1953 - d. 31 Dec 2007)
Needham , Pattie Sun (b. 1959 - d. 1959)
Needham, Bobby Lee (b. 2 Aug 1953 - d. 30 Sep 1979)
Needham, Elbert Lee (b. 2 Jan 1920 - d. 18 Mar 1990)
Pugh, Trent Beane (b. 2004 - d. 2004)
Sams, Johnie D (b. 4 May 1929 - d. 13 Jan 1984)
Sams, Ruby Smith (b. 2 Jan 1928 - d. 30 Jul 1987)
Spencer, Adeline N (b. 21 May 1895 - d. 28 Jun 1970)
Wright, Jackie (b. 2 Jul 1934 - d. 29 Jul 2008)
Web page updated 13 May 2017
Index of All Cemeteries
Alphabetical Index of All Burials
Previous Page