Index of All Cemeteries
Alphabetical Index of All Burials
Previous Page
Use the following to search across all the cemeteries listed.
Example: "Smith, Roger" (yes, use the quotes)
101 MITCHELL UNITED METHODIST CHURCH (1)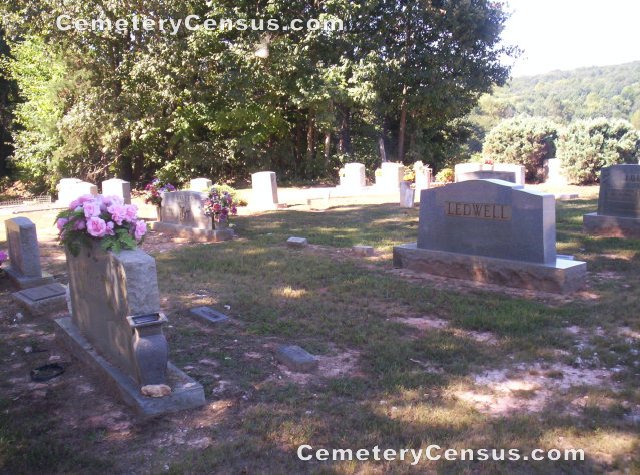 Location - Hwy 159 / Zoo Parkway, at the Mitchell UMC.

Coordinates: 35d 37m 24.0s N; 79d 47m 27.8s W Click here for Google maps

Survey provided by Wayne Ham and Laurell Ham, Randleman, NC in September 2010. Photographs by Wayne Ham.

This is a complete listing as of September 2010.


Caviness, Alfred Lewis (b. 24 Jan 1930 - d. 13 Mar 1999)
Caviness, Alma L (b. 1922 - d. 1999)
Caviness, Dinnah Ann (b. 6 Dec 1893 - d. 11 Dec 1975)
Caviness, James Atlas (b. 1886 - d. 1974)
Caviness, Marvin A (b. 20 Jul 1890 - d. 28 Dec 1946)
Caviness, Maxine Cheek (b. 1896 - d. 1985)
Foust, Carl Emmerson (b. 30 Jun 1916 - d. 8 May 1948)
Foust, Dora G (b. 1911 - d. 1971)
Foust, Harold Loyd (b. 1927 - d. 1978)
Foust, Hijah L (b. 1900 - d. 1964)
Glover, Alvesta Spinks (b. 18 Oct 1908 - d. 29 Jul 1990)
Graves, Lera Joyce (b. 31 Jan 1917 - d. 22 Feb 1999)
Ledwell, Alheryia Goldston (b. 5 Apr 1903 - d. 21 Jul 1977)
Ledwell, George Deury (b. 10 Jan 1899 - d. 16 May 1970)
Ledwell, Herman Oscar (b. 25 Feb 1906 - d. 11 Aug 1993)
Ledwell, Lucille Belle (b. 27 Oct 1906 - d. 19 Dec 1990)
Ledwell, Solomon Oliver (b. 22 Jul 1888 - d. 8 Jan 1959)
Lewis, Carl Edwin (b. 22 May 1909 - d. 4 May 1979)
Lewis, Essie Beatrice Foust (b. 17 Dec 1913 - d. 17 Jun 2001)
Majetti, Travis Markis (b. 5 Sep 1984 - d. 10 Feb 1985)
Rush, Donald (b. 1926 - d. 1998)
Rush, Greta B (b. 9 Mar 1892 - d. 9 Mar 1984)
Rush, James Bristol (b. 27 Jun 1922 - d. 12 Jan 1984)
Rush, Rissie (b. 19 Dec 1885 - d. 28 Jan 1960)
Spinks, A Sherman (Rev.) (b. 20 Aug 1864 - d. 15 Jan 1959)
Spinks, Maggie Cheek (b. 22 Dec 1872 - d. 14 May 1959)
Srrickland, Martha B (b. 1872 - d. 1972)
Staley, Effie Ledwell (b. 19 Dec 1892 - d. 16 Jun 1962)
Strickland, Gurney Eugene (b. 14 Apr 1897 - d. 4 Feb 1990)
Strickland, Howard Gurney (b. 28 Aug 1939 - d. 15 Feb 1990)
Strickland, John L (b. 1 Mar 1892 - d. 29 Apr 1975)
Strickland, John W (b. 1869 - d. 1951)
Strickland, Sonia Marie (b. 21 Aug 1934 - d. 7 Jan 1948)
Strinkland, Henrietta Spinks (b. 28 Jul 1896 - d. 18 Apr 1952)
Walden, Elwood Rush (b. 1928 - d. 1988)
Walden, Estelle R (b. 9 Sep 1914 - d. 8 Jul 1985)
Walden, Etta R (b. 26 Aug 1888 - d. 16 Jun 1975)
Walden, Faye B (b. 1921 - d. 2004)
Walden, Henry A (b. 1923 - d. 2002)
Walden, Henry C (b. 20 Apr 1881 - d. 14 Jan 1956)
Walden, James C Sr (b. 8 Mar 1914 - d. 29 Jun 1999)
Walden, Walter E (b. 17 Aug 1918 - d. 25 Feb 1976)
Walden, Willard J (b. 11 Jun 1921 - d. 10 May 1977)
Web page updated 13 May 2017
Index of All Cemeteries
Alphabetical Index of All Burials
Previous Page