Index of All Cemeteries
Alphabetical Index of All Burials
Previous Page
Use the following to search across all the cemeteries listed.
Example: "Smith, Roger" (yes, use the quotes)
092 MT. OLIVE WESLEYAN CHURCH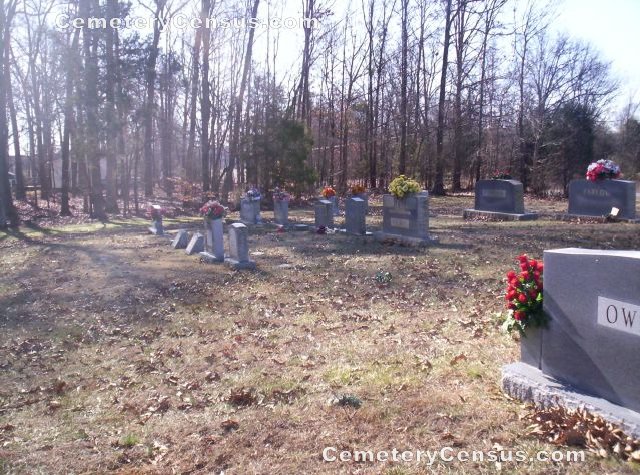 Location - on Mount Olive Church Rd (SR-1536) off of Edgar Rd (SR-1526).

Coordinates: 35d 49m 22.6s N; 79d 54m 47.3s W Click here for Google maps

Survey provided by Wayne Ham and Laurell Ham, Randleman, NC in January 2010. Photographs by Wayne Ham.

This is a complete listing as of January 4, 2010.


Barbee, Mary R (b. 3 Jan 1920 - d. 19 Mar 1996)
Beason, Revonda Neely (b. 11 Mar 1937 - d. 28 Sep 2005)
Beason, Walter Ruffin (b. 12 Sep 1891 - d. 6 Mar 1966)
Damron, Cynthia Denise (b. 15 Nov 1976 - d. 27 Dec 1976)
Damron, Veirgis (b. 19 Oct 1919 - d. 29 Jun 1987)
Farlow, Ellen M (b. 14 Oct 1919 - d. 3 Feb 1985)
Farlow, Ellis M (b. 4 Sep 1884 - d. 16 Jun 1948)
Farlow, Kermit (Rev.) (b. 11 Apr 1925 - d. 2 Sep 2007)
Farlow, Lou Hill (b. 14 Dec 1896 - d. 2 Jul 1971)
Farlow, Mildred Lewis (b. 13 Jan 1925 - d. 15 Jun 2004)
Farlow, Reese W (Rev) (b. 21 May 1914 - d. 6 Dec 1963)
Farlow, Sarah Mae (b. 13 Oct 1915 - d. 31 Mar 2000)
Farlow, Willard L (b. 2 Jun 1912 - d. 23 Jul 1956)
Farlow, Wray L (b. 21 Jan 1946 - d. 6 Dec 1963)
Henley, David L (b. 29 Jan 1967 - d. 29 Jan 1967)
Kenerley, John (b. 5 Nov 1935 - d. 11 Jun 2007)
Kistler, Bessie Edna (b. 11 Jul 1917 - d. 14 Feb 2002)
Kistler, Boyd Charles (Rev.) (b. 16 Jun 1919 - d. 13 Mar 2000)
McCall, Michael Lynn (b. 10 Oct 1971 - d. 10 Oct 1971)
McCall, Robert C (b. 30 Sep 1966 - d. 19 Nov 1984)
McCall, Ronald Dean (b. 25 Jan 1969 - d. 25 Jan 1969)
McCrosky, Christopher (b. 24 Nov 1955 - d. 25 Apr 1956)
McCrosky, Faye Neely (b. 20 Jan 1930 - d. 27 Oct 1970)
McCrosky, William G (b. 20 Mar 1901 - d. 25 Aug 1972)
McDowell, Jerry Garland (b. 4 Sep 1953 - d. 1 Mar 2009)
Neely, Sadie E (b. 18 Nov 1903 - d. 7 Jan 1966)
Nelson, Eleanor S (b. 18 Nov 1917 - d. 28 Aug 1999)
Nelson, Logan (b. 19 Oct 1891 - d. 2 Mar 1972)
Nelson, Mamie F (b. 28 Oct 1894 - d. 28 Jan 1979)
Owens, Elmer (b. 15 Aug 1926 - d. 24 Jul 2005)
Owens, John Robert (b. 9 Oct 1896 - d. 27 Jul 1976)
Owens, Josie Ann Fain (b. 31 Aug 1897 - d. 12 May 1971)
Poppel, Marie Gieger (b. 21 Aug 1894 - d. 30 Apr 1978)
Scarborough, Infant (b. 29 Nov 1957 - d. 29 Nov 1957)
Web page updated 13 May 2017
Index of All Cemeteries
Alphabetical Index of All Burials
Previous Page