Index of All Cemeteries
Alphabetical Index of All Burials
Previous Page
Use the following to search across all the cemeteries listed.
Example: "Smith, Roger" (yes, use the quotes)
091 CARAWAY BAPTIST CHURCH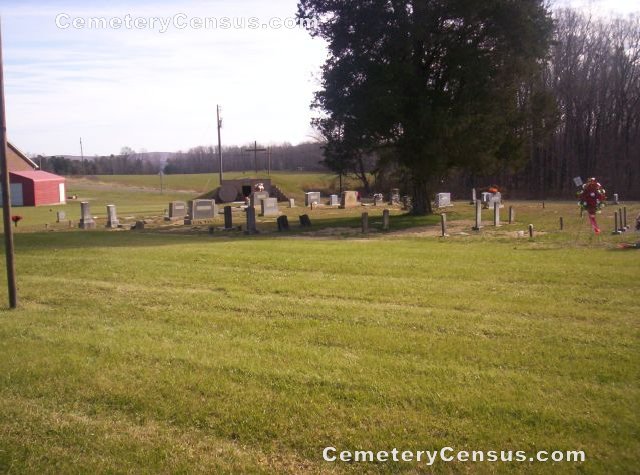 Location - at the intersection of Beeson Farm RD (SR-1525) and Beckerdite Rd (SR-1524).

Coordinates: 35d 48m 09.3s N; 79d 55m 13.9s W Click here for Google maps

Survey provided by Wayne Ham and Laurell Ham, Randleman, NC in January 2010. Photographs by Wayne Ham.

This is a complete listing as of January 4, 2010.


Allred, Richard W (b. 7 Aug 1940 - d. 12 Feb 1992)
Ball, Lloyd B (b. 1928 - d. 1980)
Ball, Wilma C (b. 1928 - d. 1977)
Beckerdite, A E (b. 12 Nov 1872 - d. 1 Jan 1903)
Beckerdite, Daug (b. 29 Apr 1983 - d. 7 Oct 1877)
Beckerdite, E Melvin (b. 7 Dec 1884 - d. 7 Jun 1962)
Beckerdite, Elma (b. 3 Apr 1904 - d. 9 Nov 1904)
Beckerdite, Elwood (b. 30 Apr 1904 - d. 14 Apr 1921)
Beckerdite, Infant (b. 1901 - d. 1901)
Beckerdite, Iris Jane (b. 7 Feb 1847 - d. 22 Dec 1927)
Beckerdite, Isabella (b. 1803 - d. 9 Aug 1890)
Beckerdite, John T (b. 19 Aug 1840 - d. 10 Apr 1934)
Beckerdite, Samuel S (b. 25 Jan 1868 - d. 12 Oct 1870)
Boles, Alice Louise (b. 21 Dec 1955 - d. 15 Jul 2006)
Boles, Donnie R (b. 30 Mar 1952 - d. 6 Sep 2003)
Boles, Georguana F (b. 21 Aug 1932 - d. 8 Oct 2004)
Burge, Harry W (b. 1 Nov 1942 - d. 5 May 2004)
Capps, Rev Kenneth H (b. 5 May 1940 - d. 18 Apr 2005)
Caudill, Brian Keith Sr (b. 7 Mar 1981 - d. 9 Jun 2006)
Cooper, Donald Bryce (b. 2 Aug 1963 - d. 2 Aug 1963)
Cooper, John S Jr (b. 21 Jan 1918 - d. 30 Jun 1939)
Cooper, John S Sr (b. 16 Oct 1892 - d. 29 Oct 1978)
Cooper, Marion Van Buren (b. 24 Nov 1928 - d. 22 Nov 1998)
Cooper, Rola B (b. 3 Jul 1889 - d. 19 Sep 1972)
Cox, Gary Grant (b. 28 Feb 1951 - d. 14 Mar 2007)
Crotts, Jesse, Clark (b. 27 Mar 1908 - d. 10 Aug 1992)
Crotts, Velna Davis (b. 4 Mar 1909 - d. 21 Oct 1988)
Crouch, Hazel Kouise (b. 12 Nov 1934 - d. 20 Dec 1950)
Crouch, Hugh Richard Sr (b. 10 Jul 1910 - d. 13 Nov 1996)
Crouch, Infant Daug (b. 5 Oct 1903 - d. 14 Oct 1903)
Crouch, Lola May Campbell (b. 22 Apr 1914 - d. 28 Mar 1942)
Crouch, Robert E (b. 12 Dec 1907 - d. 16 Apr 1920)
Crouch, Victoria D (b. 8 Sep 1866 - d. 1 Sep 1945)
Dickens, Clyde E Sr (b. 8 Nov 1912 - d. 26 Oct 1964)
Dickens, Richard Clyde (b. 28 Nov 1974 - d. 15 Jul 1980)
Ferguson, Frances Beckerdite (b. 7 Sep 1879 - d. 29 Dec 1965)
Hawk, Coty Tyler (b. 5 Sep 1993 - d. 5 Sep 1993)
Hill, Faye Leeann (b. 14 Mar 1978 - d. 15 jan 2008)
Hill, Heidi Kristian (b. 15 Jan 1974 - d. 16 Jan 1974)
Hill, Jason Michael (b. 30 Nov 1974 - d. 30 Nov 1974)
Hill, John Riley (b. 4 Mar 1886 - d. 29 Jan 1972)
Hill, Martha Farlow (b. 24 May 1894 - d. 28 Apr 1958)
Holbrook, Ronald L (b. 27 Jan 1943 - d. 12 Sep 2008)
Hunt, Charley (b. 20 Aug 1865 - d. 9 Feb 1948)
Hunt, Dewey (b. 3 Dec 1898 - d. 8 Apr 1923)
Hunt, Lydia (b. 16 Jul 1866 - d. 29 Dec 1913)
Jackson, John L (b. 16 Dec 1880 - d. 23 Jul 1960)
Jackson, Myrtle R (b. 7 May 1894 - d. 11 Feb 1956)
King, Bessie G (b. 10 Oct 1901 - d. 29 Jun 1963)
King, James M (b. 21 Sep 1898 - d. 28 Apr 1983)
Kivett, Toby Reid (b. 14 May 1942 - d. 14 Jan 2002)
Lamb, Terry Andy (b. 25 Apr 1958 - d. 6 Oct 2000)
Lanier, Anna (b. 24 Dec 1807 - d. 11 Nov 1880)
Lanier, Elder Benjamin (b. 26 Jul 1807 - d. 5 Aug 1873)
Lanier, Nancy (b. Feb 1829 - d. Mar 1908)
Laughlin, A T (b. 18 Sep 1845 - d. 20 May 1916)
Laughlin, Gilley (b. 27 Dec 1808 - d. 21 Sep 1885)
Laughlin, Hobert (b. 2 Jun 1808 - d. 24 Aug 1878)
Laughlin, Laura L (b. 8 Mar 1849 - d. 30 Sep 1904)
Laughlin, Robert (b. 19 Feb 1806 - d. 18 Mar 1884)
Laughlin, S L (b. 13 Jul 1837 - d. 14 Nov 1910)
Laughlin, Susannah (b. 1834 - d. 1886)
Laughlin, William (b. 18 Aug 1798 - d. 22 Oct 1870)
Lenville, Nettie L (b. 1907 - d. 1939)
Lewallen, Carra L (b. 29 Nov 1899 - d. 8 May 1979)
Lewallen, Ethel Mills (b. 1922 - d. 1957)
Lewallen, William L (b. 17 Nov 1891 - d. 17 Jul 1976)
Linthicum, Charles Blaine (b. 17 Oct 1929 - d. 10 Dec 1998)
Linthicum, Helen Russell (b. 16 Aug 1909 - d. 8 Aug 1942)
Linthicum, Howard M (b. 26 Mar 1911 - d. 12 Aug 1969)
Linthicum, Jesse R (b. 17 Jul 1881 - d. 7 Mar 1961)
Linthicum, Jessie Vernon (b. 4 Aug 1902 - d. 8 Jun 1919)
Linthicum, John B (b. 28 Oct 1971 - d. 27 Sep 1941)
Linthicum, Lewis Baxter (b. 28 Dec 1896 - d. 6 May 1948)
Linthicum, Mary (b. 24 Mar 1838 - d. 18 May 1921)
Linthicum, Mary Leora (b. 5 Jun 1870 - d. 28 Mar 1950)
Linthicum, Nettie Lenora (b. 5 Oct 1907 - d. 23 Sep 1939)
Linthicum, Pedro R (b. 17 Jul 1875 - d. 25 Feb 1961)
Linthicum, Ralph Lesley (b. 11 May 1906 - d. 18 Jan 1910)
Linthicum, Ruth Jordan (b. 7 Nov 1919 - d. 6 May 2008)
Linthicum, S O (b. 7 Apr 1830 - d. 3 Dec 1919)
Linthicum, Stella W (b. 19 Jul 1901 - d. 8 Jun 1991)
Loflin, Lenuel (b. 27 May 1877 - d. 13 Feb 1950)
Loflin, Mary E Brookshire (b. 28 Feb 1885 - d. 10 Aug 1962)
Loflin, Thomas Arthur (b. 18 Dec 1924 - d. 16 Dec 1961)
Mitchell, Robert L (b. 9 Feb 1888 - d. 17 Feb 1888)
Morris, Howard Edward (b. 28 Jul 1945 - d. 28 Jul 1945)
Morris, Howard Simpson (b. 11 Apr 1912 - d. 24 Aug 1999)
Morris, Ollie Hill (b. 26 Jan 1918 - d. 4 Jun 1993)
Peacock, Alfred J (b. 15 Apr 1849 - d. 30 Mar 1925)
Peacock, Fanny (b. 28 Aug 1859 - d. 8 May 1914)
Reynolds, Nelson Gale (b. 26 Jan 1950 - d. 2 Nov 2006)
Rivers, Bryan Keith (b. 12 Jul 1979 - d. 12 Jul 1979)
Robbins, John Colvin (b. 22 May 1890 - d. 27 Feb 1963)
Robbins, McCager (b. 14 Feb 1858 - d. 21 Jan 1939)
Robbins, Roella (b. 5 Jun 1862 - d. 9 May 1927)
Rogers, Carrie Elizabeth (b. 10 Mar 1985 - d. 10 Mar 1985)
Spencer, Angie M (b. 28 Apr 1898 - d. 11 Nov 1918)
Spencer, E (b. 2 Jul 1867 - d. 4 Aug 1944)
Spencer, Joseph F (b. 22 Dec 1866 - d. 16 Aug 1913)
Swaney, Reuben (b. 1832 - d. 1914)
Turner, Lola H (b. 1910 - d. 1978)
Turner, Sumney R (b. 1908 - d. 1976)
Turner, William Leon (b. 14 May 1947 - d. 27 Jan 1988)
Ward, Catherine L Barker (b. 11 Nov 1834 - d. 25 Jun 1917)
Ward, J Lindsay (b. 27 Sep 1843 - d. 6 Jan 1922)
Ward, Susan Wall (b. 25 May 1857 - d. 27 Aug 1942)
Ward, W Henry H (b. 1833 - d. 25 Jan 1901)
William, Keith (b. 20 Dec 1900 - d. 4 Apr 1974)
Williams, Shelly Jean Lamb (b. 4 Nov 1936 - d. 18 Dec 2007)
Willis, Earl Lee (b. 27 Apr 1908 - d. 22 Feb 2002)
Willis, Pearl Alley (b. 20 Oct 1909 - d. 2 Jun 1997)
Web page updated 13 May 2017
Index of All Cemeteries
Alphabetical Index of All Burials
Previous Page