Index of All Cemeteries
Alphabetical Index of All Burials
Previous Page
Use the following to search across all the cemeteries listed.
Example: "Smith, Roger" (yes, use the quotes)
084 MOUNTAIN VIEW INDEPENDENT METHODIST CHURCH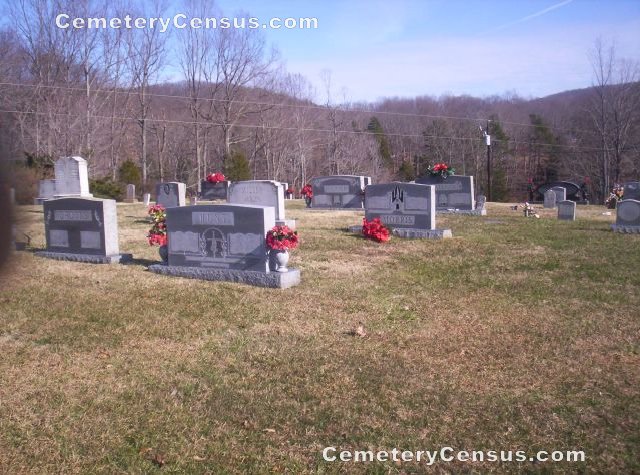 Location - Mountain View Church Rd (SR-1413) north of Old Lexington Rd (SR-1416) and west of Caraway Mountain Rd (SR-1004).

Coordinates: 35d 45m 09.9s N; 79d 54m 41.0s W Click here for Google maps

Survey provided by Wayne Ham and Laurell Ham, Randleman, NC in December 2009. Photographs by Wayne Ham.

This is a complete listing as of December 30, 2009.


Bryant, Shelia J (b. 19 Jul 1946 - d. 27 Oct 1992)
Clark, Glenda H (b. 23 Apr 1947 - d. 5 Nov 2005)
Crotts, Benjamin f (b. 26 Nov 1906 - d. 28 Feb 1986)
Crotts, Virginia L (b. 24 Sep 1905 - d. 14 Jun 1987)
Davis, William Burton (b. 21 Jan 1942 - d. 27 Jun 2007)
Elliott, Bobby (b. 19 Oct 1931 - d. 30 May 2007)
Farlow, Arthur A (b. 25 Aug 1895 - d. 8 Jun 1896)
Farlow, Earl W (b. 8 Jun 1920 - d. 27 Jul 1998)
Farlow, Edna C (b. 29 Dec 1927 - d. 27 Oct 1983)
Farlow, Herman E (b. 3 Sep 1917 - d. 12 May 1995)
Farlow, Rollea E (b. 2 Jul 1921 - d. 3 Jan 1992)
Henderson, William Pete (b. 2 Oct 1931 - d. 4 Jan 1984)
Hill, Beatrice Miller (b. 23 Jun 1908 - d. 19 Dec 2004)
Hill, Elizabeth (b. 1923 - d. 2000)
Hill, Everett (b. 8 Sep 1906 - d. 9 Apr 1994)
Hoover, Ransome H (b. 10 Jun 1892 - d. 4 Aug 1902)
Hughes, Infant (b. 3 Mar 1947 - d. 3 Mar 1947)
Hunt, Ervin Ferree (b. 6 May 1926 - d. 10 Jun 1953)
Hunt, Infant (b. 20 Dec 1944 - d. 20 Dec 1944)
Hunt, Kermit Calvin (b. 17 Jan 1915 - d. 30 Sep 1990)
Hunt, Myrtle S Miller (b. 29 Oct 1912 - d. 15 Feb 1997)
Hunt, Oakle Elwood (b. 15 Sep 1908 - d. 5 Jun 2000)
Hunt, S Calvin (b. 1892 - d. 1930)
Hunt, Virgil Lee (b. 16 Mar 1910 - d. 16 Mar 1996)
Hunt, Zula Pierce (b. 1895 - d. 1972)
Jackson, Arthur (b. 1 Jul 1880 - d. 8 Jan 1948)
Jarrell, Angeline (b. 20 Dec 1857 - d. 16 Oct 1942)
Jarrell, Henry Clarence (b. 2 Jun 1915 - d. 12 Mar 1986)
Jarrell, James (b. 4 Jun 1819 - d. 20 Aug 1904)
Jarrell, John F (b. 21 Aug 1860 - d. 24 Jan 1922)
Jarrell, Martha (b. 4 Jan 1821 - d. 10 Jun 1909)
Jarrell, Sarah (b. 10 Apr 1845 - d. 28 Aug 1918)
Johnson, Hays (b. 20 Sep 1876 - d. 25 Oct 1910)
Johnson, Lucinda (b. 10 Dec 1836 - d. 17 Jan 1930)
Johnson, Ransom (b. 13 Jan 1846 - d. 18 Aug 1918)
Johnson, Twins (b. 1913 - d. 1913)
Kidd, Calvin Dean (b. 31 Dec 1959 - d. 21 Mar 2005)
Lewallen, Brad David (b. 19 Jul 1981 - d. 2 Aug 2009)
Lineberry, Mary (b. Unknown - d. 1956)
Lineberry, Naomi (b. 1900 - d. 1958)
Loflin, Louise Draper (b. 17 Jun 1931 - d. 20 Oct 2008)
Luffman, Dora L Brim (b. 13 Apr 1937 - d. 25 Jun 2004)
McLeod, Bernie Goins (b. 4 Sep 1908 - d. 14 Jul 1991)
McLeod, Cicero L (b. 16 Mar 1905 - d. 12 Apr 1995)
McLester, Dora Robbins (b. 1883 - d. 1964)
McMcelreath, Crawford W (b. 25 Apr 1895 - d. 24 Jun 1988)
McMcelreath, Ella W (b. 28 Mar 1903 - d. 19 May 1969)
McMcelreath, Infant (b. 15 Aug 1951 - d. 16 Aug 1951)
McMcelreath, Infant Boy (b. 1952 - d. 1952)
Miller, Charles W (b. 7 Nov 1875 - d. 20 Sep 1957)
Miller, John Clayton (b. 13 Apr 1997 - d. 26 Dec 2006)
Miller, Sirona L Johnson (b. 4 Jul 1872 - d. 8 Nov 1946)
Miller, Wesley William (b. 31 Jan 1910 - d. 11 Jan 1983)
Morris, Carl J (b. 11 Jan 1918 - d. 1 Jul 1963)
Morris, Mary M (b. 4 Mar 1915 - d. 1 Jul 1989)
Newby, Viola (b. 27 Sep 1835 - d. 11 Nov 1902)
Rich, Donald Ray (b. 26 Apr 1937 - d. 15 Jun 1937)
Roach, Enos (b. Unknown - d. 6 Jan 1927)
Robbins, J H (b. 21 Dec 1873 - d. 7 Feb 1906)
Robbins, Kim Maness (b. 23 May 1966 - d. 31 Mar 2002)
Satterfield, Charles A (b. 19 Dec 1927 - d. 22 Nov 1974)
Sheffield, Infant (b. 11 Jan 1924 - d. 12 Jan 1924)
Stillwell, Mary R (b. 11 Dec 1922 - d. 16 Dec 1922)
Testerman, Howard Neal (b. 20 Jan 1951 - d. 29 Sep 2004)
Thompson, Thelma Carlene Redding (b. 31 Mar 1909 - d. 30 Jan 2001)
Trotter, Clifford T (b. 27 Sep 1913 - d. 26 Jun 1990)
Trotter, Jo Lean Brown (b. 25 Mar 1938 - d. 16 Sep 2002)
Trotter, Kenneth Keith (b. 10 Mar 1932 - d. 1 May 1995)
Trotter, Kenneth Ray (b. 30 Sep 1957 - d. 30 Sep 1957)
Trotter, Ronald Leon (b. 23 Jun 1945 - d. 12 Jan 2002)
Web page updated 13 May 2017
Index of All Cemeteries
Alphabetical Index of All Burials
Previous Page