Index of All Cemeteries
Alphabetical Index of All Burials
Previous Page
Use the following to search across all the cemeteries listed.
Example: "Smith, Roger" (yes, use the quotes)
083 NEW UNION UNITED METHODIST CHURCH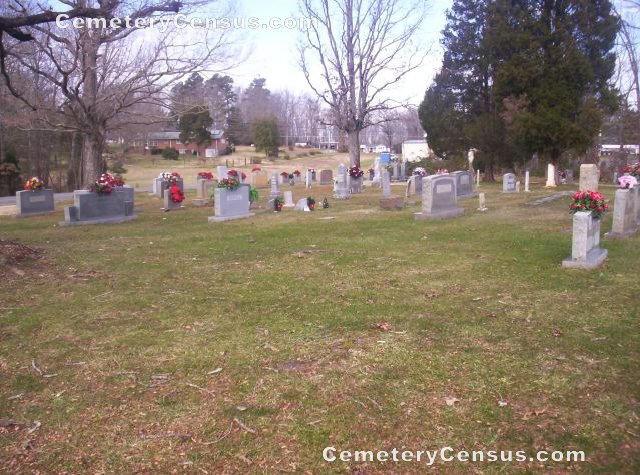 Location - 1293 Union Church Rd (SR-1163) between Old NC Hwy 49 (SR-1193) and new Hwy 49.

Coordinates: 35d 40m 25.5s N; 79d 53m 16.7s W Click here for Google maps

Survey provided by Wayne Ham and Laurell Ham, Randleman, NC in December 2009. Photographs by Wayne Ham.

This is a complete listing as of December 28, 2009.


Allred, Elijah (b. 21 Nov 1825 - d. 3 Feb 1901)
Ashworth, Alleane Spoon (b. 13 Oct 1895 - d. 24 Jan 1976)
Ashworth, Elizabeth (b. 29 Nov 1822 - d. 2 Aug 1890)
Ashworth, Joel (b. 17 Apr 1821 - d. 16 Dec 1910)
Ashworth, Joel Adison (b. 20 Nov 1887 - d. 12 Oct 1971)
Barnes, Jewell Barnes (b. 15 Jun 1917 - d. 13 Feb 2002)
Barnes, John Wesley (b. 5 Aug 1925 - d. 4 Aug 2002)
Barnes, Lee G (b. 16 Feb 1890 - d. 4 Apr 1971)
Barnes, Leo Kerrington (b. 2 Feb 1917 - d. 14 Mar 2006)
Barnes, Lulla G (b. 1968 - d. 17 Feb 1890)
Barnes, Lydia H (b. 18 May 1894 - d. 12 Jun 1974)
Barnes. Mary Louise (b. 1929 - d. 1939)
Boone, William R (b. 23 Dec 1932 - d. 20 Jun 1954)
Brown, James Royce (b. 6 Apr 1912 - d. 1 Mar 1963)
Coble, Ann H (b. 1 Nov 1822 - d. 6 May 1910)
Coble, Daniel (b. 5 May 1857 - d. 2 Jan 1862)
Coble, Manley (b. 8 Jan 1823 - d. 3 Aug 1894)
Cooper, Bertha Rose (b. 15 Nov 1910 - d. 25 Oct 1993)
Cooper, C Gertrude (b. 20 Jun 1907 - d. 15 Jan 1982)
Cooper, Charlie Henry (b. 27 Feb 1901 - d. 27 Dec 1981)
Cooper, Colvin (b. 7 Sep 1909 - d. 4 Jun 1911)
Cooper, Emma L (b. 31 Dec 1912 - d. 22 Sep 1980)
Cooper, Esther Elizabeth (b. 15 Jan 1909 - d. 9 Aug 2001)
Cooper, Etta Grace (b. 18 Sep 1911 - d. 30 Aug 2000)
Cooper, Frances Wilson (b. 7 May 1923 - d. 7 Jun 1998)
Cooper, Hattie Gibson (b. 28 Apr 1884 - d. 8 Nov 1965)
Cooper, Hazel V (b. 7 Feb 1915 - d. 4 Sep 1976)
Cooper, Henry Clay (b. 2 Sep 1912 - d. 5 Sep 1985)
Cooper, Infant (b. 11 Nov 1962 - d. 11 Nov 1962)
Cooper, John T (b. 25 Mar 1869 - d. 22 Dec 1926)
Cooper, Juan Dale (b. 20 May 1946 - d. 15 Jan 1983)
Cooper, Martha O (b. 10 May 1888 - d. 27 May 1959)
Cooper, Marvin Bernis Sr (b. 11 Apr 1900 - d. 4 Feb 1981)
Cooper, Patterson M (b. 15 Jul 1877 - d. 25 Jan 1949)
Cooper, Rev. G Wayne (b. 20 Mar 1952 - d. 28 Jan 2005)
Cooper, Robert Lee (b. 30 Sep 1918 - d. 11 Oct 1918)
Cooper, Robert M (b. 16 Aug 1862 - d. 27 Jul 1935)
Cooper, Samuel Bradshaw (b. 11 Sep 1879 - d. 22 Jul 1955)
Cooper, Sarah E (b. 1874 - d. 1944)
Cooper, Wilborn G (b. 26 Nov 1906 - d. 2 Feb 1977)
Cooper, William R (b. 25 Jun 1869 - d. 16 Dec 1938)
Cranford, Lola L (b. 11 Apr 1920 - d. 14 May 1993)
Fields, Helen Bates Ray (b. 5 Jul 1929 - d. 8 Jun 2009)
Gibson, William McKinley (b. 30 Aug 1898 - d. 24 Mar 1922)
Gray, John S (b. 20 May 1854 - d. 2 Jun 1915)
Gray, Lillie Belle (b. 4 Oct 1892 - d. 1 May 1968)
Gray, Mary L Hudson (b. 17 Aug 1862 - d. 5 Jun 1938)
Gray, Robert L (b. 26 Mar 1872 - d. 26 Oct 1931)
Gray, Sarah Cooper (b. 8 Sep 1886 - d. 27 Sep 1976)
Gunter, Eva Ledwell (b. 26 Sep 1906 - d. 28 Jul 1998)
Gunter, Harold T (b. 16 Apr 1936 - d. 13 Feb 1955)
Gunter, Walter M (b. 27 May 1903 - d. 1 Oct 1968)
Hale, Nancy Jane (b. 1854 - d. 6 May 1938)
Hale, Samuel J (b. 30 Aug 1845 - d. 13 Jul 1922)
Hall, Alex Elisha (b. 29 Feb 1904 - d. 4 Aug 1990)
Hall, Dora Louise Hunt (b. 9 Sep 1898 - d. 26 May 1993)
Hanes, Fredrick A (b. 31 Mar 1937 - d. 6 Dec 1992)
Harris, Millie L (b. 1879 - d. 12 Oct 1901)
Harvell, Henry Lee (b. 7 Jul 1919 - d. 22 May 2007)
Hayes, Ariel Elizabeth (b. 20 Apr 2005 - d. 20 Apr 2005)
Hinshaw, Clarence Herman (b. 9 Feb 1926 - d. 30 Apr 1998)
Hinshaw, Larry Michael (b. 31 Oct 1945 - d. 29 Jul 1999)
Hoover, Ada Hicks (b. 21 Nov 1910 - d. 3 Jan 2004)
Hoover, Ada Kearns (b. 10 Nov 1895 - d. 17 Apr 1988)
Hoover, Calvin Henry (b. 13 Jun 1904 - d. 28 Jul 1986)
Hoover, Danny (b. 3 Jan 1946 - d. 31 Jul 2000)
Hoover, H Worth (b. 6 Jun 1937 - d. 7 Jun 1938)
Hoover, Huldah Rush (b. 18 Aug 1864 - d. 19 Feb 1944)
Hoover, William H (b. 23 Nov 1887 - d. 24 Oct 1971)
Hunt, B Louise (b. 1942 - d. 1943)
Hunt, Baxter (b. 11 Jan 1921 - d. 21 Aug 1972)
Hunt, Caroline M (b. 12 Feb 1898 - d. 29 May 1972)
Hunt, Lonnie E (b. 9 Sep 1890 - d. 25 Sep 1966)
Hunt, Melvin Lonnie (b. 1 Nov 1931 - d. 28 Apr 2008)
Hunt, Ollie Laughlin (b. 15 May 1921 - d. 27 Feb 2003)
Hunt, Wade R (b. 13 Jul 1917 - d. 27 May 1919)
Jenkins, Ethel Williams (b. 25 Feb 1905 - d. 2 Oct 2000)
Jenkins, Hiram Leon (b. 16 Sep 1901 - d. 8 Nov 1988)
Johnson, Nancy L (b. 10 Jan 1857 - d. 10 Sep 1895)
Kearns, Clyde Coppage (b. 18 Mar 1910 - d. 24 Apr 1997)
Kearns, Gregory Steven (b. 23 Jan 1966 - d. 17 Jan 1983)
Kearns, Susie Elizabeth Parsons (b. 14 Feb 1911 - d. 27 Feb 2003)
Kemp, John (b. 21 May 1824 - d. 3 Jul 1907)
Kemp, Ruth (b. 14 Feb 1820 - d. 5 Feb 1905)
Kinney, A C (b. 1 Oct 1866 - d. 28 Dec 1939)
Kinney, Evelyn (b. 21 Oct 1914 - d. 2 Jan 1916)
Kinney, Semirah (b. 11 Jan 1866 - d. 16 Jun 1899)
Lambert, Celia Walker (b. 1 Feb 1890 - d. 18 Mar 1961)
Lambert, Guy Thomas (b. 30 Nov 1911 - d. 22 Mar 1936)
Lambert, Robert Samuel (b. 21 Jan 1910 - d. 22 Jun 1912)
Lambert, Thomas Jefferson (b. 23 Oct 1887 - d. 2 Feb 1957)
Lassiter, Clifford Theodore (b. 11 May 1900 - d. 21 Jan 1984)
Lassiter, Exie Cagle (b. 21 Apr 1910 - d. 11 Dec 2003)
Ledwell, Charlie Thomas (b. 13 Aug 1877 - d. 18 Mar 1951)
Ledwell, Daisy Mae (b. 11 Oct 1884 - d. 23 Apr 1890)
Ledwell, Dorothy S (b. 1895 - d. 1978)
Ledwell, E J (b. 20 Jun 1853 - d. 25 Dec 1907)
Ledwell, Elwood A (b. 1851 - d. 1947)
Ledwell, Emery (b. 1902 - d. 1981)
Ledwell, Emsley Harris (b. 26 May 1849 - d. 20 Nov 1872)
Ledwell, Lillian Robbins (b. 25 Jan 1885 - d. 24 May 1967)
Ledwell, Reid (b. 27 Sep 1912 - d. 1 Mar 1915)
Ledwell, Thad Thomas (b. 27 May 1911 - d. 23 Oct 1957)
Ledwell, Winfred Edward (b. 10 Sep 1922 - d. 14 Sep 1922)
Lewallen, Henry (Rev.) (b. 4 Dec 1830 - d. 5 Oct 1902)
Lewallen, Joanah E (b. 19 Sep 1854 - d. 12 Jan 1921)
Lewallen, Martha (b. 17 Nov 1822 - d. 8 Dec 1896)
Lewallen, Z D (b. 1862 - d. 1938)
Lewallen, Zimry D (b. 3 Apr 1863 - d. 2 Oct 1938)
Luck, Gary Thomas Jr (b. 1 May 1964 - d. 21 Oct 2003)
McBride, Edna Seay (b. 22 Feb 1920 - d. 17 Apr 2007)
McBride, Herbert Leslie (b. 22 Nov 1917 - d. 17 Jan 1963)
McDowell, Infant (b. 10 Sep 1915 - d. 10 Sep 1915)
Morgan, James Edward (b. 16 Nov 1918 - d. 7 Aug 1996)
Nall, Arnold F (b. 11 Feb 1901 - d. 3 Feb 1976)
Nall, Ethel C (b. 24 Aug 1903 - d. 23 Nov 1985)
Nance, Infant Daughter (b. 10 Mar 1937 - d. 10 mar 1937)
Ozment, Thelma Rush (b. 4 Feb 1934 - d. 28 Mar 1962)
Poole, Aggie Eugene Robbins (b. 28 Sep 1884 - d. 9 Apr 1942)
Poole, Alma Luck (b. 21 Dec 1902 - d. 31 Mar 1984)
Poole, Calvin Eugene (b. 12 May 1905 - d. 18 Jul 1995)
Poole, Hester Margarette (b. 24 Feb 1934 - d. 12 Feb 1955)
Poole, Ivey W (b. 28 Apr 1907 - d. 30 May 1970)
Poole, Louise McBride (b. 4 Oct 1910 - d. 28 Feb 1998)
Poole, Mary Lou (b. 29 Dec 1932 - d. 29 Dec 1932)
Poole, Raymond Eugene (b. 6 Dec 1928 - d. 21 Jan 2004)
Poole, Robert Bloom (b. 11 Sep 1902 - d. 26 Aug 1983)
Ray, Helen Bates (b. 5 Jul 1929 - d. 8 Jun 2009)
Ray, John D (b. 5 May 1923 - d. 29 Nov 1995)
Ridge, Hannah (b. 1852 - d. 20 Jun 1898)
Robbins, I M (b. 18 Apr 1845 - d. 10 May 1927)
Robbins, Irene (b. 14 Apr 1923 - d. 4 Aug 1924)
Robbins, Ivey M (b. 17 Dec 1880 - d. 20 Oct 1966)
Robbins, Lala (b. 28 Oct 1918 - d. 26 Nov 1919)
Robbins, Maggie Leach (b. 14 May 1887 - d. 20 Apr 1923)
Robbins, Minnie J (b. 16 Jul 1847 - d. 9 Mar 1920)
Robbins, Ruth (b. 16 Aug 1907 - d. 26 May 1926)
Rush, Carree E (b. 7 Apr 1926 - d. 2 Mar 1966)
Rush, Clegg H (b. 14 Aug 1901 - d. 15 May 1989)
Rush, Ethel J (b. 30 May 1928 - d. 4 Jun 1943)
Rush, Harvey Albert (b. 10 Mar 1938 - d. 20 Dec 2000)
Rush, John Henry (b. 24 Mar 1874 - d. 19 Feb 1943)
Rush, Rachel H (b. 5 Apr 1909 - d. 20 Dec 1973)
Skeen, J Cicero (b. 19 Dec 1872 - d. 15 Jan 1915)
Skeen, Maude Smith (b. 17 Apr 1882 - d. 2 Sep 1954)
Smith, Martha (b. 1 Jul 1870 - d. 18 May 1933)
Smith, Shuble H (b. 31 Aug 1868 - d. 3 Oct 1947)
Spoon, Eleanor L (b. 13 Feb 1931 - d. 30 Dec 2005)
Spoon, Joel L Sr (b. 6 Aug 1926 - d. 9 Dec 1996)
Stout, Ervin Franklin (b. 26 Apr 1907 - d. 7 Jan 1986)
Sykes, Ernest A (b. 20 Dec 1924 - d. 5 Sep 1999)
Sykes, Ernest David (b. 5 Oct 1945 - d. 20 Mar 1951)
Sykes, Ethel Luther (b. 20 Apr 1894 - d. 4 Feb 1958)
Sykes, John Robert (b. 15 Oct 1888 - d. 12 Apr 1979)
Sykes, Lola C (b. 30 May 1924 - d. 12 Oct 1976)
Teague, Terri Annette (b. 18 May 1969 - d. 25 Jul 1983)
Teague, Walter Norman (b. 9 Apr 1944 - d. 8 Mar 2006)
Thompson, Clara Lucille Dixon (b. 25 May 1912 - d. 24 Jan 2007)
Thompson, Ernest W (b. 30 Aug 1909 - d. 19 Apr 1993)
Thornburg, Beulah G (b. 1913 - d. 1997)
Thornburg, Howard T (b. 1904 - d. 1979)
Varner, Clarence (b. 4 Jul 1905 - d. 25 Sep 1927)
Varner, Daisy D (b. 8 Aug 1882 - d. 6 Oct 1978)
Varner, Everett (b. 12 May 1903 - d. 11 May 1938)
Varner, Frank H (b. 17 Mar 1876 - d. 1 Jul 1959)
Varner, Hazel Pugh (b. 25 Jan 1921 - d. 22 Jun 1990)
Varner, Howard Ferree (b. 18 Apr 1911 - d. 10 Mar 1994)
Varner, John Hal (b. 9 Jul 1942 - d. 3 Aug 2008)
Varner, Mary Sykes (b. 30 Jun 1921 - d. 1 Sep 2008)
Voncannon, Dora Cooper (b. 31 Jul 1898 - d. 2 Jun 1961)
Walker, Billy Bryant (b. 11 Dec 1910 - d. 13 Jan 1974)
Walker, Carl R (b. 26 Aug 1927 - d. 23 Feb 1998)
Walker, Christine A (b. 1914 - d. 2004)
Walker, Edward S (b. 27 Apr 1920 - d. 15 May 1920)
Walker, Edward S (b. 21 Nov 1868 - d. 10 Sep 1942)
Walker, Emma A (b. 13 Dec 1879 - d. 8 Apr 1972)
Walker, Fannie E (b. 24 Aug 1877 - d. 10 Jan 1956)
Walker, Felix (b. 26 May 1830 - d. 12 Aug 1909)
Walker, Georgia A (b. 14 Oct 1845 - d. 20 Aug 1926)
Walker, Infant (b. 20 Jun 1951 - d. 20 Jun 1951)
Walker, Jessie Poole Brown (b. 21 Sep 1914 - d. 25 Apr 1977)
Walker, Joseph T (b. 28 Aug 1882 - d. 6 Sep 1898)
Walker, Juila Anne Hoover (b. 12 Jul 1885 - d. 9 Mar 1965)
Walker, Mary Sumner (b. 3 Jul 1851 - d. 25 Aug 1895)
Walker, Robert D (b. 24 Jun 1851 - d. 10 Aug 1911)
Walker, W Marvin (b. 5 Feb 1885 - d. 19 Nov 1961)
Walker, Wade Wilson (b. 5 Mar 1915 - d. 29 Dec 1988)
Watson, Leola Johnson (b. 9 Aug 1910 - d. 6 Oct 2009)
Watson, Leonard B (b. 22 Apr 1913 - d. 25 May 1969)
Weeks, Bennie Leamon (b. 31 May 1933 - d. 7 Jan 2005)
Weeks, Muriel Briggs (b. 4 Feb 1939 - d. 22 Jun 2000)
Welch, Eli G (b. 8 Apr 1855 - d. 3 May 1914)
Welch, Rebecca L (b. 23 Mar 1845 - d. 6 Nov 1908)
Yates, Ervin (b. Aug 1889 - d. 1 May 1890)
Yeargan, Hal W (b. 15 Aug 1896 - d. 15 Dec 1960)
Yeargan, Lula Blanche (b. 24 Mar 1898 - d. 28 May 1985)
Yeargan, Nannie Walker (b. 8 Sep 1876 - d. 25 Feb 1951)
Yeargan, Walser Elloitt (b. 24 Mar 1900 - d. 16 Dec 1939)
Yeargan, William Eli (b. 2 Dec 1867 - d. 2 Jan 1927)
Web page updated 13 May 2017
Index of All Cemeteries
Alphabetical Index of All Burials
Previous Page