Index of All Cemeteries
Alphabetical Index of All Burials
Previous Page
Use the following to search across all the cemeteries listed.
Example: "Smith, Roger" (yes, use the quotes)
080 SMYRNA GROVE COMMUNITY CHURCH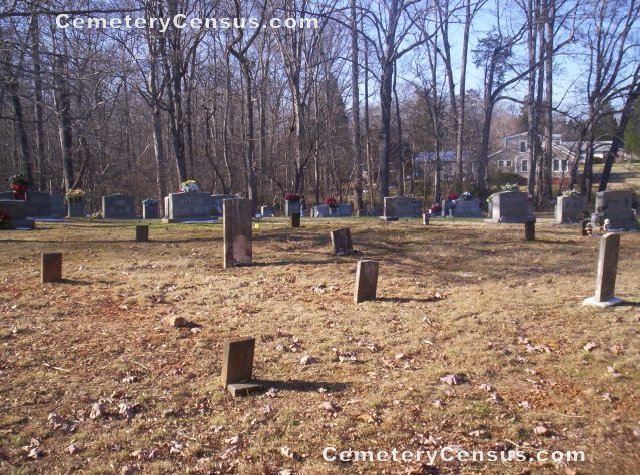 Location - Old Lexington Rd (SR-1004) and Back Creek Rd (SR-1420).

Coordinates: 35d 44m 11.3s N; 79d 52m 57.7s W Click here for Google maps

Survey provided by Wayne Ham and Laurell Ham, Randleman, NC in December 2009. Photographs by Wayne Ham.

This is a complete listing as of December 22, 2009.


Allen, Barbara Ann (b. 23 Jun 1968 - d. 14 Dec 1968)
Andrews, Loula F (b. 18 Sep 1872 - d. 7 Jun 1966)
Baber, David Lee (b. 20 Oct 1987 - d. 20 Oct 1987)
Baber, Robert Glenn (b. 27 Nov 1960 - d. 6 Mar 1992)
Brown, Ervin R (b. 3 May 1915 - d. 18 Nov 1977)
Brown, Jimmy C (b. 23 Dec 1938 - d. 3 Apr 1999)
Brown, Jimmy Mark (b. 1969 - d. 18 Dec 2007)
Brown, Joseph D (b. 1942 - d. 1998)
Brown, Norvia Hicks (b. 28 Mar 1918 - d. 11 Jul 1989)
Brown, Wayne Harrison (b. 11 Mar 1937 - d. 19 Jul 1993)
Bullins, Anthony Lee (b. 5 Feb 1972 - d. 13 Jan 1991)
Bullins, Linda Ann (b. 5 Dec 1946 - d. 5 Nov 1990)
Burns, Charity (b. 18 Dec 1874 - d. 1941)
Childress, Alvin Junior (b. 19 Apr 1948 - d. 2 Sep 1973)
Childress, Clyde G (b. 19 Jun 1912 - d. 3 Sep 1969)
Childress, Mozelle C (b. 25 Dec 1914 - d. 9 Dec 1986)
Cook, Elbert C (b. 8 Feb 1941 - d. 24 Dec 1999)
Cranford, J B (b. 5 Feb 1932 - d. 1 Dec 1975)
Crotts, Addie H (b. 19 Apr 1917 - d. 23 May 2009)
Crotts, David (b. 30 Aug 1913 - d. 8 May 2000)
Cummings, Elizabeth (b. 11 Feb 1892 - d. 22 Feb 1970)
Elliott, Grady F (b. 14 Sep 1896 - d. 23 Nov 1969)
Elloitt, Carrie T (b. 2 Sep 1906 - d. 6 May 1980)
Garner, Shiley Potts (b. 5 Aug 1950 - d. 12 Apr 1995)
Garren, Boyd Hayes (b. 21 Jan 1925 - d. 28 Jul 2005)
Gearren, Thelma R (b. 24 Jan 1930 - d. 21 Feb 2000)
Hagee, Linda June (b. 27 Nov 1959 - d. 7 Sep 2007)
Hancock, Cadie P (b. 2 May 1898 - d. 27 Nov 1983)
Hancock, Kelly (b. 5 Apr 1906 - d. 1 Aug 1982)
Henderson, Rufus Mae (b. 22 Apr 1932 - d. 20 Mar 1975)
Henry Beatrice B (b. 8 May 1920 - d. 4 Nov 2004)
Henry, Ernest O (b. 1914 - d. 1978)
Henson, Lavone Rush (b. 12 Oct 1955 - d. 12 Nov 2002)
Hill, Herman Lee (b. 20 May 1919 - d. 14 Sep 1988)
Hodge, Beatrice Oakley (b. 22 Jul 1922 - d. 25 Jun 1972)
Hodge, Clostie Mae (b. 28 Jan 1906 - d. 1 Feb 1981)
Hodge, Coy Grant (b. 11 May 1902 - d. 27 Jul 1974)
Hughes, Bessie Clausey (b. 30 Mar 1917 - d. 24 Dec 1994)
Hughes, Larry D (b. 5 Jul 1947 - d. 24 Apr 1983)
Hughes, Lilly R (b. 24 Feb 1945 - d. 20 Jun 1994)
Hughes, Rusty Gene (b. 1 Jul 1957 - d. 28 Oct 1984)
Hughes, Sanford Hubert (b. 1 May 1913 - d. 30 Jan 1975)
Hunt, Edith R (b. 24 Sep 1919 - d. 31 May 2003)
Hunt, Lawrence Adrian (b. 7 May 1953 - d. 22 Apr 1970)
Hunt, Lawrence T (b. 19 Jun 1919 - d. 27 Nov 1977)
Hurley, Nancy Marie Rose (b. 28 Mar 1932 - d. 2 Dec 2004)
Isom, Billy J (b. 10 Dec 1952 - d. 21 Sep 1968)
Isom, Erma Harmon (b. 19 Nov 1913 - d. 11 Nov 1986)
Isom, Roy Lee (b. 31 Mar 1954 - d. 30 Nov 1998)
Lamar, Vivian Brown (b. 7 Jul 1949 - d. 27 Dec 1987)
Lamb, Ernest Franklin (b. 8 Apr 1922 - d. 25 Dec 2005)
Lamb, Lisa Diane (b. 16 Sep 1971 - d. 13 Dec 1974)
Lemar, Edward Leon (b. 12 Oct 1930 - d. 31 Jan 1976)
Maness, Charlie E (b. 1 Jun 1930 - d. 18 Aug 1983)
Maness, Helen Florence Furr (b. 29 Apr 1935 - d. 17 Oct 2007)
McDowell, Arnold Ray (b. 16 Jan 1963 - d. 30 Apr 2003)
McDowell, Evelyn Rush (b. 24 Jun 1940 - d. 16 May 2003)
McDowell, Steven Ray (b. 26 Jun 1983 - d. 26 Jun 1983)
Milligan, Moncella Olson (b. 20 May 1934 - d. 31 May 1994)
Moore, Delphia l (b. 1912 - d. 1983)
Moore, Hallie Tysinger (b. 31 Mar 1927 - d. 25 Feb 1997)
Moore, James William (b. 2 Aug 1926 - d. 12 Mar 2007)
Moore, Jasper Young (b. 1912 - d. 1988)
Moore, Martha T (b. 31 Dec 1927 - d. 28 Feb 1991)
Morris, Walter Scott (b. 26 Apr 1886 - d. 8 Jan 1965)
Nance, Infant Son (b. 1 Mar 1968 - d. 1 Mar 1971)
Nance, Stacey Wade (b. 1 Jul 1968 - d. 19 Nov 1984)
Nance, Thomas T Sr (b. 8 May 1912 - d. 22 Nov 2007)
Pearce, Artamas Adelaide (b. 8 May 1852 - d. 7 Sep 1859)
Pearce, Samuel (b. 4 Sep 1824 - d. 16 Aug 1860)
Peavy, Elva Mae Lamb (b. 1 Aug 1923 - d. 2 Jan 1987)
Poole, Benny Jay (b. 19 May 1950 - d. 16 Feb 1996)
Poole, Henry J (b. 18 Nov 1913 - d. 5 Jun 1975)
Powell, Annie S (b. 8 Oct 1928 - d. 17 May 1993)
Powell, Tommie D (b. 13 Nov 1910 - d. 20 Sep 1974)
Presnell, Lonnie E (b. 23 May 1904 - d. 6 Jan 1984)
Presnell, Viola D (b. 14 Feb 1911 - d. 13 Dec 1987)
Rich, George Washington (b. 9 Jul 1909 - d. 24 May 1991)
Rich, J Curtis (b. 5 Oct 1897 - d. 4 Nov 1972)
Rich, Maranda H (b. 28 Jul 1918 - d. 17 Dec 2003)
Rich, Tidy Branson (b. 27 Dec 1904 - d. 13 Jul 1982)
Rose, Bertha Hughes (b. 19 Sep 1906 - d. 28 May 1969)
Rose, Causey Lee (b. 25 May 1904 - d. 25 Jun 1986)
Rush, Carl Stanton (b. 19 Mar 1930 - d. 12 Oct 1986)
Rush, Hal Stanton (b. 10 Dec 1900 - d. 27 Dec 1974)
Rush, Herman Eugene (b. 9 Aug 1942 - d. 24 Feb 2004)
Rush, Jack (b. 7 Nov 1944 - d. 21 Nov 1993)
Rush, Mae Hunt (b. 17 Jan 1910 - d. 2 Aug 1991)
Russell, George (b. 15 Jan 1917 - d. 20 Jan 1972)
Russell, Wyatt Awray (b. 16 Oct 1931 - d. 4 Mar 1971)
Simmons, Louise Vuncannon (b. 5 Oct 1922 - d. 22 May 1993)
Simmons, Marvin (b. 15 Jul 1926 - d. 25 Sep 2000)
Skipper, Richard Thomas (b. 19 May 1982 - d. 28 Nov 1983)
Smith, Delbert (b. 1942 - d. 2005)
Stendahl, Venita Floyd (b. 27 Nov 1921 - d. 5 Apr 1980)
Stewart, Douglas B (b. 19 Oct 1961 - d. 12 Aug 2002)
Swafford, Bart A (b. 5 Jun 1918 - d. 4 May 1985)
Thompson, Douglas (b. 13 Aug 1952 - d. 4 Sep 2007)
Thompson, Douglas Harrison (b. 13 Aug 1952 - d. 4 Sep 2007)
Thompson, Flora Christine (b. 25 Sep 1972 - d. 26 Feb 1999)
Thompson, Henry Harrison (Rev.) (b. 29 Sep 1907 - d. 26 May 2009)
Trotter, Ollie G (b. 27 Apr 1922 - d. 2 Mar 2001)
Trotter, Reese H (b. 17 Jun 1923 - d. 1 Oct 1988)
Tysinger, Juanita Freeman (b. 7 Jan 1926 - d. 9 Feb 2009)
Tysinger, Sidney (b. 9 Apr 1921 - d. 6 Oct 1984)
Varner, Chanie (b. 1823 - d. 1891)
Varner, Henry G (b. 30 Oct 1850 - d. 28 Sep 1889)
Varner, John P (b. 1824 - d. 1899)
Varner, Queen (b. 1873 - d. 1877)
Whicker, Jay Russell (b. 28 Jun 1900 - d. 19 Mar 1967)
Whicker, Minnie E (b. 30 Nov 1913 - d. 22 Mar 1980)
Web page updated 13 May 2017
Index of All Cemeteries
Alphabetical Index of All Burials
Previous Page