Index of All Cemeteries
Alphabetical Index of All Burials
Previous Page
Use the following to search across all the cemeteries listed.
Example: "Smith, Roger" (yes, use the quotes)
079 HOPEWELL FRIENDS MEETING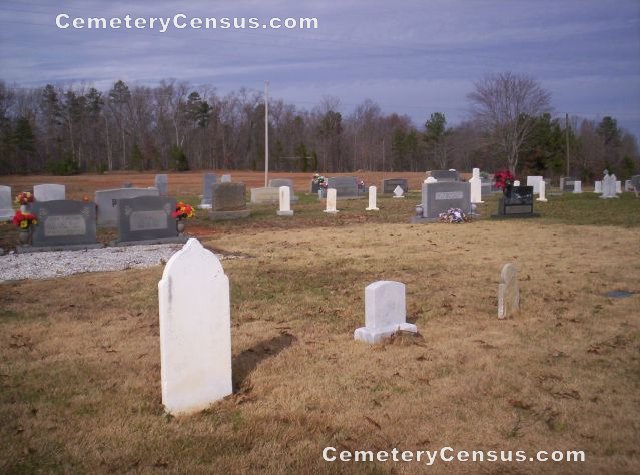 Location - 2244 Hopewell Friends Rd (SR-1142) and intersection with Danny Bell Rd (SR-1162).

Coordinates: 35d 38m 21.2s N; 79d 52m 36.0s W Click here for Google maps

Survey provided by Wayne Ham and Laurell Ham, Randleman, NC in December 2009. Photographs by Wayne Ham.

This is a complete listing as of December 14, 2009.


Allred, Branson M (b. 18 Sep 1855 - d. 14 Oct 1936)
Allred, Estella Myers (b. 10 Jan 1897 - d. 2 Jun 1957)
Allred, Gressie V (b. 5 Mar 1876 - d. 21 Jan 1959)
Allred, Henry D (b. 17 Apr 1862 - d. 29 Jul 1928)
Allred, John M (b. 19 Feb 1893 - d. 29 Mar 1939)
Allred, Mary Ann (b. 4 Jul 1852 - d. 24 Sep 1933)
Allred, Norman M (b. 21 Mar 1933 - d. 15 Nov 2006)
Allred, Rosia G (b. 29 Feb 1886 - d. 3 Oct 1913)
Allred, W Lawrence (b. 3 Oct 1921 - d. 11 Feb 1994)
Ashworth, Martha (b. 1 Oct 1844 - d. 28 Jan 1921)
Ashworth, Mattie Sheridan (b. 9 Aug 1861 - d. 21 Mar 1935)
Ashworth, W R (b. 16 Jun 1845 - d. 17 Dec 1928)
Ashworth, William Manley (b. 22 Dec 1890 - d. 13 Oct 1973)
Atkinson, Patricia Ross (b. 18 Mar 1953 - d. 6 Jun 2000)
Beanblossom, Margie Ruder Little (b. 9 Nov 1935 - d. 30 May 2009)
Beane, Donnie (b. 19 Aug 1892 - d. 12 Nov 1963)
Beane, Paul Edward (b. 28 Jan 1922 - d. 4 Apr 2008)
Belle, Carol C (b. 23 Aug 1943 - d. 10 Sep 1983)
Belle, William E (b. 26 Dec 1935 - d. 24 May 1992)
Bingham, Julia T (b. 1877 - d. 1939)
Bingham, Thomas G (b. 1882 - d. 1954)
Bingham, W Claude (b. 24 Nov 1905 - d. 23 Mar 1929)
Black, Genevieve (b. 15 Mar 1919 - d. 10 Jan 1979)
Branson, Cornie Hinshaw (b. 4 May 1898 - d. 1 Jul 1965)
Branson, Eli (b. 9 Jul 1808 - d. 11 Jun 1888)
Branson, Ellen (b. 8 Oct 1853 - d. 20 Feb 1915)
Branson, Levi Thomas (b. 19 Feb 1847 - d. 13 Jun 1916)
Branson, Mary Hill (b. 4 Jun 1813 - d. 6 Dec 1872)
Branson, Richard Clarkson (b. 17 Mar 1872 - d. 8 Sep 1906)
Branson, Roscoe W (b. 20 Jun 1894 - d. 14 Jul 1934)
Briles, Minnie Smith (b. 28 Oct 1876 - d. 17 Nov 1956)
Briles, Ophelia B (b. 16 Oct 1916 - d. 27 Oct 1927)
Briles, Robert Lee (b. 9 Jan 1877 - d. 10 Oct 1965)
Brown, Jane H (b. 1945 - d. 2008)
Cagle, Mary Leona Varner (b. 30 Mar 1940 - d. 9 Sep 1981)
Callicutt, Bruce S (b. 11 Mar 1911 - d. 6 Feb 2003)
Callicutt, Fleta L (b. 12 May 1916 - d. 16 Nov 1999)
Callicutt, Phillip Bryon (b. 1 Nov 1942 - d. 17 Dec 1999)
Chapman, Vinna B (b. 13 Mar 1927 - d. 1 May 1995)
Coble, Kate Susan (b. 6 Feb 1892 - d. 23 May 1966)
Coble, Mary V (b. 8 Aug 1849 - d. 26 Oct 1919)
Coble, William M (b. 25 Aug 1852 - d. 21 May 1921)
Coggins, James C (b. 27 Feb 1939 - d. 15 Sep 2002)
Cornelison, Ada L Jones (b. 24 Sep 1884 - d. 11 Oct 1978)
Cornelison, Elvin U (b. 9 Jun 1915 - d. 25 Dec 1964)
Cornelison, Infant Son (b. 18 Jan 1909 - d. 22 Jan 1909)
Cornelison, Mary Arlene (b. 20 Jul 1918 - d. 30 Jul 2007)
Cornelison, Ulysses H (b. 20 Aug 1879 - d. 20 Jan1956)
Cox, Addison (b. 19 Dec 1879 - d. 1 Mar 1880)
Cox, Elizabeth (b. 3 Mar 1820 - d. 3 Dec 1903)
Cox, Elwood (b. 7 Aug 1847 - d. 29 Dec 1925)
Cox, Irving T (b. 15 Mar 1882 - d. 6 May 1954)
Cox, Mary Ann (b. 15 Oct 1847 - d. 2 Nov 1918)
Cox, Mattie L (b. 22 Aug 1887 - d. 28 Apr 1909)
Cox, Milner Angel (Rev.) (b. 31 May 1881 - d. 14 Jun 1952)
Cox, T Leonta (b. 2 Feb 1908 - d. 7 Mar 1943)
Cranford, Infant (b. 18 Jul 1901 - d. 18 Jul 1901)
Cranford, Luzena (b. 11 Dec 1862 - d. 22 May 1935)
Dawson, Eli Homer (b. 25 Jul 1898 - d. 5 Feb 1992)
Dawson, Franklin J (b. 2 Sep 1873 - d. 19 Sep 1963)
Dawson, Glenn Alton Sr (b. 30 Jul 1915 - d. 4 May 2002)
Dawson, Grady R (b. 18 Mar 1908 - d. 11 May 1936)
Dawson, J Garrett (b. 17 Aug 1901 - d. 20 Aug 1980)
Dawson, Jessie Smith (b. 25 Feb 1910 - d. 23 Jul 1972)
Dawson, Joel Lorraine (b. 18 Nov 1930 - d. 13 Feb 1965)
Dawson, Loy (b. 15 Jan 1912 - d. 15 Oct 1951)
Dawson, Martha A (b. 22 Mar 1839 - d. 5 May 1928)
Dawson, Mary (b. 28 Nov 1864 - d. 20 Nov 1874)
Dawson, Mary A (b. 1867 - d. 1943)
Dawson, Rosa M (b. 16 Sep 1898 - d. 30 Jan 1974)
Dawson, Roxanna L (b. 1 Nov 1874 - d. 2 May 1947)
Dawson, Sadie Lee Bulla (b. 26 Feb 1920 - d. 13 Jan 2000)
Dawson, Thomas (b. 3 Sep 1867 - d. 23 Aug 1879)
Dawson, Ulysses T (b. 4 Feb 1874 - d. 29 Nov 1933)
Dawson, W A (b. 1862 - d. 1943)
Dennis, Hattie Luck (b. 25 Cot 1884 - d. 23 Nov 1972)
Dupree, Otis D (Rev.) (b. 18 Nov 1927 - d. 1 Mar 1984)
Dupree, Stephen Douglas (b. 24 Jan 1952 - d. 14 Oct 2005)
Elling, Judith L (b. 4 Sep 1934 - d. 10 Feb 1998)
Fogleman, Arthur Lewis (b. 17 Dec 1934 - d. 9 Nov 1995)
Fowler, Della J (b. 5 Nov 1906 - d. 8 Sep 1999)
Fowler, Ebber, M (b. 1 May 1903 - d. 7 Sep 1962)
Fox, James Burnis (b. 19 Aug 1914 - d. 4 Oct 1986)
Fox, Ruby Dawson (b. 5 Sep 1916 - d. 5 Jul 1977)
Green, Nettie E (b. 1893 - d. 1936)
Green, Ray F (b. 1 Jul 1930 - d. 3 May 1992)
Green, Thelma Elaine (b. 16 May 1936 - d. 28 Jun 1936)
Green, Thomas R (b. 1887 - d. 1939)
Haddock, Ada Queenie (b. 15 Jun 1881 - d. 1 Dec 1970)
Haddock, Sherman H (b. 15 Nov 1875 - d. 7 Jun 1959)
Hammond, Annie Y (b. 1913 - d. 1993)
Hammond, Effie V (b. 15 Jun 1895 - d. 27 Jul 1967)
Hammond, Elizabeth M (b. 1869 - d. 1960)
Hammond, Exie H (b. 5 Jul 1904 - d. 11 Jan 1997)
Hammond, Herbert W (b. 28 May 1900 - d. 3 Dec 1997)
Hammond, Howard Colon (b. 9 Jan 1913 - d. 8 Feb 2004)
Hammond, Infant (b. 11 Mar 1917 - d. 11 Mar 1917)
Hammond, J Clark (b. 1864 - d. 1938)
Hammond, James B (b. 25 Jan 1894 - d. 30 Dec 1974)
Hammond, Leonard N (b. 1913 - d. 1990)
Hammond, Lydia Estelle Callicutt (b. 12 Jun 1917 - d. 4 Sep 1997)
Hammond, Moses H (b. 16 Oct 1803 - d. 10 Nov 1891)
Hammond, Sabina (b. 30 Jan 1837 - d. 17 Dec 1921)
Hammond, Sarah (b. 1842 - d. 10 Jan 1892)
Hammond, Trilby B (b. 14 Sep 1911 - d. 15 Sep 1971)
Hammond, Walter P (b. 25 Feb 1896 - d. 7 Apr 1991)
Hammond, William B (b. 1861 - d. 1938)
Hammony, Sabrah (b. 28 Aug 1809 - d. 10 Nov 1906)
Hancock, George D (b. 8 Mar 1910 - d. 21 Apr 1966)
Hancock, Mahala (b. 10 Sep 1810 - d. 15 Oct 1861)
Hancock, Mary S (b. 3 Jul 1913 - d. 9 Oct 2007)
Hawkins, Anita Marie (b. 1963 - d. 1966)
Henley, Mattie L (b. 29 Jun 1901 - d. 27 Jun 1979)
Henley, Robert Jr (b. 11 Jul 1927 - d. 16 Apr 2005)
Henley, Robert N (b. 24 Aug 1896 - d. 25 Mar 1939)
Hill, Elie E (b. 4 Mar 1854 - d. 13 Dec 1921)
Hill, Grady M (b. 17 May 1923 - d. 5 Jul 1996)
Hill, James F (b. 5 Apr 1887 - d. 9 Mar 1931)
Hill, James R (b. 25 Oct 1925 - d. 23 Aug 2001)
Hill, Lillie A (b. 25 Jul 1885 - d. 14 Jan 1927)
Hill, Sarah C (b. 27 Sep 1885 - d. 28 Oct 1940)
Hill, W E (b. 23 Feb 1881 - d. 12 Feb 1954)
Hill, W Howard (b. 7 Jun 1912 - d. 27 Feb 1963)
Hinshaw, James Boyd (b. 13 May 1903 - d. 20 Jan 1985)
Hunt, Cora Luck (b. 18 Aug 1905 - d. 21 Jun 2003)
Hunt, Nathan Amos Sr (b. 26 Aug 1906 - d. 10 Nov 1988)
Hunt, Vera Pugh (b. 4 Feb 1930 - d. 20 Jan 1985)
Hurley, Regina, Ellen (b. 24 Mar 1968 - d. 24 Mar 1968)
Hussey, Caroline (b. 28 Dec 1833 - d. 12 Mar 1905)
Hussey, E Pearl (b. 1898 - d. 2002)
Hussey, Elma Belle Vuncannon (b. 17 Nov 1870 - d. 14 May 1962)
Hussey, Franklin (Dr.) (b. 5 Jul 1873 - d. 31 May 1957)
Hussey, George H (b. 10 Nov 1865 - d. 20 Apr 1943)
Hussey, Ivey Trogdon (b. 29 Mar 1911 - d. 1 Jan 2001)
Hussey, Nell Millicent Clark (b. 10 Mar 1887 - d. 29 Nov 1971)
Hussey, Portia G (b. 1903 - d. 1991)
Hussey, Robert Gayle (b. 3 Apr 1901 - d. 13 Jan 1976)
Hussey, William (b. 31 May 1832 - d. 11 Jul 1913)
Jones, Mary J (b. 6 Jul 1850 - d. 18 Jun 1933)
Kearns, Esther Lewallen (b. 15 Jun 1915 - d. 20 May 2004)
Kearns, John D (b. 14 Jul 1892 - d. 2 Feb 1979)
Kearns, Lewis (b. 1 Feb 1921 - d. 18 May 1922)
Kearns, Marshal (b. 8 Jan 1918 - d. 10 Jan 1919)
Kearns, Mary Nann (b. 10 May 1922 - d. 31 Aug 1922)
Kearns, Mary Vuncannon (b. 15 Api 1888 - d. 18 May 1922)
Kearns, Pallie J (b. 28 Jun 1887 - d. 1 Aug 1917)
Kearns, William E (b. 21 Dec 1934 - d. 1 Jan 1935)
Kearns, William Everett (b. 30 Jun 1913 - d. 3 Aug 1985)
Kearns, William S (b. 1855 - d. 1914)
Lamar, Geneva Luck (b. 1948 - d. 1991)
Lamar, Jerry Wayne (b. 18 Oct 1965 - d. 3 Mar 1989)
Lambeth, Frank H (b. 28 Oct 1902 - d. 24 May 1975)
Lambeth, Lanta Hill (b. 12 Sep 1915 - d. 31 Aug 1984)
Leiber, Cletus Dawson (b. 3 Aug 1899 - d. 12 Mar 1985)
Leiber, Harry M (b. 13 May 1928 - d. 28 Jan 1982)
Lewallen, Anderson G (b. 2 Jan 1887 - d. 2 May 1967)
Lewallen, Benjamin H (b. 29 May 1889 - d. 8 Jul 1971)
Lewallen, Colon Andrew (b. 8 Dec 1919 - d. 3 Apr 1994)
Lewallen, Corrina H (b. 1 May 1890 - d. 25 Jan 1967)
Lewallen, Doroyhy Rich (b. 17 Jul 1929 - d. 22 Jul 2002)
Lewallen, Ersie Bell (b. 7 Jul 1891 - d. 30 Apr 1970)
Lewallen, Eugene A (b. 31 Oct 1922 - d. 14 Feb 1983)
Lewallen, George W (b. 5 Mar 1849 - d. 12 Mar 1916)
Lewallen, James Frye (b. 3 Dec 1915 - d. 9 Jun 1917)
Lewallen, Juanita (b. 26 Aug 1918 - d. 5 Jul 1920)
Lewallen, Liona Frye (b. 25 Jan 1895 - d. 15 Nov 1934)
Lewallen, Mary A (b. 22 Nov 1854 - d. 13 Feb 1923)
Lewallen, O D (b. 26 Jan 1922 - d. 29 Aug 1927)
Lewallen, O Duckery (b. 26 Nov 1894 - d. 17 Feb 1969)
Lewallen, Steve Anderson (b. 10 Dec 1949 - d. 9 Feb 2004)
Lewis, Walter Leon (b. 3 Oct 1930 - d. 3 Oct 1930)
Little, Alfred D (b. 1932 - d. 1991)
Little, Denice (b. 16 Dec 1965 - d. 18 Nov 1978)
Little, Johnny Dean (b. 9 Jun 1968 - d. 9 Jun 1968)
Little, Joseph G (b. 11 Sep 1930 - d. 16 Dec 1980)
Luck, Abram (b. 12 May 1885 - d. 22 Aug 1970)
Luck, Alfred (b. 12 May 1931 - d. 12 May 1931)
Luck, Alfred M (b. 15 Apr 1856 - d. 1 May 1906)
Luck, Alfred Murphy (b. 2 Jul 1913 - d. 15 Nov 1993)
Luck, Allen J (b. 27 Dec 1876 - d. 23 May 1941)
Luck, Alvis (b. 1892 - d. 1978)
Luck, B Lorene Kindley (b. 25 Jun 1946 - d. 1 Jun 2006)
Luck, Beulah Auman (b. 11 Apr 1926 - d. 3 Apr 2007)
Luck, Charlie T (b. 16 Jan 1861 - d. 10 Jul 1932)
Luck, Clegg (b. 7 May 1916 - d. 29 Jan 1958)
Luck, Clyde (b. 28 Nov 1924 - d. 4 Sep 1987)
Luck, Curtis E (b. 20 Jan 1913 - d. 19 Dec1988)
Luck, Elias (b. 29 Mar 1859 - d. 23 Apr 1931)
Luck, Elma Newsom (b. 29 Jun 1899 - d. 26 Apr 1991)
Luck, Emetine (b. 1832 - d. 1897)
Luck, Ernest Johnny (b. 10 Sep 1910 - d. 27 May 1997)
Luck, Eugene Paul (b. 30 Jul 1925 - d. 4 Mar 2009)
Luck, Fannie Russell (b. 4 Jul 1874 - d. 12 Sep 1953)
Luck, Florrie L (b. 15 Mar 1889 - d. 9 Dec 1981)
Luck, Ida Mae (b. 1 May 1907 - d. 11 Jul 1984)
Luck, Infant (b. 7 Jun 1955 - d. 7 Jun 1955)
Luck, Infant (b. 9 Jun 1924 - d. 9 Jun 1924)
Luck, J Walter (b. 17 Feb 1882 - d. 10 Apr 1925)
Luck, James Carl (b. 20 Oct 1904 - d. 5 Jan 1986)
Luck, Joe Irvin (b. 12 Feb 1905 - d. 22 Mar 1971)
Luck, Joseph E (b. 14 Nov 1866 - d. 21 Mar 1905)
Luck, Josie Caroline (b. 26 Apr 1905 - d. 24 Aug 1978)
Luck, Lloyd W (b. 27 Oct 1914 - d. 7 Sep 2003)
Luck, Lucy (b. 12 May 1879 - d. 1 May 1951)
Luck, Luvine C Strider (b. 25 Dec 1858 - d. 5 Dec 1941)
Luck, Lydia J (b. 14 Jan 1871 - d. 15 Dec 1947)
Luck, M Adlaid (b. 2 Sep 1849 - d. 8 May 1926)
Luck, Mary (b. 11 Feb 1931 - d. 6 Jun 1959)
Luck, Mary E (b. 29 Feb 1860 - d. 24 Oct 1912)
Luck, Mary Ora (b. 17 Jan 1906 - d. 17 Jun 1907)
Luck, Melvinna (b. 1851 - d. 1937)
Luck, Noah (b. 18 Oct 1853 - d. 18 Feb 1950)
Luck, Pearl (b. 1899 - d. 1973)
Luck, Polly (b. 1819 - d. 1899)
Luck, Ransom (b. 20 Dec 1827 - d. 3 May 1904)
Luck, Ruth Hoover (b. 25 May 1917 - d. 3 Apr 2004)
Luck, Sarah A (b. 4 Mar 1884 - d. 12 Apr 1922)
Luck, Spencer (b. 1800 - d. 1884)
Luck, Stanton (b. 8 Jun 1906 - d. 4 May 1926)
Luck, Stanton Lee (b. 22 Mar 1938 - d. 12 Jul 2007)
Luck, Willis D (b. 7 Sep 1886 - d. 23 Feb 1969)
Luck, Willis D Jr (b. 12 Aug 1927 - d. 26 May 1954)
Nance, Truma Orient (b. 17 Mar 1942 - d. 31 Oct 2008)
Needham, Ginger Voncannon (b. 18 Jan 1957 - d. 6 Dec 2009)
Newsome, Nancy Hancock (b. 16 Apr 1870 - d. 28 Jan 1952)
Newsome, William F (b. 29 Sep 1869 - d. 9 Dec 1959)
Norris, James D (b. 26 Aug 1947 - d. 13 Jul 2008)
Page, Louise Hammond (b. 5 Sep 1917 - d. 11 Oct 2002)
Page, Wade Hampton (b. 19 mar 1919 - d. 5 Feb 1974)
Parks, Carl M (b. 5 Oct 1917 - d. 19 Jul 1997)
Parks, Ella Strider (b. 4 Sep 1903 - d. 7 Nov 1985)
Parks, George Albert (b. 12 Jul 1909 - d. 22 Sep 1955)
Parks, Louise A (b. 2 Jul 1917 - d. 5 Oct 1994)
Parrish, John Frank (b. 4 Jan 1902 - d. 3 Jun 1979)
Parrish, John Jr (b. 30 Dec 1924 - d. 30 Dec 1924)
Parrish, Myrtie Parks (b. 5 Jan 1908 - d. 10 Sep 1994)
Patterson, Charles Cecil (b. 1 Aug 1928 - d. 28 Apr 1992)
Patterson, Doris Gray (b. 16 Dec 1930 - d. 21 Jan 2008)
Phillips, Esther (b. 26 Dec 1814 - d. 13 May1902)
Robbins, Earl Lee (b. 20 Jul 1924 - d. 20 May 2000)
Robbins, Hazel Haddock (b. 22 Oct 1923 - d. 11 Oct 2007)
Routh, Shirley Ann (b. 4 Oct 1936 - d. 2ec 1936)
Rush, A F (b. 17 Mar 1818 - d. 25 Jan 1902)
Rush, A Hal (b. 4 Apr 1906 - d. 22 Mar 1934)
Rush, Caroline (b. 25 Mar 1877 - d. 10 Apr 1939)
Rush, Flora Hix (b. 24 Sep 1878 - d. 26 Jan 1944)
Rush, J W (b. 17 Cot 1867 - d. 12 Dec 1918)
Rush, Richard J (b. 1 Mar 1916 - d. 28 Sep 1918)
Rush, Susan (b. 19 Nov 1820 - d. 11 Apr 1874)
Saunders, C S (b. Unknown - d. 3 Mar 1899)
Saunders, Robert C (b. 23 Dec 1895 - d. 14 May 1920)
Sawyer, Marvin Keith (b. 12 Dec 1960 - d. 13 Feb 1997)
Smith, Anthony H (b. 28 Apr 1874 - d. 24 Feb 1933)
Smith, Sallie E (b. 7 Oct 1885 - d. 15 Apr 1971)
Strider, Crola L (b. 12 Jul 1915 - d. 3 Jul 1972)
Strider, Ville N (b. 30 Jun 1915 - d. 7 Oct 2007)
Stuart, Frances Hill (b. 22 Aug 1857 - d. 16 Jan 1945)
Stuart, John (b. 28 Apr 1839 - d. 14 Jun 1907)
Surratt, Ethel Allred (b. 27 Oct 1894 - d. 17 Aug 1985)
Thorp, Tawana Walker (b. 1 Dec 1948 - d. 23 Mar 1990)
Varner, Dora Mae (b. 24 Apr 1919 - d. 22 Aug 1973)
Varner, Ruben M (b. 25 Jun 1905 - d. 6 Jun 1968)
Varner, William Todd (b. 9 Sep 1864 - d. 9 Oct 1881)
Voncannon, Barbara J Phillips (b. 25 Jul 1850 - d. 3 Dec 1908)
Voncannon, Benjamin F (b. 8 May 1893 - d. 14 Nov 1953)
Voncannon, Clive (b. 6 Jan 1887 - d. Jul 1911)
Voncannon, Eulalia Allred (b. 1 Jun 1896 - d. 4 Jan 1953)
Voncannon, Infant Daug. (b. 23 Sep 1918 - d. 29 Mar 1927)
Voncannon, John C (b. 22 Nov 1845 - d. 30 Dec 1885)
Vuncannon, Anna (b. 15 Nov 1829 - d. 22 Mar 2007)
Vuncannon, Azeleeo Scott (b. 25 Mar 1901 - d. 28 Jan 1940)
Vuncannon, Charles Ross (b. 14 Nov 1926 - d. 30 Dec 2006)
Vuncannon, Lillie Belle (b. 19 Jul 1891 - d. 12 Dec 1976)
Vuncannon, Peter (b. 22 Jan 1826 - d. 11 Oct 1888)
Vuncannon, Ross (b. 17 Jul 1884 - d. 14 Jul 1961)
Vuncannon, Vera Bell (b. 24 Mar 1920 - d. 23 Jul 1920)
Vuncannon, William Branson (b. 17 Sep 1931 - d. 14 Aug 1998)
Vuncanon, Dora (b. 10 Sep 1888 - d. 17 Jul 1910)
Vuncanon, Tyson (b. 5 Jun 1848 - d. 28 Jun 1916)
Walker, Denzil H (b. 15 Jul 1916 - d. 31 Jul 1998)
Walker, Mary Edith (b. 14 Sep 1924 - d. 17 May 2005)
Williams, Emma Voncannon (b. 1883 - d. 1930)
Williams, Hubert (b. 13 Aug 1911 - d. 8 Oct 1911)
Williams, Joel (b. 22 Dec 1801 - d. 2 Mar 1877)
Williams, L Thomas (b. 1874 - d. 1934)
Williams, Lucy J (b. 11 May 1870 - d. 11 May 1943)
Williams, Rufus M (b. 9 Jan 1896 - d. 16 Oct 1918)
Williams, William S (b. 28 Jul 1855 - d. 29 Jan 1923)
Wrenn, Hattie L (b. 3 Sep 1824 - d. 28 Aug 1900)
Wrenn, Thomas C (b. Unknown - d. 20 Apr 1892)
Yeargan, James E (b. 10 Mar 1897 - d. 17 Feb 1912)
Web page updated 13 May 2017
Index of All Cemeteries
Alphabetical Index of All Burials
Previous Page