Index of All Cemeteries
Alphabetical Index of All Burials
Previous Page
Use the following to search across all the cemeteries listed.
Example: "Smith, Roger" (yes, use the quotes)
077 BETHEL FRIENDS MEETING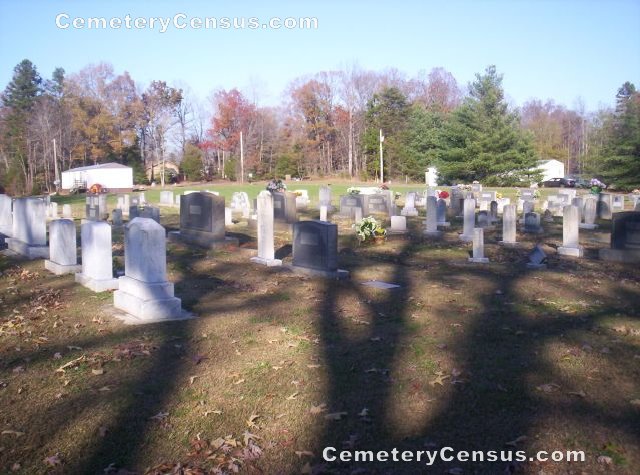 Location - 2519 Bethel Friends Rd (SR-2660) and Hwy 42.

Coordinates: 35d 39m 52.5s N; 79d 44m 21.2s W Click here for Google maps

Survey provided by Wayne Ham and Laurell Ham, Randleman, NC in December 2009. Photographs by Wayne Ham.

This is a complete listing as of December 7, 2009.


Allred, C L (b. 6 Nov 1929 - d. 1 Jan 1931)
Allred, Cleta Jean (b. 20 Oct 1935 - d. 20 Oct 1935)
Beane, Edgar Hubert (b. 25 Jun 1890 - d. 16 Feb 1957)
Beane, Hoyd Lyndon (b. 18 Apr 1911 - d. 6 Jan 1952)
Beane, Zada Smith (b. 28 Aug 1891 - d. 25 Nov 1982)
Beeson, Garland Blair (b. 22 May 1905 - d. 28 Mar 1989)
Beeson, Lela Kemp (b. 8 Apr 1905 - d. 24 May 1993)
Brown, Nancy (b. Unknown - d. 1880)
Cagle, Bertha McKay (b. 27 Jul 1922 - d. 18 Apr 1958)
Cagle, Hugh C (b. 22 Sep 1897 - d. 20 Jul 1918)
Cagle, Infant (b. Nov 1949 - d. Nov 1949)
Cagle, Leo Shelton (b. 11 Sep 1923 - d. 20 Feb 1986)
Cagle, Meredith H (b. 5 Jan 1922 - d. 23 Jan 1979)
Cagle, Sallie Hooper (b. 10 Jul 1932 - d. 17 Apr 2001)
Cagle, Stena Humble (b. 1 Apr1897 - d. 20 Apr 1971)
Callicutt, Joseph Wayne (b. 27 Mar 1940 - d. 27 Mar 1940)
Callicutt, Neal Thomas (b. 18 Feb 1938 - d. 18 Feb 1938)
Callicutt, Rankin Dewey (b. 5 Dec 1898 - d. 3 Jul 1968)
Callicutt, W Vance (b. 26 Jun 1935 - d. 20 Jun 2008)
Callicutt, Zelma McPherson (b. 7 Dec 1903 - d. 5 Dec 1991)
Cockrell, Cynthia Ann (b. 1 Oct 1963 - d. 14 Feb 2008)
Cox, Asenath (b. 3 May 1824 - d. 30 Jun 1900)
Cox, Bascum Glenn (b. 24 May 1892 - d. 4 Feb 1974)
Cox, Beverly Ann (b. 5 Dec 1963 - d. 5 Dec 1963)
Cox, Blanche (b. 6 Mar 1907 - d. 13 Nov 1909)
Cox, Burley Vernard (b. 25 Mar 1896 - d. 15 Mar 1898)
Cox, Carl Emmet (b. 3 Jun 1890 - d. 5 Jun 1962)
Cox, Carolyn Hydanus (b. 1922 - d. 2005)
Cox, Cecil Sylvanus (b. 4 Feb 1899 - d. 9 Jan 1947)
Cox, David (b. 11 Mar 1819 - d. 1 Aug 1907)
Cox, Ezra (b. 10 Jan 1863 - d. 27 Jan 1949)
Cox, Hannah S (b. 7 May 1859 - d. 7 Apr 1919)
Cox, Iza Pugh (b. 28 Sep 1895 - d. 8 Nov 1960)
Cox, Judith Lorraine (b. 1942 - d. 1993)
Cox, Lantford Emmett (b. 14 Jan 1928 - d. 19 Aug 2004)
Cox, Leah Wright (b. 20 Feb 1862 - d. 2 Jan 1943)
Cox, Leslie Maris (b. 1915 - d. 1993)
Cox, Lester Lloyd (b. 16 Dec 1898 - d. 3 Jul 1969)
Cox, Mary (b. 23 Feb 1850 - d. 9 May 1932)
Cox, Mary Ann Humble (b. 22 Feb 1903 - d. 8 Jan 1982)
Cox, Milton (b. 3 Apr 1856 - d. 25 Sep 1926)
Cox, Netta Fae Lowe (b. 26 Jul 1925 - d. 9 May 2009)
Cox, Sabrah R (b. 9 Feb 1858 - d. 18 Nov 1925)
Cox, Sarah Elnora (b. 15 Nov 1991 - d. 25 Dec 1937)
Cox, Simeon (b. 23 Jan 1854 - d. 8 Aug 1928)
Cox, Willard (b. 24 Dec 1893 - d. 1 May 1894)
Cox, William T (b. 4 Feb 1828 - d. 26 Jul 1890)
Cox, Zebedee (b. 28 Jul 1888 - d. 24 Feb 1890)
Cox, Zeno (b. 19 Jun 1860 - d. 5 Dec 1924)
Craven, Claud Cicero (b. 5 Jan 1892 - d. 24 Dec 1961)
Craven, Edyth Ida (b. 14 Sep 1917 - d. 26 Feb 1991)
Craven, Mary Cox (b. 12 Aug 1890 - d. 23 Feb 1991)
Essick, Harvey (b. 1933 - d. 2008)
Faulkner, Hobert (b. 4 May 1899 - d. 26 Nov 1954)
Faulkner, Myrtle G (b. 7 Feb 1907 - d. 29 Dec 1968)
Floyd, Annie Cox (b. 12 Jul 1901 - d. 15 Apr 1979)
Gardner, Jessie Lee (b. 17 Jul 1991 - d. 19 Mar 1966)
Gentry, Geneva McKay (b. 14 Dec 1914 - d. 12 Oct 1976)
Haithcock, Ambrose W (b. 5 May 1881 - d. 7 Jul 1967)
Haithcock, Florence M (b. 14 Jul 1893 - d. 22 Jun 1960)
Haithcock, Mary Ellen (b. 16 Jan 1925 - d. 16 Jan 1925)
Hamilton, Alfred D (b. 15 Aug 1851 - d. 2 Nov 1924)
Hamilton, Caroline (b. 5 Jun 1851 - d. 4 Jun 1913)
Hamilton, Coy Jasper (b. 13 May 1908 - d. 1 Jan 1970)
Hamilton, Dallas N (b. 1883 - d. 1959)
Hamilton, Dexter Ray (b. 14 Mar 1926 - d. 11 Apr 1926)
Hamilton, Dora J (b. 1884 - d. 1959)
Hamilton, Gail George (b. 8 Jan 1915 - d. 8 May 1930)
Hamilton, I O (b. 3 Sep 1886 - d. 29 Aug 1974)
Hamilton, Infant (b. 29 Jan 1917 - d. 30 Jan 1917)
Hamilton, Myrtle McPherson (b. 4 Jun 1910 - d. 1 Nov 1970)
Hamilton, Rodema Cox (b. 30 Sep 1880 - d. 8 Nov 1945)
Hamilton, Susan J (b. 6 Nov 1879 - d. 28 Jun 1904)
Hancock, C Walter (b. 1 Jun 1873 - d. 5 Jul 1963)
Hancock, Ellen (b. 26 Jun 1866 - d. 6 Nov 1935)
Hancock, John (b. 19 May 1869 - d. 9 May 1958)
Hancock, Larry Elbert (b. 29 Nov 1942 - d. 29 Nov 1942)
Heathcock, Vernon (b. 6 Oct 1919 - d. 21 Oct 1923)
Henson, Eva Humble (b. 1876 - d. 1932)
Henson, Monte E (b. 11 Dec 1904 - d. 10 May 1906)
Hewitt, Debra Cagle (b. 1962 - d. 1998)
Hinshaw, Harrison A (b. 26 Oct 1892 - d. 30 Apr 1972)
Husband of Margaret P. Hinshaw

Hinshaw, Margaret P (b. 4 Dec 1894 - d. 17 Nov 1957)
Wife of Harrison A. Hinshaw

Humble, Emily Stout (b. 13 Jul 1849 - d. 18 Sep 1924)

Humble, Henry M (b. 12 Mar 1853 - d. 20 Jul 1938)

Humble, Rev Olson (b. 7 Sep 1851 - d. 9 May 1930)

Humble, Sarah J Trogdon (b. 11 Jun 1857 - d. 5 Oct 1948)

Jarrett, Eugene Franklin (b. 20 Oct 1947 - d. 16 Jun 1948)

Jarrett, Isaac Franklin (b. 2 Sep 1910 - d. 3 Nov 1986)

Jarrett, Lillian Miller (b. 6 Feb 1913 - d. 16 Dec 1985)

Johnson, Bobby L Jr (b. 11 Jan 1966 - d. 11 Jan 1966)

Kemp, Annie S (b. 30 Jul 1879 - d. 8 Jan 1949)

Kemp, David J (b. 5 Dec 1871 - d. 8 Dec 1945)

Kemp, Fannie J Pugh (b. 31 Aug 1876 - d. 4 Aug 1899)

Ledwell, Ada M (b. 11 Oct 1899 - d. 2 Feb 1981)

Ledwell, James E (b. 26 May 1905 - d. 16 Nov 1966)

McKay, Robert C (b. 18 Nov 1885 - d. 10 May 1961)

McKay, Willie G (b. 6 Mar 1898 - d. 14 Jan 1961)

McLeod, Clencie P (b. 15 May 1909 - d. 15 Jul 1997)

McPherson, Brack M (b. 1866 - d. 1950)

McPherson, Darrell J (b. 1951 - d. 1976)

McPherson, Essie Lee (b. 25 Apr 1913 - d. 19 Aug 1913)

McPherson, Hallie E (b. 8 Jun 1904 - d. 4 Mar 1908)

McPherson, Hannah Jane (b. 15 Sep 1871 - d. 27 Feb 1930)

McPherson, Infant Daug. (b. 27 Aug 1889 - d. 6 May 1891)

McPherson, James Franklin (b. 25 Jul 1856 - d. 12 Aug 1911)

McPherson, Mary Ellen (b. 1874 - d. 1955)

McPherson, Myrtle B (b. 17 Jul 1907 - d. 20 Nov 1999)

McPherson, Samuel J (b. 1925 - d. 1992)

McPherson, Son (b. 9 Sep 1891 - d. 10 Jun 1908)

McPherson, W J (b. 11 Oct 1901 - d. 9 Feb 1977)

Miller, Annie T (b. 18 Mar 1927 - d. 30 Sep 2000)

Miller, Earl Junior (b. 7 Sep 1969 - d. 7 Sep 1969)

Miller, Forest William (b. 1890 - d. 1964)

Miller, Fred Wesley (b. 1916 - d. 1966)

Miller, Gurney A (b. 27 Aug 1918 - d. 8 Feb 1998)

Miller, Herman Lloyd (b. 9 Oct 1914 - d. 12 Nov 1987)

Miller, James Forest (b. 1922 - d. 1950)

Miller, Madgleen Jarrett (b. 24 Mar 1905 - d. 29 Aug 1974)

Miller, Mamie (b. 18 Jul 1920 - d. 1 Nov 1921)

Miller, Roxie Cox (b. 1895 - d. 1948)

Moffitt, Essie Roberts (b. 5 Jun 1920 - d. 28 Aug 1983)

Moffitt, Miles Harvey (b. 16 May 1918 - d. 28 Feb 1981)

Moore, Velma Smith (b. 13 Sep1904 - d. 9 Jan 1991)

Moran, Donald G (b. 1947 - d. 2008)

Morton, Chance (b. 1996 - d. 1996)

Morton, Larry Glenn (b. 1951 - d. 1961)

Morton, Leon Monroe (b. 1956 - d. 1956)

Parks, Loretta Lynn (b. 7 Feb 1966 - d. 7 Feb 1966)

Phillips, Hannah (b. 30 Jan 1847 - d. 4 Jul 1922)

Phillips, William C (b. 30 May 1848 - d. 10 Aug 1922)

Pierce, John K Jr (b. 27 Jan 1938 - d. 20 Feb 2002)

Pierce, John Kindley (b. 27 Nov 1914 - d. 9 Apr 1998)

Pierce, Myrtle Lee (b. 2 Nov 1908 - d. 27 May 1993)

Pugh, Harris Neese (b. 23 Jan 1935 - d. 7 Jun 2005)

Pugh, James Wallace (b. 11 Apr 1940 - d. 27 Oct 1986)

Pugh, Margaret Edith Jones (b. 21 Sep 1927 - d. 28 Jul 2001)

Pugh, Mary Neese (b. 18 Mar 1876 - d. 27 Dec 1964)

Pugh, Myrtle Walla (b. 3 Mar 1893 - d. 28 Dec 1980)

Pugh, Ruth Beeson (b. 9 Dec1930 - d. 5 May 2005)

Pugh, Sarah J (b. 23 Apr 1861 - d. 4 Mar 1914)

Pugh, Theodore R (b. 10 Feb 1870 - d. 12 Feb 1950)

Pugh, Tommie Dexter (b. 11 May 1906 - d. 9 Nov 1981)

Pugh, Vergie Smith (b. 18 Jun 1908 - d. 4 Jun 2002)

Pugh, Vernon John (b. 22 Jul 1895 - d. 21 Jan 1962)

Rich, Glenn D Sr (b. 7 Nov 1909 - d. 24 Oct 1973)

Rich, Joyce Y (b. 31 Mar 1913 - d. 28 Sep 2008)

Rich, Marion (b. 30 Mar 1945 - d. 30 Mar 1945)

Roberts, Martha C (b. 9 Mar 1898 - d. 28 Jun 1943)

Roberts, Thomas G (b. 23 Aug1890 - d. 16 Jun 1963)

Sharpe, Gladys Hamilton (b. 6 Dec 1916 - d. 27 Jan 1971)

Sharpe, Judy Sharon (b. 23 Apr 1952 - d. 6 Jul 1960)

Smith, Alice Lopp (b. 11 May 1865 - d. 13 Sep 1920)

Smith, Alta Ellen Cox (b. 14 Apr 1887 - d. 14 Jun 1975)

Smith, Archie (b. 20 Oct 1906 - d. 10 Mar 1930)

Smith, Daniel Lee (b. 12 Feb 1866 - d. 31 Dec 1949)

Smith, Deltha D (b. 30 Aug 1902 - d. 5 Mar 1948)

Smith, Ferman (b. 7 Aug 1913 - d. 4 Jan 1945)

Smith, Kemp Lee (b. 8 May 1888 - d. 7 Mar 1968)

Smith, Urslie C (b. 2 Dec 1899 - d. 17 Apr 1951)

Stout, Catherine (b. 9 Jun 1817 - d. 19 Jan 1895)

Stout, Harmon Z (b. 14 Jul 1857 - d. 23 Sep 1895)

Stout, Ivin E (b. 15 May 1888 - d. 28 Oct 1943)

Stout, Marinda (b. 26 Oct 1861 - d. Dec 1897)

Stout, Zimri (b. 23 Dec 1823 - d. 24 Jan 1894)

Wright, Alice (b. 11 Mar 1907 - d. 22 Mar 1907)

Wright, Fleta L (b. 2 Aug 1908 - d. 26 Jul 1980)

Wright, Flora Etta Bowden (b. 23 Jan 1873 - d. 6 Nov 1950)

Wright, Henry Lee (b. 10 Jun 1928 - d. 17 Feb 1995)

Wright, John Edgar (b. 14 Jan 1892 - d. 29 Mar 1969)

Wright, John Lester (b. 17 Oct 1928 - d. 31 Mar 1949)

Wright, Joseph (b. 13 Feb 1866 - d. 14 Aug 1903)

Wright, Lelah (b. 27 Jan 1898 - d. 16 Oct 1909)

Wright, Leola Ingold (b. 2 Apr 1902 - d. 30 Sep 1943)

Wright, Linnie Maie Cox (b. 4 Dec 1929 - d. 3 Jan 1993)

Wright, Loulza H (b. 3 Aug 1870 - d. 15 May 1922)

Wright, Orlendo E (b. 17 Dec 1893 - d. 14 Oct 1918)

Wright, Rosa M (b. 9 Jun 1911 - d. 3 May 1913)

Wright, William M (b. 20 Jul 1868 - d. 31 Jul 1953)
Web page updated 13 May 2017
Index of All Cemeteries
Alphabetical Index of All Burials
Previous Page