Index of All Cemeteries
Alphabetical Index of All Burials
Previous Page
Use the following to search across all the cemeteries listed.
Example: "Smith, Roger" (yes, use the quotes)
071 MT. LEBANON BAPTIST CHURCH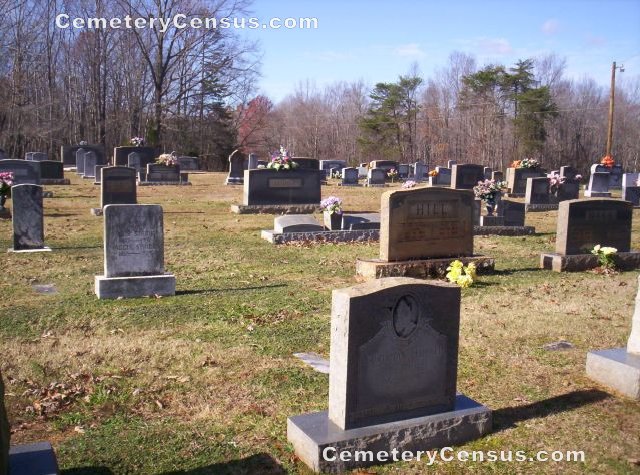 Location - 7811 Pisgah Covered Bridge Rd. on Mt, Lebanon Church Rd (SR-1111) between Pisgah Covered Bridge Rd (SR-1114) and Evening Shade Rd.

Coordinates: 35d 32m 10.6s N; 79d 54m 46.9s W Click here for Google maps

Survey provided by Wayne Ham and Laurell Ham, Randleman, NC in December 2009. Photographs by Wayne Ham.

This is a complete listing as of December 4, 2009.


Boggs, William Kelly (b. 3 Jan 1974 - d. 16 Dec 2006)
Boykin, Infant (b. 7 Jun 1956 - d. 7 Jan 1956)
Bullard, Dan E (b. 1884 - d. 25 Aug 1968)
Bullard, Nellie H (b. 1912 - d. 1996)
Bullard, William D (b. 9 Oct 1938 - d. 13 Feb 1955)
Burris, Thelma Latham (b. 1937 - d. 2004)
Callicutt, Lonnie E (b. 18 Nov 1948 - d. 18 Nov 1948)
Callicutt, Rhonda Russell (b. 4 Nov 1946 - d. 12 Jan 2009)
Carlton, Janelle R (b. 1938 - d. 1989)
Carlton, Robert Lee (b. 16 Mar 1931 - d. 19 Sep 1999)
Coltrane, Wanda L (b. 14 Dec 1960 - d. 17 Dec 1997)
Cox, Randy Robert (b. 19 Feb 1953 - d. 6 Sep 1970)
Cox, William (b. 3 Sep 1924 - d. 12 Feb 1997)
Cranford, Larry William (b. 7 Feb 1962 - d. 2 Jun 2009)
Cranford, Lawery (b. 20 Oct 1874 - d. 15 Feb1938)
Cranford, Leach (b. 20 Jan 1873 - d. 14 Sep 1946)
Crigger, Geneva Saunders (b. 23 Nov 1946 - d. 20 Jan 2007)
Crigger, Munsey Jr (b. 6 Feb 1940 - d. 17 Oct 2009)
Daniel, Henry Lee (b. 6 Jun 1910 - d. 22 Nov 1999)
Daniel, Roellar Luther (b. 25 Jun 1887 - d. 19 Jul 1965)
Daniel, Samuel Lowe (b. 4 Dec 1884 - d. 7 Dec 1962)
Davis, Dorothy Colene H (b. 17 May 1940 - d. 21 Jun 2000)
Dennis, Rodney Virgil (b. 2 Jan 1966 - d. 11 Nov 2002)
Dunn, Shelia Lynn (b. 18 Sep 1971 - d. 18 Seo 1971)
Gainey, Eunice H (b. 7 Aug 1918 - d. 17 Sep 1999)
Gainey, William E (b. 6 Dec 1919 - d. 3 Nov 1992)
Galloway, Cyrus Monroe (b. 7 Jul 1934 - d. 15 Nov 1994)
Goins, Lena Latham (b. 29 Mar 1923 - d. 23 Oct 2009)
Goins, Stephen Earl (b. 20 May 1953 - d. 13 Mar 2005)
Hall, Albert Lee (b. 16 Sep 1905 - d. 14 Aug 1980)
Hall, Alson (b. 16 Jan 1847 - d. 28 May 1947)
Hall, Artie T (b. 6 Apr 1889 - d. 27 Sep 1976)
Hall, Dora Frances (b. 26 Mar 1875 - d. 29 Jan 1966)
Hall, Elvin (b. 30 Mar 1925 - d. 13 Aug 1927)
Hall, Nellie Louella (b. 13 Oct 1908 - d. 28 Sep 1986)
Hall, Sarah (b. 14 Jan 1845 - d. 3 Dec 1934)
Hall, Sarah H (b. 30 Sep 1856 - d. 26 Jul 1936)
Hall, Vella H (b. 23 Dec 1897 - d. 14 May 1997)
Halls, Charles P (b. 16 Sep 1812 - d. 16 Feb 1933)
Halls, Nancy J (b. 3 Jan 1844 - d. 18 Mar 1926)
Halls, Thomas (b. 18 Jul 1840 - d. 24 Apr 1934)
Halls, William L (b. 25 Dec 1840 - d. 5 Jun 1922)
Harvell, Joel W (b. 26 Mar 1883 - d. 4 Sep 1979)
Harvell, Pauline G (b. 1915 - d. 1996)
Harvell, Reece (b. 1910 - d. 1972)
Hill, Adelaide Ragsdale (b. 14 Dec 1864 - d. 10 Sep 1931)
Hill, Annie Carol Lutger (b. 13 Dec 1941 - d. 22 Jun 1981)
Hill, Brantley Harris (b. 29 Mar 1904 - d. 21 Aug 1977)
Hill, Braxton F (b. 22 Apr 1896 - d. 1 Jan 1984)
Hill, Charles E (b. 16 Sep 1899 - d. 22 May 1959)
Hill, James Filmore (b. 12 Jul 1859 - d. 30 Jun 1918)
Hill, John F (b. 1923 - d. 1963)
Hill, Lena Seville Hurley (b. 22 Jun 1865 - d. 22 May 1929)
Hill, Libby D (b. 25 Mar 1905 - d. 4 Apr 1988)
Hill, Lola Hamilton (b. 2 Mar 1909 - d. 25 Jun 2005)
Hill, Rilla E (b. 14 Jan 1899 - d. 1 Jun 1984)
Hill, Wiley (b. 29 Jan 1864 - d. 2 Dec 1938)
Honney, Ted L (b. 10 Sep 1915 - d. 16 Jul 1994)
Hopkin, Joyce Carolyn (b. 7 Aug 1950 - d. 7 Aug 1950)
Hopkins, Cora Lee (b. 10 Oct 1897 - d. 16 Mar 1966)
Hopkins, Dewey E (b. 16 Nov 1897 - d. 14 Apr 1981)
Hopkins, Effie L (b. 2 Feb 1902 - d. 21 Feb 1985)
Hudson, Infant (b. 1922 - d. 1922)
Hudson, Laura C Hurley (b. 29 Oct 1883 - d. 30 Sep 1953)
Hueley, Calvin W (b. 12 Feb 1930 - d. 29 Aug 1988)
Hurley, A Raymond (b. 10 May 1907 - d. 19 Nov 1957)
Hurley, Alice L (b. 16 May 1899 - d. 4 Mar 1980)
Hurley, Bannie R (b. 1 Mar 1930 - d. 20 Apr 1930)
Hurley, Charlie R (b. 3 Aug 1893 - d. 7 Feb 1963)
Hurley, Daphne L (b. 14 Sep 1917 - d. 18 Mar 2008)
Hurley, Earlie Carson (b. 27 Mar 1892 - d. 11 Jun 1971)
Hurley, Earlie Lee (b. 22 Dec 1926 - d. 10 Feb 1961)
Hurley, Effie Hall (b. 5 May 1879 - d. 19 Feb 1966)
Hurley, Farrell P (b. 29 Oct 1941 - d. 19 Jan 1942)
Hurley, Gurney A (b. 19 Sep 1899 - d. 5 Dec 1975)
Hurley, Lewis (b. 31 Mar 1914 - d. 6 Jan 1992)
Hurley, Lillie L (b. 2 Feb 1901 - d. 14 Sep 1984)
Hurley, Martha Tero (b. 10 Oct 1900 - d. 28 Feb 1974)
Hurley, Melvia R (b. 1918 - d. 2009)
Hurley, Randle Martin (b. 20 1895 - d. 6 Sep 1973)
Hurley, Roy Homes (b. 9 Apr 1941 - d. 19 Feb 2004)
Hurley, Samuel C (b. 28 Apr 1928 - d. 28 Apr 1928)
Hurley, Sarah D (b. 29 Oct 1912 - d. 18 Jan 2007)
Hurley, Tula R (b. 6 Mar 1939 - d. 4 Jul 1939)
Hurley, Vernie Williams (b. 4 Dec 1896 - d. 7 May 1971)
Hurley, William L (b. 6 May 1890 - d. 20 Jul 1949)
Hurlry, Ruth (b. 16 Jan 1919 - d. 28 Apr 2007)
Johnson, Alice Fay (b. 19 May 1943 - d. 21 May 1943)
Johnson, John Paul (b. 9 Apr 1920 - d. 19 Jul 1996)
Johnson, Ollie Hall (b. 8 Apr 1921 - d. 5 Mar 2004)
Johnson, Paula Jean (b. 15 Jun 1950 - d. 15 Jun 1950)
Jones, James Lee (b. 28 Jun 1969 - d. 14 Aug 2009)
Jones, Wallace (b. 19 Sep 1939 - d. 13 Mar 2006)
Kearns, Grace Strider (b. 5 Nov 1910 - d. 24 Aug 1998)
Kearns, Harry H (b. 6 Mar 1921 - d. 11 Oct 1969)
Lamm, Linda Parnell (b. 1 Mar 1948 - d. 17 Nov 2003)
Latham, Jonah (b. 24 Apr 1908 - d. 3 Oct 1975)
Latham, Leacey (b. 1872 - d. 1959)
Latham, Ricky James (b. 7 Mar 1957 - d. 4 Jun 1985)
Latham, Russell E (b. 1 Mar 1879 - d. 14 May 1954)
Latham, Shaye (b. 18 Aug 1914 - d. 2 Mar 1993)
Latham, Tyre A (b. 15 Apr1914 - d. 11 Feb 1946)
Latham, Wilson (b. 28 Mar 1912 - d. 2 Mar 1982)
Lawrence, Eli (Rev.) (b. 1879 - d. 1932)
Lawrence, Nora (b. 8 Aug 1901 - d. 28 May 1921)
Lawrence, Rosa (b. 22 Jun 1883 - d. 21 Jan 1942)
Ledwell, Christian (b. 27 Jan 1887 - d. 20 Jan 1975)
Ledwell, Dorcas M (b. 20 Dec 1863 - d. 25 May 1940)
Ledwell, Lois S (b. 15 Mar 1916 - d. 14 Feb 2001)
Ledwell, Roy H (b. 2 Dec 1911 - d. 29 Oct 1992)
Ledwell, Thomas W (b. 5 Jun 1863 - d. 25 May 1943)
Ledwell, Wiley E (b. 29 Mar 1849 - d. 15 Jun1936)
Lee, Dicie Reeder (b. 23 Oct 1896 - d. 11 Apr 1990)
Lewis, Laura (b. 11 Mar 1878 - d. 31 Dec 1953)
Luther, Alma Viola (b. 1894 - d. 1959)
Luther, Alvin Harold (b. 24 Apr 1936 - d. 2 Jul 1974)
Luther, Arthur Hollis (b. 27 Feb 1940 - d. 9 Mar 1941)
Luther, Bessie Latham (b. 25 Jun 1906 - d. 16 May 1988)
Luther, Charles Lindsey (b. 21 Sep 1899 - d. 21 Apr 1972)
Luther, Charlie (b. 1 Oct 1871 - d. 11 Mar 1935)
Luther, Clara Brewer (b. 2 Aug 1916 - d. 15 Jan 2006)
Luther, Cressie E (b. 7 Dec 1865 - d. 10 Feb 1960)
Luther, Dolly C (b. 22 Jan 1913 - d. 3 Jan 1991)
Luther, Douglas Walter (b. 7 Jul 1975 - d. 30 Aug 1995)
Luther, Eugene G (b. 11 Jul 1904 - d. 4 Jul 1965)
Luther, George Dewey (b. 3 Oct 1900 - d. 16 Dec 1981)
Luther, George Dewey Jr (b. 29 Jan1930 - d. 25 Sep 2006)
Luther, Grady M (b. 1906 - d. 1967)
Luther, Harris (b. 27 Feb 1879 - d. 10 Jul 1956)
Luther, Infant Son (b. 5 Feb 1935 - d. 5 Feb 1935)
Luther, Israel M (b. 27 Mar 1887 - d. 7 Jan 1952)
Luther, James Lee (b. 1888 - d. 1959)
Luther, Jane Russell (b. 1847 - d. 1932)
Luther, Junior (b. 24 Jun 1926 - d. 27 Oct 1971)
Luther, Louise (b. 11 Apr 1866 - d. 30 Apr 1940)
Luther, Lucille Hurley (b. 13 Mar 1910 - d. 24 Jan 2006)
Luther, Martha (b. 1 Jan 1955 - d. ! Jan 1955)
Luther, Martha Harris (b. 25 Oct 1902 - d. 9 Dec 1989)
Luther, Mary (b. 1 Jan 1955 - d. 4 Jan 1955)
Luther, Meadie (b. 1870 - d. 1954)
Luther, Paul E (b. 14 Jun 1933 - d. 18 Apr 1934)
Luther, R L (b. 21 Jan 1940 - d. 2 Jan 1967)
Luther, Rebecca (b. 1 Jan 1955 - d. 1 Jan 1955)
Luther, Richard James (b. 12 May 1932 - d. 22 Oct 1994)
Luther, Samson Lonnie (b. 14 Jul 1934 - d. 26 Nov 2006)
Luther, Sarah (b. 10 Feb 1877 - d. 14 Feb 1951)
Luther, Solmon (b. 15 Jqn 1871 - d. 15 Mar 1929)
Luther, Walter Milton (b. 18 Nov 1910 - d. 14 Sep 1989)
Luther, Weldon B (b. 7 Sep 1912 - d. 20 Nov 1989)
Luther, William Henry (b. 1845 - d. 1929)
Marsh, Kathy D (b. 27 May 1960 - d. 2 Jul 2000)
McIntyre, Amy Reeder (b. 26 Dec 1894 - d. 27 Nov 1991)
McLeon, Joseph Daniel (b. 16 Jul 1986 - d. 7 Sep 2006)
Moore, Shato B (b. 22 May 1973 - d. 11 Dec 1997)
Node, Dora Overton (b. 17 Sep 1906 - d. 19 Jul 1999)
Overman, Carnie H (b. 22 May 1903 - d. 6 Jun 1938)
Overman, Delbert B (b. 17 May 1918 - d. 3 Jan 1972)
Overman, E Blanche (b. 5 Aug 1921 - d. 27 Jan 2006)
Overman, Ester Frances (b. 23 Jun 1951 - d. 28 Oct 1956)
Overman, Ester V (b. 16 Jan 1924 - d. 10 Sep 2005)
Overman, Flora Honey (b. 25 Jan 1892 - d. 18 Nov 1927)
Overman, Franklin D (b. 17 Aug 1933 - d. 20 Oct 1943)
Overman, James Braxton (b. 9 Dec 1896 - d. 14 Oct 1980)
Overman, Jesse Van (b. 22 Mar 1937 - d. 11 Aug 1998)
Overman, Mark James (b. 4 Feb 1966 - d. 7 Sep 1984)
Overman, Nettie Belle (b. 23 Mar 1925 - d. 20 Jul 1941)
Overton, Ida (b. 11 Apr 1891 - d. 29 Jul 1964)
Overton, Julius T (b. 1861 - d. 1942)
Overton, Maletia M (b. 2 May 1923 - d. 7 Nov 1925)
Overton, Mary E (b. 13 Dec 1869 - d. 19 Jun 1929)
Parker, Mary Parnell (b. 8 Aug 1926 - d. 7 Jul 1993)
Phillips, Corinna H (b. 12 Sep 1882 - d. 18 Mar1968)
Phillips, Issace (b. 5 May 1880 - d. 3 Jul 1953)
Phillips, Madison (b. 17 Jun 1882 - d. 23 Jul 1926)
Phillips, Walter James (b. 1923 - d. 1996)
Pullum, Walter R (b. 6 Jun 1935 - d. 20 May 1997)
Purvis, Donald Carroll (b. 25 Dec 1934 - d. 6 Oct 2008)
Reeder, Alfred (b. 1898 - d. 1972)
Reeder, Earl J (b. 9 Dec 1953 - d. 17 Feb 1954)
Reeder, Hattie Jane (b. 13 Apr 1913 - d. 7 Jan 1989)
Reeder, Mary L (b. 23 Dec 1930 - d. 19 Nov 1957)
Reeder, Roy L (b. 5 Aug 1954 - d. 17 Feb 1955)
Reeder, Walter Junior (b. 5 Jun 1931 - d. 4 Sep 1946)
Reynolds, Grady C (b. 29 May 1895 - d. 9 Dec 1981)
Reynolds, Sara Shaw (b. 17 Jun 1897 - d. 11 Feb 1992)
Satterfield, James E (b. 3 Feb 1934 - d. 9 Jul 2002)
Saunders, Coy E (b. 9 Nov 1921 - d. 1 Jan 1976)
Saunders, Naomi Strider (b. 15 Jun 1888 - d. 21 Apr 1954)
Shaw, Alvin E (b. 7 May 1907 - d. 5 Apr 1995)
Shaw, Barton F (b. 12 Jun 1899 - d. 15 Feb 1923)
Shaw, Beatha Ellen (b. 6 Apr 1915 - d. 21 Jan 2005)
Shaw, Calvin W (b. 25 Apr 1863 - d. 4 Mar 1957)
Shaw, Claude B (b. 20 Feb 1893 - d. 18 Aug 1965)
Shaw, Dora Ella (b. 27 Feb 1903 - d. 30 Sep 1984)
Shaw, Effie J Harvell (b. 6 Jun 1891 - d. 29 Nov 1949)
Shaw, Elyah A (b. 23 Dec 1867 - d. 4 Jul 1949)
Shaw, Emma Lee (b. 21 Feb 1905 - d. 22 Apr 1996)
Shaw, Grady William (b. 1 Apr 1895 - d. 27 May 1957)
Shaw, Harold Williams (b. 28 Jul 1931 - d. 22 Apr 2009)
Shaw, James A (b. 5 May 1889 - d. 18 Dec 1984)
Shaw, Laura S (b. 14 Jun 1894 - d. 30 Jun 1984)
Shaw, Margaret Hancock (b. 3 Mar 1866 - d. 25 May 1964)
Shaw, Martha L Miller (b. 5 Mar 1869 - d. 15 Jul 1943)
Shaw, Merle C (b. 29 Jan 1906 - d. 13 Jul 1980)
Shaw, Nora Callicut (b. 17 Aug 1893 - d. 16 Aug 1988)
Shaw, Wilma Thompson (b. 20 Jan 1931 - d. 2 Oct 2009)
Singleton, Elmer (b. 23 Jun 1911 - d. 5 Jul 1933)
Strider, Andrew M (b. 14 Aug 1885 - d. 27 Oct 1953)
Strider, Beatha H (b. 18 Mar 1899 - d. 15 Dec 1975)
Strider, Beatrice M (b. 26 Dec 1905 - d. 28 Nov 1967)
Strider, Charlie Bethel (b. 6 Apr 1938 - d. 5 Jan 1989)
Strider, Charlie Glenn (b. 7 Dec 1915 - d. 27 Feb 1969)
Strider, Coy M (b. 8 Sep 1916 - d. 15 Oct 1920)
Strider, Crissie (b. 5 Dec 1888 - d. 21 Oct 1970)
Strider, Daphne Ann (b. 12 Jul 1961 - d. 12 Jul 1961)
Strider, Della A (b. 26 Jul 1900 - d. 9 Nov 1976)
Strider, Della M (b. 28 May 1901 - d. 22 Feb 1979)
Strider, Dora Kearns (b. 8 Oct 1910 - d. 20 Dec 2003)
Strider, Duane Harold (b. 22 Jul 1982 - d. 22 Jul 1982)
Strider, Ester D (b. 23 Jul 1932 - d. 23 Jul 1932)
Strider, Frances Lucas (b. 8 Jul 1913 - d. 26 Aug 1991)
Strider, G Clarence (b. 13 Jan 1904 - d. 12 Oct 1985)
Strider, Gurney J (b. 26 Dec 1905 - d. 28 Nov 1967)
Strider, Henry Clay (b. 6 Jul 1907 - d. 16 Nov 1966)
Strider, Infant (b. 6 Sep 1938 - d. 6 Sep 1938)
Strider, J Winborn (b. 23 Mar 1862 - d. 27 May 1950)
Strider, Jacob (b. 1863 - d. 1931)
Strider, Janettie William (b. 1 Dec 1870 - d. 18 Nov 1914)
Strider, John M (b. 20 Jul 1925 - d. 22 Jul 1925)
Strider, Lester Daniel (b. 23 Jul 1939 - d. 2 Jul 1997)
Strider, Lucy J (b. 18 Aug 1890 - d. 3 Mar 1922)
Strider, Maggie (b. 1865 - d. 1929)
Strider, Margaret (b. 27 May 1847 - d. 25 Dec 1927)
Strider, Mary E (b. 29 Sep 1901 - d. 23 Jul 1926)
Strider, Montese S (b. 15 Mar 1918 - d. 15 Aug 1995)
Strider, Nathan S (b. 7 Jan 1904 - d. 30 Mar 1978)
Strider, Ora M (b. 9 May 1899 - d. 23 May 1982)
Strider, Sarah (b. 5 May 1868 - d. 5 Feb 1934)
Strider, Stella (b. 17 Mar 1886 - d. 25 Jan 1953)
Strider, Walter (b. 4 Oct 1889 - d. 12 Oct 1952)
Strider, William Pinkney (b. 8 Aug 1901 - d. 14 Oct 2000)
Strider, William T (b. 10 Dec 1935 - d. 20 May 2005)
Strider, Willis (b. 5 Oct 1851 - d. 20 Apr 1921)
Thompson, Joe R (b. 3 Nov 1940 - d. 27 Oct 1973)
Thompson, Jonathan Preston (b. 7 Mar 1984 - d. 13 Sep 1998)
Turner, Jerrold D (b. 28 Apr 1958 - d. 14 Apr 1993)
Turner, Patsy (b. 1948 - d. 10 Jan 1995)
Vanhoy, Cynthia Mae (b. 1966 - d. 1967)
Vanhoy, Louise R (b. 1941 - d. 2009)
Wallace, Effie Jane (b. 8 Feb 1943 - d. 24 Dec 1993)
Webb, Infant (b. 30 Dec 1936 - d. 30 Dec 1936)
White, Leon D (b. 15 Aug 1917 - d. 15 May 1992)
Williams, Allen D (b. 7 May 1923 - d. 9 Nov 2002)
Williams, Alvin L (b. 1904 - d. 1969)
Williams, Clyde H (b. 24 Mar 1901 - d. 25 May 1978)
Williams, Florence B (b. 25 Sep 1905 - d. 19 Nov 2002)
Williams, Maggie L (b. 1 Jun 1899 - d. 24 Feb 1949)
Williams, Marion O (b. 2 Oct 1927 - d. 21 Jan 1985)
Williams, Mary C (b. 1915 - d. 1948)
Williams, Queen Ester (b. 9 Apr 1910 - d. 11 Jul 1981)
Williams, Thurman Reid (b. 24 Jun 1906 - d. 4 Dec 1990)
Yow, Jimmy Lee Jr (b. 12 Feb 1966 - d. 3 Mar 1989)
Web page updated 13 May 2017
Index of All Cemeteries
Alphabetical Index of All Burials
Previous Page