Index of All Cemeteries
Alphabetical Index of All Burials
Previous Page
Use the following to search across all the cemeteries listed.
Example: "Smith, Roger" (yes, use the quotes)
068 HOPEWELL UNITED METHODIST CHURCH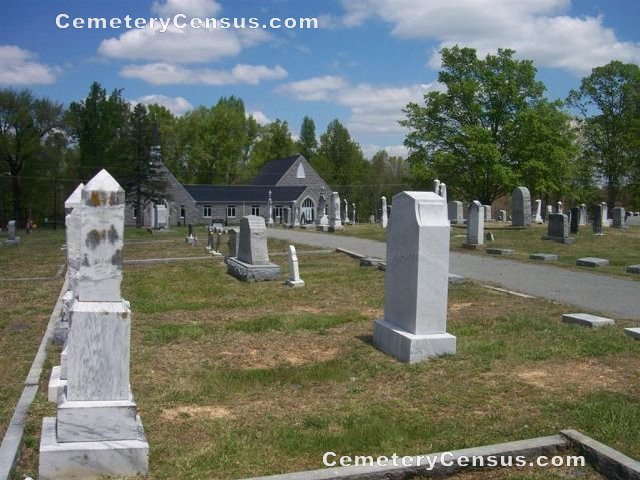 Location - at the corner of Hopewell Church Rd (SR-1558) and Morris Rd (SR-1557).

Coordinates: 35d 51m 15.6s N; 79d 59m 54.0s W Click here for Google maps

Survey based on obituary listings provided by Wayne Ham and Laurell Ham, Randleman, NC in December 2009. Photographs by Wayne Ham.

This is a partial listing.


Branson, Isaac N (Pvt.) (b. 2 Mar 1843 - d. 3 Jun 1866)
Branson, Thomas A (Capt.) (b. 5 Feb 1833 - d. 21 Aug 1864)
Brown, Beatice Hunt (b. 6 Aug 1900 - d. 18 Jun 1966)
Brown, Dennis Charles (b. 21 Apr 1920 - d. 11 Oct 2008)
Brown, Ella Page Peeples (b. 14 Jan 1941 - d. 3 Aug 1961)
Brown, Florence Clementine Billings (b. 21 Jun1885 - d. 14 Nov 1961)
Burton, Marion Edward (b. 23 Oct 1874 - d. 30 Dec 1924)
Burton, Martha Ann Singleton (b. 13 Feb 1869 - d. 21 Aug 1942)
Combs, William Travis (b. 31 Jan 1974 - d. 24 Jul 2008)
Elder, John (b. 15 Jan 1808 - d. 21 Dec 1873)
Elder, Paulina Elliott (b. 12 Oct 1817 - d. 7 Apr 1871)
English, Daisy Floyd (b. 1 Oct 1885 - d. 22 Sep 1963)
Floyd, Bazzel C (b. 1851 - d. 1938)
Floyd, Charles Lee (b. 3 Aug 1916 - d. 19 Dec 2001)
Floyd, Charles R (b. 12 Apr 1882 - d. 23 Mar 1938)
Floyd, Clara Kennedy (b. 11 May 1921 - d. 10 Oct 2002)
Floyd, Essie Miller (b. 31 May 1921 - d. 22 Dec 1991)
Floyd, Fatima J Briles (b. 1850 - d. 1920)
Floyd, G W (b. 1822 - d. 1898)
Floyd, Laura Ann (b. 1823 - d. 1914)
Floyd, Lula Kate Williams (b. 16 Mar 1894 - d. 4 May 1974)
Floyd, Mamie Royals (b. 22 Apr 1885 - d. 7 Mar1949)
Floyd, Thomas Cicero (b. 9 Sep 1890 - d. 11 Oct 1958)
Gray, Rubert Harper (b. 18 Jan 1831 - d. 16 Mar 1863)
Johnson, David M (b. Unknown - d. 10 Sep 1919)
Johnson, DeWitt Clinton, Jr (b. 28 Feb 1857 - d. May 1857)
Johnson, DeWitt Clinton, Sr (Capt.) (b. 25 Sep 1814 - d. 6 Mar 1886)
Johnson, Eliza Dear (b. 6 Feb 1826 - d. 4 Jul 1902)
Johnson, Harvey (b. 29 Oct 1852 - d. 18 Feb 1854)
Johnson, John (Capt.) (b. 12 May 1745 - d. 14 May 1802)
Johnson, Manliff O (b. 11 Nov 1859 - d. 11 Dec 1902)
Johnson, Margaret (b. 29 Jun 1792 - d. 2 Nov 1866)
Johnson, Parthenia (b. 12 Feb 1834 - d. 22 Apr 1923)
Johnson, William (b. 13 Sep 1848 - d. 21 Jun 1849)
Jordan, John Roland (b. 19 Jan 1803 - d. 5 Feb 1961)
Jordan, Minnie J Welborn (b. 4 Oct 1868 - d. 22 Mar 1956)
Kennedy, Henry (b. 9 Jul 1913 - d. 21 Oct 2002)
Leach, James Franklin (b. 7 Apr 1830 - d. 8 Jun 1900)
Leach, James Madison (b. 17 Jan 1815 - d. 1 Jun 1891)
Leach, Lewis Morgan (b. 25 Jul 1800 - d. 23 Aug 1893)
Leach, Nancy Brown (b. 23 Oct 1782 - d. 19 Jul 1867)
Leach, Nancy Elder (b. 24 Jan 1804 - d. 13 May 1881)
Leach, William (b. 3 Mar 1784 - d. 27 Jul 1835)
McLead, Jessica Renae (b. 1988 - d. 23 Jan 2008)
Miller, Berchie Walker (b. 24 Feb 1875 - d. 22 Mar 1955)
Miller, D Worth (b. 29 Oct1909 - d. 14 Sep 1985)
Miller, Dora Pesce (b. 15 Sep 1910 - d. 10 Feb 2001)
Miller, Hugh L (b. 5 Jun 1870 - d. 28 Oct 1936)
Miller, Mary E Royals (b. 20 Jul 1874 - d. 8 May 1954)
Miller, Maude Bernice (b. 10 Aug 1907 - d. 10 Dec 1907)
Miller, May E Royals (b. 20 Jul 1874 - d. 8 May 1954)
Miller, Robert Glenn (b. 1 Aug 1902 - d. 3 Dec 1912)
Miller, William Walker (b. 31 Jul 1908 - d. 29 May 1980)
Miller, Willie Branson (b. 13 Sep 1882 - d. 6 Sep 1954)
Moody, Sarah Marie (b. Unknown - d. 4 Jun 2007)
Payne, David Madison (b. 25 May 1827 - d. 4 Jan 1905)
Payne, Loutitia Hannah Leach (b. 29 Sep 1828 - d. 8 Jun 1901)
Royals, Rev Worth Burton (b. 1 Feb 1919 - d. 14 Jun 1969)
Royals, Royce Lee (b. 19 Mar 1914 - d. 17 Nov 1993)
Royals, Ruth Floyd (b. 17 Jan 1917 - d. 26 Apr 1997)
Thayer, Allen Ried (b. 14 Dec 1950 - d. 9 Dec 1997)
Welborn, Allie M (b. 30 Jul 1889 - d. 30 Nov 1911)
Welborn, Calvin H (b. 1 Dec 1836 - d. 10 Jan 1923)
Welborn, Ettie Briles (b. 20 Nov 1890 - d. 17 Oct 1971)
Welborn, Fatima Jane (b. 7 Jun 1847 - d. 10 Mar 1942)
Welborn, George Dennis (b. 30 Jan 1881 - d. 3 Nov 1930)
Welborn, Joseph P (b. 25 Apr 1840 - d. 6 Jul 1907)
Welborn, Lamma (Lieut.) (b. 1 Dec 1836 - d. 26 Jun 1862)
Welborn, Malissie M Royals (b. 17 Jun 1843 - d. 23 May1930)
Welborn, Margaret Catherine Veach (b. 1 Jul 1846 - d. 17 Jun 1891)
Welborn, McGruder Elmer (b. 20 Nov 1884 - d. 26 Mar 1984)
Welborn, Pricilla Wood (b. 3 Oct 1803 - d. 13 May 1885)
White, Nettie Kennedy (b. 7 Feb 1884 - d. 21 Nov 1963)
Web page updated 13 May 2017
Index of All Cemeteries
Alphabetical Index of All Burials
Previous Page