Index of All Cemeteries
Alphabetical Index of All Burials
Previous Page
Use the following to search across all the cemeteries listed.
Example: "Smith, Roger" (yes, use the quotes)
067 HOLLY'S CHAPEL PENTECOSTAL HOLINESS CHURCH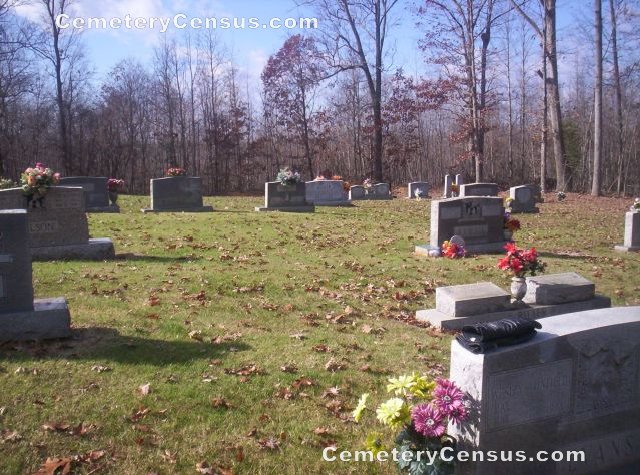 Location - at 8003 Ferguson Rd (SR-2479) off of Hwy 49.

Coordinates: 35d 46m 57.1s N; 79d 36m 17.4s W Click here for Google maps

Survey provided by Wayne Ham and Laurell Ham, Randleman, NC in December 2009. Photographs by Wayne Ham.

This is a complete listing as of December 1, 2009.


Bailey, Winford (b. 1933 - d. 1958)
Beane, Cristopher Todd (b. 2 Jun 1966 - d. 24 Jan 2001)
Benson, Joyce Bolene (b. 22 Aug 1926 - d. 10 Sep 1991)
Coble, Eli Bryan (b. 2 Mar 1898 - d. 14 Jan 1976)
Coble, Helda B (b. 20 Aug 1934 - d. 3 Dec 1999)
Coble, Nellie Robinson (b. 3 Jan 1906 - d. 22 Sep 1990)
Cochrane, Cline M (b. 29 Oct 1910 - d. 11 Jan 1982)
Cochrane, Wena R (b. 30 May 1906 - d. 4 Aug 1971)
Cooper, Doris Hicks (b. 4 May 1936 - d. 10 Dec 2007)
Cooper, William Lee Sr (b. 19 Apr 1935 - d. 28 Jun 1998)
Cox, A Donald (b. 5 Jun 1910 - d. 30 Jan 1981)
Cox, Bessie H (b. 15 Jan 1915 - d. 21 May 1997)
Cranford, Causey Isaac (b. 2 Sep 1888 - d. 22 Apr 1967)
Cranford, James Isaac (Rev) (b. 15 Oct 1926 - d. 19 Oct 2009)
Cranford, Mattie Poole (b. 18 Jun 1894 - d. 19 Nov 1974)
Epps, Infant (b. 1962 - d. 1962)
Evans, Wesley Winfred (b. 25 May 1911 - d. 17 Mar 1993)
Garland, Clarence Ray (b. 17 Feb 1929 - d. 22 Nov 2004)
Hiatt, Everett H (b. 13 Feb 1906 - d. 11 Jan 1963)
Hiatt, Grayson (b. 9 Dec 1919 - d. 8 Mar 1973)
Hiatt, Jackie E (b. 5 Mar 1941 - d. 16 Aug 1963)
Honeycutt, Dallas O'Dell (b. 14 Apr 1919 - d. 24 Sep 1968)
Honeycutt, Edna Cranford (b. 7 Apr 1920 - d. 27 Aug 1995)
Hughes, Dorothy W (b. 6 Apr 1920 - d. 14 Sep 2001)
Jernigan, Nora Dairs (b. 25 Jul 1903 - d. 4 Jun 1985)
Jones, Faye Lambert (b. 30 May 1946 - d. 30 Sep 1993)
Jordan, Robert Darryl (b. 1961 - d. 1998)
Jordan, Roy Thomas (b. 1937 - d. 2004)
Kennedy Jody Ray (b. 7 Mar 1979 - d. 5 Dec 2007)
Lambert, Donnie Pugh (b. 7 Oct 1898 - d. 28 Feb 1981)
Lambert, Howard W (b. 13 Sep 1914 - d. 20 Dec 1986)
Lambert, Odell F (b. 18 Feb 1890 - d. 8 May 1977)
Lambert, Velma K (b. 28 Jun 1916 - d. 19 Aug 1985)
Langley, Camilie (b. 1975 - d. 1975)
Light, Edgar K (b. 24 Aug 1942 - d. 19 Jan 2009)
Mabe, Lillie G (b. 23 Oct 1907 - d. 21 Oct 1973)
Mabe, Paul E (b. 1927 - d. 1956)
Mabe, Raleigh W (b. 28 Aug 1900 - d. 12 Jun 1986)
Mabe, Vern (b. 23 Mar 1921 - d. 19 Aug 1969)
Mayhugh, Josephy F (b. 12 Mar 1949 - d. 21 Feb 1986)
Melvin, Ada S (b. 27 May 1905 - d. 9 Apr 1983)
Melvin, Monroe R (b. 11 Jan 1897 - d. 20 Apr 1971)
O'Ham, Ida P (b. 1904 - d. 1972)
O'Ham, J L (Rev.) (b. 1901 - d. 1988)
Parks, Franklin Dorsett (b. 4 Nov 1930 - d. 14 Feb 2006)
Parks, Lottie Suzie (b. 13 Mar 1938 - d. 6 Jul 1985)
Parks, Merrell Blaine (b. 14 Apr 1963 - d. 2 Oct 1985)
Phelps, Edmond M (b. 15 Jul 1903 - d. 30 Jun 1985)
Phelps, Mable C (b. 29 Mar 1887 - d. 26 May 1965)
Powell, R G (b. 24 Oct 1941 - d. 1 Jan 1995)
Pugh, Bertha M (b. 13 Sep 1910 - d. 26 May 1921)
Pugh, Carl Melvin (b. 5 Dec 1899 - d. 18 May 1981)
Pugh, Carson Elvin (b. 6 Jan 1918 - d. 11 Jun 1980)
Pugh, Emma Blanche New (b. 21 Nov 1909 - d. 7 Jun 1996)
Pugh, Fletcher F (b. 10 Aug 1908 - d. 7 Mar 2004)
Pugh, Roosevelt (b. 16 Feb 1899 - d. 3 Apr 1979)
Pugh, Ruby Wright (b. 6 Oct 1916 - d. 15 Oct 1977)
Rea, Thomas Phillip (b. 14 Aug 1939 - d. 3 Jun 2006)
Richardson, Annie Jane (b. 17 Jul 1884 - d. 26 May 1967)
Richardson, Millard Franklin (b. 11 Nov 1888 - d. 25 Jul 1972)
Riley, Addie H (b. 28 May 1892 - d. 22 Feb 1979)
Riley, Luetta Hayes (b. 7 Oct 1884 - d. 12 Apr 1969)
Ritter, Jewell Wright (b. 24 Sep 1914 - d. 13 Aug 1972)
Ritter, Raymond John (b. 25 Feb 1910 - d. 8 Jul 1980)
Scotten, Addie Pugh (b. 13 Jul 1911 - d. 2 Apr 2007)
Scotten, Marvin W (b. 16 Apr 1911 - d. 14 jan 1966)
Seay, Donnie Hayes (b. 1 Aug 1894 - d. 16 Mar 1982)
Seay, Walter Stuart (b. 1 May 1886 - d. 8 Feb 1969)
Shelton, Leon Junior (b. 16 May 1966 - d. 16 May 1966)
Snody, Nellie (b. 10 Nov 1908 - d. 10 Oct 2000)
Souther, Jannie K (b. 5 May 1883 - d. 17 jan 1976)
Souther, Sanford G (b. 22 Aug 1888 - d. 2 Apr 1981)
Spencer, C Wade (b. 1936 - d. 1999)
Trogdon, James W (b. 29 Dec 1909 - d. 15 Jan 1969)
Trogdon, Orie Lee (b. 18 May 1910 - d. 7 Sep 2001)
Wicker, Donald H (b. 29 May 1935 - d. 17 Nov 2008)
Wilson, Callie Blackwell (b. 2 Mar 1905 - d. 30 May 1978)
Wilson, John (b. 6 Jan 1902 - d. 16 Oct 1973)
Wright, Clarence K (b. 8 Jan 1925 - d. 24 Mar 1970)
Wright, Glenn Paul (b. 11 May 1910 - d. 28 Apr 1989)
Wright, John D (b. 27 Apr 1892 - d. 26 Feb 1966)
Wright, Keith N (b. 23 Mar 1950 - d. 19 Jan 2003)
Wright, Pamela S (b. 14 Sep 1963 - d. 23 Sep 2008)
Wright, Rosa Kivett (b. 27 Jul 1889 - d. 4 Feb 1969)
Web page updated 13 May 2017
Index of All Cemeteries
Alphabetical Index of All Burials
Previous Page