Index of All Cemeteries
Alphabetical Index of All Burials
Previous Page
Use the following to search across all the cemeteries listed.
Example: "Smith, Roger" (yes, use the quotes)
062 RICHLAND BAPTIST CHURCH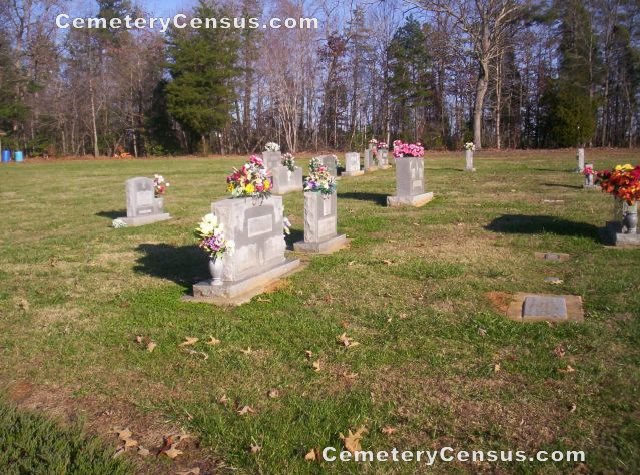 Location - 2323 Old Humble Mill Rd (SR-2830) between Latham Harvell Rd and Sun Beam Ct.

Coordinates: 35d 39m 20.5s N; 79d 45m 17.4s W Click here for Google maps

Survey based on obituary listings provided by Wayne Ham and Laurell Ham, Randleman, NC in November 2009. Photographs by Wayne Ham.

This is a partial listing.


Atkins, Anita Jarrell (b. 7 Mar 1956 - d. 25 Mar 1989)
Atkins, Tammy Jane (b. 18 May 1983 - d. 18 May 1983)
Burroughs, James Arthur (b. 27 Jan 1918 - d. 14 Jun 1984)
Carter, James Calvin (b. 18 Nov 1927 - d. 2 Sep 1994)
Chriscoe, Janie Burroughs (b. 19 Mar 1946 - d. 8 Sep 1984)
Cooper, Arlie G (b. 10 Mar 1915 - d. 16 May 1992)
Cooper, Everett Lee (b. 14 Jul 1935 - d. 6 Feb 2004)
Cooper, Grace T (b. 17 Apr 1918 - d. 10 Apr 1986)
Cooper, W Robert (b. 1937 - d. 1988)
Cooper, William Paul (b. 23 Jun 1941 - d. 24 Oct 2003)
Garner, Emily Singletary (b. 1 Aug 1947 - d. 18 Apr 1999)
Garner, Mirtie Cooper (b. 31 Apr 1908 - d. 31 May 1995)
Hancock, Bobby Ray (b. 26 Sep 1945 - d. 9 Jun 1987)
Henley, Jeffrey Dean (b. 12 Dec 1959 - d. 4 Mar 1998)
Humble, Fritz Herschel (b. 14 Jun 1924 - d. 11 Mar 1992)
Humble, James Edgar (b. 22 Aug 1943 - d. 31 Aug 1988)
Humble, Thomas E (b. 17 Mar 1964 - d. 26 Feb 1987)
Hunt, Westley Cramer (b. 1934 - d. 30 Sep 2007)
Jarrell, Gary Franklin Jr (b. 19 Apr 1935 - d. 20 Mar 2009)
Latham, Margaret E Jarrell (b. 27 Jan 1934 - d. 8 Apr 1987)
McPherson, Ben W. (Rev.) (b. 1897 - d. 1975)
McPherson, Eunice Barnes (b. 1909 - d. 2006)
Parks, Heath Bradley (b. 16 Nov 1998 - d. 16 Nov 1998)
Roody, Alvin John (b. 1958 - d. 6 May 2009)
Rush, John Maxton (b. 18 Jun 1958 - d. 11 Oct 2009)
Smith, Eula (b. 24 Sep 1922 - d. 5 Dec 1987)
Waisner, John Harlton (b. 9 May 1918 - d. 28 Oct 1989)
Waisner, Mary Cagle (b. 19 Sep 1921 - d. 5 Jan 2001)
Yow, Eugene Clifton (b. 13 Dec 1967 - d. 24 Nov 2006)
Web page updated 13 May 2017
Index of All Cemeteries
Alphabetical Index of All Burials
Previous Page