Index of All Cemeteries
Alphabetical Index of All Burials
Previous Page
Use the following to search across all the cemeteries listed.
Example: "Smith, Roger" (yes, use the quotes)
048 MT. LEBANON UNITED METHODIST CHURCH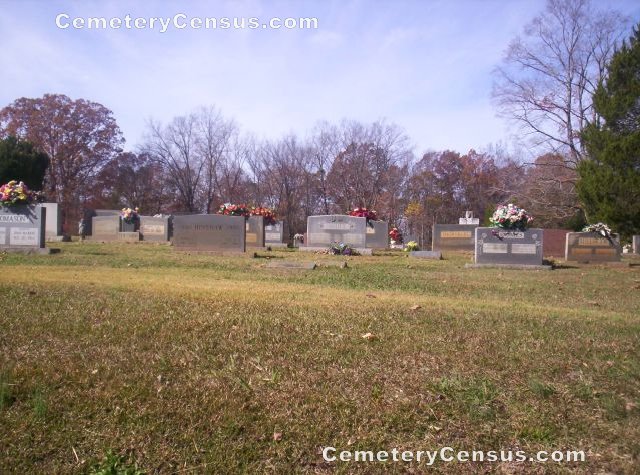 Location - West River Drive off of N. Main St, Randleman.

Coordinates: 35d 49m 36.3s N; 79d 48m 14.5s W Click here for Google maps

Survey based on obituary listings provided by Wayne Ham and Laurell Ham, Randleman, NC in November 2009 and April 2010. Photographs by Wayne Ham.

This is a complete listing as of April 2010.


Allred, Bertha Gray (b. 1900 - d. 1997)
Allred, Carl (b. 1896 - d. 1954)
Allred, Dora M (b. 1868 - d. 5 Apr 1930)
Allred, Earl (b. 1 Mar 1893 - d. 22 Aug 1948)
Allred, Edna Jeanette (b. 18 Nov 1907 - d. 30 Jan 1996)
Allred, George D (b. 17 May 1924 - d. 13 Jul 2005)
Allred, George Dewey (b. 17 May 1924 - d. 13 Jul 2005)
Allred, Howard Worth (b. 22 Mar 1925 - d. 5 Dec 1926)
Allred, Mattie L (b. 24 Nov 1896 - d. 7 Jul 1980)
Allred, Minner Hill (b. 12 May 1923 - d. 20 Dec 2006)
Allred, Nettie (b. 1886 - d. 1950)
Allred, Pauline L (b. 28 Jun 1925 - d. 17 Feb 2002)
Allred, Pauline Lamb (b. 28 Jun 1925 - d. 17 Feb 2002)
Allred, Richard E (b. 24 Jan 1921 - d. 18 Apr 1990)
Allred, Ruby E (b. 1914 - d. 1931)
Allred, Samuel G (b. 1860 - d. 8 Oct 1932)
Allred, Sarah S (b. 22 Sep 1859 - d. 5 May 1896)
Allred, Virginia Mae (b. 23 Apr 1900 - d. 5 May 1977)
Anderson, Cornelius C (b. 11 Nov 1861 - d. 5 May 1933)
Anderson, Edgar (b. 30 May 1915 - d. 12 Aug 1937)
Anderson, Emma (b. 14 Feb 1872 - d. 29 Aug 1954)
Anderson, Infant (b. 1922 - d. 1922)
Anderson, Margie (b. 1917 - d. 1920)
Bain, Lynda Carter (b. 1806 - d. 2 Dec 1881)
Baker, Rossie Lee Sr (b. 16 Aug 1927 - d. 27 Apr 1975)
Barber, Helen O (b. 20 Feb 1910 - d. 12 Jan 1929)
Barber, Luther T (b. 2 Jun 1893 - d. 12 Apr 1918)
Barber, Paullie Hill (b. 22 Feb 1893 - d. 25 Aug 1965)
Barker, Arrington (b. 1866 - d. 1936)
Barker, Ellen M (b. 1883 - d. 1968)
Barker, Hosea Jackson (b. 24 Dec 1838 - d. 24 Mar 1893)
Barker, Lucilla Holloman (b. 1 Nov 1843 - d. 20 Nov 1927)
Barker, Walter G (b. 10 Sep 1856 - d. 31 Aug 1912)
Barkers, Eliza Reynolds (b. 27 Apr 1845 - d. 11 Apr 1928)
Bean, Infant (b. 13 Jun 1939 - d. 13 Jun 1939)
Bean, Infant (b. 22 Mar 1932 - d. 23 Mar 1932)
Bean, W H (b. 1 Jun 1873 - d. 3 Mar 1908)
Beane, Kate H (b. 1902 - d. 1975)
Beane, Lessie A (b. 1898 - d. 1963)
Beane, Lester Bruce (b. 1921 - d. 1939)
Beasley, Alfred B (b. 1881 - d. 1951)
Beasley, Ollie Fentress (b. 1904 - d. 1967)
Bell, A Fleming (b. 1921 - d. 1956)
Bell, Allie A (b. 18 Oct 1822 - d. 2 Feb 1895)
Bell, Annie Smith (b. 9 Jan 1921 - d. 21 Nov 1996)
Bell, Rachel (b. 28 Feb 1861 - d. 25 Nov 1886)
Bennett, Evelyn Leigh Frazier (b. 24 Nov 1924 - d. 15 Apr 1983)
Bowman, Jack T (b. 14 Sep 1925 - d. 1 Sep 1973)
Bowman, Nannie Steed (b. 4 Mar 1879 - d. 29 Jul 1968)
Bowman, Sam N (b. 10 Feb 1874 - d. 29 Jul 1968)
Bowman, Sam Nathan Jr (b. 23 Jan 1915 - d. 25 Jun 1944)
Brewer, Hannah (b. 1858 - d. 1936)
Brewer, Hattie Pearl (b. 17 Dec 1912 - d. 17 Jan 1913)
Brewer, William Taylor (b. 10 Jun 1858 - d. 23 Aug 1891)
Briles, Eliza Walker (b. 15 Nov 1841 - d. 26 Aug 1926)
Briles, Rebecca Mariah (b. 9 Jun 1882 - d. 9 Jan 1975)
Broach, Michael Cody (b. 1 Jul 1998 - d. 13 Aug 1998)
Broach, Noah Daniel (b. 24 May 1999 - d. 12 Aug 1999)
Brookshire, Alice L (b. 1879 - d. 1961)
Brookshire, B Burton (b. 24 Mar 1908 - d. 28 Jan 1968)
Brookshire, Elwood C (b. 1912 - d. 1942)
Brookshire, G L (b. 1873 - d. 1933)
Brookshire, Vernon R (b. 1910 - d. 1912)
Brown, Charles (b. 1882 - d. 1921)
Brown, Infant (b. 15 Jul 1934 - d. 15 Jul 1934)
Brown, J Richard (b. 9 Feb 1908 - d. 7 Jan 1957)
Brown, James M (b. 1878 - d. 1918)
Brown, John G (b. 1885 - d. 1958)
Brown, Leard A Junita (b. 15 Jul 1934 - d. 15 Jul 1934)
Brown, Margaret Harrell (b. 6 Sep 1906 - d. 12 Oct 1986)
Brown, Mary M Myrich (b. 25 May 1848 - d. 8 Sep 1924)
Brown, Sallie P (b. 1887 - d. 1966)
Brown, Sara Everly (b. 1919 - d. 1932)
Brown, Thomas Jackson (b. 20 Jun 1911 - d. 13 Jul 1974)
Bulla, Archabal Nixon (b. 24 Mar 1869 - d. 22 Oct 1951)
Bulla, Dora, J (b. 4 Aug 1872 - d. 24 Jan 1958)
Bullard, Infant (b. 28 Sep 1897 - d. 28 Jun 1898)
Burgess, Barbra H (b. 2 Nov 1843 - d. 20 Jul 1911)
Burgess, Eli C (b. 21 May 1851 - d. 15 Mar 1948)
Burgess, Mary Etta (b. 4 Dec 1886 - d. 24 Feb 1909)
Burgess, Theodore C (b. 10 Jul 1875 - d. 11 Dec 2003)
Burgess, Thomes D (b. 18 Sep 1882 - d. 25 Feb 1908)
Caffin, P Franklin (b. 9 Oct 1935 - d. 10 Oct 1935)
Canoy, Margaret Lorraine (b. 5 Dec 1925 - d. 13 Jan 2000)
Canoy, Roby L (b. 30 Sep 1927 - d. 25 Oct 1978)
Carmon, James (b. 17 Feb 1916 - d. 13 Apr 1916)
Carr, Anne L Muti (b. 1924 - d. 1987)
Carr, Joseph T (b. 1913 - d. 1981)
Cassidy, Margaret Brown (b. 15 Mar 1921 - d. 26 May 1984)
Caudle Frances Brawner (b. 21 May 1885 - d. 30 Oct 1933)
Caudle, A B (b. 30 May 1864 - d. 15 Jan 1946)
Caudle, Ardella (b. 1 Dec 1837 - d. 24 Dec 1803)
Caudle, Callie L (b. 15 Apr 1807 - d. 23 Jul 1860)
Caudle, Charlie L (b. 13 Mar 1902 - d. 13 Oct 1902)
Caudle, Clara C (b. 30 Dec 1906 - d. 14 Jun 1908)
Caudle, Cornie Olivia (b. 11 Aug 1876 - d. 3 Dec 1946)
Caudle, Doris Elaine (b. 25 Dec 1921 - d. 24 Mar 1922)
Caudle, E F (b. 12 Oct 1874 - d. 20 Oct 1960)
Caudle, Elizabeth (b. 1812 - d. 8 Feb 1891)
Caudle, Elizabeth Teague (b. 31 Aug 1867 - d. 10 Jan 1909)
Caudle, Eula May (b. 3 Jun 1887 - d. 1 Feb 1977)
Caudle, Fannie Griffie (b. 16 Apr 1871 - d. 17 Apr 1907)
Caudle, Freda Sinclair (b. 12 Nov 1896 - d. 14 Feb 1932)
Caudle, Hallie L (b. 13 Nov 1872 - d. 7 Sep 1930)
Caudle, J V (b. 18 May 1870 - d. 10 Apr 1931)
Caudle, James Nettleton (b. 7 Feb 1832 - d. 2 Dec 1918)
Caudle, Jennie V (b. 4 Jul 1864 - d. 10 Jun 1960)
Caudle, Jessie G (b. 3 Sep 1894 - d. 1 Dec 1897)
Caudle, Joseph Clarence (b. 8 Feb 1896 - d. 22 Aug 1954)
Caudle, Joseph Paul (b. 25 Dec 1897 - d. 21 Apr 1952)
Caudle, Josephine Taylor (b. 10 Aug 1878 - d. 4 Jul 1968)
Caudle, Lanney (b. 10 Jul 1861 - d. 8 Apr 1871)
Caudle, Leonidas Muford (b. 31 Jan 1859 - d. 12 Mar 1924)
Caudle, Pyrena m (b. 30 Nov 1890 - d. 6 Sep 1892)
Caudle, Sue M (b. 18 Dec 1864 - d. 13 Oct 1906)
Caudle, Teddy (b. 6 Aug 1906 - d. 30 May 1908)
Caudle, Willie (b. 23 Jun 1896 - d. 8 Sep 1991)
Causey, Infant Son (b. 31 Mar 1930 - d. 31 Mar 1930)
Chandler, Jamie (b. Jul 1900 - d. Nov 1900)
Chandler, Margaret Brown (b. 15 Mar 1921 - d. 26 May 1984)
Chatel, Brenda Faye (b. 20 Mar 1960 - d. 16 Feb 1997)
Cleason, Lucille Jarrett (b. 21 Jul 1916 - d. 2 Jan 1993)
Collins, H C (b. 1848 - d. 1918)
Cook, Billy Lee (b. 2 Sep 1921 - d. 25 Oct 1935)
Cook, John W (b. 11 Mar 1889 - d. 26 Jun 1978)
Cook, Ollie W (b. 10 Jan 1896 - d. 12 Oct 1979)
Cox, Crinnie (b. 6 Sep 1878 - d. 11 Aug 1904)
Cox, D Loyd (b. 23 Mar 1902 - d. 30 Nov 1934)
Crater, Buren Hartsell (b. 20 Sep 1930 - d. 12 Mar 2003)
Craven, Roger Dale (b. 21 Nov 1955 - d. 18 Jul 1974)
Cross, Sarah Jane Turner (b. 15 Sep 1851 - d. 1 Mar 1942)
Daniel, Arthur Kenneth Sr (b. 1 Jan 1910 - d. 13 May 2008)
Daniel, Katherine Harden (b. 1 Apr 1908 - d. 30 Jan 2001)
Daniel, Mary V (b. 30 Aug 1846 - d. 2 Feb 1889)
Daniels, Bessie W (b. 31 Oct 1908 - d. 16 Feb 2000)
Daniels, Grace W (b. 1884 - d. 1973)
Daniels, John A (b. 1878 - d. 1950)
Daniels, Lezzia C (b. 3 Oct 1879 - d. 17 Feb 1892)
Daniels, Paul (b. 19 Feb 1908 - d. 8 Jan 1981)
Davis, Catherine (b. 5 Nov 1849 - d. 28 Jul 1903)
Davis, J T (b. 12 Jan 1876 - d. 10 Feb 1904)
Davis, S Y (b. 8 Jul 1836 - d. 6 Jul 1909)
Dean, Annie A (b. 1888 - d. 1908)
Dean, Bertie R (b. 1873 - d. 1873)
Dean, Ida Bell (b. 18 Jul 1884 - d. 19 Sep 1893)
Dean, James O (b. 1892 - d. 1920)
Dean, Mamie (b. 1884 - d. 25 May 1904)
Dean, Mary Jane (b. 1883 - d. 1883)
Dean, Sarah A (b. 1850 - d. 1928)
Dean, Troy E (b. 1851 - d. 1923)
Dean, William (b. 8 Sep 1869 - d. 26 Aug 1930)
Dean, William A (b. 1878 - d. 1890)
Deaton, Mattie E (b. 16 Dec 1878 - d. 20 Jan 1913)
Deweese, Ruby Mae L (b. 16 Oct 1910 - d. 19 May 1996)
Dixon, Bertha Ida Cain (b. 22 Sep 1910 - d. 4 May 2001)
Dixon, James Hal (b. 22 Aug 1938 - d. 29 Dec 1970)
Dixon, John C (b. 1912 - d. 1958)
Earnhardt, Ann Lovette (b. 1 Mar 1925 - d. 9 Jan 2002)
Earnhardt, Grover L (b. 1886 - d. 1954)
Earnhardt, Grover Nick (b. 17 Apr 1923 - d. 28 Mar 1979)
Earnhardt, Henriette C (b. 1911 - d. 1987)
Earnhardt, Homes E (b. 1905 - d. 1951)
Earnhardt, John L (b. 5 Aug 1919 - d. 27 Sep 1986)
Earnhardt, Leatha E (b. 1886 - d. 1970)
Edward, Bobbie Ann (b. 6 Jul 1925 - d. 5 Aug 2003)
Elliott, George W (b. 18 Mar 1871 - d. 23 Jun 1933)
Elliott, Julia Ann (b. 4 Jun 1957 - d. 24 May 1959)
Ellison ,William L (b. 10 Nov 1854 - d. 18 Jun 1855)
Ellison, Rachel (b. Unknown - d. 23 May 1856)
Elmore, Clarence R (b. 18 May 1898 - d. 1 Aug 1949)
Elmore, Elizabeth C (b. 7 Aug 1840 - d. 17 Aug 1892)
Elmore, Elizabeth Slake (b. 1851 - d. 1942)
Elmore, Grayson (b. 12 Sep 1928 - d. 8 Dec 1928)
Elmore, J B (b. 8 Aug 1839 - d. 3 Jan 1925)
Elmore, Lonna B (b. 10 Mar 1823 - d. 11 Mar 1823)
Elmore, Louisa (b. 1838 - d. 31 May 1906)
Elmore, Lucy Annie (b. 1841 - d. 8 Jan 1924)
Elmore, Mary J (b. 18 Apr 1883 - d. 17 Jan 1891)
Elmore, Maude Russell (b. 26 Jun 1898 - d. 13 Jun 1936)
Elmore, Nora (b. 13 Jun 1870 - d. 21 Jul 1917)
Elmore, R Maxine (b. 24 Jul 1916 - d. 1 Jun 1917)
Everhart, Charles Brewer (b. 3 Jun 1906 - d. 8 Feb 1970)
Everhart, Charles E (b. 21 Dec 1875 - d. 23 Nov 1945)
Everhart, Malinda (b. 1859 - d. 1943)
Everhart, Martha Brewer (b. 9 Aug 1878 - d. 27 Nov 1951)
Farlow, Effie Mae Small (b. 8 Aug 1918 - d. 18 Mar 2004)
Farlow, Hazel F (b. 1898 - d. 1982)
Farlow, Robert Franklin (b. 21 Feb 1944 - d. 10 Dec 2008)
Farlow, Theresa E (b. 17 Oct 1921 - d. 14 Sep 1999)
Farlow, Troy E (b. 1891 - d. 1951)
Farlow, William F (b. 4 Sep 1918 - d. 16 Aug 1983)
Farmer, Donna (b. 29 Mar 1868 - d. 17 Feb 1902)
Fentress, J H (b. 1870 - d. 1940)
Fentress, Marcia (b. 1873 - d. 1948)
Ferree, Paul W (b. 3 Jul 1912 - d. 4 Jul 1990)
Ferree, Ruby Barber (b. 26 May 1913 - d. 15 May 1974)
Fields, Cyntha Rebecca (b. 1849 - d. 1926)
Fields, Ethel McMasters (b. 8 May 1920 - d. 24 Oct 2003)
Fields, Etta L (b. 1894 - d. 1977)
Fields, J Ira (b. 1901 - d. 1974)
Fields, Jack R (b. 19 Aug 1920 - d. 15 Nov 1996)
Fields, James Madison (b. 11 Feb 1844 - d. 28 Nov 1919)
Fields, Minnie Jane (b. 14 Sep 1975 - d. 23 Mar 1958)
Fields, William M (b. 5 Dec 1935 - d. 22 Jul 1936)
Fitzwater, W M (Rev.) (b. 16 Jul 1847 - d. 4 Apr 1919)
Fogleman, Charlie (b. 1881 - d. 1954)
Fogleman, David L (b. 1857 - d. 1941)
Fogleman, David Monroe Jr (b. 4 Nov 1961 - d. 4 Dec 2001)
Fogleman, John R (b. 6 Apr 1889 - d. 6 May 1907)
Fogleman, Lettie (b. 1883 - d. 1954)
Fogleman, Lois Joan (b. 12 May 1952 - d. 24 Jul 2000)
Fogleman, Martha E (b. 14 Feb 1864 - d. 12 Mar 1922)
Fogleman, Mary Reitzel (b. 9 Oct 1931 - d. 23 Jan 2003)
Fogleman, Sarah C (b. 1859 - d. 1941)
Fogleman, W R (b. 21 Nov 1867 - d. 22 Jan 1927)
Foust, Byron Ray (b. 4 Apr 1941 - d. 24 Feb 1979)
Foust, Ruby Alice McCaskill (b. 19 Oct 1920 - d. 10 May 2006)
Foust, Theodore Newton (b. 6 Aug 1914 - d. 18 Apr 1981)
Frazier, Abington C (b. 16 Feb 1870 - d. 28 Dec 1915)
Frazier, Ada Hinshaw (b. 6 Nov 1872 - d. 26 Mar 1948)
Frazier, B F (b. 1860 - d. 1932)
Frazier, E Carl (b. 1896 - d. 1956)
Frazier, Elmer M (b. 11 Mar 1901 - d. 1 Jan 1987)
Frazier, Elwood A (b. 1 Dec 1873 - d. 10 Mar 1926)
Frazier, Emily Davis (b. 18 Feb 1839 - d. 28 Dec 1912)
Frazier, Fannie E (b. 1883 - d. 1970)
Frazier, George A (b. 18 Dec 1871 - d. 22 Oct 1888)
Frazier, Grace F F (b. 20 Jul 1905 - d. 31 Jan 1987)
Frazier, Infant Daug (b. Apr 1886 - d. Apr 1886)
Frazier, J Henry (b. 1881 - d. 1955)
Frazier, James Edwin (b. 1875 - d. 1944)
Frazier, Lillie May (b. 12 May 1900 - d. 13 Jan 1904)
Frazier, Minnie D (b. 12 Aug 1863 - d. 4 Mar 1938)
Frazier, Nancy D (b. 7 Apr 1818 - d. 24 May 1886)
Frazier, Perry (b. 10 Aug 1831 - d. 22 Mar 1882)
Frazier, Phillip Eugene (b. 8 Oct 1922 - d. 11 Jun 1965)
Frazier, Thomas A (b. 28 Dec 1862 - d. 24 Jul 1939)
Frazier, William Max (b. 21 Apr 1918 - d. 19 May 1922)
Frazier, William P (b. 11 Apr 1868 - d. 5 Nov 1888)
Frazier, William P (b. Nov 1901 - d. Nov 1959)
Freeman, Albert L (b. 3 Feb 1901 - d. 18 Jun 1901)
Freeman, Clegg Arnold (b. 27 Oct 1904 - d. 27 Jul 1906)
Freeman, Dewey A (b. 17 Apr 1906 - d. 3 Apr 1951)
Freeman, Eli (b. 7 Mar 1882 - d. 21 Oct 1973)
Freeman, Leita (b. 14 Apr 1894 - d. 10 Sep 1908)
Freeman, Maggie B (b. 27 Dec 1880 - d. 26 Jun 1972)
Freeman, Margaret Gaster (b. 15 Feb 1866 - d. 30 Nov 1919)
Freeman, Nancy A (b. 29 Oct 1858 - d. 29 Mar 1901)
Freeman, Rosetta (b. 21 May 1903 - d. 25 Jul 1904)
Freeman, William H (b. 8 May 1911 - d. 18 May 1913)
Freeman, Winston (b. 1 Sep 1861 - d. 22 Oct 1950)
Galyon, Gary Wayne (b. 15 Jul 1944 - d. 15 Jul 1944)
Galyon, Israel Russell (b. 27 May 1895 - d. 10 May 1962)
Galyon, Myrtle Lee (b. 27 Sep 1898 - d. 12 Jan 1976)
Galyon, Tommy Lee (b. 27 Aug 1928 - d. 14 Aug 1998)
Garner, Beulah D Presnell (b. 5 Sep 1910 - d. 26 Jan 1956)
Gatlin, Evelina E (b. 21 Aug 1874 - d. 11 Jan 1901)
Gatlin, Sarah Ann (b. 3 Jul 1850 - d. 21 Jan 1895)
Gentry, Bessie Freeman (b. 17 Mar 1891 - d. 20 Feb 1913)
Gentry, Infant Daughter (b. 8 Jan 1940 - d. 8 Jan 1940)
Gentry, James W (b. 3 Dec 1817 - d. 13 Sep 1913)
Glascock, Bessie Hanner (b. 14 Apr 1886 - d. 26 Apr 1967)
Glass, Margaret E (b. 1849 - d. 1919)
Glass, T W (b. 1848 - d. 1905)
Glenn, Mae Hanner (b. 11 Nov 1906 - d. 10 Jan 1988)
Glenn, William Mason (b. 11 Nov 1908 - d. 8 Nov 1970)
Graves, Infant (b. 29 Nov 1911 - d. 14 Jan 1912)
Graves, John L (b. 1858 - d. 1930)
Graves, Lucady, (b. 1857 - d. 1941)
Gray, Franklin Booth (b. 4 Oct 1911 - d. 31 Oct 1985)
Gray, J Oscar (b. 26 Jun 1876 - d. 13 Jan 1971)
Gray, Jessie May (b. 3 Jan 1917 - d. 16 Nov 2007)
Gray, John O Jr (b. 15 Oct 1913 - d. 20 Aug 1968)
Gray, Kate B (b. 12 Feb 1882 - d. 12 Apr 1921)
Groce, Lee Rock (b. 17 Feb 1933 - d. 3 Oct 2009)
Grose, Infant Son (b. 11 Sep 1957 - d. 11 Sep 1957)
Hall, James Lee (b. 1874 - d. 1947)
Hall, Maude Wood (b. 1891 - d. 1966)
Hall, Sallie R (b. 1886 - d. 1983)
Hall, Travis Daniel (b. 1881 - d. 1936)
Hammond, Esther B (b. 1905 - d. 1998)
Hammond, Patricia A (b. 1934 - d. 1996)
Hammond, Thomas (b. 1902 - d. 1973)
Hancock, Georgia (b. 22 Feb 1930 - d. 15 Aug 1997)
Hancock, Henry (b. 10 Jul 1895 - d. 24 Jul 1971)
Hancock, Laura L (b. 5 Aug 1899 - d. 4 Oct 1986)
Hanner, C Bernard (b. 23 Nov 1925 - d. 1 Dec 1966)
Hanner, Claudia E (b. 22 Mar 1891 - d. 9 Sep 1906)
Hanner, David A (b. 19 Jul 1867 - d. 29 Jul 1929)
Hanner, Eli Carruthers (b. 11 Jan 1859 - d. 5 Oct 1935)
Hanner, Grayson Talmage (b. 21 Sep 1901 - d. 14 Apr 1934)
Hanner, Ida Elmore (b. 24 Oct 1853 - d. 16 Feb 1936)
Hanner, Isa (b. 18 Oct 1884 - d. 30 Jun 1909)
Hanner, John E (b. 16 May 1894 - d. 15 Sep 1952)
Hanner, Joseph W (b. 9 Dec 1910 - d. 15 Jan 1945)
Hanner, Junius Edward (b. 5 Apr 1897 - d. 18 Dec 1953)
Hanner, Lola G (b. 15 May 1886 - d. 5 Jul 1972)
Hanner, Lula D (b. 6 Jan 1875 - d. 15 Jan 1932)
Hanner, Marvin David (b. 27 Nov 1897 - d. 25 Jul 1949)
Hanner, Mary D (b. 1880 - d. 1881)
Hanner, Paul Obrin (b. 14 Dec 1917 - d. 3 Jun 1922)
Hanner, Rebecca J (b. 1855 - d. 1937)
Hanner, Robert Paige (b. 18 May 1915 - d. 13 May 1979)
Hanner, Roddy A (b. 1857 - d. 1899)
Hannon, Ira Marco (b. 1907 - d. 1947)
Hardin, Aletus (b. 1902 - d. 1972)
Hardin, David F (b. 1855 - d. 1904)
Hardin, Eddie F (b. 1880 - d. 1967)
Hardin, Maude E (b. 1883 - d. 1967)
Hardin, Mozell (b. 1904 - d. 1999)
Hardin, Nancy Wood (b. 2 Dec 1934 - d. 1 Nov 1939)
Hardin, Robert Dewey (b. 1900 - d. 1901)
Hardin, Roxanna (b. 1855 - d. 1930)
Harris, James B Jr (b. 1941 - d. 2009)
Hawgill, Julian (b. 8 Jan 1806 - d. 26 Jan 1880)
Hawkins, Billie C (b. 20 Dec 1933 - d. 1 Aug 1950)
Hawkins, Bobby R (b. 24 Aug 1932 - d. 19 Jun 1955)
Hawkins, Della C (b. 2 Jun 1903 - d. 30 May 1990)
Hawkins, Harry M Jr (b. 9 Jul 1930 - d. 13 Apr 1997)
Hawkins, Harry M Sr (b. 25 Mar 1898 - d. 2 Jun 1981)
Hayes, A F (b. 31 Jul 1859 - d. 3 Mar 1895)
Hayes, James M (b. 10 Jun 1832 - d. 11 May 1922)
Hayes, Kemelia R (b. 6 Jun 1837 - d. 29 Apr 1910)
Henderson, Katherine M (b. 6 Nov 1920 - d. 27 Feb 1998)
Henley, Martha J (b. 1 Apr 1842 - d. 19 Mar 1920)
Hicks, Lucinda (b. 1830 - d. 10 Dec 1909)
Hill, Clara (b. 27 Jul 1883 - d. 6 Apr 1907)
Hill, Dill H (b. 15 Aug 1876 - d. 18 May 1954)
Hill, Ella H (b. 23 Sep 1912 - d. 28 Oct 1954)
Hill, Ethel Mae (b. 1913 - d. 1997)
Hill, George H (b. 28 Jul 1919 - d. 11 Mar 1988)
Hill, James Alvin (b. 1887 - d. 1956)
Hill, Louetta (b. 11 Apr 1872 - d. 8 Dec 1955)
Hill, Mamie Spencer (b. 1896 - d. 1958)
Hill, Nancy Brookshire (b. 21 Jul 1847 - d. 25 Jul 1920)
Hill, Nolan Maurice (b. 16 Jan 1918 - d. 9 Nov 2002)
Hill, Rissie S (b. 11 Jun 1922 - d. 14 Nov 1977)
Hill, Robert L (b. 19 Aug 1917 - d. 22 Jun 1960)
Hill, Rosa H (b. 20 Sep 1879 - d. 27 Oct 1945)
Hill, Ruby York (b. 10 Jul 1923 - d. 24 Mar 1997)
Hilliard, Bessie Ellen Hanner (b. 14 Apr 1886 - d. 26 Apr 1967)
Hilliard, Luther Madison (b. 3 Sep 1886 - d. 1 Aug 1946)
Hinshaw, Annie K (b. 1903 - d. 1983)
Hinshaw, Derinda (b. 21 Jul 1884 - d. 25 Sep 1908)
Hinshaw, Thomas (b. 1828 - d. 3 Aug 1894)
Hinshaw, Thomas A (b. 1899 - d. 1970)
Holder, James Wish (b. 12 Jul 1879 - d. 6 Aug 1951)
Holder, Margia R L (b. 21 Oct 1908 - d. 16 Dec 1908)
Holder, Mary A (b. 24 Jun 1905 - d. 22 Jul 1906)
Holder, Pergie Hillard (b. 11 May 1913 - d. 24 Nov 1913)
Holder, Tishia Hill (b. 25 Dec 1880 - d. 8 Feb 1966)
Holder, Violet Pearl (b. 26 Jul 1910 - d. 11 Sep 1911)
Holland, Bert J (b. 14 Mar 1887 - d. 6 Jun 1969)
Holland, George Jr (b. 23 Aug 1926 - d. 23 Mar 1928)
Holland, George R (b. 8 Aug 1900 - d. 16 Nov 1959)
Holland, Gertrude L (b. 29 May 1887 - d. 11 May 1967)
Holland, Grace Loraine (b. 10 Sep 1906 - d. 26 Oct 1979)
Holland, Jennie (b. 11 Nov 1866 - d. 17 Dec 1922)
Holland, Marie (b. 27 Feb 1925 - d. 9 Mar 1928)
Holland, Martha A (b. 15 Aug 1868 - d. 26 Feb 1966)
Holland, Minnie L (b. 8 Jun 1905 - d. 25 Aug 1973)
Holland, Paul Burton (b. 6 Mar 1918 - d. 10 Mar 1971)
Holland, Robert (b. 4 Nov 1911 - d. 10 Oct 1931)
Holland, Samuel K (b. 13 Mar 1924 - d. 13 Mar 1924)
Holland, William L (b. 1804 - d. 1900)
Holland, William T (b. 6 Feb 1858 - d. 26 May 1927)
Holland, Winslow (b. 6 Aug 1859 - d. 7 Mar 1923)
Hudson, Pauline (b. 18 Apr 1912 - d. 24 Jan 2004)
Hudson, Calvin (b. 4 Jan 1846 - d. 5 Jan 1920)
Hudson, Charlie (b. 13 Nov 1916 - d. 30 Dec 1978)
Hudson, Dorothy L (b. 28 Nov 1927 - d. 28 Nov 1927)
Hudson, E H (b. 9 May 1849 - d. 4 Jan 1917)
Hudson, Elise Lee (b. 11 Jul 1925 - d. 7 Aug 1994)
Hudson, Florence S (b. 6 Jan 1894 - d. 6 Mar 1963)
Hudson, Grace (b. 3 Nov 1914 - d. 28 Aug 2007)
Hudson, Infant Daug. (b. 4 May 1900 - d. 4 May 1900)
Hudson, Infant Son (b. 8 Jun 1903 - d. 8 Jun 1903)
Hudson, James J (b. 23 Feb 1923 - d. 9 Mar 1974)
Hudson, Maggie E (b. 18 May 1870 - d. 15 Apr 1897)
Hudson, Mary M (b. 28 Mar 1802 - d. 16 Aug 1892)
Hudson, Mary Virginia (b. 28 Sep 1910 - d. 29 Apr 2002)
Hudson, Rufus H (b. 12 Jan 1892 - d. 8 May 1966)
Hudson, Sarah F (b. 11 Sep 1868 - d. 17 Jul 1900)
Huges, Eugene (b. 20 Jan 1876 - d. 22 Nov 1928)
Huges, Lewis R (b. 1868 - d. 1940)
Huges, Marshall J (b. 16 Jan 1842 - d. 11 Jul 1932)
Huges, Martha A (b. 3 May 1850 - d. 24 May 1926)
Huges, Nora Belle (b. 16 Jul 1880 - d. 30 Dec 1969)
Huges, W D (b. 16 Dec 1862 - d. 30 Sep 1910)
Hughes, Beatrice P (b. 1869 - d. 1953)
Hughes, Bertha M (b. 15 Apr 1911 - d. 19 Jul 1913)
Ivey, Dwight M (b. 1898 - d. 1932)
Ivey, Joseph (b. 1873 - d. 1932)
Ivey, Loula (b. 30 Jun 1868 - d. 2 Nov 1892)
Ivey, Matilda (b. 11 Oct 1837 - d. 12 Nov 1908)
Ivey, Melford L (b. 12 Sep 1879 - d. 8 Nov 1928)
Ivey, Millie (b. 1992 - d. Sep 1893)
Ivey, Minnie B (b. 1876 - d. 1950)
Ivey, Mollie K (b. 2 Oct 1866 - d. 22 Dec 1950)
Ivey, Pansy Caudle (b. 25 Feb 1885 - d. 7 Feb 1966)
Ivey, William (b. 18 Oct 1825 - d. 19 May 1909)
Ivey, William F (b. 19 Jun 1868 - d. 12 Mar 1946)
Jarrell, Branson (b. 24 Oct 1813 - d. 27 Apr 1901)
Jarrell, Infant Son (b. 13 Jun 1908 - d. 13 Jun 1908)
Jarrell, Jane (b. 20 Mar 1862 - d. 21 Feb 1920)
Jarrell, Louise (b. 22 Jul 1897 - d. 22 Jul 1897)
Jarrell, Marie (b. 4 Aug 1901 - d. 12 May 1922)
Jarrell, Pearlie (b. 6 Oct 1900 - d. 1 Sep 1905)
Jarrett, H Cordella Jarrell Loyal (b. 30 Aug 1891 - d. 31 Sep 1934)
Jarrett, J Franklin (b. 2 Jul 1862 - d. 4 Jul 1936)
Jarrett, Martha L (b. 19 May 1924 - d. 4 Jun 1925)
Jarrett, Martha S (b. 1867 - d. 1962)
Jarrett, Mary Patterson (b. 21 Aug 1878 - d. 16 Jul 1908)
Johnson, Eddie Lee (b. 21 Jun 1904 - d. 26 Apr 1993)
Johnson, Grace McCaskill (b. 1 Mar 1905 - d. 5 Oct 1976)
Johnson, Margeurite Neal (b. 1909 - d. 1995)
Johnston, Minnie L (b. 22 Apr 1877 - d. 23 Jul 1901)
Johnston, Zimri (b. 15 Mar 1834 - d. 31 Mar 1884)
Jordan, Blanche A (b. 1927 - d. 1997)
Kennett, Charlie O (b. 19 Sep 1874 - d. 8 Sep 1937)
Kennett, Dee Laura Graves (b. 22 Oct 1877 - d. 21 Feb 1959)
Kennett, J Franklin (b. 7 Mar 1829 - d. 14 Aug 1915)
Kennett, Mary Ann (b. 12 Nov 1835 - d. 3 Aug 1915)
Kicg, Pearl (b. 25 Aug 1998 - d. 5 Oct 1918)
King, Amos (b. 1906 - d. 1968)
King, Annie Diggs (b. 8 Jul 1872 - d. 18 Feb 1946)
King, Bright (b. Unknown - d. 26 Jan 1974)
King, Edna (b. 10 Apr 1911 - d. 13 May 1912)
King, Rozella (b. 13 Dec 1904 - d. 8 Nov 1931)
King, William (b. 16 Oct 1869 - d. 19 Jan 1933)
Kirkman, Annie R (b. 1897 - d. 1987)
Kirkman, Fair Lee Beane (b. 28 Jul 1916 - d. 28 Dec 2007)
Kirkman, J Frank (b. 29 Jul 1915 - d. 15 Nov 1984)
Kirkman, Lillie Maxine (b. 27 Jan 1917 - d. 27 May 2008)
Kirkman, Margaret (b. 25 Dec 1846 - d. 19 Feb 1904)
Kirkman, William M (b. 1883 - d. 1969)
Kistler, Annie Jane (b. 21 Apr 1933 - d. 13 Jun 1933)
Kistler, Infant (b. 21 Oct 1943 - d. 21 Oct 1943)
Lamb, Allie (b. 7 Aug 1907 - d. 4 May 1911)
Lamb, Annie (b. 26 Oct 1872 - d. 15 Sep 1902)
Lamb, Bynum A (b. 12 Nov 1923 - d. 3 Dec 1987)
Lamb, C W (b. 1897 - d. 1965)
Lamb, Charles H (b. 27 Jan 1919 - d. 11 Jun 1947)
Lamb, Clyde Leon (b. 22 Dec 1951 - d. 7 Jan 1974)
Lamb, Daisy S (b. 1887 - d. 1950)
Lamb, Doris Lineberry (b. 9 May 1921 - d. 30 Sep 1976)
Lamb, Gabriel M (b. 26 Aug 1836 - d. 22 Mar 1897)
Lamb, George D (b. 24 Aug 1944 - d. 20 Jun 1971)
Lamb, Helen V (b. 19 Jul 1920 - d. 9 Jul 1995)
Lamb, J Paul (b. 19 Dec 1913 - d. 12 Nov 1944)
Lamb, J R (b. 15 May 1867 - d. 3 Sep 1926)
Lamb, Jesse G (b. 1881 - d. 1959)
Lamb, Jesse Giles (b. 22 Oct 1917 - d. 5 Feb 1996)
Lamb, John F (b. 3 Oct 1890 - d. 27 Jun 1938)
Lamb, Malenda (b. 8 Feb 1847 - d. Nov 1915)
Lamb, Mary M (b. 16 May 1883 - d. 23 May 1923)
Lamb, Nannie H (b. 1897 - d. 1964)
Lamb, Rebecca (b. 2 Jul 1861 - d. 13 May 1929)
Lamb, Sarah Frances (b. 9 Jul 1945 - d. 2002)
Lambe, Charles A (b. 12 Sep 1869 - d. 17 Dec 1941)
Lambe, Joseph T (b. 17 Feb 1912 - d. 2 May 1935)
Lambe, Lou McDaniel (b. 14 Jun 1879 - d. 6 Sep 1950)
Lams, Sarah Frances Jackson (b. 15 Jan 1945 - d. 19 Mar 2002)
Latham, L Doris Coffin (b. 24 Dec 1916 - d. 1 Feb 2007)
Latham, Lewis (b. 1979 - d. 1956)
Latham, Lewis Earl (b. 28 Feb 1942 - d. 22 Sep 2000)
Latham, Lula L (b. 1885 - d. 1973)
Latham, Raymond W (b. 27 Jan 1912 - d. 15 Sep 1991)
Laughlin, Elizabeth (b. 12 Dec 1799 - d. 21 Dec 1891)
Laughlin, Hugh (b. 3 Jun 1829 - d. 26 Jun 1897)
Laughlin, Jessa (b. 1857 - d. 1898)
Laughlin, Makala (b. 6 Dec 1875 - d. 26 May 1897)
Laughlin, Martha F (b. 19 May 1856 - d. 10 Jun 1927)
Laughlin, Rachel M (b. 1849 - d. 1943)
Laughlin, Robert Lee (b. 1910 - d. 1910)
Laughlin, William (b. 27 Jan 1796 - d. 9 Jul 1859)
Laughlin, William T (b. 1841 - d. 1867)
Ledwell, Lou (b. 1868 - d. 1952)
Ledwell, Margaret E (b. 23 Jan 1845 - d. 4 Apr 1915)
Lineberry, A W (b. 4 Sep 1871 - d. 8 May 1913)
Lineberry, Andrew Strope (b. 3 Apr 1973 - d. 28 May 1998)
Lineberry, Argus B (b. 22 Jun 1912 - d. 21 Sep 2004)
Lineberry, Arlendo (b. 25 Jun 1920 - d. 25 Jun 1920)
Lineberry, Charles Z (b. 14 Jun 1876 - d. 21 May 1913)
Lineberry, Clyde C (b. 9 Dec 1901 - d. 8 Oct 1969)
Lineberry, Elmwood C (b. 2 Feb 1849 - d. 28 Sep 1886)
Lineberry, Ethel Pearl Gray (b. 5 Oct 1902 - d. 29 Jan 1999)
Lineberry, Glenn Cicero (b. 28 Dec 1903 - d. 26 Nov 1963)
Lineberry, Ida W (b. 18 Oct 1885 - d. 3 Jul 1952)
Lineberry, Irene Stroupe (b. 26 Jun 1905 - d. 12 May 2000)
Lineberry, Jeanette Louella (b. 1875 - d. 1944)
Lineberry, John (b. 3 Aug 1885 - d. 20 Oct 1907)
Lineberry, Joseph Horance (b. 9 Oct 1910 - d. 29 Nov 1982)
Lineberry, Lillie Wood (b. 23 Mar 1883 - d. 18 Jul 1937)
Lineberry, Linda Lee (b. 6 Dec 1941 - d. 6 Dec 1941)
Lineberry, Logan Weaver Jr (b. 21 May 1908 - d. 3 Apr 1994)
Lineberry, Logan Weaver Sr (b. 29 Aug 1881 - d. 24 Jun 1959)
Lineberry, Lottie May (b. 13 Jul 1900 - d. 18 May 1901)
Lineberry, Lucinda R Wood (b. 1 Jun 1815 - d. 23 Dec 1885)
Lineberry, Margaret T Swain (b. 2 May 1878 - d. 12 Mar 1948)
Lineberry, Martha (b. 4 Jun 1851 - d. 17 Mar 1926)
Lineberry, Mayme A (b. 1883 - d. 1936)
Lineberry, Minnie Elezabeth (b. 28 May 1888 - d. 22 Jun 1948)
Lineberry, Nan Brown (b. 11 Feb 1880 - d. 6 Dec 1959)
Lineberry, R W (b. 4 Nov 1853 - d. 8 Jun 1915)
Lineberry, Robert Cicero (b. 1 Apr 1881 - d. 29 Nov 1970)
Lineberry, Willie Edgar (b. 22 Aug 1879 - d. 22 Aug 1880)
Lineberry, Z C (Rev.) (b. 2 Feb 1816 - d. 13 Dec 1881)
Lovett, Charles R (b. 1892 - d. 1961)
Lovett, Estella A (b. 1906 - d. 1974)
Lovett, Flora E (b. 10 Dec 1867 - d. 16 Feb 1936)
Lovett, James A (b. 4 Mar 1862 - d. 10 Jan 1931)
Lovett, James William (b. 14 Sep 1919 - d. 9 Mar 1965)
Lovett, Jesse (b. 23 Dec 1888 - d. 24 Sep 1907)
Lovett, Mary K (b. 1896 - d. 1959)
Lovett, Pearl B (b. 1886 - d. 1950)
Lovett, Robert Lloyd (b. 25 Sep 1920 - d. 21 Jun 1922)
Lovett, Walter (b. 5 Apr 1924 - d. 5 Apr 1973)
Lovett, Walter C (b. 23 Nov 1898 - d. 7 Feb 1960)
Lovetta, Jesse (b. 23 Dec 1888 - d. 24 Sep 1907)
Lovette, Betty Jean Nucklos (b. 20 Mar 1934 - d. 15 Mar 2008)
Lovette, Walter Cecil (b. 28 Dec 1963 - d. 28 Dec 1963)
Low, Tempie (b. 1847 - d. 25 Feb 1910)
Loyal, William Branson (b. 2 Oct 1871 - d. 3 Sep 1911)
Mason, E Jerretia (b. 7 Nov 1841 - d. 22 Nov 1907)
Massengill, Jerry Ray (b. 12 Sep 1933 - d. 1 Jun 2004)
Matthews, Sallie F (b. 1890 - d. 1975)
Matthews, Walter F (b. 1877 - d. 1955)
McCaskill, Beatrice A (b. 22 Nov 1905 - d. 2 Jan 1906)
McCaskill, Bernie (b. 13 Jun 1915 - d. 7 Sep 1930)
McCaskill, Cartherine Martin (b. 5 Jul 1847 - d. 19 Oct 1918)
McCaskill, Clara Varner (b. 6 Sep 1885 - d. 4 Sep 1962)
McCaskill, Edna R (b. 29 Mar 1910 - d. 13 May 1974)
McCaskill, Edward Alex (b. 4 Nov 1884 - d. 26 Jul 1943)
McCaskill, Ella G (b. 4 Mar 1915 - d. 17 Mar 1915)
McCaskill, Ellie G (b. 22 Oct 1883 - d. 9 Jun 1973)
McCaskill, James A (b. 24 May 1843 - d. 28 Jan 1907)
McCaskill, John L (b. 26 Dec 1870 - d. 21 Jun 1950)
McCaskill, Mary C (b. 9 Apr 1909 - d. 30 Nov 1909)
McCaskill, McDaniels (b. 10 Apr 1921 - d. 17 Oct 2004)
McCaskill, Sarah C (b. 2 Jun 1878 - d. 27 Jul 1898)
McCollum, Arthur Ruffin (b. 1886 - d. 1984)
McCollum, Calvin (b. 14 May 1843 - d. 2 Nov 1917)
McCollum, Frances (b. 1891 - d. 1929)
McCollum, Ira Jane Harrell (b. Jun 1891 - d. 14 Feb 1951)
McCollum, J Vernon (b. 28 Jul 1919 - d. 31 Dec 1980)
McCollum, Jennie (b. 1866 - d. 1909)
McCollum, Jimmie (b. 1913 - d. 1915)
McCollum, Ruffin (b. 1864 - d. 1908)
McDaniel, Jewell D McCaskill (b. 15 May 1924 - d. 25 Aug 2004)
McDowell, John R (b. 14 Oct 1864 - d. 17 Aug 1923)
McDowell, Tabitha D Jerrell (b. 14 Feb 1863 - d. 29 Jan 1908)
McLaughlin, Margaret Nixon (b. 10 Oct 1906 - d. 21 Mar 1987)
McMasters, Pearl M (b. 16 Feb 1895 - d. 14 Aug 1899)
Millikan, Flora Routh (b. 16 Nov 1921 - d. 12 Jul 1962)
Millikan, Lillian L (b. 1894 - d. 1965)
Millikan, Louisa F (b. 19 Mar 1878 - d. 12 Jan 1908)
Millikan, Marg (b. 8 Aug 1884 - d. 29 Jun 1885)
Millikan, Sallie (b. 13 Jul 1852 - d. 14 Aug 1889)
Millikan, Thomas C (b. 1894 - d. 1969)
Mills, George W (b. 18 Jun 1863 - d. 20 Jul 1935)
Mills, Rosanna H (b. 14 Jan 1861 - d. 18 May 1948)
Muti, Armand (b. 1921 - d. 1990)
Myrick, E P (b. 26 Jan 1846 - d. 28 Jan 1898)
Myrick, Emma (b. 1866 - d. 21 Feb 1890)
Myrick, William A (b. 19 Jul 1874 - d. 12 Nov 1948)
Neal, Moisella C (b. 1880 - d. 1954)
Neal, William Jr (b. 2 Sep 1912 - d. 11 Mar 1959)
Neal, William R (b. 1869 - d. 1948)
Neugent, Dorothy Caudle (b. 3 May 1919 - d. 9 Apr 2008)
Otwell, Dennis Ferrett Sr (b. 22 Jul 1921 - d. 8 Aug 1995)
Owens, Helen Cable (b. 13 Mar 1917 - d. 13 Jun 1996)
Owens, Ina Hussey (b. 22 Mar 1898 - d. 19 Jan 1964)
Owens, James Graham (b. 12 Jul 1912 - d. 19 Sep 1990)
Owens, Leonard S (b. 28 Aug 1917 - d. 13 Jul 1993)
Owens, Randy Garland (b. 4 Apr 1955 - d. 4 May 1975)
Parson, Alvira E (b. 14 Jun 1840 - d. 3 Feb 1924)
Parson, Ellen (b. 1888 - d. 1892)
Parson, Flora R (b. 1871 - d. 1965)
Parson, Joseph W (b. 27 Aug 1838 - d. 20 Nov 1899)
Parson, Joseph Wesley (b. 6 Jan 1874 - d. 7 Jul 1877)
Parson, Marilla Jane (b. 18 Oct 1860 - d. 18 Oct 1860)
Parsons, Alpheus J (b. 1904 - d. 1980)
Parsons, James Woolen (b. 7 Nov 1909 - d. 2 Mar 2003)
Parsons, Jule W (b. 1871 - d. 1937)
Parsons, Kate E (b. 1895 - d. 1975)
Pegram, Alice Onita Foust (b. 1 Aug 1946 - d. 11 May 2001)
Petty, William Donald (b. 16 Oct 1933 - d. 12 Jul 1957)
Pierce, John Henry (b. 4 Feb 1921 - d. 8 Dec 1979)
Presnell, Louise A (b. 27 Jun 1924 - d. 26 Jan 1997)
Pugh, Cressie (b. 29 Jul 1890 - d. 6 Aug 1892)
Pugh, Donald Keith (b. 2 Nov 1927 - d. 21 Jan 1978)
Pugh, Eugene (b. 17 Mar 1928 - d. 22 Jun 1986)
Pugh, James J (b. 15 Mar 1908 - d. 5 Oct 1910)
Pugh, Leta (b. 12 Dec 1905 - d. 27 Feb 1908)
Pugh, Lorena (b. 17 Apr 1871 - d. 24 Feb 1935)
Pugh, Mary Matilta (b. 28 Dec 1900 - d. 8 Oct 1908)
Pugh, Sarah Hill (b. 16 Dec 1875 - d. 23 Aug 1970)
Pugh, William T (b. 8 Aug 1866 - d. 11 Jul 1934)
Pyrtle, Ruby Gaynell (b. 3 Dec 1916 - d. 19 Aug 1917)
Redding, Emma Elmore (b. 9 Jan 1875 - d. 4 Nov 1949)
Reed, Eugene Talmadge (b. 9 Sep 1935 - d. 28 Feb 1976)
Reed, Howard T (b. 20 Jul 1908 - d. 11 Aug 1976)
Reed, John (b. 11 Apr 1870 - d. 2 Jul 1958)
Reed, Margaret (b. 1 Apr 1905 - d. 28 Oct 1979)
Reed, Nezzie E (b. 14 Sep 1910 - d. 7 Jan 1998)
Reynolds, Mary E (b. 22 Aug 1871 - d. 2 May 1887)
Reynolds, Nancy J (b. 2 Apr 1874 - d. 28 Feb 1947)
Reynolds, O L (b. 21 Feb 1841 - d. 5 Dec 1887)
Reynolds, Rebeccah E (b. 4 Aug 1876 - d. 4 Jun 1891)
Reynolds, Sarah R (b. 28 Oct 1868 - d. 8 Mar 1893)
Richardson, Orma Daphne (b. 7 Apr 1902 - d. 2 Feb 1980)
Robbins, Alice L Freeman (b. 3 Aug 1886 - d. 1 Jan 1946)
Robbins, Christine S (b. 31 Dec 1931 - d. 18 Nov 1986)
Robbins, Hollie (b. 4 Feb 1870 - d. 26 May 1885)
Robbins, Infant (b. 6 Aug 1885 - d. 6 Aug 1885)
Robbins, James H (b. 4 Jun 1882 - d. 18 Feb 1883)
Robbins, John Elmore (b. 17 Jun 1917 - d. 4 May 1982)
Robbins, Robert R (b. 20 Jun 1882 - d. 4 Jul 1960)
Robbins, S Frank (b. 1918 - d. 1951)
Robbins, Sallie Elizabeth Elmore (b. 10 Mar 1886 - d. 19 Oct 1961)
Robbins, Walter B (b. 27 Jan 1921 - d. 10 May 1982)
Rogers, Earl Wallace (b. 19 Aug 1914 - d. 8 Oct 1915)
Rogers, James Edward (b. 11 Dec 1890 - d. 5 Jul 1960)
Rogers, James Ivey (b. 26 Jan 1913 - d. 17 Dec 1931)
Rogers, Sarah Hinshaw (b. 25 Nov 1891 - d. 10 Feb 1965)
Russell, Mary Alice (b. 22 Feb 1898 - d. 2 Jan 1965)
Russell, Ralph B (b. 14 Jul 1893 - d. 7 Jul 1949)
Shaw, Martha Hanner (b. 22 Feb 1900 - d. 2 Feb 1994)
Shaw, Robert A (b. 20 Jan 1899 - d. 21 Jan 1944)
Shaw, Sue Fields Sutton (b. 16 Apr 1903 - d. 18 Aug 1985)
Silmon, Algie (b. 6 Jun 1882 - d. 4 Apr 1922)
Simmins, T H (b. 1826 - d. 1904)
Simmons, Orpha (b. 29 Aug 1825 - d. 16 Jul 1891)
Simmons, Orpha Rosana (b. 1 May 1865 - d. 17 Jun 1909)
Sinclair, Sarah Frances (b. 24 Jan 1875 - d. 26 Dec 1913)
Sinclair, William Dennis (b. 12 Oct 1872 - d. 31 Oct 1905)
Smith, Annie M (b. 10 Feb 1903 - d. 27 Sep 1984)
Smith, Howard K (b. 3 Mar 1909 - d. 6 Jun 1937)
Smith, James R (b. 31 Jan 1887 - d. 9 Apr 1934)
Smith, Louzena Belle (b. 3 Jun 1878 - d. 28 Feb 1942)
Smith, Nannie E (b. 31 Aug 1900 - d. 31 Nov 1918)
Smith, Sallie Mae (b. 1900 - d. 1938)
Smith, Samuel (b. 14 Dec 1895 - d. 27 Jul 1903)
Smith, Willis (b. 10 Aug 1910 - d. 10 Aug 1910)
Solomon, Dewey H III (b. 16 Sep 1951 - d. 10 May 1974)
Solomon, Dewey H Jr (b. 6 Dec 1931 - d. 30 Jan 1985)
Spivey, Claude J (b. 14 Jun 1913 - d. 23 Nov 1966)
Spivey, Lillie Graves (b. 3 Aug 1889 - d. 13 Mar 1965)
Spivey, R Frank (b. 26 May 1891 - d. 29 Jan 1977)
Sprivey, Cornie (b. 1831 - d. 1916)
Sprivey, Ellen (b. 1856 - d. 1939)
Stalker, Madison (b. 1885 - d. 24 Oct 1912)
Stele, Mildred Marciel Elmore (b. 24 Apr 1920 - d. 6 Mar 2001)
Stevens, Mahalia (b. 16 Oct 1882 - d. 30 Oct 1883)
Stillwell, Jan Kasey (b. 23 Jun 1986 - d. 6 Sep 1986)
Stokes, Baxter Franklin (b. 3 Mar 1909 - d. 25 Mar 1983)
Stokes, Jewel Hughes (b. 16 Dec 1905 - d. 21 Apr 2006)
Stokes, Ottie N (b. 28 Aug 1891 - d. 16 Sep 1973)
Stokes, Richard B (b. 6 Jun 1892 - d. 4 Mar 1974)
Strader, Ruth (b. 15 May 1909 - d. 5 Mar 1951)
Swaim, Eli B (b. 17 Aug 1882 - d. 3 Jun 1952)
Swaim, Joe Prevost (b. 18 Sep 1905 - d. 28 Dec 1965)
Swaim, Joe Prevost (b. 15 Nov 1933 - d. 1 Jun 1976)
Swaim, Joseph Carol (b. 9 Nov 1977 - d. 22 Apr 1994)
Swaim, Martin Lake (b. 23 Dec 1971 - d. 22 Jan 1972)
Swaim, Ruth Caudle (b. 29 Aug 1912 - d. 5 Sep 1992)
Swaim, Vernie (b. 18 Jun 1939 - d. 8 Feb 1977)
Tally, Grace H (b. 2 Jul 1910 - d. 5 Jun 1994)
Tally, Mary Idena (b. 11 Sep 1871 - d. 1 Feb 1961)
Tally, W Jack (b. 9 Aug 1901 - d. 10 Sep 1977)
Tally, Wiley F (b. 10 May 1857 - d. 9 Jan 1954)
Taylor, Grace S (b. 5 Mar 1898 - d. 1 Feb 1964)
Taylor, James William (b. 21 Mar 1934 - d. 2 Nov 1999)
Taylor, Jean Hudson (b. 28 Mar 1936 - d. 15 Sep 2008)
Taylor, John R Sr (b. 17 Jan 1903 - d. 25 Dec 1945)
Taylor, L Imojean (b. 22 May 1932 - d. 5 Feb 1935)
Teague, Ruth E (b. 8 Jul 1878 - d. 6 May 1880)
Teague, Sibby A (b. 22 Jul 1849 - d. 16 May 1880)
Teal, Charles Michael (b. 15 Sep 1950 - d. 20 Jul 1980)
Teal, Margaret H (b. 24 Sep 1927 - d. 23 Apr 2000)
Thornburg, Grace (b. 11 Jan 1916 - d. 12 Feb 2000)
Thornburg, James W (b. 11 Jun 1914 - d. 21 Apr 1963)
Thornburg, James Wilson Jr (b. 5 Oct 1937 - d. 5 Jan 1977)
Toomes, Richard M (b. 3 Dec 1957 - d. 30 Aug 1992)
Toomes, Sara Brown (b. 24 Aug 1928 - d. 24 Jan 1993)
Trogdon, Rosa E B (b. 19 Feb 1888 - d. 28 Jul 1914)
Trotter, Everett F (b. 7 Feb 1903 - d. 25 Apr 1991)
Trotter, Mary Frazier (b. 3 Oct 1910 - d. 5 Apr 1990)
Tucker, Bernice Frazier (b. 18 Aug 1909 - d. 11 Feb 1995)
Tucker, Charity (b. 19 Apr 1857 - d. 10 Nov 1924)
Tucker, Clyde (b. 18 Aug 1911 - d. 20 Aug 1968)
Tucker, Doris Marie (b. 1 Sep 1924 - d. 10 Jul 1925)
Tucker, Florence B (b. 12 Mar 1884 - d. 5 Nov 1972)
Tucker, George E (b. 3 Oct 1890 - d. 15 Jun 1919)
Tucker, John Thomas (b. 30 Nov 1908 - d. 21 Nov 1981)
Tucker, John Thomas Sr (b. 9 Jun 1884 - d. 29 Apr 1964)
Tucker, Paul (b. 6 Mar 1916 - d. 18 Jun 1967)
Tucker, Robert Ernest (b. 23 Sep 1906 - d. 22 Jun 1934)
Tucker, S P (b. 1 Aug 1856 - d. 24 Sep 1934)
Turner, Daisy H (b. 26 May 1903 - d. 3 Dec 1971)
Turner, E S (b. 26 Sep 1820 - d. 12 Apr 1913)
Turner, Edith D (b. 1822 - d. 3 Apr 1901)
Turner, Fletcher (b. 31 Aug 1904 - d. 22 Mar 1978)
Van Werry, George H (b. 7 Nov 1894 - d. 27 Feb 1898)
Van Werry, Jane M Lamb (b. 28 Dec 1874 - d. 1 Feb 1933)
Van Werry, John M (b. 13 Jul 1866 - d. 9 Nov 1923)
Van Werry, Verretta (b. 23 Aug 1906 - d. 5 Aug 1907)
Varner, Mary E (b. 25 Oct 1848 - d. 15 Sep 1908)
Vickery, Mary Everhart (b. 11 Aug 1912 - d. 19 Mar 1983)
Wall, Shirley A (b. 11 Oct 1918 - d. 7 Jul 1983)
Watson, James (b. 29 Sep 1922 - d. 1 Nov 1988)
Watson, Susie Graves (b. 3 Sep 1900 - d. 24 Aug 1996)
Watson, Theresa (b. 20 Aug 1918 - d. 21 Sep 1996)
Way, I A (b. 28 Nov 1859 - d. 17 May 1909)
Way, Julia (b. 14 Aug 1863 - d. 19 Feb 1923)
White, Betty (b. 25 Jun 1884 - d. 12 Nov 1971)
White, Henry C (b. 10 Jul 1856 - d. 7 Jul 1931)
White, John (b. 14 May 1898 - d. 19 Jun 1902)
White, Julia A Way (b. 25 Nov 1861 - d. 26 Aug 1927)
White, Lillie (b. 6 Jun 1891 - d. 5 May 1892)
White, W Taylor (b. 26 Mar 1887 - d. 29 Jun 1933)
Whitt, Reba Lamb (b. 6 Mar 1926 - d. 25 Oct 2007)
Whitt, Richard Earl (b. 5 Apr 1949 - d. 28 Nov 1968)
Whitt, Winfred S (b. 6 Jun 1923 - d. 15 Dec 1001)
Wilkinson, C E (MD) (b. 1879 - d. 1934)
Wilkinson, Lula P (b. 1886 - d. 1974)
Wilson, Kiva May (b. 25 May 1889 - d. 29 Jan 1890)
Wilson, Myrtle (b. 11 Sep 1889 - d. 14 Aug 1891)
Wilson, R H (b. 1827 - d. 1899)
Wood, Alice Ledwell (b. 1868 - d. 1947)
Wood, Arlendo Leroy (b. 19 Mar1885 - d. 10 Aug 1958)
Wood, Edwin Leroy (b. 1850 - d. 1925)
Wood, Ellen T (b. 1855 - d. 1892)
Wood, Etta Lavinia (b. 1875 - d. 7 Nov 1892)
Wood, John (b. 16 Feb 1898 - d. 7 Jun 1902)
Wood, John L (b. 1856 - d. 1909)
Wood, John W (b. 1884 - d. 1946)
Wood, Martha J (b. 1863 - d. 1933)
Wood, Mary E Stout (b. 1863 - d. 1937)
Wood, Samuel H (b. 22 May 1886 - d. 23 Oct 1903)
Wood, William F (b. 1859 - d. 1896)
Workman, Sallie (b. 1842 - d. 1 Jul 1884)
Yarberry, Alice H (b. 16 Aug 1914 - d. 14 Aug 1992)
Yarbough, Clarence Lee (b. 24 Sep 1916 - d. 22 Aug 2004)
Yarbough, Helen Lambe (b. 29 Nov 1916 - d. 30 Jul 2004)
York, James M (b. 8 Dec 1872 - d. 15 Aug 1983)
York, Jesse E (b. 1 Nov 1840 - d. 19 May 1900)
Web page updated 13 May 2017
Index of All Cemeteries
Alphabetical Index of All Burials
Previous Page