Index of All Cemeteries
Alphabetical Index of All Burials
Previous Page
Use the following to search across all the cemeteries listed.
Example: "Smith, Roger" (yes, use the quotes)
047 PANTHER CREEK BAPTIST CHURCH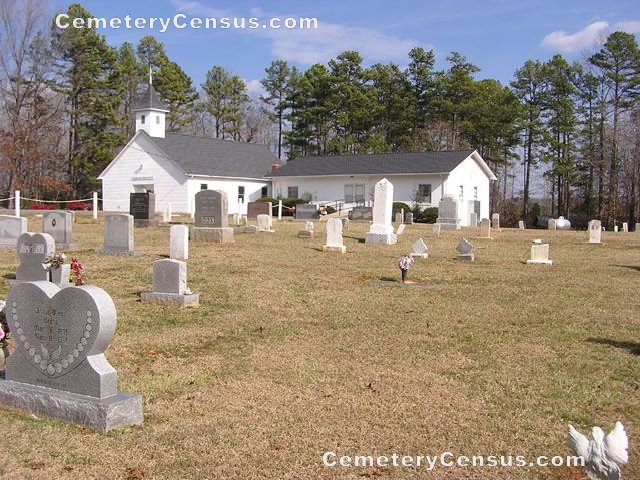 Location - Panter Creek Rd (SR-2833) off Fairview Farm Rd (SR-2831).

Coordinates: 35d 37m 01.6s N; 79d 44m 34.8s W Click here for Google maps

Surveyed by Wayne Ham and Laurell Ham, Randleman, NC in October 2010. Photograph by Tom Honeycutt.

This is a complete listing as of September 30, 2010.


Beane, Annie Dixon (b. 6 Mar 1955 - d. 11 Mar 1988)
Beane, Ernest Lyndon (b. 22 Jun 1912 - d. 9 May 2000)
Beane, Eva Burrow (b. 4 Sep 1912 - d. 1 Jan 2004)
Beane, Harold Glenn (b. 3 Dec 1936 - d. 27 Aug 2006)
Bearn, John Burton (Rev.) (b. 23 Jul 1933 - d. 23 Feb 2010)
Buchanan, Willie Lloyd (b. 2 Feb 1915 - d. 16 Jun 1979)
Clark, Alice Mozelle (b. 11 Jun 1900 - d. 1 Jul 1900)
Clark, Grace Irene (b. 28 Feb 1910 - d. 1 Aug 1910)
Clark, Infant (b. 20 Sep 1901 - d. 20 Sep1901)
Conner, Dorothy Presnell (b. 10 Mar 1920 - d. 24 Mar 2008)
Conner, Roy Odell (b. 24 May 1925 - d. 18 Feb 2003)
Cooke, Edna Cox (b. 20 Dec 1926 - d. 16 Oct 1990)
Cooper, A Bart (b. 21 May 1890 - d. 27 Mar 1975)
Cooper, Beulah Williams (b. 10 Jun 1912 - d. 5 Mar 1997)
Cooper, Frances Lee (b. 25 Nov 1944 - d. 26 Nov 1944)
Cooper, Tracey Fred (b. 24 Dec 1945 - d. 13 Jan 2003)
Cox, Arthur W (b. 27 May 1873 - d. 30 Jul 1892)
Cox, Betty B (b. 12 Apr 1936 - d. 3 Jun 2005)
Cox, Boyd Emory (b. 4 Sep 1953 - d. 4 Sep 1971)
Cox, Evelyn Jane Presnell (b. 27 Mar 1932 - d. 21 Jun 2005)
Cox, Fernando C (b. 6 Jan 1923 - d. 4 May 1998)
Cox, Infant (b. 11 Jun 1878 - d. 11 Jun 1878)
Cox, James Madison (b. 16 May 1930 - d. 23 Sep 1987)
Cox, Laurella J (b. 11 Jun 1818 - d. 21 Apr 1822)
Cox, Nancy Ann (b. 1848 - d. 1936)
Cox, Ray E (b. 7 Jun 1922 - d. 6 Nov 1994)
Cox, William Gene (b. 15 Nov 1964 - d. 4 Mar 1998)
Cox, Yancey Harmon (b. 1846 - d. 1911)
Cox, Zimri (b. 2 Oct 1826 - d. 2 Feb 1863)
Deaton, Jessie H (b. 24 Oct 1944 - d. 27 May 2006)
Deaton, Nolan Tyler (b. 7 Aug 2008 - d. 7 Aug 2008)
Fischer, Albert L (b. 8 Sep 1918 - d. 19 Dec 1989)
Freeman, Barna Lois (b. 27 Jan 1920 - d. 1 Jul 2009)
Garner, Marguerite C (b. 19 Jan 1926 - d. 7 Jun 1975)
Garner, William R (b. 25 Sep 1920 - d. 20 Jul 1972)
Hancock, Catherine (b. 2 Jan 1826 - d. 6 Dec 1903)
Hancock, Donald Cleveland (b. 31 Mar 1932 - d. 29 Nov 2000)
Hancock, Infant (b. 10 Sep 1901 - d. 10 Sep 1901)
Hancock, Leander (b. 15 Oct 1866 - d. 8 Jul 1867)
Holmes, Jane Williams (b. 1823 - d. 1890)
Holmes, R W Haywood (b. 1814 - d. 1893)
Hughes, Vera Louise (b. 30 Nov 1948 - d. 29 Dec 1990)
King, Arlene (b. 2 Mar 1933 - d. 2 Jun 2004)
King, Polly (b. 1828 - d. 10 Jun 1902)
King, W D (b. 1825 - d. 7 Dec 1886)
Lowdermilk, S O (b. 22 Sep 1866 - d. 30 Dec 1994)
Lynch, Ruby M (b. 22 Apr 1914 - d. 12 Aug 1914)
Lynch, Shirley O (b. 19 Mar 1900 - d. 29 Oct 1910)
Lynch, Vera (b. 25 Feb 1909 - d. 25 Feb 1909)
McCarn, John S (b. 20 Jun 1900 - d. 23 Sep 1901)
McKinney, Elisha Leonard (b. 7 Jun 1911 - d. 17 May 1971)
McKinney, Ethel Velva Woodell (b. 26 Aug 1907 - d. 8 Jan 1960)
McKinnon, David Reed (b. 26 Apr 1923 - d. 12 Sep 1987)
McKinnon, Neal Alex (b. 30 Aug 1926 - d. 10 Oct 1992)
Moon, Joel Layne (b. 2 May 1957 - d. 17 Nov 1998)
Morris, William (b. 1814 - d. 6 Jan 1895)
Neese, Abram (b. 1848 - d. 1865)
Neese, George (b. 1850 - d. 1863)
Neese, Ruthia (b. 15 Feb 1816 - d. 20 Jan 1966)
Newsome, Betty Vaughn (b. 21 Aug 1931 - d. 10 Nov 1999)
Owenby, Morgan R (b. 4 Sep 1906 - d. 9 Mar 1968)
Parker, Anna Faye Macklin (b. 10 Sep 1945 - d. 14 Aug 2009)
Parker, E W (b. 9 Apr 1973 - d. 16 Jan 1995)
Ray, William Thomas (b. 1 Feb 1957 - d. 25 Feb 1909)
Rich, Anthory T (b. 12 Nov 1820 - d. 3 Aug 1894)
Rich, Daniel M (b. 2 Jan 1863 - d. 3 Jan 1864)
Rich, Elizabeth Auman (b. 10 Oct 1820 - d. 31 Jan 1897)
Rich, George W (b. 23 Feb 1856 - d. 7 Apr 1005)
Rich, Henry Clay (b. 13 May 1848 - d. 17 May 1900)
Rich, Henry Conner (b. 20 Nov 1844 - d. 24 Apr 1898)
Rich, John N (b. 20 Jun 1844 - d. 29 Oct 1903)
Rich, Mary E (b. 21 Oct 1860 - d. 10 Feb 1864)
Rich, Sarah Maquerite Shepard (b. 20 Mar 1842 - d. 11 Mar 1937)
Saunders, Jacob Cleveland (b. 15 Feb 1920 - d. 3 Jul 1979)
Scott, Allen (b. 29 Jan 1834 - d. 22 Sep 1909)
Scott, Allen (b. 25 Dec 1872 - d. 25 Oct 1884)
Scott, R Martilia (b. 8 Feb 1843 - d. 9 Jul 1877)
Smith, Anderson G (b. 28 Jan 1828 - d. 24 Jun 1905)
Smith, Earl (b. 16 Nov 1892 - d. 8 Sep 1963)
Smith, Elizabeth (b. 25 Dec 1833 - d. 4 Jun 1908)
Smith, Elizabeth (b. 24 Feb 1844 - d. 22 Feb 1924)
Smith, Elva Victoria (b. 5 May 1866 - d. 31 Aug 1880)
Smith, Erma Vestal Lanning (b. 11 Aug 1899 - d. 12 Mar 1955)
Smith, Larkin A (b. 7 Mar 1868 - d. 29 Aug 1880)
Smith, Luretha J Craven (b. 20 Dec 1829 - d. 12 Dec 1903)
Smith, Nancy Caroline Allen (b. 26 Oct 1841 - d. 26 Jan 1915)
Smith, Noah Harris (b. 23 Jun 1863 - d. 2 Oct 1880)
Smith, Sarah Allred (b. 24 Feb 1832 - d. 1 Apr 1911)
Smith, Tyrrell Sanders (b. 14 Aug 1826 - d. 26 Jan 1911)
Smith, Wiley Mansfield (b. 20 Dec 1829 - d. 12 Dec 1903)
Smith, William R (Rev.) (b. 27 Jun 1836 - d. 4 Mar 1920)
Tedder, Jewell C (b. 1 Jan 1924 - d. 2 Dec 2001)
Tedder, R Resal (b. 30 Nov 1926 - d. 15 Aug 2006)
Voncannon, Blanche W (b. 1910 - d. 1996)
Voncannon, Odis (b. 1914 - d. 1979)
Vuncannon, Clifton R (b. 20 May 1911 - d. 5 Nov 1997)
Wagoner, Nicholas Adam (b. 12 Dec 1997 - d. 12 Dec 1997)
Williams, Mary (b. 4 Jul 1834 - d. 4 Feb 1920)
Williams, Solomon (b. 23 Jun 1821 - d. 10 Jun 1914)
Woodell, Alice Vuncannon (b. 8 Sep 1882 - d. 11 May 1963)
Woodell, Arthur L (b. 6 Feb 1880 - d. 10 Aug 1955)
Woodell, Beulah A (b. 29 Jun 1911 - d. 10 Sep 1992)
Woodell, Elvins L (b. 12 Aug 1927 - d. 15 Mar 1949)
Woodell, Ernest A (b. 23 Mar 1922 - d. 15 Feb 1992)
Woodell, Esther (b. 1922 - d. 2003)
Woodell, Henry Riley (b. 20 Jun 1918 - d. 3 Sep 1970)
Woodell, Lena R Hill (b. 28 Apr 1933 - d. 24 Jan 2002)
Woodell, Lloyd M (b. 1914 - d. 1986)
Woodell, Melvin P (b. 30 May 1911 - d. 2 Oct 1982)
Woodell, Stephen A (b. 6 Sep 1903 - d. 3 Sep 1985)
Woodell, Ted (b. 1913 - d. 1991)
Woodell, Vernon, Ralph (b. 11 Mar 1939 - d. 16 May 1997)
Woodell, Vickie Lee (b. 10 Jun 1961 - d. 21 Feb 1981)
Woodell, Viola Mae (b. 27 Feb 1923 - d. 30 Dec 1997)
Wright, Geneva Woodell (b. 8 Nov 1924 - d. 27 Oct 2004)
Web page updated 13 May 2017
Index of All Cemeteries
Alphabetical Index of All Burials
Previous Page