Index of All Cemeteries
Alphabetical Index of All Burials
Previous Page
Use the following to search across all the cemeteries listed.
Example: "Smith, Roger" (yes, use the quotes)
043 FIRST BAPTIST CHURCH OF FRANKLINVILLE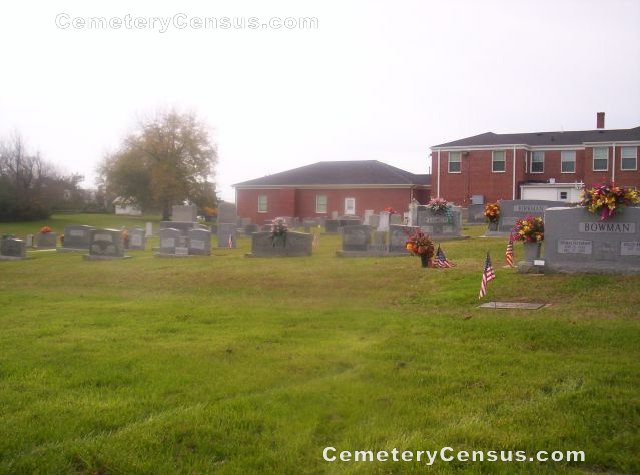 Location - 440 Academy St. between Church St and Parks St and Bond St, Franklinville.

Coordinates: 35d 44m 53.4s N; 79d 41m 27.5s W Click here for Google maps

Survey submitted by Wayne Ham and Laurell Ham, Randleman, NC in September 2010. Photographs by Wayne Ham.

This is a complete listing.


Allred, Carlye E (b. 30 May 1910 - d. 7 Nov 2000)
Allred, Charles, Richard (b. 4 Aug 1939 - d. 26 Oct 1997)
Allred, Dorothy Liles (b. 5 Aug 1914 - d. 11 Sep 2009)
Allred, Infant Daug (b. 24 Jul 1930 - d. 30 Jul 1930)
Allred, Infant Sons (b. 5 Feb 1931 - d. 5 Feb 1931)

Allred, Rosa Bray (b. 1909 - d. 1931)

Allred, William (b. 1 Feb 1908 - d. 27 Apr 1908)

Andrews, Dale Y (b. 24 May 1929 - d. 3 Nov 1995)

Andrews, W Don (b. 28 Jan 1933 - d. 3 May 2000)

Benson, John Claude (b. 12 Sep 1926 - d. 23 Aug 1998)

Blackburn, Sue Ellen Cox (b. 27 Jun 1942 - d. 15 Jun 1993)

Bowman, Nora Phillips (b. 9 Aug 1900 - d. 11 Oct 1980)

Bowman, Thomas Patterson (b. 25 Jun 1940 - d. 9 Dec 2008)

Brower, Alfred Clayton (b. 18 Dec 1893 - d. 31 Jan 1973)

Brower, Mable Thomas (b. 16 Apr 1894 - d. 8 Jun 1965)

Brown, Cleta G (b. 26 Nov 1896 - d. 16 May 1961)

Brown, Willard C (b. 3 Aug 1886 - d. 31 Dec 1969)

Burke, Alton J (b. 26 Aug 1908 - d. 30 Apr 1971)

Burke, Bettie E (b. 1874 - d. 1928)

Burke, Beulah C (b. 18 Feb 1908 - d. 26 Nov 1969)

Burke, Infant (b. 2 Oct 1991 - d. 2 Sep 1993)

Burke, James S (b. 1877 - d. 1934)

Burke, Martha A (b. 1833 - d. 18 Nov 1896)

Burke, R Gorl (b. 1 Jul 1858 - d. 10 Nov 1927)

Burke, Robert M (b. 24 Oct 1828 - d. 20 Sep 1900)

Burke, Rosa O Black (b. 11 Jan 1864 - d. 7 Dec 1928)

Burke, Sarah E (b. 11 Mar 1861 - d. 16 May 1892)

Burke, Thomas Fulton (b. 27 May 1898 - d. 25 Sep 1899)

Burke, William D (b. 2 Dec 1862 - d. 27 Dec 1934)

Burrow, A Theodore (b. 22 Aug 1921 - d. 20 Apr 1971)

Burrow, Arthur M (b. 3 Aug 1889 - d. 2 Apr 1920)

Burrow, Hassie (b. 1882 - d. 1927)

Burrow, Lona (b. 20 Jan 1884 - d. 22 Feb1931)

Coward, Ina York (b. 2 Feb 1920 - d. 2 May 2002)

Cox, Annie Louise Saunders (b. 12 Jun 1915 - d. 13 Jan 1979)

Cox, Bryon (b. 14 Dec 1935 - d. 17 Dec 1935)

Craven, Charles Christopher (b. 26 Jan 1866 - d. 14 May 2000)

Cross, Mary E (b. 28 Dec 1849 - d. 19 Aug 1909)

Curtis, Carroll (b. 20 Apr 1930 - d. 10 Mar 1931)

Curtis, Charlie C (b. 1885 - d. 1961)

Curtis, Edison Miller (b. 14 Jul 1905 - d. 8 Sep 1980)

Curtis, Mary Hattie (b. 1887 - d. 1954)

Curtis, Mary Helen (b. 1926 - d. 1953)

Curtis, Mary R (b. 3 Oct 1914 - d. 31 Dec 1997)

Curtis, Ora Bray (b. 9 Sep 1883 - d. 10 Oct 1979)

Curtis, Pauley Newsom (b. 28 Jun 1905 - d. 7 May 1997)

Curtis, Rodolph C (b. 22 Jun 1877 - d. 14 Aug 1959)

Curtis, W Elvin (b. 23 Aug 1911 - d. 11 Feb 1996)

Curtis, Walter R (b. 3 Mar 1941 - d. 3 Mar 1941)

Davis, Nancy Rosella (b. 22 Oct 1904 - d. 31 Aug 1988)

Davis, Robert Jefferson (b. 18 Mar 1899 - d. 30 Jun 1975)

Denson, Edgar Keeling (b. 1907 - d. 1960)

Denson, Jesse (b. 1876 - d. 1951)

Denson, Lauder (b. 12 Feb 1899 - d. 16 Mar 1909)

Denson, Lucy Ann (b. 1882 - d. 1927)

Denson, Paul Russell (b. 18 Sep 1908 - d. 26 Jan 2000)

Denson, Rama Liles (b. 1913 - d. 2 Nov 2007)

Denson, Sarah A (b. 1874 - d. 1952)

Dickens, Alma (b. 16 Sep 1908 - d. 6 May 1910)

Dickens, James L (b. 15 May 1884 - d. 19 Sep 1939)

Dickens, Mollie (b. 10 Apr 1898 - d. 21 Oct 1935)

Dickens, Rama (b. 21 Aug 1890 - d. 14 Aug 1912)

Elam, Georgia Parker (b. 1881 - d. 1942)

Elam, Nettie Moon (b. 1895 - d. 1952)

Elam, William A (Rev.) (b. 1878 - d. 1951)

Ellison, Sally (b. 1842 - d. 1912)

Ellison, W H (b. 4 Aug 1848 - d. 7 Oct 1907)

Frazier, Amanda Ellen (b. 1861 - d. 1953)

Frazier, W M Marion (b. 1868 - d. 1898)

Gatlin, Garrett Samuel (b. 6 Jun 1919 - d. 29 Jul 1971)

Gatlin, Mary Janette Richardson (b. 25 Mar 1919 - d. 10 May 1999)

Gatlin, Mary Susann (b. 17 Sep 1950 - d. 17 Sep 1950)

Grazier, Helen York (b. 26 Nov 1935 - d. 22 Jan 2010)

Grose, Allie S (b. 1 Jul 1899 - d. 23 Jan 1964)

Grose, Daniel W (b. 23 May 1929 - d. 8 May 1931)

Grose, Elizabeth Ann (b. 22 Sep 1934 - d. 12 Dec 1934)

Grose, Esther H (b. 29 Nov 1899 - d. 20 Dec 1987)

Grose, Gladys Johnson (b. 23 Dec 1914 - d. 18 Sep 2000)

Grose, Lois R (b. 24 Oct 1923 - d. 30 Jun 2003)

Grose, Phillip William (b. 12 Aug 1909 - d. 30 Aug 1992)

Hackney, J D (b. 2 Jan 1843 - d. 12 Jan 1927)

Hackney, Sara J Dorsett (b. 28 Oct 1846 - d. 17 Jun 1931)

Hackney, Wayland E (b. 20 Jan 1871 - d. 1 Jun 1897)

Haithcock, Herley Edmond (b. 28 Mar 1890 - d. 16 Jun 1978)

Haithcock, Sarah Mckinnon (b. 26 Feb 1891 - d. 20 Jan 1968)

Hancock, Clara Mae (b. 11 Aug 1920 - d. 27 Jul 1975)

Hancock, Daniel A (b. 1 Feb 1868 - d. 21 Apr 1930)

Hancock, Elijah Martie (b. 1902 - d. 1949)

Hancock, Frona P (b. 6 Sep 1997 - d. 12 Dec 1985)

Hancock, Herbert Roland (b. 29 Dec 1924 - d. 22 Sep 1975)

Hancock, John F (b. 6 Oct 1895 - d. 26 Jul 1952)

Hancock, Lillie Belle (b. 26 Jan 1930 - d. 12 Feb 1930)

Hancock, Martha Jane (b. 1904 - d. 1944)

Hancock, Mary (b. 23 May 1866 - d. 21 Apr 1930)

Hancock, Myrtle L (b. 14 Jan 1912 - d. 13 Jan 1915)

Hancock, Nancy Souther (b. 1934 - d. 2 Dec 2007)

Hancock, R Cleveland (b. 1893 - d. 1858)

Hancock, Richard Allen (b. 1 Jan 1923 - d. 3 Mar 1923)

Hancock, Wallie Moon (b. 1896 - d. 1984)

Hancock, Walter D (b. 23 May 1908 - d. 30 Jun 1921)

Hayes, Allison Fillmore (b. 1871 - d. 1949)

Hayes, Hattie Burke (b. 1876 - d. 1939)

Hayes, Robert P (b. 16 May 1910 - d. 23 Jan 1927)

Henson, Annie W (b. 1876 - d. 1965)

Henson, Charlie F (b. 1873 - d. 1967)

Henson, Mildred Scott (b. 28 May 1922 - d. 27 Jan 2010)

Hinson, Valey (b. 5 Mar 1896 - d. 28 Mar 1898)

Hollady, Fannie Burke Moon (b. 5 Sep 1901 - d. 20 Dec 1987)

Johnson, John Wesley (b. 1 Mar 1884 - d. 6 Mar 1969)

Johnson, Susan Alice (b. 22 May 1889 - d. 2 Jun 1967)

Jordan, Berda Irene Rutledge (b. 26 Aug 1898 - d. 30 Mar 1934)

Jordan, David M (b. 1887 - d. 1972)

Jordan, Elder James (b. 21 Apr 1828 - d. 21 Sep1973)

Jordan, Maggie Lenora (b. 1876 - d. 1901)

Jordan, Robert W (b. 1 Jul 1858 - d. 10 Nov 1927)

Jordan, Winey (b. 23 Apr 1845 - d. 3 Apr 1926)

Kirkman, Inez Lee Moon (b. 12 Feb 1933 - d. 28 Feb 2002)

Lambeth, Mary Lou (b. 22 May 1952 - d. 22 May 1952)

Liles, Henry Lester (b. 1880 - d. 1955)

Long, Bonnie Cox (b. 27 May 1917 - d. 9 Dec 1990)

Long, Brenda J (b. 13 Jun 1940 - d. 4 Dec 1943)

Long, Dewey E (b. 7 Feb 1939 - d. 22 Jul 1940)

Long, James Larry (b. 29 Apr 1944 - d. 10 Aug 2006)

Long, James Preston (b. 2 Aug 1911 - d. 30 May 1071)

Long, Ronald David (b. 3 Mar 1947 - d. 29 May 1998)

Lyerly, Al Lynnwood (b. 4 Sep 1925 - d. 1 May 1995)

Lyerly, Charleen R (b. 7 Jul 1926 - d. 29 Jun 2008)

Maness, L Earl (b. 17 Apr 1917 - d. 8 Feb 2002)

Maness, Vera H (b. 7 Jul 1917 - d. 12 Oct 2002)

Marable, Bessie Frazier (b. 21 Sep 1890 - d. 9 Nov 1984)

Marable, Epsia Lucille (b. 13 Aug 1913 - d. 14 Oct 1914)

Marable, William Paschal (b. 24 Apr 1885 - d. 5 May 1948)

Marley, A Vance (b. 1858 - d. 1941)

Marley, H Florence (b. 24 Dec 1890 - d. 12 Dec 1975)

Marley, Mary E (b. 1865 - d. 1943)

Martin, James William (b. 2 Sep 1918 - d. 19 Mar 1990)

Martin, Mary York (b. 5 Apr 1918 - d. 8 Nov 1997)

Martin, Millie B (b. 18 Jan 1895 - d. 14 Apr 1985)

Martin, Wendall York (b. 22 Jun 1941 - d. 22 Jun 1941)

Martin, William A (b. 30 Jan 1893 - d. 5 Mar 1980)

McCain, Laura E (b. 18 Sep 1972 - d. 10 Apr 1987)

McCain, Paul C (b. 6 Aug 1962 - d. 30 May 2003)

McCorquodale, J Fairley (b. 28 Nov 1891 - d. 18 Mar 1974)

McCorquodale, Mary W (b. 31 Jul 1890 - d. 19 Oct 1982)

McCorqusdale, Fairly Odell (b. 24 Aug 1912 - d. 4 Dec 1966)

McCorqusdale, Florence Tippett (b. 5 Jan 1919 - d. 25 Oct 1999)

McDaniel, John W (b. 27 Mar 1896 - d. 15 Jul 1967)

McDaniel, Nora S (b. 19 Aug 1900 - d. 23 Aug 1980)

McKinnon, Crecy L (b. 1866 - d. 1940)

McKinnon, Della Mae (b. 27 Dec 1898 - d. 14 Aug 1985)

McKinnon, Ethel L (b. 1904 - d. 1936)

McKinnon, George H (b. 26 Jan 1887 - d. 17 Jul 1967)

McKinnon, Lela E (b. 1894 - d. 1972)

McKinnon, Sarah Kathleen (b. 26 Feb 1891 - d. 20 Jan 1968)

McMasters, Faith Renee (b. 22 Feb 1960 - d. 28 Mar 1998)

McMasters, Glenn Reece (b. 1 May 1934 - d. 19 Feb 2009)

Miles, J Walter (b. 22 Jun 1898 - d. 17 Aug 1944)

Miles, Margie B (b. 5 Oct 1903 - d. 17 Jul 1997)

Moffitt, Addie Lee (b. 26 Apr 1869 - d. Oct 1901)

Moffitt, E K (b. 12 Jan 1888 - d. 20 Sep 1910)

Moffitt, Ed E (b. 16 Apr 1869 - d. 17 Feb 1928)

Moffitt, Emily V (b. 29 Mar 1871 - d. 30 Sep 1895)

Moffitt, F R (b. 9 Nov 1838 - d. 1 Oct 1908)

Moffitt, Jesse Houston (b. 1805 - d. 1898)

Moon, Amy A (b. 18 Mar 1866 - d. 25 Feb 1930)

Moon, Carl C (b. 23 Jun 1889 - d. 10 Nov 1949)

Moon, Clabourn F (b. 22 Oct 1866 - d. 27 Apr 1929)

Moon, Franklin Burke (b. 19 Dec 1935 - d. 4 May 2003)

Moon, Garland L (b. 18 Feb 1905 - d. 26 Apr 1906)

Moon, Grace J (b. 1 Apr 1901 - d. 26 Apr 1901)

Moon, Joe E (b. 9 Jul 1919 - d. 25 Oct 1949)

Moon, William Benton (b. 5 Oct 1901 - d. 18 Sep 1956)

Neighbors, Eliza (b. 18 Aug 1858 - d. 21 Mar 1921)

Parks, Grace Grose (b. 1911 - d. 1948)

Phillips, Bascom M (b. 19 Dec 1908 - d. 27 Dec 1908)

Phillips, Dora Marley (b. 30 May 1881 - d. 25 Nov 1963)

Phillips, James A (b. 12 Oct 1847 - d. 22 Nov 1919)

Phillips, Jesse Clingman Jr (b. 16 May 1919 - d. 16 May 1919)

Phillips, Jesse Clingman Sr (b. 9 Feb 1878 - d. 31 Aug 1944)

Pidkenton, J E (b. 27 Mar 1862 - d. 2 Feb 1911)

Pool, William Adam (b. 14 Mar 1857 - d. 25 Jun 1926)

Poole, Hampton R (b. 17 Jun 1924 - d. 20 Feb 2002)

Poole, Harold B (b. 9 Nov 1929 - d. 30 Jan 1997)

Poole, Harold Boyce (b. 29 Nov 1929 - d. 30 Jan 1997)

Poole, Infant (b. 8 Jun 1928 - d. 8 Jun 1928)

Poole, Rosa Lee (b. 8 Aug 1925 - d. 9 Aug 1999)

Poole, Rosa V (b. 24 May 1896 - d. 24 May 1932)

Poole, Sarah H (b. 20 Dec 1897 - d. 12 Jun 1967)

Poole, William (b. 2 Mar 1892 - d. 3 Nov 1953)

Poole, William Howard (b. 19 May 1922 - d. 18 Jun 1950)

Prevo, Annie Belle (b. 25 Sep 1913 - d. 20 Nov 1913)

Prevo, Annie Ella Smith (b. 28 Nov 1888 - d. 3 Mar 1961)

Prevo, Jefferson D (b. 27 Oct 1889 - d. 31 May 1962)

Prevo, Myrtle (b. 23 Jul 1912 - d. 23 Jul 1912)

Prevo, Paul Jeffery (b. 2 Aug 1917 - d. 24 Oct 1973)

Prevo, Pauline (b. 28 Oct 1921 - d. 27 Nov 1921)

Prevo, Thomas V (b. 23 Jul 1850 - d. 6 Dec 1917)

Prevo, Victoria (b. 25 Jan 1860 - d. 29 Jul 1910)

Prevo, William M (b. 24 Dec 1922 - d. 27 Apr 1972)

Pugh, Joe (b. 25 Mar 1897 - d. 22 Feb 1901)

Pugh, Love Ann (b. 22 Apr 1835 - d. 15 Aug 1922)

Pugh, Rena (b. 14 Nov 1861 - d. Jan 1892)

Reaves, Ella Grose (b. 1871 - d. 1955)

Reaves, Ella Peace (b. 9 Apr 1865 - d. 20 Feb 1969)

Reaves, George K (b. 20 May 1859 - d. 19 Jun 1936)

Reaves, J W (b. 1857 - d. 1937)

Reaves, Nannie B (b. 21 Apr 1886 - d. 24 Nov 1914)

Reynolds, Emma L (b. 19 Oct 2004 - d. 24 Jan 1986)

Reynolds, Jesse F (b. 8 Feb 1902 - d. 6 Jul 1985)

Rich, Edmirah (b. 1858 - d. 1907)

Rich, Ethel L Dora (b. 1 Nov 1906 - d. 12 Oct 1918)

Rich, Ethel L Neighbors (b. 22 Apr 1884 - d. 5 Feb 1966)

Rich, Herbert F (b. 1911 - d. 1959)

Rich, Jeff (b. 17 Jun 1886 - d. 8 Jul 1901)

Rich, Virginia D (b. 1913 - d. 1999)

Rich, William F (b. 1 May 1883 - d. 22 Nov 1942)

Richardson, James Stevens (b. 21 Mar 1957 - d. 21 Mar 1957)

Richardson, Walker Thomas (b. 15 Aug 1927 - d. 16 Nov 1995)

Saunders, Aaron T (b. 1884 - d. 1959)

Saunders, Donna Faith (b. 1936 - d. 1936)

Saunders, Howard Andrew (b. 14 Dec 1912 - d. 29 Oct 2002)

Saunders, Willie L (b. 1890 - d. 1952)

Small, Susan Richardson (b. 27 Mar 1960 - d. Nov 2000)

Stout, Flossie (b. 20 Sep 1890 - d. 6 Nov 1906)

Strickland, James Estel (b. 29 Oct 1895 - d. 19 May 1970)

Strickland, Sally Margaret (b. 5 May 1901 - d. 4 Feb 1966)

Strider, Magruder A (b. 9 May 1898 - d. 14 Jul 1972)

Strider, Manuel D (b. 25 Feb 1874 - d. 5 Apr 1972)

Strider, Mary Ellen (b. 17 Oct 1886 - d. 5 Nov 1970)

Strider, Minnie L (b. 4 Aug 1880 - d. 25 Nov 1960)

Strider, Teatha Etta (b. 18 Apr 1912 - d. 10 Sep 1922)

Stutts, Winnie R (b. 1909 - d. 1996)

Teague, Samuel E M D (b. 17 Oct 1838 - d. 17 Jun 1895)

Teague, Sarah E Moffitt (b. 7 Jul 1848 - d. 23 Jan 1934)

Thomas, Edna Isabelle Cox (b. 1888 - d. 1943)

Thomas, Ernest Sylvanus (b. 4 Nov 1886 - d. 15 Jun 1948)

Thomas, Fannie Denson (b. 9 Sep 1882 - d. 6 Jun 1919)

Thomas, Fannie Jane Denson (b. 8 Sep 1878 - d. 7 Jun 1919)

Thomas, Infant (b. 13 Dec 1925 - d. 13 Dec 1925)

Thomas, Mary C (b. 23 Dec 1926 - d. 26 Dec 1926)

Thomas, Ray F (b. 19 Jan 1910 - d. 7 Oct 1912)

Trogdon, Leiter Beane (b. 1888 - d. 1978)

Trogdon, S Clifford (b. 1888 - d. 1946)

Trogdon, William (b. 24 May 1924 - d. 24 May 1924)

Walker, Sue Karen (b. 8 Nov 1948 - d. 30 Mar 1951)

Wallace, Paul Davis (b. 28 Aug 1916 - d. 17 Aug 2010)

Waynick, Anna Lou Cook (b. 8 May 1879 - d. 11 Feb 1958)

Waynick, John Lewis (b. 1 Oct 1864 - d. 24 Oct 1941)

West, Annabelle (b. 2 Sep 1875 - d. 12 Jan 1925)

West, D J (b. 8 Sep 1883 - d. 30 Apr 1901)

West, Daniel H (b. 29 Feb 1866 - d. 3 Dec 1910)

West, Emily (b. 17 Jul 1881 - d. 16 Apr 1919)

West, Fred Clarkton (b. 11 Oct 1926 - d. 15 Mar 1995)

West, Herbert A (b. 1893 - d. 1957)

West, John Herbert (b. 1921 - d. 1976)

West, Josephine (b. 6 Nov 1886 - d. 13 May 1945)

West, Mary E (b. 12 Mar 1865 - d. 27 Jan 1901)

West, Mary M (b. 1896 - d. 1985)

West, Sarah C (b. 6 Aug 1854 - d. 24 Nov 1910)

Wilkenson, Lena Liles (b. 15 Apr 1912 - d. 27 Jun 1996)

Williams, Bobby R (b. 1935 - d. 1981)

Williamson, Coridla B (b. 4 Nov 1915 - d. 6 Feb 1996)

Williamson, John Tate (b. 10 Sep 1906 - d. 21 Jan 1968)

Williamson, Patsy Ruth (b. 30 Jan 1934 - d. 30 Jan 1934)

York, James Oliver (b. 9 May 1891 - d. 24 Oct 1963)

York, Jesse A (b. 17 Apr 1857 - d. 17 Sep 1931)

York, Margaret S (b. 24 Jan 1864 - d. 9 May 1943)

York, Mary Z (b. 21 May 1861 - d. 20 Feb 1940)

York, Mattie B (b. 22 Nov 1890 - d. 1 Oct 1973)

York, Thomas Rodney (b. 12 Feb 1946 - d. 25 Aug 2008)

York, William Clarence (b. 23 Oct 1910 - d. 24 Jun 1955)
Web page updated 13 May 2017
Index of All Cemeteries
Alphabetical Index of All Burials
Previous Page