Index of All Cemeteries
Alphabetical Index of All Burials
Previous Page
Use the following to search across all the cemeteries listed.
Example: "Smith, Roger" (yes, use the quotes)
034 SEAGROVE CHRISTIAN CHURCH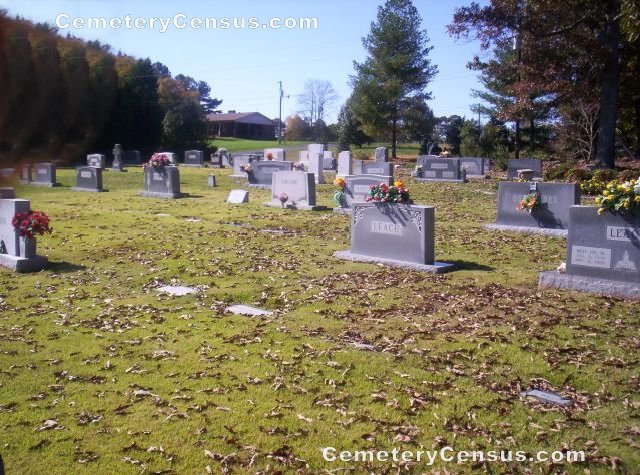 Location - Hwy 705 (E Main Street) and Hill Street, Seagrove.

Coordinates: 35d 32m 20.6s N; 79d 46m 23.6s W Click here for Google maps

Surveyed by Wayne Ham and Laurell Ham, Randleman, NC in November 2009. Photographs by Wayne Ham.

This is a complete listing as of October 2010.


Boroughs, Hal Eugene (b. 19 Jul 1927 - d. 6 Jul 1983)
Briles, Lisa Jean Bumgardner (b. 9 Sep 1960 - d. 12 Aug 2003)
Bumgardner, Clyde Sherrill (b. 18 Oct 1925 - d. 15 Apr 1962)
Bunting, Marie McDonald (b. 25 Aug 1928 - d. 9 Mar 2004)
Bunting, Raeford Allen (b. 6 Oct 1925 - d. 18 Oct 2005)
Cockman, Alma Jean Joyce (b. 6 Mar 1915 - d. 5 Jun 1959)
Cockman, Fred Ellender (b. 18 Dec 1912 - d. 26 Dec 1997)
Cockman, Mary Allred (b. 22 Jun 1912 - d. 20 Jun 1985)
Cockman, Millie A (b. 1 Jun 1917 - d. 16 Aug 1993)
Combs, Emily Irene Rush (b. 1926 - d. 26 Sep 2007)
Comer, Dewey Clinton (b. 18 Jul 1935 - d. 20 Sep 1990)
Cooper, Agnes B (b. 4 Jun 1882 - d. 17 Oct 1964)
Cooper, David (b. 12 Jun 1890 - d. 14 Mar 1969)
Cox, Justin B (b. 19 Dec 1899 - d. 27 Apr 1939)
Cox, Ruth Garner (b. 17 May 1908 - d. 5 May 1982)
East, Claude Odell (b. 18 Jul 1924 - d. 30 Dec 1987)
Farlow, Amos (b. 18 Aug 1904 - d. 13 Oct 1992)
Farlow, Asia Macon (b. 7 Jul 1913 - d. 1 May 2007)
Farlow, Eugene (b. 8 Dec 1895 - d. 11 May 1986)
Farlow, Ina Bean (b. 1 Dec 1902 - d. 29 Oct 1989)
Farlow, James Madison (b. 26 Jun 1900 - d. 15 Nov 1976)
Farlow, Junie (b. 14 Jan 1898 - d. 4 Feb 1978)
Farlow, Lizzie Lawrence (b. 16 Apr 1906 - d. 17 Aug 1979)
Farlow, Madison (b. 9 Aug 1865 - d. 17 Sep 1940)
Farlow, Mary E (b. 20 Mar 1868 - d. 22 Nov 1926)
Farlow, Myrtle Rich (b. 1908 - d. 1939)
Farlow, Reuben (b. 19 Sep 1911 - d. 7 Jun 1958)
Farlow, Roxanna (b. 5 Nov 1889 - d. 18 Feb 1923)
Farlow, Strawda H (b. 3 Aug 1903 - d. 1 Jan 1995)
Garner, Ruth Cox (b. 17 May 1908 - d. 5 May 1982)
Graves, Thelma P (b. 4 Sep 1896 - d. 24 Jul 1970)
Graves, Willie E (b. 1 Oct 1891 - d. 16 Sep 1951)
Greene, Minnie H Seawell (b. 18 Feb 1883 - d. 6 Nov 1943)
Greene, Paul Edwin (b. 9 Feb 1909 - d. 7 Oct 1985)
Greene, T Beauford (b. 22 Oct 1938 - d. 31 Mar 2001)
Greene, William A (b. 26 Aug 1885 - d. 3 Apr 1956)
Hancock, Abijah Birchel (b. 21 Mar 1919 - d. 2 Jun 2006)
Hancock, Blanche Greene (b. 3 Jan 1922 - d. 19 Aug 1998)
Harmon, Annie Needham (b. 31 Aug 1913 - d. 15 Nov 1986)
Harmon, David (b. 1856 - d. 1924)
Harmon, George E (b. 1 Jan 1905 - d. 29 Aug 1962)
Harmon, John King (b. 24 Nov 1901 - d. 23 Feb 1961)
Harmon, Lony Ray (b. 28 Jun 1912 - d. 28 Jun 1940)
Harmon, Roma Tester (b. 19 Mar 1908 - d. 9 Jun 1975)
Harmon, Roxana (b. 1874 - d. 1943)
Harmon, William D (b. 7 Jan 1896 - d. 29 Sep 1918)
Harmond, Gladys Hogan (b. 1 Jul 1919 - d. 12 Apr 2003)
Harrell, Nellie Mae (b. 23 May 1916 - d. 29 Jan 2006)
Hinesley, Paul Cecil (b. 6 May 1919 - d. 6 Apr 1998)
Hinesley, Vivian Auman (b. 3 Oct 1919 - d. 2 Apr 2006)
King, James Alvis (b. 23 Jun 1915 - d. 16 Dec 1981)
King, Jessica L (b. 7 Feb 1979 - d. 29 Aug 2005)
King, Ronald Alvis (b. 10 Jun 1941 - d. 4 Apr 1980)
Lamb, Michael Winfred (b. 11 Apr 1954 - d. 26 May 2002)
Lawrence, Delphine (b. 15 Dec 1897 - d. 16 Aug 1933)
Lawrence, Ida S (b. 3 Feb 1875 - d. 8 Feb 1961)
Lawrence, Oscar D (b. 8 Sep 1872 - d. 12 May 1946)
Leach, Billy Joe (b. 11 Aug 1936 - d. 31 May 2006)
Leach, Cecil C (b. 14 Jul 1917 - d. 17 Mar 1968)
Leach, Grace Beck (b. 22 Oct 1896 - d. 26 Apr 1948)
Leach, John Dennis (b. 30 Mar 1904 - d. 27 Feb 1982)
Leach, Margaret G (b. 3 Feb 1919 - d. 20 Dec 1982)
Leach, Mozelle Hancock (b. 29 Jun 1910 - d. 11 May 1993)
Leach, W Garrett (b. 14 Feb 1896 - d. 2 Jan 1951)
Lucas, John R (b. 10 Feb 1894 - d. 18 Sep 1957)
Lucas, Nettie B (b. 2 Nov 1902 - d. 31 May 1980)
Lucas, Virgil Cranford (b. 10 Sep 1929 - d. 16 Aug 2010)
Lucas, Wrenford David (b. 1934 - d. 1950)
Luck, Ivey Birch (b. 31 Jul 1897 - d. 19 Apr 1989)
Luck, Ruby Owen (b. 26 Jun 1907 - d. 20 Aug 2000)
Macon, Della McNeill (b. 14 Aug 1898 - d. 14 Feb 1986)
Macon, Robert Lee Sr (b. 24 Mar 1901 - d. 3 Feb 1965)
McDonald, Calvin M (b. 7 Feb 1898 - d. 18 Oct 1958)
McDonald, James M (b. 8 Jan 1874 - d. 1 Nov 1928)
McDonald, Jennie B (b. 22 Jun 1893 - d. 29 Jul 1952)
McDonald, John Harmon (b. 8 Jan 1924 - d. 5 May 1987)
McDonald, Willie Maxine (b. 22 Mar 1927 - d. 14 Apr 1927)
Owen, Joe Thomas (b. 26 Apr 1910 - d. 2 Apr 1986)
Owen, Mary Grace (b. 11 Feb 1943 - d. 28 Jan 1968)
Owen, Oberia Leach (b. 26 Mar 1916 - d. 16 Oct 1987)
Owens, Archie Henry (b. 11 Mar 1875 - d. 5 Oct 1948)
Owens, Irene Garner (b. 20 May 1876 - d. 31 Dec 1938)
Pegram, David (b. 1897 - d. 1941)
Pegram, Laura (b. 1899 - d. 1977)
Shaw, Ruby H (b. 11 Jun 1946 - d. 7 Jun 1988)
Sicheneber, Joseph Robert (b. 1967 - d. 24 Dec 2008)
Sykes, Robert W (b. 17 Feb 1920 - d. 11 May 1927)
Voncannon, Sharon Bumgarter (b. 3 Feb 1947 - d. 29 Sep 2005)
Wright, Charles K (b. 27 Jun 1934 - d. 11 Jul 1992)
Web page updated 13 May 2017
Index of All Cemeteries
Alphabetical Index of All Burials
Previous Page