Index of All Cemeteries
Alphabetical Index of All Burials
Previous Page
Use the following to search across all the cemeteries listed.
Example: "Smith, Roger" (yes, use the quotes)
033 SEAGROVE UNITED METHODIST CHURCH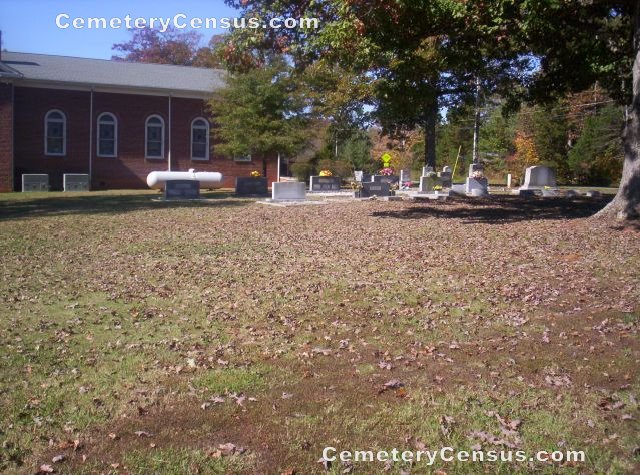 Location - corner of Hwy 705 (W. Main St) and Yow Rd, Seagrove.

Coordinates: 35d 32m 24.6s N; 79d 46m 49.5s W Click here for Google maps

Survey based on obituary listings provided by Wayne Ham and Laurell Ham, Randleman, NC in November 2009. Photographs by Wayne Ham.

This is a partial listing.


Auman, A R Jr (b. 5 Jul 1918 - d. 2 Dec 2006)
Auman, Edna Trogdon (b. 28 Feb 1902 - d. 25 Jan 1985)
Auman, Gertrude Greene (b. 23 Jan 1922 - d. 12 Oct 1964)
Auman, Gilmer Henry (b. 23 May 1908 - d. 6 Jun 1972)
Auman, Hubert Yow (b. 6 Jul 1916 - d. 15 Mar 1986)
Auman, Lora E Yow (b. 22 Mar 1880 - d. 13 May 1973)
Auman, Sarah Richards (b. 31 May 1922 - d. 1 Mar 2004)
Auman, Walter Colon (b. 24 Dec 1901 - d. 18 Aug 1970)
Bone, James (b. 2 Jun 1913 - d. 19 Mae 1971)
Bone, James Robert (b. 19 Oct 1991 - d. 19 Oct 1991)
Floyd, Patricia Richardson (b. 3 Jun 1948 - d. 29 Jul 2004)
Kelley, James Joseph (b. 20 Oct 1920 - d. 6 Sep 1993)
King, Carl Edgar (b. 27 Dec 1885 - d. 26 Jul 1968)
King, Ella Emira Moore (b. 2 Nov 1890 - d. 21 Jun 1960)
Lowdermilk, Ambrose F (b. 24 Apr 1889 - d. 5 Apr 1974)
Lowdermilk, Ornie Yow (b. 23 Sep 1895 - d. 6 Sep 1986)
Lucas, Pearl Yow (b. 13 Jul 1908 - d. 19 May 1981)
Richardson, Bertha Yow (b. 31 Jan 1892 - d. 26 Nov 1982)
Richardson, Betty Adeline (b. 7 Jun 1943 - d. 5 Aug 2005)
Richardson, Stephen Girard (b. 6 Jun 1893 - d. 19 Mar 1969)
Russell, Howard Lane (b. 23 Aug - d. 16 Jan 1997)
Russell, Romie Leete (b. 4 Oct 1882 - d. 16 May 1980)
Russell, Ronie Yow (b. 10 Jan 1888 - d. 14 Aug 1978)
Smith, Teddy Delano (b. 28 Nov 1932 - d. 24 Sep 2003)
Tucker, Ethel B (b. 27 Jan 1905 - d. 31 Oct 1992)
Tucker, Kester Lee (b. 31 Jul 1921 - d. 25 Oct 1944)
Tucker, William E (b. 4 Dec 1896 - d. 9 Jan 1968)
Voncannon, Bobby Lee (b. 17 Feb 1933 - d. 23 Nov 2000)
Voncannon, Ella M (b. 25 Dec 1934 - d. 22 Sep 1967)
Williams, Jewel R (b. 18 Jun 1890 - d. 14 Apr 1958)
Williams, Noah O (b. 12 Mar 1883 - d. 9 Jul 1958)
Yow, Francena (b. 1 Feb1854 - d. 15 Nov 1942)
Yow, Henry (b. 1 Oct 1844 - d. 26 Jul 1918)
Yow, Henry Russell (b. 19 Sep 1918 - d. 4 Sep 1993)
Yow, John C (b. 17 Oct 1884 - d. 24 Mar 1954)
Yow, Nova (b. 14 Mar 1875 - d. 8 Aug 1940)
Yow, Pearl R Russell (b. 5 Mar 1893 - d. 7 Jun 1927)
Yow, Willie Ellison (b. 7 Jun 1882 - d. 19 Oct 1978)
Yow, Worth Trogdon (b. 5 Apr 1917 - d. 24 Mar 1982)
Web page updated 13 May 2017
Index of All Cemeteries
Alphabetical Index of All Burials
Previous Page