Index of All Cemeteries
Alphabetical Index of All Burials
Previous Page
Use the following to search across all the cemeteries listed.
Example: "Smith, Roger" (yes, use the quotes)
024 BETHANY UNITED METHODIST CHURCH (Franklinville)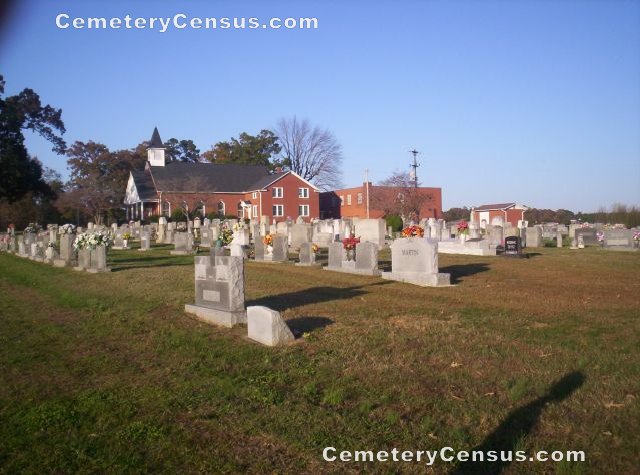 Location - on Bethany Church Rd (SR-2132), between Worthville Rd (SR-2122) and Tom Brown Rd (SR-2240).

Coordinates: 35d 48m 37.3s N; 79d 45m 37.5s W Click here for Google maps

Survey provided by Wayne Ham and Laurell Ham, Randleman, NC in April 2010. Photographs by Wayne Ham in 2007.

View of the church.

This is a complete listing as of April 22, 2010.


Agner, Frances G (b. 1928 - d. 2000)
Aldridge, Florence Julian (b. 19 May 1891 - d. 26 May 1978)
Aldridge, Infant Son (b. 31 Oct 1918 - d. 31 Oct 1918)
Aldridge, Lois Caudle (b. 19 Nov 1922 - d. 19 Dec 2003)
Aldridge, Virgil Mastin (b. 27 Jul 1888 - d. 1 Jun 1923)
Allred, Arlie C (b. 16 Jun 1904 - d. 3 Sep 1991)
Allred, Ernest L (b. Unknown - d. 1956)
Allred, Evon Caudle (b. 25 Mar 1930 - d. 5 Sep 2002)
Allred, Harold F (b. 19 May 1928 - d. 20 Mar 2001)
Allred, Mamie F (b. 15 Mar 1905 - d. 8 Jul 1983)
Allred, Nora Etta (b. 29 Jan 1879 - d. 27 Mar 1968)
Allred, Susan (b. 4 Jun 1810 - d. 18 Aug 1890)
Apple, Bertha J (b. 6 Aug 1911 - d. 8 Jun 1992)
Apple, James C (b. 26 Sep 1916 - d. 31 Oct 1994)
Aragon, Blanche Julian (b. 22 Aug 1927 - d. 4 Nov 1997)
Baldwin, Alice M (b. 2 May 1881 - d. 23 Dec 1940)
Baldwin, Clarence E (b. 14 Jan 1904 - d. 9 Sep 1993)
Baldwin, Infant Daughter (b. 30 Sep 1947 - d. 30 Sep 1947)
Baldwin, Infant Son (b. 16 Sep 1937 - d. 16 Sep 1937)
Baldwin, J C (b. 25 Jan 1859 - d. 22 Sep 1914)
Baldwin, Laura L (b. 20 Mar 1908 - d. 4 Apr 1997)
Baldwin, Swana Lee (b. 2 Jan 1907 - d. 21 Jan 2002)
Barker, Caroline Julain (b. 5 Sep 1849 - d. 12 Dec 1935)
Blum, Lewis Edward (b. 12 May 1899 - d. 28 Jun 1971)
Blum, Margie R (b. 17 Apr 1905 - d. 10 Jun 1960)
Bottoms, Donna Mercer (b. 11 Oct 1919 - d. 17 Oct 2007)
Boyd, Shirley Carter (b. 13 Jan 1945 - d. 29 Jan 2003)
Brady, Chriss Page (b. 29 Aug 1894 - d. 30 Apr 1974)
Brady, Emma Chistine (b. 2 Jul 1949 - d. 13 Feb 1962)
Brady, Lucile Thornburg (b. 29 Nov 1915 - d. 29 Jan 1998)
Brady, Ted Ervin (b. 9 Sep 1939 - d. 20 Dec 2000)
Brafford, Bascom B (b. 1886 - d. 1957)
Brafford, Burley M (b. 14 Jun 1889 - d. 30 Nov 1920)
Brafford, Ethel May (b. 10 May 1909 - d. 4 Dec 1929)
Brafford, Fannie (b. 25 Jan 1856 - d. 7 Jan 1924)
Brafford, James B (b. 20 Jul 1917 - d. 19 Aug 1968)
Brafford, Minnie B (b. 1887 - d. 1934)
Brafford, Thomas (b. 5 Apr 1855 - d. 6 Aug 1915)
Briles, Ethel (b. 1885 - d. 1947)
Briles, Everett M (b. 21 Jun 1886 - d. 12 Apr 1983)
Bristow, E Malcolm (b. 17 May 1897 - d. 8 Aug 1904)
Bristow, Fletcher E (b. 22 Jan 1872 - d. 13 Oct 1954)
Bristow, Florence Pearl (b. 21 Jun 1891 - d. 15 Oct 1985)
Bristow, Leanna A (b. 27 Apr 1972 - d. 22 Jan 1956)
Bristow, W Purvis (b. 14 Sep 1911 - d. 9 Feb 1915)
Brower, Pearl Kirkman (b. 2 Apr 1895 - d. 19 Feb 1971)
Brown, Ciseco (b. 28 Oct 1885 - d. 13 Apr 1888)
Brown, Dora Alice W (b. 1873 - d. 1959)
Brown, Hannah (b. 13 Aug 1834 - d. 20 Aug 1921)
Brown, James R (b. 1861 - d. 1945)
Brown, John Allen (b. 12 Jan 1930 - d. 16 Feb 1979)
Brown, John Randolph (b. 15 Apr 1836 - d. 1 Feb 1926)
Brown, John Thomas (b. 1874 - d. 1969)
Brown, Louella Julian (b. 1865 - d. 1895)
Brown, Mary Louise (b. 1904 - d. 1933)
Brown, Ola O (b. 7 Jan 1901 - d. 27 Jan 1901)
Burris, Nathan A (b. 4 Sep 1861 - d. 23 Oct 1944)
Burrow, Henry Dermont (b. 11 Sep 1903 - d. 20 Jan 1955)
Burrow, Irmgard D (b. 3 Jun 1928 - d. 14 Apr 2001)
Burrow, Lena D (b. 1900 - d. 1966)
Burrow, Nannie Bell Thompson (b. 26 Jun 1916 - d. 24 Jan 2000)
Burrow, Nathaniel G (b. 1902 - d. 1964)
Burrow, Travis Jackson (b. 23 Nov 1933 - d. 13 May 1998)
Byrley, Gurney M (b. 13 Jun 1898 - d. 25 Feb 1964)
Byrley, Wilma C (b. 1918 - d. 1988)
Campbell, John Elkin (b. 19 Aug 1926 - d. 14 Sep 1981)
Capps, Calvin Coolidge (b. 15 Mar 1926 - d. 20 Sep 2000)
Capps, Fuller A (b. 1904 - d. 1970)
Capps, Nora Allred (b. 1902 - d. 2006)
Capps, Thelma L (b. 31 Dec 1934 - d. 1 Mar 2008)
Carter, Infant Daughter (b. 31 May 1931 - d. 31 Mar 1931)
Carter, Lucy O (b. 17 Apr 1908 - d. 29 Dec 1986)
Carter, Robert L (b. 9 Jun 1901 - d. 21 Aug 1983)
Caudle ,Glyn W (b. 29 Aug 1925 - d. 1 Nov 2005)
Caudle, Clarence David (b. 2 Feb 1959 - d. 7 Feb 1959)
Caudle, Clarence W (b. 30 Mar 1924 - d. 21 Dec 2005)
Caudle, Cora E (b. 14 Nov 1878 - d. 4 Sep 1951)
Caudle, Cynthia T (b. 3 Jan 1954 - d. 16 Feb 1977)
Caudle, Lula W (b. 7 Apr 1898 - d. 1 Apr 1973)
Caudle, M Josephine (b. 6 Feb 1931 - d. 17 Jul 1991)
Caudle, Ned Franklin (b. 22 Nov 1937 - d. 23 Nov 2001)
Caudle, Sara Jane P (b. 1880 - d. 1905)
Caudle, Vivian W (b. 1927 - d. 1991)
Caudle, William F (b. 6 Sep 1898 - d. 23 Sep 1975)
Caulde, Everett D (b. 1921 - d. 1956)
Coble, Alfred (b. 14 Jul 1893 - d. 6 Apr 1946)
Coble, J Roy (b. 1892 - d. 1974)
Coble, Lee Roy (b. 24 Sep 1923 - d. 28 Jun 1925)
Coble, Lillian E (b. 24 Jul 1880 - d. 19 Jun 1908)
Coble, Mattie Bradford (b. 4 Jul 1892 - d. 28 May 1980)
Coble, Ollie J (b. 1898 - d. 1973)
Coltrane Roy D (b. 16 May 1906 - d. 12 Jan 1976)
Coltrane, Alice (b. 4 Nov 1899 - d. 3 Jul 1926)
Coltrane, Allen E (b. 4 Nov 1898 - d. 23 Oct 1908)
Coltrane, Emma D (b. 1875 - d. 1950)
Coltrane, Frannie R (b. 28 Apr 1898 - d. 21 Jan 1949)
Coltrane, G Leslie (b. 14 Jan 1895 - d. 29 Ape 1919)
Coltrane, Infant (b. 27 Aug 1909 - d. 27 Aug 1909)
Coltrane, John C (b. 30 Mar 1895 - d. 23 Jun 1924)
Coltrane, Mary (b. 1 Apr 1872 - d. 15 May 1936)
Coltrane, Raymond D (b. 1872 - d. 1932)
Coltrane, Ruby D (b. 18 Apr 1914 - d. 19 Jun 1916)
Coltrane, Ruth D (b. 1914 - d. 1946)
Cook, Kenneth Lee (b. 15 Dec 1958 - d. 26 Mar 1979)
Cook, Shirley Ann (b. 19 May 1931 - d. 1 Dec 1993)
Coward, Frances Ellis (b. 28 Sep 1919 - d. 22 Oct 1988)
Coward, William Keith (b. 5 Feb 1918 - d. 18 Nov 2002)
Crews, Sadie Glasgow (b. 29 Jul 1910 - d. 11 Sep 1988)
Crotts, Stacy C Jarrell (b. 28 Jun 1964 - d. 25 Mar 1995)
Curtis, Colon Lazelle (b. 12 Feb 1881 - d. 11 Sep 1940)
Curtis, Lula Belle (b. 27 Mar 1896 - d. 19 Mar 1980)
Curtis, Mary Estelle (b. 29 May 1898 - d. 26 Mar 1975)
Curtis, Roxanna Estelle York (b. 16 May 1858 - d. 4 Jul 1935)
Curtis, Thomas E (b. 9 Apr 1920 - d. 25 Jan 1994)
Curtis, William Dennis (b. 6 May 1852 - d. 4 May 1936)
Davenport, Lusia Jane (b. 10 Jul 1852 - d. 10 Mar 1939)
Davenport, Minnie E (b. 28 Jun 1875 - d. 12 Nov 1892)
Davenport, Nancy E (b. 10 Jun 1831 - d. 3 Mar 1901)
Davis, C W (b. 11 Jun 1902 - d. 17 Oct 1925)
Davis, Charles E (b. 17 Sep 1911 - d. 18 Jun 1989)
Davis, Darren Todd (b. 26 Jan 1965 - d. 25 Jan 2002)
Davis, Hellie E (b. 1884 - d. 1944)
Davis, Ruby Nelson (b. 30 Jan 1913 - d. 26 May 1990)
Davis, Savannah Watts (b. 2 Jun 1901 - d. 9 Nov 1998)
Davis, Walter Bryon (b. 24 Sep 1896 - d. 8 Jun 1966)
Deaton, Iris B (b. 1888 - d. 1920)
Deaton, Opal (b. 1911 - d. 1922)
Dowdy, Infant (b. 20 May 1936 - d. 20 May 1936)
Dowdy, Martha Aldridge (b. 14 May 1938 - d. 7 Jun 1997)
Dowdy, Verta York (b. 3 Feb 1900 - d. 16 Mar 1968)
Duncan, Joseph Haskell (b. 4 Jul 1920 - d. 15 Nov 1969)
Duncan, Virginia C (b. 21 Sep 1921 - d. 19 Jan 2010)
Dunlap, James Curran (b. 14 Oct 1905 - d. 9 Mar 1967)
East, Infant (b. 25 Aug 1954 - d. 25 Aug 1954)
East, James Hobert (b. 2 Dec 1950 - d. 5 Aug 2002)
East, Michael David (b. 14 Jun 1953 - d. 15 Jun 1969)
East, Vestal M (b. 1927 - d. 1979)
Elder, John Walter (b. 27 Feb 1896 - d. 30 Jul 1913)
Ellis Sarah Evelyn (b. 18 Jul 1923 - d. 21 Mar 2007)
Ellis, A Benton (b. 1893 - d. 1964)
Ellis, Allie B (b. 1900 - d. 1976)
Ellis, Charles (b. 3 Jan 1900 - d. 1 Mar 1900)
Ellis, Eli N (b. 1869 - d. 1904)
Ellis, Ernest B (b. 5 Oct 1896 - d. 19 Aug 1980)
Ellis, Ernest R (b. 20 May 1926 - d. 30 Jun 1997)
Ellis, Evelyn Seamon (b. 18 Jul 1923 - d. 21 Mar 1978)
Ellis, Fred (b. 31 May 1895 - d. 15 Jan 1900)
Ellis, Harold Benton (b. 26 Jan 1922 - d. 8 Jul 1993)
Ellis, Infant (b. 11 Apr 1924 - d. 14 Apr 1924)
Ellis, Lithie P (b. 5 May 1916 - d. 18 Aug 1980)
Ellis, Maggie E (b. 3 Apr 1862 - d. 12 Apr 1902)
Ellis, Mayme M (b. 17 May 1891 - d. 6 Oct 1947)
Ellis, Minnie (b. 17 May 1891 - d. 19 May 1891)
Fentress, Asrnrth (b. 14 Feb 1828 - d. 8 Jul 1908)
Fentress, Cora Millikan (b. 1868 - d. 1986)
Fentress, Fredrick F (b. 22 Jan 1867 - d. 16 Jul 1895)
Fentress, P P (b. 1864 - d. 1940)
Fentress, Road Hayes (b. 1903 - d. 1970)
Ferguson, Gracie Baldwin (b. 1912 - d. 1957)
Ferguson, Jimmy David (b. 1989 - d. 1990)
Ferree, James Ray (b. 2 May 1923 - d. 15 Jan 1991)
Flimchum, Vieginia P (b. 28 Nov 1939 - d. 15 Apr 1965)
Foust, Douglas Paris (b. 9 Jul 1929 - d. 2 Jan 2005)
Foust, Mabel Pugh (b. 1908 - d. 1993)
Foust, Mary Coble (b. 3 May 1929 - d. 31 Aug 1993)
Foust, Ressie N (b. 1904 - d. 1977)
Foust, Ressie Vernon (b. 13 May 1928 - d. 13 May 1928)
Freeland, Edith Walker (b. 27 Aug 1902 - d. 20 Feb 1992)
Freeland, James Vance (b. 5 Dec 1903 - d. 15 Sep 1979)
Gaster, Annie Catherine (b. 19 Dec 1864 - d. 13 Jun 1960)
Gaster, Annie Lee (b. 18 Apr 1904 - d. 23 Jun 1905)
Gaster, Charles A (b. 6 Jun 1893 - d. 19 Feb 1916)
Gaster, D T (b. 20 Dec 1862 - d. 1 Niv 1940)
Gaster, John D (b. 4 Dec 1902 - d. 11 Jun 1903)
Gaster, Mary E (b. 3 Apr 1900 - d. 10 Aug 1900)
Giles, Infant Son (b. 20 Jan 1894 - d. 23 Jan 1894)
Glasgow, Maudie Hubbard (b. 1893 - d. 1994)
Goley, Harrison E (b. 1846 - d. 1923)
Goley, John T (b. 23 Aug 1870 - d. 27 Feb 1900)
Goley, Martha Moffitt (b. 1849 - d. 1925)
Goley, Mattie F (b. 29 Jun 1883 - d. 16 Dec 1898)
Goley, Sina C (b. 1890 - d. 1913)
Gray, Gladys B M (b. 1897 - d. 1904)
Gray, John Anderson (b. 8 May 1861 - d. 11 Dec 1933)
Groce, Arthur Ralph (b. 30 Sep 1908 - d. 6 Jun 1970)
Groce, Martha Coltrane (b. 11 Aug 1907 - d. 10 Dec 1990)
Hackett, Saral M (b. Unknown - d. 1960)
Haithcock, Percy Ray (b. 17 Sep 1912 - d. 7 Mar 1988)
Haithcock, Vern Fern Julian (b. 17 Apr 1916 - d. 24 Feb 1986)
Haitt, Bobby W Sr (b. 4 Feb 1947 - d. 13 Jan 1999)
Haltom, H L (b. 2 Nov 1870 - d. 31 Jan 1901)
Hancock, B Elizabeth (b. 1915 - d. 1981)
Hancock, Berlie S (b. 1877 - d. 1955)
Hancock, Charlie A (b. 1913 - d. 1993)
Hancock, E Len (b. 1879 - d. 1927)
Hancock, Goldie J (b. 1919 - d. 1991)
Hancock, Infant (b. 1918 - d. 1918)
Hancock, James A (b. 1910 - d. 1914)
Hanes, Robert Lee (b. 14 Oct 1925 - d. 8 Jan 1986)
Hardin Charlie B (b. 1928 - d. 1949)
Hardin, Barbara Capps (b. 17 Sep 1928 - d. 17 Jan 1984)
Hardin, Charlie D (b. 23 Apr 1898 - d. 9 May 1975)
Hardin, Joseph D (b. 1923 - d. 1923)
Hardin, Julian Clyde (b. 16 Apr 1916 - d. 28 Dec 1993)
Hardin, Mullard Carl (b. 5 Dec 1925 - d. 9 Jan 2007)
Hardin, Velna U (b. 11 Jul 1901 - d. 5 Mar 1979)
Harkey, Vicki Charlene (b. 24 Dec 1942 - d. 10 May 1946)
Harper, Aneliza (b. 1875 - d. 1890)
Hayes, Alfred W (b. 14 Jul 1919 - d. 5 Oct 1980)
Hayes, Lillian Smith (b. 19 Jun 1908 - d. 13 Mar 1997)
Hayes, Thedore (b. 1905 - d. 1973)
Hilton, Lorena E (b. 28 Feb 1928 - d. 23 Jun 1969)
Hinshaw, Annie M (b. 24 Apr 1857 - d. 23 Sep 1921)
Hinshaw, Charles Wesley (b. 25 Apr 1873 - d. 21 Sep 1948)
Hinshaw, Claude A (b. 1909 - d. 1972)
Hinshaw, Clyde H (b. 7 Apr 1902 - d. 30 Mar 1986)
Hinshaw, Dannie Herbert (b. 1 Oct 1882 - d. 17 Aug 1930)
Hinshaw, Edgar Woolen (b. 19 Jan 1877 - d. 2 Apr 1956)
Hinshaw, Evelyn (b. 22 Apr 1836 - d. 2 Feb 1914)
Hinshaw, Fanny Gennette Lawhon (b. 24 Nov 1869 - d. 15 Dec 1929)
Hinshaw, Gaston (b. 8 Sep 1840 - d. 3 Feb 1924)
Hinshaw, Ira G (b. 15 May 1893 - d. 24 Nov 1985)
Hinshaw, Jesse P (b. 21 Jun 1905 - d. 18 Jul 1942)
Hinshaw, Mary J (b. 1852 - d. 1913)
Hinshaw, Miranda (b. 17 Aug 1844 - d. 16 Nov 1900)
Hinshaw, Mozelle P (b. 1910 - d. 1977)
Hinshaw, N A (b. 9 Oct 1875 - d. 1 May 1955)
Hinshaw, Nora Eva (b. 28 Aug 1898 - d. 15 Oct 1979)
Hinshaw, R A (b. 12 Apr 1853 - d. 2 May 1927)
Hinshaw, Rupert (b. 19 Sep 1881 - d. 25 Sep 1956)
Hinshaw, Sarah A (b. 10 Oct 1852 - d. 31 Jan 1940)
Hinshaw, Sybil M (b. 1894 - d. 1974)
Hinshaw, Zeno (b. 2 Feb 1853 - d. 13 May 1919)
Holt, Imogene Frances (b. 15 Jan 1927 - d. 30 Jul 1998)
Hopkins, Laurie Ann Owen (b. 4 Sep 1931 - d. 3 Feb 1997)
Hudson, Fred (b. 19 Dec 1923 - d. 20 Mar 2006)
Huldah, Louisa Lineberry Cropley (b. 1926 - d. 1996)
Hurley, Bessie Varner (b. 12 Feb 1916 - d. 30 Jul 2002)
Hurley, Howard Baxter (b. 12 Nov 1935 - d. 27 Aug 2002)
Hurley, Howard L (b. 11 Jul 1909 - d. 24 Nov 1993)
Hurley, Maggie S (b. 17 Jun 1912 - d. 28 Jul 1997)
Jackson, Infant (b. 30 Sep 1907 - d. 12 May 1909)
Jarrett, James Kenneth (b. 9 Jan 1926 - d. 20 Feb 2004)
Jarrett, Linda Ruth (b. 20 Apr 1949 - d. 20 Apr 1949)
Jenkins, Rosaline (b. 11 Jan 1875 - d. 11 Jan 1891)
Johnson, Alice Cranford (b. 9 Sep 1897 - d. 9 Jul 1982)
Johnson, Annie S (b. 21 Apr 1901 - d. 19 Dec 1991)
Johnson, Benjie (b. 11 Aug 1957 - d. 11 Aug 1957)
Johnson, Bob L (b. 1909 - d. 1987)
Johnson, Charlie Addison (b. 4 Dec 1898 - d. 14 Apr 1953)
Johnson, Clayton Henry (b. 24 Sep 1907 - d. 8 Feb 1975)
Johnson, Cora H (b. 23 Nov 1887 - d. 23 Nov 1972)
Johnson, Corinna G (b. 29 May 1891 - d. 24 Apr 1984)
Johnson, Fannie D (b. 1900 - d. 1956)
Johnson, Frances M (b. 31 May 1900 - d. 5 Jun 2000)
Johnson, Frank O (b. 6 Sep 1886 - d. 4 Feb 1958)
Johnson, Harvey L (b. Unknown - d. 1936)
Johnson, Infant (b. 1922 - d. 1922)
Johnson, Infant (b. 1919 - d. 1919)
Johnson, Irene (b. 30 May 1930 - d. 23 Jun 1936)
Johnson, James W (b. 1910 - d. 1939)
Johnson, Joe M (b. 18 Nov 1888 - d. 21 Aug 1969)
Johnson, Lee Roy (b. 21 Jul 1914 - d. 8 Aug 1986)
Johnson, Lenora While (b. 6 Jul 1918 - d. 24 Feb 1989)
Johnson, Luellar A (b. 1874 - d. 1949)
Johnson, Mark Anthony (b. 1963 - d. 1963)
Johnson, Robah D (b. 13 May 1903 - d. 3 Feb 1988)
Johnson, Robert Wesley (b. 10 May 1929 - d. 15 May 1992)
Johnson, Ruby A (b. 30 Apr 1911 - d. 30 Oct 1997)
Johnson, Thomas A (b. 6 Sep 1939 - d. 8 Sep 1939)
Johnson, Tommy Alford (b. 30 Nov 1961 - d. 23 Dec 2008)
Johnson, Vaughn R (b. 5 Apr 1902 - d. 28 Apr 1962)
Johnson, Virgil Alford (b. 31 Dec 1917 - d. 24 Jun 1971)
Johnson, William C (b. 1894 - d. 1952)
Jones, Tiffany V (b. 8 May 1945 - d. 26 Aug 2007)
Julian, Amanda (b. 2 Jun 1886 - d. 5 Aug1947)
Julian, Arta Odes (b. 1888 - d. 1891)
Julian, Carletta P (b. 1895 - d. 1987)
Julian, Clarkson Sylvester (b. 8 Oct 1885 - d. 1 Mar 1970)
Julian, Edith D (b. 16 Oct 1856 - d. 23 Feb 1927)
Julian, Edna Valeria (b. 17 Feb 1912 - d. 23 Oct 1996)
Julian, Effie L (b. 1891 - d. 1902)
Julian, Elizabeth Lovi (b. 29 Nov 1817 - d. 23 Apr 1887)
Julian, Elmer (b. 31 Jan 1886 - d. 6 Apr 1895)
Julian, Elsie Hayes (b. 3 Mar 1892 - d. 6 Mar 1921)
Julian, Flossie Dorsett (b. 12 Jul 1901 - d. 7 Jan 1969)
Julian, George S (b. 10 Feb 1859 - d. 22 Dec 1940)
Julian, Hal (b. 13 Mar 1905 - d. 13 Feb 1908)
Julian, Henriette Dunlap (b. 30 Apr 1869 - d. 9 Jan 1943)
Julian, Infant Son (b. Jul 1907 - d. Jul 1907)
Julian, Isaac A (b. 28 Jul 1869 - d. 22 Jul 1949)
Julian, J C (b. 1885 - d. 1905)
Julian, Jennie F (b. 1892 - d. 1977)
Julian, Jesse G (b. 5 May 1863 - d. 29 Jan 1940)
Julian, John G (b. 1895 - d. 1950)
Julian, Joseph J (b. 1903 - d. 1906)
Julian, Lillie B (b. 29 Aug 1892 - d. 27 Jul 1906)
Julian, Lillie F (b. 1890 - d. 1890)
Julian, Lindsay (b. 31 Dec 1839 - d. 25 Jul 1911)
Julian, Mary (b. 1824 - d. 1890)
Julian, Mary Alice (b. 1885 - d. 1886)
Julian, Mary Ellen (b. 11 Aug 1865 - d. 24 Oct 1957)
Julian, Mozelle T (b. 19 Nov 1921 - d. 26 Jun 2001)
Julian, Mozelle Trotter (b. 19 Nov 1921 - d. 26 Jun 2001)
Julian, Ollie T (b. 30 Nov 1888 - d. 10 Aug 1973)
Julian, Phebe E (b. 4 Feb 1835 - d. 18 Aug 1912)
Julian, Ralph Lee (b. 19 Aug 1940 - d. 14 Oct 1977)
Julian, Ralph McKinley (b. 20 Aug 1896 - d. 7 Apr 1968)
Julian, Sarah E (b. 1845 - d. 1925)
Julian, Sylvina (b. 25 May 1842 - d. 19 May 1884)
Julian, Tobias G (b. 26 Aug 1825 - d. 25 Feb 1910)
Julian, Virginia Caroline (b. 5 Sep 1849 - d. 12 Mar 1935)
Julian, W M (b. 23 Dec 1843 - d. 29 Nov 1932)
Julian, W Percy (b. 1888 - d. 1956)
Julian, William McKenley Jr (b. 21 Oct 1944 - d. 11 Sep 2007)
Julian, William McKenley Sr (b. 5 Apr 1920 - d. 12 Apr 1993)
Keen, Edith H (b. 1924 - d. 1971)
Kime, Betty Jo Lineberry (b. 5 Dec 1929 - d. 26 Sep 2007)
Kime, Robert Bender Jr (b. 23 Jul 1948 - d. 15 Mar 2006)
Kindley, Lucille H (b. 17 Jul 1917 - d. 5 Mar 1976)
King, Ellwood Cyrus Jr (b. 18 Nov 1932 - d. 21 Nov 1979)
Kinley, Dorothy G (b. 21 Feb 1928 - d. 11 May 2005)
Kinley, Elewise (b. 19 Nov 1919 - d. 18 Aug 1920)
Kinley, Evellen (b. 19 Nov 1919 - d. 15 Jun 1920)
Kinley, Gary T (b. 3 Oct 1951 - d. 3 Oct 1951)
Kinley, Grover E (b. 13 May 1917 - d. 24 Jun 1918)
Kinley, Lonnie T (b. 3 Jul 1912 - d. 24 Jul 1958)
Kinley, Maud U (b. 17 Oct 1889 - d. 9 Oct 1964)
Kinley, Wade D (b. 13 Sep 1926 - d. 20 Jun 2007)
Kinley, Wade H (b. 27 May 1892 - d. 17 Apr 1947)
Kirkman, Dora E (b. 21 Nov 1875 - d. 23 Jul 1941)
Kirkman, Infant (b. 1885 - d. 1885)
Kirkman, Infant (b. 6 Jul 1906 - d. 25 Jul 1906)
Kirkman, Infant (b. 2 Sep 1898 - d. 4 Nov 1898)
Kirkman, J Floyd (b. 1917 - d. 1945)
Kirkman, James C (b. 1886 - d. 1919)
Kirkman, John (b. 1847 - d. 1923)
Kirkman, Leanore Jackson (b. 27 May 1866 - d. 12 Sep 1907)
Kirkman, Mary (b. 1884 - d. 1962)
Kirkman, Rachel (b. 1880 - d. 1914)
Kirkman, Roscoe (b. Feb 1893 - d. Feb 1918)
Kirkman, Thomas M (b. 3 Dec 1868 - d. 14 Jul 1906)
Lambeth, Charles Richard (b. 30 Apr 1919 - d. 1 Apr 1996)
Langley, James C (b. 1837 - d. 1899)
Lineberry, Marjorie Belle Johnson (b. 29 Oct 1894 - d. 22 Apr 1975)
Little, Bessie S (b. 20 Dec 1899 - d. 18 Nov 1999)
Little, Bonnie H (b. 7 Aug 1934 - d. 31 Aug 1991)
Little, Franklin L (b. 11 Oct 1933 - d. 31 Dec 1996)
Little, Herman C (b. 25 Aug 1919 - d. 11 Dec 1984)
Little, Nettie S (b. 1905 - d. 1979)
Little, Ransom B (b. 9 Nov 1899 - d. 8 Sep 1976)
Little, Rome C (b. 1903 - d. 1950)
Little, Ronnie Lee (b. 21 Apr 1952 - d. 16 Mar 1960)
Little, Troy Burton (b. 28 Apr 1930 - d. 10 Nov 1976)
Lovell, Bitha Man (b. 26 Mar 1896 - d. 11 Feb 1953)
Lovell, James S (b. 24 Jan 1858 - d. 10 Apr 1950)
Lovell, Mary Eliza Hall (b. 15 Aug 1865 - d. 29 Jul 1958)
Luck, Maude R (b. 18 Sep 1886 - d. 1 Jun 1907)
Luck, Roy W (b. 24 Mar 1907 - d. 24 May 1907)
Lynch, Della Curtis (b. 8 Apr 1893 - d. 29 Sep 1978)
Lynch, Robert Fernando (b. 28 Jan 1874 - d. 14 May 1961)
Mabe, Helen B Margaret Varner (b. 11 Dec 1919 - d. 12 Jan 1998)
Macon, Ruth B (b. 1915 - d. 1970)
Mann, Andrew Thomas (b. 1 Sep 1987 - d. 26 Nov 2007)
Martin, Howard Roger (b. 27 Jul 1936 - d. 12 May 2008)
Martin, Linda Susan (b. 6 Jun 1949 - d. 6 Jun 1949)
Martin, Mary B (b. 22 Oct 1916 - d. 14 Dec 1987)
Martindale, Dixie T (b. 16 Jan 1925 - d. 18 Jun 2007)
Martindale, James E (b. 21 Jul 1874 - d. 15 Jul 1903)
Martindale, Lloyd W (b. 21 Feb 1925 - d. 4 May 1971)
Martindale, Martha J (b. 23 Oct 1871 - d. 12 Jun 1969)
Martindale, Valley (b. 1902 - d. 1907)
McCorquodale, Ellsworth C (b. 10 May 1926 - d. 18 Jan 1994)
McCorquodale, Rhonda Karen (b. 20 Jul 1954 - d. 11 Apr 1968)
McFadyen, Cletam Routh (b. 6 Nov 1904 - d. 20 Aug 1933)
McFadyen, F C (b. 7 Feb 1902 - d. 25 Sep 1970)
McFadyer, Eva Routh (b. 26 Oct 1899 - d. 1 Feb 1984)
McIntyre, Isabell (b. 1930 - d. 2003)
McNeill, Hazel M (b. 22 Mar 1934 - d. 23 Mar 1934)
McNeill, Ruth Edna (b. 10 Nov 1958 - d. 16 Nov 2000)
Meredith, David M (b. 3 Apr 1873 - d. 30 Jun 1955)
Miller, Jefferson Woodrow (b. 14 Nov 1914 - d. 29 Apr 2009)
Miller, Ruby Alyce Johnson (b. 31 Mar 1925 - d. 1 Feb 2009)
Moody, Eula Collene (b. 27 Jun 1927 - d. 4 Dec 1927)
Moody, Gladie Lorine (b. 12 Jun 1914 - d. 12 Jun 1914)
Moody, Horace (b. 28 Jun 1920 - d. 28 Jun 1920)
Moody, Virginia (b. 13 Jan 1924 - d. 13 Jan 1924)
Moquia, Alhalie Allridge (b. 30 Sep 1919 - d. 15 Dec 2005)
Moquia, Walter H (b. 26 Jun 1911 - d. 25 Jun 1973)
Moses, Charles, H (b. 4 Dec 1921 - d. 13 Dec 1921)
Murphy, Bertie Ednore (b. 1891 - d. 1892)
Nelson, Adeline (b. 1862 - d. 1946)
Nelson, Alda Allred (b. 1 Aug 1875 - d. 17 Feb 1947)
Nelson, Allie A (b. 5 Oct 1909 - d. 10 Dec 1996)
Nelson, Bessie Brown (b. 1988 - d. 1906)
Nelson, David C (b. 2 Mar 1870 - d. 20 Feb 1963)
Nelson, David T Bobby (b. 1 Jun 1937 - d. 27 Oct 1996)
Nelson, Ella Jane (b. 1888 - d. 1962)
Nelson, Ethel Spivey (b. 17 May 1914 - d. 20 Sep 1989)
Nelson, Frank Lewis (b. 8 Nov 1917 - d. 7 Oct 1918)
Nelson, Hope (b. 20 May 1902 - d. 24 Jun 1904)
Nelson, Infant (b. 7 Mar 1900 - d. 7 Mar 1900)
Nelson, Isaac G (b. 22 Aug 1877 - d. 29 Mar 1953)
Nelson, James Bohan (b. 17 Oct 1915 - d. 16 Feb 1972)
Nelson, Lewis (b. 1877 - d. 1927)
Nelson, Massouri B (b. 24 Dec 1878 - d. 9 Jun 1965)
Nelson, Roy (b. 1907 - d. 1907)
Nelson, Sam E (b. 1882 - d. 1968)
Nelson, Samuel W (b. 4 Sep 1918 - d. 8 Dec 1969)
Nelson, William F (b. 25 Apr 1901 - d. 4 Sep 1971)
Nixon, Alise Julian (b. 28 Aug 1921 - d. 4 Sep 2006)
Nixon, Hattie Davis (b. 30 Sep 1898 - d. 28 May 1985)
Nixon, Jimmy Kay (b. 23 Jul 1949 - d. 25 Apr 2007)
Nixon, John Curtis, (b. 12 Aug 1924 - d. 1 Feb 2000)
Nixon, John Guy (b. 21 Sep 1899 - d. 14 Jun 1976)
Nixon, Lula Bristow (b. 23 Apr 1906 - d. 21 Jan 1981)
Nixon, Pauline Vernon (b. 16 Jun 1926 - d. 12 Oct 2009)
Nixon, Richard Davis (b. 28 Jan 1923 - d. 8 Jun 1991)
Nixon, William Emmett (b. 25 Aug 1896 - d. 23 May 1970)
Noah, Susan Elizabeth (b. 28 Jun 1900 - d. 21 Apr 1969)
Osborne, Adalaide Kevitt (b. 17 Jul 1861 - d. 6 Mar 1939)
Osborne, Algerine Monroe (b. 25 Oct 1856 - d. 18 May 1934)
Osborne, Annie Bis (b. 2 Feb 1876 - d. 7 Feb 1953)
Osborne, Cordie (b. 1885 - d. 24 Sep 1901)
Osborne, Daisy Lucretia (b. 28 Apr 1881 - d. 16 Jan 1964)
Osborne, Infant Daughter (b. 1898 - d. 1899)
Osborne, Millard C (b. 2 May 1883 - d. 29 Aug 1955)
Osborne, Ottis (b. 22 Oct 1896 - d. 18 Oct 1918)
Osborne, Sarah Julian (b. 30 Jan 1853 - d. 23 Mar 1929)
Owens, Mabel Redding (b. 14 Jun 1906 - d. 23 Apr 2001)
Owens, Paul Dixon (b. 28 Dec 1904 - d. 13 Jun 1996)
Parris, Barbara A (b. 22 Oct 1935 - d. 17 Jun 1937)
Parris, Effie Johnson (b. 2 Aug 1900 - d. 20 Oct 2002)
Parris, Frances R (b. 11 Aug 1924 - d. 15 Sep 1981)
Parris, Helen M (b. 1921 - d. 1992)
Parris, J D (b. 7 Oct 1912 - d. 29 Jul 1974)
Parris, James E (b. 2 Mar 1875 - d. 4 Mar 1939)
Parris, John C (b. 17 Jan 1899 - d. 29 Jul 1954)
Parris, John C Jr (b. 17 Jun 1921 - d. 17 Dec 1965)
Parris, Mildred M (b. 19 Jul 1945 - d. 20 Apr 2007)
Parris, Minnie V (b. 3 Mar 1881 - d. 23 Mar 1945)
Parris, Ola B (b. 4 Nov 1914 - d. 4 May 1984)
Parris, William D (b. 1918 - d. 1976)
Patterson, Geneva H (b. 1909 - d. 1910)
Patterson, Infant (b. 17 Feb 1902 - d. 17 Feb 1902)
Patterson, Lizzie (b. 30 Jun 1876 - d. 2 Jan 1904)
Patterson, Virena A (b. 17 Nov 1848 - d. 10 Mar 1905)
Patterson, William H (b. 5 May 1852 - d. 16 Mar 1905)
Poole, Cynthia Julian (b. 1958 - d. 1976)
Premru, Josephine T (b. 9 Dec 1909 - d. 22 Jan 1985)
Premru, Max (b. 16 Feb 1906 - d. 20 Nov 1977)
Pritchard, Alvin C (b. 5 Jul 1920 - d. 13 Mar 1990)
Pritchard, Gina Raye (b. 3 Dec 1974 - d. 26 Feb 1996)
Pritchard, Imogene Trogdon (b. 16 Feb 1927 - d. 7 Nov 2004)
Pugh, A Clark (b. 16 Jan 1881 - d. 15 Dec 1948)
Pugh, Agnes Routh (b. 25 Jun 1878 - d. 19 Jul 1961)
Pugh, Doroyhy Leigh (b. 24 Dec 1926 - d. 28 Jan 1932)
Pugh, Elmer (b. 13 Dec 1903 - d. 7 Feb 1907)
Pugh, Fred B (b. 15 Jun 1905 - d. 7 Jun 1962)
Pugh, Ida M (b. 1872 - d. 1929)
Pugh, James Franklin, (b. 28 Mar 1894 - d. 1 Jan 1977)
Pugh, Mabel Kearns (b. 23 Oct 1914 - d. 4 Dec 2006)
Pugh, Merl Dennis (b. 22 Jun 1905 - d. 22 Jan 1941)
Pugh, S A (b. 1876 - d. 1951)
Pugh, Twin Daugs. (b. 19 Jan 1907 - d. 19 Jan 1907)
Pugh, Urilla Routh (b. 27 Oct 1896 - d. 18 Aug 1978)
Pugh, Wilma Jean (b. 2 Nov 1929 - d. 17 Nov 1932)
Pugh, Worth J Sr (b. 11 Feb 1917 - d. 13 May 1993)
Ramos, Rose Marie (b. 22 Jul 1944 - d. 9 Jul 2005)
Redding, Annabelle (b. 21 Sep 1914 - d. 16 Oct 1914)
Redding, Atha E Julian (b. 5 Apr 1894 - d. 20 Aug 1984)
Redding, Clara, (b. 1 Jul 1898 - d. 17 Jan 1926)
Redding, Colon T (b. 8 Jan 1883 - d. 30 Nov 1971)
Redding, Deida V (b. 20 Sep 1878 - d. 6 Mar 1916)
Redding, Elizabeth (b. 1856 - d. 1896)
Redding, Frances (b. 1867 - d. 1907)
Redding, Harold H (b. 25 Oct 1918 - d. 3 Dec 2003)
Redding, Infant (b. Mar 1900 - d. Mar 1900)
Redding, Joseph A (b. 14 Sep 1854 - d. 23 Jun 1940)
Redding, Joseph Walter (b. 3 Nov 1890 - d. 15 Sep 1977)
Redding, Joseph Walter Jr (b. 22 Sep 1916 - d. 20 Dec 1997)
Redding, Lillie Kiser (b. 8 May 1910 - d. 27 Aug 1991)
Redding, Lucinda (b. 19 Jul 1832 - d. 17 Jul 1924)
Redding, Minnie B (b. 3 Jul 1892 - d. 24 Dec 1982)
Redding, Paul McCain (b. 5 May 1904 - d. 22 Sep 1999)
Redding, Solomon T (b. 11 Apr 1827 - d. 22 May 1912)
Redding, William A (b. 21 Oct 1880 - d. 20 Feb 1965)
Redding, William Joseph (b. 10 Jul 1916 - d. 16 Mar 1979)
Redding, Worth (b. 30 Apr 1911 - d. 24 May 1911)
Redmon, Carl J (b. 27 Jan 1910 - d. 23 Aug 1974)
Redmon, Lauretta R (b. 15 Feb 1917 - d. 15 Sep 2003)
Reedy, Josie, C (b. 1880 - d. 1946)
Reedy, L Raymond (b. 1895 - d. 1958)
Robertson, Elwood H (b. 14 Nov 1914 - d. 14 Nov 1995)
Robertson, Mary E (b. 1847 - d. 1944)
Robertson, Minnie J (b. 1877 - d. 1955)
Robertson, W J (b. 1875 - d. 1944)
Routh, Arch B (b. 29 Jul 1910 - d. 11 Nov 1971)
Routh, Balfour C (b. 1872 - d. 1961)
Routh, Bertie Goley (b. 1877 - d. 1959)
Routh, Bettie Gallomore (b. 1876 - d. 1950)
Routh, Cecil R (b. 1 Mar 1905 - d. 9 Aug 1955)
Routh, Charles Bruce (b. 12 Sep 1925 - d. 6 Jun 1926)
Routh, Cicero (b. 1870 - d. 5 Apr 1890)
Routh, Claude (b. 17 May 1892 - d. 7 Oct 1976)
Routh, Deanna Wilson (b. 13 Aug 1845 - d. 10 Feb 1909)
Routh, Elmer Wesley (b. 1928 - d. 2010)
Routh, Elsie A (b. 10 Aug 1900 - d. 1 Jul 1923)
Routh, Eula Thomas (b. 18 Jul 1902 - d. 9 Jan 1980)
Routh, Eutha Jean (b. 21 Nov 1892 - d. 15 Feb 1989)
Routh, Fred Coleman (b. 27 Jan 1926 - d. 21 Dec 2002)
Routh, Garland P (b. 25 Apr 1922 - d. 25 Nov 1945)
Routh, Gertrude (b. 18 May 1913 - d. 27 Jun 1914)
Routh, Glenn C (b. 16 Dec 1908 - d. 6 Apr 1982)
Routh, Hersel (b. 19 Apr 1911 - d. 16 Nov 1911)
Routh, Hilda S (b. 9 Feb 1917 - d. 23 Aug 1988)
Routh, Howard (b. 28 Jul 1907 - d. 27 May 1909)
Routh, Infant (b. 11 Apr 1903 - d. 11 Apr 1903)
Routh, Infant (b. 25 Aug 1908 - d. 25 Aug 1908)
Routh, Infant (b. 16 Jan 1913 - d. 16 Jan 1913)
Routh, Infant (b. 24 Jul 1952 - d. 24 Jul 1952)
Routh, Infant (b. 9 Jun 1920 - d. 9 Jun 1920)
Routh, Infant Daughter (b. 12 Nov 1916 - d. 12 Nov 1916)
Routh, J F (b. 21 Feb 1919 - d. 30 Jan 1921)
Routh, Joe Wilson (b. 17 Oct 1920 - d. 15 Dec 1999)
Routh, John Beasley (b. 13 Sep 1905 - d. 30 Oct 1920)
Routh, John F (b. 2 Apr 1869 - d. 19 Aug 1949)
Routh, John Pace (b. 1871 - d. 1953)
Routh, Joshua Toon (b. 18 Nov 1899 - d. 9 Feb 1988)
Routh, Lewis Julian (b. 12 Apr 1911 - d. 15 Jun 1991)
Routh, Lillian Marie (b. 7 Jun 1902 - d. 18 Mar 2001)
Routh, Lula (b. 1 Jun 1876 - d. 1896)
Routh, Lula Prevo (b. 25 Jun 1871 - d. 1 Jan 1944)
Routh, Margie R (b. 1913 - d. 1986)
Routh, Marie Allred (b. 26 May 1933 - d. 11 Jan 1958)
Routh, Mary Etta Robbins (b. 22 Jun 1916 - d. 2 Sep 1975)
Routh, Mary M (b. 1845 - d. 1912)
Routh, Neese A (b. 1848 - d. 1927)
Routh, Paul D (b. 3 Jul 1898 - d. 12 Jan 1951)
Routh, Pauline Harvell (b. 7 Mar 1906 - d. 12 Dec 1990)
Routh, Ray (b. 3 Jun 1900 - d. 22 Aug 1904)
Routh, Susan M (b. 18 Jul 1877 - d. 12 Sep1896)
Routh, Thedosia Jenkins (b. 20 Jun 1876 - d. 24 Apr 1968)
Routh, Velma Grace (b. 28 Dec 1935 - d. 2 Feb 1936)
Routh, Walter Curtis (b. 22 Apr 1887 - d. 3 Apr 1970)
Routh, William R (b. 1939 - d. 1983)
Routh, William Vernace (b. 25 Apr 1875 - d. 6 May 1957)
Saunders, Mary E (b. 1880 - d. 1904)
Scanboro, Ernest M (b. 18 Jun 1909 - d. 1 Mar 1982)
Scanboro, J Marshall (b. 1878 - d. 1957)
Scanboro, Lovey Goley (b. 1872 - d. 1956)
Sharp, Helen Kathleen Smith (b. 23 Apr 1925 - d. 5 Jan 2004)
Sheron, Infant Son (b. 1900 - d. 1900)
Siler, Henry T (b. 13 Jun 1881 - d. 22 Nov 1950)
Siler, Mollie L (b. 12 Dec 1896 - d. 4 May 1915)
Siler, W L (b. 28 Sep 1883 - d. 15 Sep 1921)
Smith, Cucero (b. 19 Apr 1890 - d. 27 Apr 1890)
Smith, Dora E Hooka (b. 15 Aug 1897 - d. 20 Aug 1965)
Smith, E Oscar (b. 10 Jul 1884 - d. 1 Jul 1903)
Smith, Frances Trogdon Landis Ervin (b. 23 Nov 1919 - d. 20 Aug 1984)
Smith, George W (b. 13 Feb 1878 - d. 29 Dec 1968)
Smith, Henry (b. 1846 - d. 1931)
Smith, John A (b. 1 Nov 1897 - d. 22 May 1978)
Smith, Lizalanora (b. 7 Feb - d. )
Smith, Mary E (b. 1850 - d. 1927)
Smith, Milford Anderson (b. 9 Feb 1920 - d. 28 Feb 2003)
Smith, Myrtle E (b. 6 Jul 1901 - d. 11 Aug 1974)
Smith, Sarah Fogleman (b. 1886 - d. 1930)
Smith, Sarah, McCollum (b. 1867 - d. 1899)
Smith, Thomas E (b. 23 Feb 1896 - d. 27 May 1887)
Smith, W Anderson (b. 25 Aug 1870 - d. 30 May 1942)
Snyder, Gurney P (b. 7 Sep 1874 - d. 20 Jun 1943)
Snyder, Maude E (b. 19 Jul 1888 - d. 23 May 1942)
Steed, Tony L (b. 1960 - d. 1993)
Stewart, Mamie Roeller (b. 1893 - d. 1903)
Stewart, Mollie Brown (b. 1864 - d. 1959)
Stewart, Oliver P (b. 12 May 1867 - d. 9 May 1957)
Stout, Daniel Ervin (b. 3 Jul 1931 - d. 7 Jan 1986)
Thompson, Charles Brack (b. 10 Nov 1913 - d. 9 Jan 1998)
Trogdon, Dwight M (b. 1898 - d. 1970)
Trogdon, Esrom R (b. 29 Jun 1847 - d. 12 Mar 1940)
Trogdon, Fronia Jane (b. 18 Jun 1843 - d. 24 Apr 1918)
Trogdon, Ila B (b. 1899 - d. 1985)
Trogdon, Kelly Ben (b. 7 Aug 1933 - d. 10 Oct 2006)
Trogdon, Lucinda (b. 17 Nov 1827 - d. 26 Mar 1893)
Trogdon, Talton (b. 14 Jul 1872 - d. 12 Jul 1917)
Tuttle, Pearl Walker (b. 5 Sep 1925 - d. 5 Feb 1996)
Tysinger, Myrtle B (b. 24 May 1892 - d. 29 Sep 1980)
Underwood, Arthur T (b. 15 May 1806 - d. 1 Jan 1908)
Underwood, Bessie (b. Apr 1892 - d. 8 Jul 1892)
Underwood, Charlie (b. 1893 - d. 5 Nov 1894)
Underwood, Edward J (b. 7 Apr 1883 - d. 22 Dec 1961)
Underwood, Ida May (b. 22 Feb 1909 - d. 22 May 1962)
Underwood, J P (b. 12 Sep1853 - d. 10 Apr 1925)
Underwood, Jessie (b. Unknown - d. 18 Jul 1892)
Underwood, Jimima (b. 19 Jul 1821 - d. 1 Jun 1889)
Underwood, John (b. 17 Jan 1821 - d. 29 Mar 1900)
Underwood, Joseph A (b. 25 Oct 1857 - d. 12 Mar 1905)
Underwood, Kenneth (b. 10 Mar 1917 - d. 14 Jan 1946)
Underwood, Martha (b. 1906 - d. 1965)
Underwood, Martha H (b. 14 Mar 1888 - d. 17 Nov 1955)
Underwood, Martitia (b. 20 May 1883 - d. 9 Apr 1920)
Underwood, Mary Ruth (b. 1931 - d. 1931)
Underwood, Oliver C (b. 25 Dec 1894 - d. 23 Jan 1898)
Underwood, Rebecca J Kirkman (b. 1860 - d. 1936)
Underwood, Rozedia (b. 23 Dec 1878 - d. 1 Aug 1955)
Underwood, Sarah E (b. 19 Sep 1857 - d. 29 Dec 1931)
Underwood, W Dennis (b. 1859 - d. 1933)
Underwood, William Edgar (b. 1 Jan 1880 - d. 17 Jan 1943)
Ussery, Sarah Elise (b. 23 Aug 1956 - d. 10 Dec 2000)
Varner, Bessie Hurley (b. 1916 - d. 2002)
Varner, Daniel C (b. 19 Jan 1952 - d. 18 May 1994)
Varner, Jackie C (b. 1939 - d. 1995)
Varner, Noah Zelmon (b. 2 Dec 1907 - d. 19 May 1981)
Varner, Roland (b. 1910 - d. 1963)
Varner, Sallie (b. 1883 - d. 1974)
Vestal, Kenneth Wayne (b. 23 Nov 1958 - d. 23 Jan 1977)
Vestal, Manning (b. 29 Apr 1917 - d. 21 Jan 1965)
Vestal, Mattie B (b. 17 Mar 1905 - d. 26 Oct 1984)
Vestal, Ollie H (b. 19 Jun 1902 - d. 11 Feb 1977)
Walden, Candy L (b. 28 May 1975 - d. 7 Sep 1991)
Walker, Alpheus L (b. 10 Feb 1898 - d. 6 Dec 1981)
Walker, Clyde T (b. 3 Feb 1934 - d. 13 Apr 1971)
Walker, Earl V (b. 4 Apr 1895 - d. 16 Feb 1982)
Walker, Ethel Allred (b. 18 Dec 1900 - d. 26 Jul 1968)
Walker, Henry, L (b. 1933 - d. 1934)
Walker, Infant Son (b. 12 Apr 1926 - d. 12 Apr 1926)
Walker, Joseph (b. 1972 - d. 1997)
Walker, May P (b. 11 Jun 1896 - d. 25 Jun 1983)
Walker, Millissa D (b. 1971 - d. 1971)
Walker, Mitchell E (b. 1972 - d. 1972)
Walker, Ralph G (b. 20 Sep 1936 - d. 27 Aug 1939)
Walker, Ruby Lee (b. 20 Sep 1929 - d. 14 Nov 1931)
Ward, Arlene Cagle (b. 29 Jul 1896 - d. 16 Jan 1993)
Ward, Gerney Lee (b. 27 Mar 1890 - d. 13 Mar 1964)
Ward, John Edward (b. 13 Jul 1882 - d. 27 Aug 1956)
Ward, Lonaq Glasgow (b. 20 Nov 1897 - d. 12 Mar 1978)
Ward, Maymie Routh (b. 9 Nov 1890 - d. 20 May 1982)
Ward, Michael (b. 19 Dec 1859 - d. 9 Mar 1934)
Ward, Pearl Walter (b. 6 Mar 1896 - d. 5 Jul 1983)
Ward, Raymond M (b. 6 Jul 1904 - d. 20 Nov 1995)
Ward, Rosanna Brown (b. 11 Oct 1859 - d. 10 Aug 1956)
Ward, Thurman Milton (b. 17 Dec 1924 - d. 28 May 1986)
Ward, Utensia E Pugh (b. 28 Apr 1872 - d. 22 Nov 1944)
Ward, Virginia William (b. 28 Nov 1919 - d. 14 Jan 2010)
Ward, Wesley Eli (b. 22 Dec 1893 - d. 22 Mar 1888)
Waugh, Thomas Phillip Jr (b. 3 Jun 1982 - d. 3 Jan 1982)
Weatherly, James William (b. 25 Dec 1917 - d. 13 Sep 1986)
Weatherly, Jess D (b. 28 Oct 1938 - d. 11 Mar 1940)
West, John David (b. 1921 - d. 1988)
West, Juanita Julian (b. 5 Feb 1920 - d. 6 Sep 1995)
White, Addison O Jr (b. 20 Jan 1922 - d. 8 Oct 1999)
White, Henry Cleo (b. 15 Sep 1912 - d. 11 Aug 1984)
White, Marie L (b. 21 Jun 1926 - d. 30 Jan 1997)
White, Mary Eileen (b. 9 Aug 1923 - d. 28 Dec 2006)
Wood, Gertrude P (b. 28 Oct 1892 - d. 26 Apr 1970)
Wood, Infant Son (b. 5 Jan 1897 - d. 5 Jan 1897)
Wood, James Percy (b. 10 Aug 1928 - d. 21 Apr 2007)
Wood, John Clark (b. 27 Dec 1850 - d. 15 May 1911)
Wood, Julia, (b. 1831 - d. 1913)
Wood, Larry James (b. 7 Feb 1946 - d. 21 Nov 1999)
Wood, Mary J Julian (b. 22 Aug 1865 - d. 9 Feb 1935)
Wood, Nancy Verlinda (b. 12 Jun 1848 - d. 12 Jul 1930)
Wood, Percy (b. 10 Aug 1889 - d. 8 Jan 1900)
Wood, Walter L (b. 2 Jul 1882 - d. 13 Feb 1925)
Yarber, Gordon R (b. 4 Jul 1916 - d. 26 Sep 1973)
Yarber, Hilda McSnyder (b. 24 Dec 1915 - d. 27 Jan 1966)
Web page updated 13 May 2017
Index of All Cemeteries
Alphabetical Index of All Burials
Previous Page