Index of All Cemeteries
Alphabetical Index of All Burials
Previous Page
Use the following to search across all the cemeteries listed.
Example: "Smith, Roger" (yes, use the quotes)
014 HULDAH BAPTIST CHURCH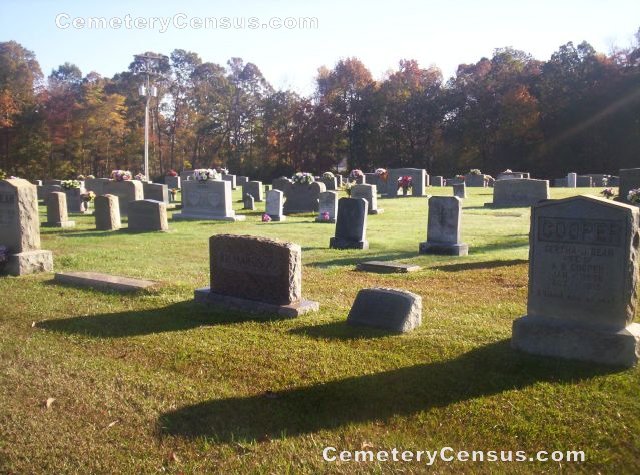 Location - on Old State Highway 13 at the intersection with Clyde King Rd (SR-2843).

Coordinates: 35d 34m 40.4s N; 79d 46m 31.8s W Click here for Google maps

Surveyed by Wayne Ham and Laurell Ham, Randleman, NC in October 2010. Photographs by Wayne Ham.

This is a complete listing as of October 8, 2010.


Adams, Sandra Miller (b. 17 Apr 1947 - d. 14 Sep 1999)
Allen, Emma (b. 15 Apr 1906 - d. 15 Jun 1938)
Allen, Floyd Lester (b. 8 Feb 1899 - d. 7 Jul 1962)
Allen, Hassie Ella Cole (b. 29 Jun 1901 - d. 3 May 1963)
Anderson, Margie Brim (b. 21 Apr 1931 - d. 11 Feb 2006)
Auman, Charlie Roe (b. 28 Jul 1889 - d. 31 Dec 1951)
Auman, Lillian C (b. Unknown - d. 6 Aug 1988)
Auman, Minnie Mae Freeman (b. 28 Oct 1893 - d. 7 Aug 1988)
Auman, Roy C (b. 10 Aug 1902 - d. 10 Oct 1042)
Auman, William Dewey (b. 1899 - d. 1937)
Ballentine, Helen Ruth (b. 1927 - d. 1963)
Ballentine, Infant (b. 1953 - d. 1953)
Bean, B F (b. 16 Oct 1890 - d. 23 Nov 1939)
Bean, Emily J Presnell (b. 2 Mar 1865 - d. 2 Mar 1928)
Bean, George H (b. 11 Jun 1866 - d. 16 Mar 1926)
Bean, Henry Dillion (b. 16 Sep1915 - d. 26 May 1917)
Bean, Ila (b. 21 Jul 1901 - d. 31 Mar 1939)
Bean, Lou Bess (b. 25 Sep 1890 - d. 11 Mar 1920)
Beane, Celia Redding (b. 1898 - d. 1 Aug 1920)
Beane, Sarah (b. 11 Mar 1848 - d. 3 Apr 1919)
Beane, Stella Burris (b. 28 Dec 1918 - d. 20 Jul 1977)
Bennett, Cicero Wayne (b. 23 May 1926 - d. 23 Apr 2009)
Bennett, Hallie Thomas (b. 21 Mar 1916 - d. 30 Nov 2003)
Bennett, Jerry R (b. 1889 - d. 1958)
Bennett, Kenneth Ray (b. 11 Mar 1942 - d. 26 Feb 1966)
Bennett, Martha Ann (b. 25 Jul 1904 - d. 2 Sep 1978)
Bennett, McKinley (b. 3 Jun 1916 - d. 16 Apr 1999)
Bennett, Ninnie Stanley (b. 27 Aug 1890 - d. 9 Feb 1957)
Bennett, Norman Oscar (b. 8 Jun 1914 - d. 10 Nov 1993)
Bennett, Parry Lee (b. 1885 - d. 1961)
Bennett, Rev Hubert (b. 14 Mar 1914 - d. 11 Nov 1994)
Bennett, Stella Mae (b. 6 Jun 1919 - d. 8 May 1942)
Bennett, William Martin (b. 12 Sep 1890 - d. 7 Jan 1956)
Bowman, Etta Jackson (b. 8 Mar 1896 - d. 16 Dec 1984)
Bowman, Herbert Hoover (b. 18 Oct 1928 - d. 27 Jan 2001)
Bowman, Luther M (b. 18 Jul 1896 - d. 24 Feb 1973)
Brim, Barbara C (b. 12 Apr 1943 - d. 6 Apr 1992)
Brim, Benjamin J (b. 10 Jun 1976 - d. 10 Jun 1976)
Brim, Bobby Jean (b. 11 Feb 1937 - d. 11 Feb 1937)
Brim, Bulah May (b. 27 Sep 1939 - d. 11 Jul 1940)
Brim, George Lewis (b. 22 Feb 1943 - d. 15 Jun 1959)
Brim, Gladys Marie (b. 8 Sep 1919 - d. 27 Jul 1982)
Brim, Harvey C (b. 18 Aug 1938 - d. 1 Jul 1985)
Brim, Hazel G (b. 25 Aug 1906 - d. 29 Nov 1932)
Brim, Horace (b. 28 Nov 1934 - d. 28 Nov 1934)
Brim, Hoyt Eugene (b. 21 Aug 1934 - d. 1 Jan 2007)
Brim, Jackey R (b. 27 Feb 1941 - d. 15 Mar 2000)
Brim, James C (b. 9 May 1905 - d. 7 Apr 1979)
Brim, Jesse James (b. 21 May 1903 - d. 5 Sep 1959)
Brim, Jewell Richardson (b. 10 Jul 1912 - d. 17 Feb 1989)
Brim, John H (b. 15 Oct 1916 - d. 28 Oct 1964)
Brim, Lois Marie (b. 10 Mar 1915 - d. 9 Dec 1994)
Brim, Martha Yow (b. 5 Jan 1940 - d. 17 Dec 1989)
Brim, Mary R (b. 30 Mar 1902 - d. 22 Nov 1963)
Brim, Raleigh D (b. 24 Feb 1911 - d. 26 Jan 1968)
Brim, Rev Ollie David (b. 24 Feb 1911 - d. 22 May 1973)
Brim, Sallie White (b. 29 Jul 1883 - d. 4 Jun 1953)
Brim, Sam Marvin (b. 19 Aug 1914 - d. 16 Sep 1986)
Brim, Thelma S (b. 25 Sep 1911 - d. 8 Aug 1983)
Brim, Vivian Inman (b. 18 Nov 1913 - d. 16 Oct 2001)
Brim, W Andy (b. 13 Jun 1878 - d. 18 Jan 1926)
Brim, W H Jr (b. 16 Apr 1935 - d. 16 Apr 1935)
Brim, William Harry (b. 26 Jun 1907 - d. 31 Mar 1951)
Brim. Joe Raymond (b. 7 Mar 1906 - d. 18 Jan 1996)
Brown, Nadine Elise (b. Jun 1964 - d. 9 Jun1964)
Brown, Peggy Latham (b. 11 Nov 1938 - d. 2 Feb 2004)
Buheller, John Anthony (b. 1947 - d. 1990)
Bullins, ? (b. 14 Oct 1953 - d. 1 Mar 2000)
Bullins, Annie Bell (b. 25 Jan 1901 - d. 31 Jan 1986)
Bullins, Annie Mae (b. 12 Feb 1941 - d. 6 Mar 2001)
Bullins, Billt Gene Sr (b. 20 Nov 1938 - d. 20 Sep 2009)
Bullins, Connie L (b. 26 Jul 1917 - d. 12 Jan 1972)
Bullins, Fannie Beane (b. 13 Mar 1916 - d. 27 Sep 1999)
Bullins, Glennie McKay (b. 24 Mar 1924 - d. 26 Oct 2002)
Bullins, J C (b. 1861 - d. 1934)
Bullins, J Earl (b. 3 Feb 1911 - d. 9 Feb 1953)
Bullins, Katie B (b. 1882 - d. 1963)
Bullins, Lemnie (b. 13 Jun 1891 - d. 9 Aug 1975)
Bullins, Lillian R (b. 7 Sep 1926 - d. 9 Mar 2001)
Bullins, Melvin Thomas (b. 19 Jan 1915 - d. 25 Oct 1930)
Bullins, Nellie Grace (b. 4 Apr 1915 - d. 30 Apr 1958)
Bullins, Ricky Lee (b. 19 Jun 1971 - d. 11 Feb 1972)
Bullins, Roy E (b. 8 Dec 1927 - d. 10 Dec 1977)
Bullins, Sallie F (b. 15 Nov 1902 - d. 3 Jun 1975)
Bullins, Sanford Wesley (b. 14 Nov 1903 - d. 21 Mar 1975)
Bullins, Wayne Cleo (b. 9 May 1925 - d. 14 May 2000)
Bullins, William M (b. 16 Jun 1901 - d. 26 Oct 1971)
Burris, Vance T (b. 29 Oct 1937 - d. 29 Oct 1937)
Burrow, Frank (b. 3 Dec 1876 - d. 21 Jun 1938)
Burrow, John R (b. 17 Sep 1891 - d. 10 Jul 1931)
Cagle, Alfred Fred (b. 10 Aug 1922 - d. 25 Aug 1994)
Cagle, Bessie K (b. 1 Aug 1918 - d. 3 Jan 2005)
Chancey, Bernice L (b. 4 Apr 1909 - d. 11 Apr 1999)
Chanthadara, Johnathana P (b. 22 Dec 1999 - d. 22 Dec 1999)
Chriscoe, Mildred G (b. 27 Nov 1935 - d. 2 Apr 1967)
Clark, Ellen P Lowdermilk (b. 24 May 1868 - d. 12 Jan 1962)
Clark, Iola Ethel (b. 8 Apr 1907 - d. 9 Dec 1993)
Clark, William Clyde (b. 3 Aug 1912 - d. 17 Jun 1972)
Clark, William L (b. 16 Jan 1869 - d. 27 Nov 1944)
Clayton, Elmer Clay (b. 21 Aug 1920 - d. 7 Dec 1973)
Clayton, Gracie Lucille (b. 8 Nov 1924 - d. 4 Jun 2002)
Cole, Della Councilman (b. 4 Dec 1884 - d. 2 Oct 1956)
Cole, Himer Ray (b. 4 Jan 1901 - d. 24 Aug 1984)
Cole, Molene Voncannon (b. 7 Nov 1906 - d. 30 Oct 1990)
Cole, Roy Martin (b. 16 Sep 1902 - d. 14 Apr 1983)
Cole, Zona Voncannon (b. 6 Jul 1908 - d. 11 May 1995)
Cooper, Annabell (b. 14 Sep 1919 - d. 2 Jun 1920)
Cooper, Arthur Bruce (b. 6 Mar 1914 - d. 10 Dec 1993)
Cooper, Gretha J Bean (b. 11 Jan 1896 - d. 1 Oct 1919)
Cooper, Myrtle Richardson (b. 7 May 1924 - d. 18 Feb 1982)
Cornelison, G (b. 21 Oct 1895 - d. 19 Mar 1964)
Cornelison, George Henry (b. 9 Feb 1867 - d. 30 May 1942)
Cornelison, Iris Naomi (b. 30 Nov 1919 - d. 30 Apr 1948)
Cornelison, Lacy Naomi (b. 7 Jun 1876 - d. 18 Aug 1973)
Covington, Jimmy Ray (b. 15 Jan 1942 - d. 16 May 2005)
Cox, Alfred O (b. 21 Jun 1870 - d. 23 Aug 1935)
Cox, Annie (b. 17 Nov 1904 - d. 26 Oct 1935)
Cox, Blanche K (b. 2 Nov 1904 - d. 25 Oct 1974)
Cox, Esther T (b. 18 Apr 1897 - d. 24 Oct 1980)
Cox, Gary Lee (b. 2 Dec 1952 - d. 22 Feb 2009)
Cox, Harvey S (b. 1 Jan 1893 - d. 22 Apr 1991)
Cox, Infant (b. 17 Oct 1956 - d. 17 Oct 1956)
Cox, Lane E (b. 2 Nov 1934 - d. 30 Jan 1935)
Cox, N Worth (b. 31 Dec 1930 - d. 13 Mar 1995)
Cox, Orleando (b. 8 Oct 1897 - d. 11 Feb 1963)
Cox, Sue Carol (b. 10 May 1942 - d. 12 Feb 1943)
Cox, Vandore R (b. 9 Sep 1870 - d. 30 Jan 1935)
Cox, William Carson (b. 1 Apr 1922 - d. 16 May 1983)
Creech, Berta Bullins (b. 12 Jul 1913 - d. 3 Jul 2000)
Creech, R L (b. 24 Mar 1916 - d. 4 Jul 1998)
Crews, Ina Tucker (b. 14 May 1905 - d. 22 Jul 1993)
De Hart, Alta Mae (b. 10 Feb 1925 - d. 30 Sep 1935)
De Hart, Bertha M (b. 1900 - d. 1954)
De Hart, C Claude (b. 18 Mar 1914 - d. 1 Jul 1976)
De Hart, Cletus V (b. 1902 - d. 1951)
De Hart, Essie C (b. 25 Jun 1917 - d. 28 Feb 1993)
De Hart, Francis (b. 17 Sep 1848 - d. 19 Jan 1928)
De Hart, J W (b. 28 Jul 1878 - d. 23 Apr 1949)
De Hart, Mary E Brim (b. 18 Mar 1881 - d. 23 Nov 1945)
De Hart, McKinley C (b. 1900 - d. 1952)
De Hart, Ruth E (b. 2 Dec 1922 - d. 15 Apr 1928)
Dennis, Howard T (b. 1909 - d. 2000)
Dennis, Merle I (b. 1918 - d. 1985)
Dorsett, Emmer R (b. 30 Mar 1904 - d. 20 May 1960)
Dorsett, Susanah Richardson (b. 30 May 1904 - d. 21 May 1960)
Eaton, Ethel Kulk (b. 9 Jun 1918 - d. 1 Dec 2009)
Eaton, Wilburn Eugene (b. 29 Jun 1917 - d. 26 Oct 1996)
Edwards, William A (b. 1 Feb 1923 - d. 10 Jul 1982)
Garner, Amrella Brim (b. 7 Aug 1881 - d. 23 Jul 1951)
Garner, Earl (b. 30 Apr 1921 - d. Jul 1921)
Garner, Flora Ella Richardson (b. 6 Jul 1905 - d. 28 Jun 1990)
Garner, Harvey Lee (b. 21 Mar 1932 - d. 8 Dec 1936)
Garner, Henry Melvin Jr (b. 21 Jul 1930 - d. 4 Jul 1964)
Garner, John B (b. 30 Mar 1932 - d. 24 Dec 1995)
Garner, Malcolm Acula (b. 17 Apr 1902 - d. 17 Dec 1963)
Garner, Mary Ella Dehart (b. 1 Mar 1898 - d. 24 Mar 1972)
Garner, Pearl (b. 30 Apr 1921 - d. Jul 1921)
Garner, William C (b. 17 May 1892 - d. 23 Jun 1951)
Gillispie, Johnny F (b. 14 Jan 1940 - d. 24 Aug 1980)
Goins, Charlie E (b. 6 Sep 1897 - d. 2 Aug 1968)
Goins, Cora B (b. 2 Feb 1898 - d. 14 Sep 1980)
Graves, Bobby Edward (b. 26 May 1944 - d. 7 Jun 1970)
Graves, Canary Catherine Bullins (b. 12 Dec 1922 - d. 21 Apr 1971)
Graves, Elbert Otis (b. 23 May 1925 - d. 20 Jun 1995)
Graves, J Orleado (b. 24 May 1873 - d. 3 Mar 1937)
Graves, James Ottis (b. 31 Oct 1902 - d. 8 Jul 1989)
Graves, Jimmy F (b. 20 Apr 1948 - d. 21 Mar 2010)
Graves, Lena (b. 10 Jan 1889 - d. 4 Feb 1925)
Graves, Lena M (b. 29 May 1925 - d. 3 Jun 1925)
Graves, Lorena (b. 1892 - d. 1988)
Graves, Merle Ring (b. 29 Apr 1905 - d. 21 Nov 1972)
Graves, Michael (b. 29 Aug 1974 - d. 29 Aug 1974)
Graves, Nancy Frye (b. 10 Oct 1884 - d. 29 Apr 1970)
Graves, Samuel (b. 10 May 1888 - d. 26 Mar 1944)
Graves, Silas Elwood (b. 1875 - d. 1941)
Graves, William O (b. 31 Jul 1947 - d. 2 Jan 1966)
Graves, Zone Babcock (b. 27 Aug 1982 - d. 17 Dec 1985)
Greene, Dave Douglas (b. 15 Sep 1895 - d. 27 Nov 1984)
Greene, Ellen King (b. 9 Jun 1900 - d. 23 Aug 1973)
Hall, Jesse J (b. 25 Feb 1928 - d. 2 Apr 1970)
Hall, Ruby D (b. 30 Jan 1930 - d. 8 Apr 2003)
Hancock, Wincy L (b. 20 May 1865 - d. 29 Dec 1930)
Harvell, Maudie Gardie (b. 24 Jan 1925 - d. 8 Jun 1978)
Hege, Brenda Brim (b. 13 Sep 1949 - d. 23 Sep 1994)
Henson, Theodore J (b. 26 Mar 1913 - d. 8 Jun 1982)
Henson, Viola T (b. 22 Jan 1912 - d. 30 Jan 1992)
Hicks, Eva Mae Allen (b. 18 Apr 1928 - d. 24 May 2005)
Hill, Doris Jean (b. 27 Dec 1942 - d. 7 Sep 1943)
Hill, John Frank (b. 7 Jan 1921 - d. 3 Jan 2004)
Hill, Lena Jewell (b. 6 Apr 1920 - d. 4 Dec 2003)
Holler, Daniel Wilburn (b. 29 Sep 1910 - d. 9 Dec 1983)
Holler, Minnie Richardson (b. 25 May 1913 - d. 28 Feb 1994)
Humble, Fentress E (b. 10 Jul 1933 - d. 28 May 1935)
Humble, Newby E (b. 21 Jul 1900 - d. 16 Mar 1984)
Humble, Walter E (b. 14 May 1885 - d. 27 Jul 1972)
Hunt, Jamie V (b. 20 Apr 1979 - d. 31 Dec 1995)
Hurley, Arthur Curtis (b. 26 Nov 1957 - d. 23 Dec 1987)
Hurley, Aster Curtis (b. 23 Oct 1918 - d. 10 Nov 1986)
Hurley, Shirley Ann (b. 24 Mar 1955 - d. 24 Mar 1955)
Hutchens, Frances Marie Pugh (b. 22 Jun 1940 - d. 6 Feb 2001)
Hutchens, Ruth Ann (b. 3 Dec 1962 - d. 23 Aug 2002)
Jordan, Edith Latham (b. 22 Apr 1923 - d. 2 Jun 1993)
Jordan, Ernest Ray (b. 9 Jan 1918 - d. 4 Feb 1994)
Jordan, Henry Clyde (b. 8 May 1924 - d. 17 Oct 1982)
Jordan, Mary Graves (b. 13 Jan 1917 - d. 24 Mar 1992)
Jordan, Sam (b. 28 Dec 1942 - d. 2 Nov 2004)
Joyce, Annie B Pruitt (b. 14 Jul 1893 - d. 23 Oct 1955)
Joyce, George William Sr (b. 20 Jul 1947 - d. 30 Apr 2005)
Joyce, S Ham (b. 28 Jul 1893 - d. 12 Feb 1956)
Kennedy, Esther Sorrow Britt (b. 24 May 1933 - d. 18 Apr 2010)
Kennedy, Terry Lee (b. 20 Jun 1959 - d. 7 Sep 2008)
Kennedy, Thelma Lineberry (b. 28 May 1914 - d. 13 Jan 2004)
Kennedy, W C (b. 8 Nov 1939 - d. 6 Feb 1944)
Kennedy, W Carson (b. 2 Mar 1911 - d. 10 Jul 1994)
King, Clara L William (b. 15 Mar 1881 - d. 26 Jan 1924)
King, Clyde Augustus (b. 9 Mar 1890 - d. 22 Jan 1972)
King, Ella R (b. 15 Oct 1859 - d. 8 Jan 1936)
King, Ellen (b. 1867 - d. 1939)
King, Frieda B (b. 27 Nov 1895 - d. 23 Oct 1954)
King, Gene (b. 11 Sep 1030 - d. 1 Dec 1947)
King, Howard (b. 18 Jun 1924 - d. 29 Dec 1924)
King, Joseph (b. 31 Oct 1926 - d. 4 Nov 1926)
King, Lucy Chriscoe (b. 22 Oct 1894 - d. 26 Jul 1982)
King, Noah (b. 1843 - d. 1947)
King, Rev William (b. 11 May 1858 - d. 8 Jan 1936)
King, Rufus B (b. 29 Jul 1892 - d. 18 Apr 1958)
King, Rufus G (b. 2 May 1883 - d. 14 Oct 1946)
King, Virginia (b. 18 Jan 1920 - d. 20 Dec 1928)
Lamb, Flora R (b. 1905 - d. 1990)
Latham, Son (b. 1920 - d. 1926)
Latham, Alfred Darol (b. 4 Feb 1941 - d. 19 Mar 1985)
Latham, Alfred L (b. 20 May 1877 - d. 19 Jan 1966)
Latham, Annie Burrow (b. 30 Jul 1881 - d. 30 Jan 1966)
Latham, Arthur Howard (b. 5 Jul 1932 - d. 6 Feb 2005)
Latham, Evelyn M (b. 13 Aug 1938 - d. 25 Apr 1999)
Latham, Fred Lee (b. 2 Mar 1904 - d. 10 May 1951)
Latham, Herman Elkamak (b. 6 Feb 1914 - d. 23 Mar 1977)
Latham, James Edward (b. 30 May 1933 - d. 26 Jul 1991)
Latham, James R (b. 11 Nov 1862 - d. 8 Sep 1930)
Latham, Josie E Needham (b. 20 Sep 1915 - d. 9 Mar 2004)
Latham, Roger (b. Unknown - d. 6 Jul 1991)
Latham, Roger F (b. 8 Oct 1943 - d. 8 Jun 1944)
Latham, Ruby Lee (b. Unknown - d. May 1993)
Latham, Shirley L Hicks (b. 14 Jan 1967 - d. 7 Oct 2000)
Lawrence, Barney W Sr (b. 12 Dec 1903 - d. 26 Feb 1992)
Lawrence, Evelyn B (b. 24 Dec 1915 - d. 9 Jun 1964)
Lawrence, Rosa Belle (b. 25 Dec 1937 - d. 3 Jan 1968)
Lewellyn, Bonnie R (b. 17 Mar 1935 - d. 12 Nov 1981)
Lewellyn, Larry R (b. 20 Mar 1938 - d. 15 Mar 1971)
Lewellyn, Nannie P (b. 19 Feb 1898 - d. 18 Dec 1983)
Lewellyn, Roger E (b. 25 Feb 1901 - d. 11 Apr 1985)
Lewellyn, Roy Jr (b. 9 Dec 1927 - d. 7 Aug 1988)
Lindsay, Gertrude Latham (b. 8 May 1912 - d. 12 Jul 1992)
Lineberry, Bobby Lee (b. 17 Feb 1953 - d. 26 Apr 2009)
Lineberry, Doris F (b. 9 Apr 1936 - d. 23 Oct 2004)
Lineberry, Eddie Lee (b. 25 Feb 1952 - d. 3 Mar 2007)
Lineberry, Erastus J (b. 12 Nov 1887 - d. 1 Dec 1965)
Lineberry, Ivey Edward (b. 8 Jul 1923 - d. 24 Jan 1976)
Lineberry, Louise Luck (b. 13 Dec 1926 - d. 19 Nov 1979)
Lineberry, Mary J (b. 19 Feb 1892 - d. 28 Oct 1965)
Linrberry, Claudie H Sr (b. 25 Jun 1932 - d. 6 Aug 1993)
Louzena William S (b. 18 Jun 1860 - d. 23 Nov 1872)
Louzena, William L (b. 5 Mar 1916 - d. 18 Oct 1916)
Lowdermilk, Jewel Ann (b. 22 Jan 1940 - d. 24 Jan 1940)
Lowdermilk, Laura Cox (b. 7 Dec 1872 - d. 21 Mar 1930)
Lowdermilk, M Glady Cornelison (b. 6 Jan 1907 - d. 16 Aug 1993)
Lowdermilk, Mary Jewel (b. 3 Jun 1900 - d. 8 Aug 1915)
Lowdermilk, Melford Causey (b. 1 Jan 1877 - d. 31 Jul 1950)
Lowdermilk, Stephen Garland (b. 29 Aug 1898 - d. 25 Nov 1972)
Luck, Aster Lonnie (b. 6 Nov 1898 - d. 7 Apr 1931)
Luck, Gullis (b. 7 Mar 1904 - d. 18 Nov 1982)
Luck, Harvey Lee (b. 14 Dec 1942 - d. 31 Dec 1942)
Luck, Huston (b. 1875 - d. 1944)
Luck, Lautishia M (b. 13 Jul 1903 - d. 19 Aug 1981)
Luck, Martha (b. 1876 - d. 1934)
Luck, Viola (b. 9 Feb 1901 - d. 2 Oct 1936)
Luther, Benjamin Harrison (b. 6 Mar 1889 - d. 22 Nov 1954)
Luther, Martha Loretta (b. 13 Apr 1894 - d. 5 Feb 1960)
Mabe, Claude S (b. 25 May 1926 - d. 14 Jan 1977)
Mabe, Larry Wayne (b. 8 Nov 1954 - d. 27 Feb 1986)
Maness, Thomas Morris Jr (b. 31 Jul 1942 - d. 8 Jan 2009)
Markwood, Dexter (b. 22 Mar 1912 - d. 15 Feb 1974)
Markwood, Ella Mae (b. 28 Dec 1918 - d. 30 Mar 2000)
Mathis, Foyld Lester (b. 20 Nov 1933 - d. 13 Feb 2004)
Miller, Dell Spencer (b. 1 Jul 1925 - d. 28 Jan 1974)
Miller, John Tiffany (b. 2 Mar 1917 - d. 30 Jul 1980)
Moody, Myrtle (b. 10 Oct 1894 - d. 24 Nov 1913)
Moore, Althea (b. 15 Dec 1917 - d. 4 Sep 1939)
Moore, Ann M (b. 1831 - d. 1907)
Moore, Clinton (b. 22 Dec 1876 - d. 9 Jan 1958)
Moore, Elias (b. 19 Jan 1850 - d. 20 Jan 1931)
Moore, Emma Allen (b. 15 Apr 1906 - d. 15 Jun 1938)
Moore, Emsley (b. 1833 - d. 1907)
Moore, Fannie Anderson (b. Unknown - d. Nov 1944)
Moore, Irene (b. 18 Sep 1883 - d. 20 Nov 1944)
Moore, Mary A (b. 12 Jun 1854 - d. 26 Mar 1911)
Moore, Michael Ray (b. 31 Dec 1957 - d. 26 Nov 1973)
Moore, S A (b. 4 Mar 1807 - d. 7 Sep 1912)
Moore, Sarah A Garner (b. 24 Jun 1876 - d. 5 May 1955)
Moore, Vester (b. 29 Jan 1879 - d. 26 Jun 1952)
Moran, Bobby Lee (b. 17 Aug 1929 - d. 17 Aug 1999)
Moran, Garfield E (b. 7 Nov 1925 - d. 3 Feb 1982)
Moran, Myrtle Slate (b. 1 May 1906 - d. 26 Nov 1996)
Moran, Paul W (b. 14 Apr 1933 - d. 16 Jan 1989)
Moran, William Reid (b. 18 May 1924 - d. 9 Apr 1994)
Moran, Willis Reid (b. 27 Sep 1892 - d. 30 May 1968)
Oliver, John David (b. 22 Jul 1923 - d. 16 Dec 1991)
Parks, Robert A (b. 25 Oct 1916 - d. 26 Dec 1916)
Payne, Paul June Jr (b. 28 Feb 1932 - d. 2 Jan 2004)
Powell, Ima Jean Brim (b. 15 May 1939 - d. 13 Nov 2005)
Presnell, Bessie E (b. 18 Aug 1883 - d. 7 Apr 1932)
Presnell, Burley A (b. 5 Mar 1886 - d. 19 Feb 1955)
Pugh, David L (b. 31 May 1933 - d. 23 Mar 1951)
Pugh, Frances Marie (b. 22 Jun 1940 - d. 6 Feb 2001)
Pugh, George Price (b. 6 Aug 1902 - d. 13 Jun 1974)
Pugh, Mary Graves (b. 16 Mar 1884 - d. 30 Oct 1982)
Pugh, Paul Edward (b. 9 May 1929 - d. 17 May 1991)
Pugh, Walton Jackson (b. 31 Mar 1925 - d. 16 Mar 1985)
Reeder, Harvey Colon (b. 16 Apr 1915 - d. 11 Aug 1992)
Reeder, Infant (b. 30 Oct 1942 - d. 30 Oct 1942)
Reeder, Ruby Ellen Bennett (b. 19 Aug 1917 - d. 1 Sep 2000)
Richardson, Alfred Duckery (b. 25 Apr 1878 - d. 5 Nov 1941)
Richardson, Clancy C (b. 24 Dec 1922 - d. 28 Jan 1924)
Richardson, Daisy H (b. 1898 - d. 1989)
Richardson, Eutha (b. 1869 - d. 1929)
Richardson, Gurna Anthony (b. 11 Apr 1891 - d. 24 May 1964)
Richardson, Henry G (b. 28 Feb 1931 - d. 2 Oct 1961)
Richardson, James A (b. 15 Apr 1851 - d. 21 Jul 1922)
Richardson, Mishie Alvina Moore (b. 20 May 1880 - d. 20 Mar 1934)
Richardson, Sumnie (b. 7 Jun 1896 - d. 29 Oct 1954)
Richardson, W C (b. 20 Apr 1884 - d. 3 Jan 1938)
Richardson, William A (b. 1911 - d. 1979)
Rigaud, George Vincent (b. 5 Nov 1910 - d. 31 Oct 1980)
Rigaud, Josie Eklene Presnell (b. 16 Apr 1921 - d. 13 Nov 2008)
Rumfelt, William M (b. 7 May 1905 - d. 26 Nov 1978)
Scott, Adlai B (b. 1890 - d. 1967)
Scott, Della V (b. 1894 - d. 1978)
Shanas, Nancy Carol Jordan (b. 31 Aug 1953 - d. 14 Jan 1991)
Shelton, Lucy Lee (b. 28 Apr 1887 - d. 19 Nov 1969)
Sheppard, Jerry Eugene (b. 20 Jan 1964 - d. 21 Feb 2004)
Shoffner, Celia Jane Dudley (b. 14 Jul 1889 - d. 24 Oct 1941)
Shoffner, Grover Pearson (b. 9 Mar 1874 - d. 7 Jan 1942)
Spencer, Everette Lee (b. 22 Feb 1906 - d. 8 Feb 1979)
Spencer, Martha Ann Brim (b. 2 Feb 1909 - d. 16 Jul 1972)
Strider, Shirley Lewellyn (b. 1 May 1940 - d. 31 Jan 1997)
Thomas, Geneva I (b. 30 Jan 1920 - d. 28 Jan 1933)
Thomas, James C (b. 28 Aug 1887 - d. 2 Dec 1971)
Thomas, John F (b. 4 Jun 1881 - d. 19 Jan 1946)
Thomas, Leonard Wayne (b. 1927 - d. 6 Jan 2008)
Thomas, Lewis Daniel (b. 8 Apr 1922 - d. 28 Feb 2007)
Thomas, Lila Ann Lillard (b. 26 Oct 1886 - d. 14 Nov 1967)
Thomas, Milissa Ann Hare (b. 18 Apr 1889 - d. 25 Aug 1949)
Thomas, Ruby Irene (b. 27 Sep 1904 - d. 12 Nov 1977)
Thomas, Sarah Rebecca (b. 28 Jan 1930 - d. 10 Nov 1934)
Travis, Connie Thomas (b. 19 Jun 1924 - d. 5 Apr 1989)
Trogdon, Ada M (b. 1878 - d. 1950)
Trogdon, Detlas T (b. 1872 - d. 1956)
Tucker, James (b. 4 Feb 1872 - d. 10 Apr 1927)
Tucker, Pearl Voncanon (b. 30 Dec 1902 - d. 28 Nov 1983)
Tucker, Raymond Coy (b. 11 Mar 1907 - d. 10 Nov 1978)
Tucker, Ruth Bohannon (b. 28 Sep 1886 - d. 29 Dec 1969)
Tucker, Ruth Edna (b. 5 May 1919 - d. 14 Feb 1999)
Voncannoe, John W (b. 6 Aug 1867 - d. 1 Nov 1947)
Voncannon, Elma Presnell (b. 5 Aug 1883 - d. 21 Mar 1948)
Voncannon, Frances Auman (b. 29 May 1914 - d. 7 Apr 2006)
Voncannon, James Walter (b. 27 Dec 1912 - d. 8 May 1994)
Voncannon, Jamie (b. Unknown - d. 3 Jun 1995)
Voncannon, Lena Maie (b. 13 Apr 1921 - d. 24 Apr 1921)
Voncannon, Margaret Ann (b. 23 Apr 1943 - d. 30 Jun 2001)
Voncannon, W Causy (b. 9 Feb 1880 - d. 24 Jun 1955)
Voncanon, Cora Bell (b. 28 Mar 1887 - d. 21 Jul 1979)
Voncanon, James M (b. 15 Aug 1856 - d. 5 Dec 1926)
Voncanon, L T (b. 24 Dec 1884 - d. 29 Apr 1965)
Voncanon, Lucy Williams (b. 29 Jun 1861 - d. 19 Feb 1938)
Votruba, Edward F (b. 22 Nov 1912 - d. 28 Jun 1982)
Votruba, Edward F Jr (b. 13 Aug 1956 - d. 13 Aug 1956)
Votruba, Joyce (b. 9 Mar 1924 - d. 31 May 1991)
Vuncannon, W L (b. 13 Apr 1865 - d. 17 May 1936)
Vuncannon, Willard Burr (b. 8 Jan 1917 - d. 14 Mar 2002)
White, Martha Ann (b. 1844 - d. 1928)
Whitehead, Paul Ray (b. 24 Jan 1941 - d. 19 May 1990)
William Anna Jane (b. 4 Feb 1913 - d. 9 Sep 1942)
Williams, Alma M (b. 12 Jul 1919 - d. 12 Jul 1919)
Williams, Annie (b. 24 Sep 1891 - d. 24 Aug 1958)
Williams, Daniel (b. 1862 - d. 1936)
Williams, Nora V (b. 27 Nov 1932 - d. 22 Jun 1933)
Williamson, Myrtle Brown Latham (b. 17 Mar 1915 - d. 16 Sep 2005)
Wright, Carl Lee (b. 8 Mar 1911 - d. 28 Feb 1979)
Wright, D Woodrow (b. 20 May 1912 - d. 1 Jan 1996)
Wright, Mearle V (b. 19 Aug 1915 - d. 11 Sep 2002)
Wright, Merle Von Cannon (b. 19 Aug 1915 - d. 11 Sep 2002)
Yates, Golda L (b. 10 Jun1929 - d. 24 Jan 2000)
Yow, Ernest Eugene (b. 30 Jul 1933 - d. 24 Jan 2003)
Web page updated 13 May 2017
Index of All Cemeteries
Alphabetical Index of All Burials
Previous Page