Index of All Cemeteries
Alphabetical Index of All Burials
Previous Page
Use the following to search across all the cemeteries listed.
Example: "Smith, Roger" (yes, use the quotes)
003 ASHEBORO CITY CEMETERY (Asheboro City) &nbsp- &nbsp Surname starts with A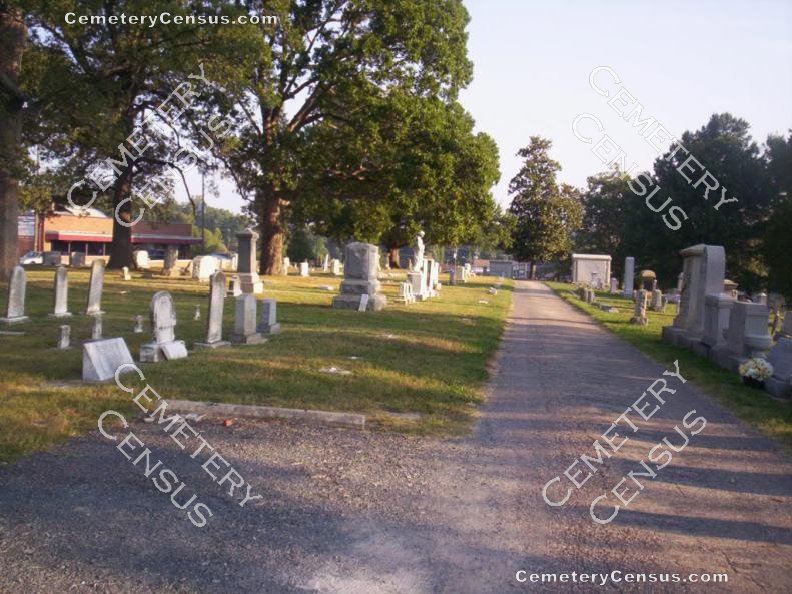 Location - in Asheboro and bounded by Salisbury St (Hwy 42), White Oak St and E. Ward St.

Coordinates: 35d 42m 32.4s N; 79d 48m 55.2s W Click here for Google maps

The old city cemetery, located on a 4.41 acres between W. Salisbury Street and W. Ward Street, is the oldest cemetery owned by the city. It was started by the Methodist Episcopal Church when Benjamin Elliott gave two acres for the members of the church to use. The City began selling plots behind the church cemetery in 1908. Many founding fathers of Asheboro and Civil War veterans are buried in this tranquil, picturesque cemetery.

Complete survey provided by Wayne Ham and Laurell Ham, Randleman, NC in August 2010. Updated in February 2016.


Aiello, Elizabeth Tobert (b. 23 Jul 1923 - d. 28 Nov 2006)
Alexander, Annie Moring (b. 2 May 1890 - d. 6 Dec 1979)
Alexander, John Wilson (b. 5 Jul 1919 - d. 29 Aug 1957)
Alexander, Kemp (b. 2 Mar 1879 - d. 20 Sep 1963)
Alexander, Mary Morrison (b. 19 Mar 1919 - d. 18 May 1923)
Allen, Virginia Tobert (b. 23 Feb 1919 - d. 5 Aug 1996)
Allred Gurka, Lucille Caveness Cox (b. 5 Jun 1923 - d. 20 Jun 2008)
Allred, Blanche Alice Ferree (b. 15 Nov 1881 - d. 5 Dec 1971)
Allred, Charles Donald (b. 27 Mar 1920 - d. 11 Nov 1926)
Allred, Dora Bishop (b. 2 Oct 1884 - d. 2 Oct 1976)
Allred, Guy Milton (b. 25 May 1896 - d. 13 Mar 1898)
Allred, Hattie (b. 26 Jan 1878 - d. 24 Oct 1932)
Allred, Jeanne Caveness (b. 17 Dec 1951 - d. 15 Oct 1971)
Allred, John (b. 1736 - d. Dec 1792)
Allred, Lillian Margaret Cheney (b. 1740 - d. 1801)
Allred, Mary Elliott (b. 1787 - d. 10 Jun 1843)
Allred, Maude Linday Dickens (b. 1891 - d. 1971)
Allred, Millard Hayworth (b. 22 Mar 1880 - d. 9 Jun 1937)
Allred, Samuel (b. 1777 - d. Sep 1848)
Allred, William Burt (b. 3 Aug 1886 - d. 1 May 1926)
Allred, William Monroe (b. 9 Aug 1874 - d. 10 Jun 1942)
Anderson, John Henry, Jr (b. 7 Oct 1853 - d. 11 Dec 1923)
Anderson, Margaret I. Moring (Mrs.) "Maggie" (b. 18 Feb 1859 - d. 13 Sep 1929)
Armfield, Britt Millis (b. 4 Aug 1901 - d. 16 Sep 1953)
Armfield, Elizabeth Allen (b. 20 Oct 1909 - d. 14 Jan 1997)
Armfield, Henry Millis (b. 5 Nov 1908 - d. 13 Mar 1981)
Armfield, Sallie Elizabeth Millis (b. 2 Dec 1878 - d. 1 May 1952)
Armfield, William Johnston (b. 5 Sep 1875 - d. 4 Sep 1968)
Arnold, James Ranse (b. 13 Jan 1872 - d. 30 Jun 1946)
Arnold, Lula Ellen Brown (b. 1876 - d. 20 Mar 1939)
Asbury, Emma Frances Coble (b. 16 Oct 1849 - d. 18 Jun 1905)
Asbury, Francis Emory (Dr.) (b. 21 Aug 1845 - d. 11 Apr 1923)
Ashworth, Elmira Brookshire (b. 1850 - d. 15 Apr 1914)
Ashworth, William Penn (b. 4 Nov 1871 - d. 12 Nov 1873)
Atwood, Maggie E Ledwell (b. 11 Aug 1895 - d. 7 Apr 1913)
Auman, Bessie L (b. 15 Sep 1917 - d. 7 Jul 1932)
Auman, Lettie Ellen Frye (b. 16 Feb 1878 - d. 28 May 1949)
Auman, Lura Rich (b. 26 Jun 1892 - d. 1 Nov 1984)
Auman, Reggie Dalton (b. 24 Nov 1896 - d. 21 Mar 1981)
Auman, Thaddeus W (b. 2 Jun 1878 - d. 6 Aug 1941)
Auman, Wade (b. 19 Mar 1914 - d. 1 Apr 1916)
Web page updated 13 May 2017
Index of All Cemeteries
Alphabetical Index of All Burials
Previous Page