Index of All Cemeteries
Alphabetical Index of All Burials
Previous Page
Use the following to search across all the cemeteries listed.
Example: "Smith, Roger" (yes, use the quotes)
073 O'BRIANT FAMILY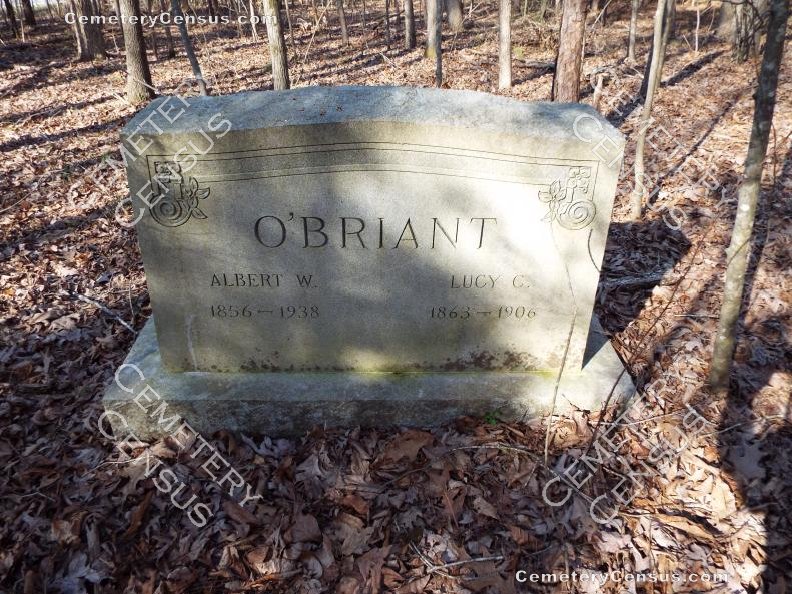 Location - on Dink Ashley Rd about 2.4 miles from Antioch Church Rd.

Coordinates: 36d 17m 39.7s N; 78d 55m 50.5s W Click here for Google maps

Directions: From Roxboro go South on Hwy 501 and go to Antioch Church road which is across from Palace Pointe Theatre, Turn left on to Antioch Church road and go 1 mile to Dink Ashley Road. Turn right and go 2.4 miles and the stone is on the left in the woods about 80 feet in woods.

Very hard to see this head stone, only seen at the right moment traveling on Dink Ashley road only with no foliage. Only seen in winter.

Their son Thomas Lester O'Briant is buried at Mt. Tirzah Methodist Church.

Survey and photos by Melanie Sabins and John Sabins in March 2016. Updates by Allen Dew in March 2016.


O'Briant, Albert W. (b. 20 Oct 1856 - d. 17 Dec 1938)
Husband of Lucy Thomas Clayton O'Briant. Married 30 Oct 1889. Son of Alexander O'Briant and Emily Mary Whitfield.

O'Briant, Lucy Thomas Clayton (b. 1863 - d. 1906)
Wife of Albert W. O'Briant. Married 30 Oct 1889. Daughter of Thomas David Clayton and Sarah Minerva Yarborough Clayton.
Web page updated 25 June 2017
Index of All Cemeteries
Alphabetical Index of All Burials
Previous Page