Index of All Cemeteries
Alphabetical Index of All Burials
Previous Page
Use the following to search across all the cemeteries listed.
Example: "Smith, Roger" (yes, use the quotes)
063 SNEEDE FAMILY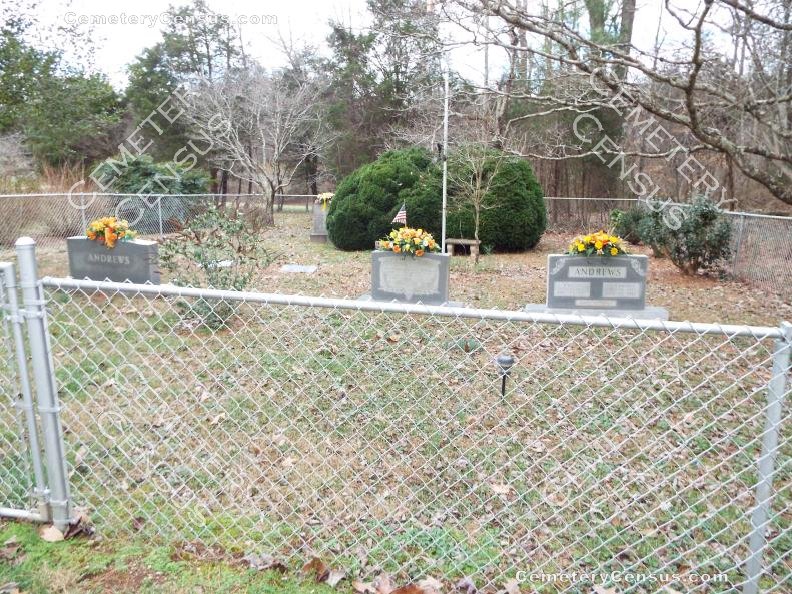 Location - on C.C. Andrews Rd about 0.3 mile from Hwy 501.

Coordinates: 36d 15m 34.1s N; 78d 56m 53.5s W Click here for Google maps

Directions: from Roxboro drive about 10.5 miles South to C. C. Andrews Rd, Turn right and drive about 0.3 mile to the cemetery on the left, next to an abandoned farm house about 50 yards off road, next to edge of woods in a field.

Part of the cemetery is fenced and that part is maintained, The other part is in the woods and not maintained. There are many fieldstones outside the fence marking unknown graves. These may be Timberlake graves.

View #2 of the fenced cemetery. View of outside the fence area.

Survey and photographs by Melanie Sabins and John Sabins in January 2016.


Andrews, Charlie Claiborne (b. 18 Sep 1917 - d. 23 Oct 1992)
Husband of K'ree Scarborough Andrews. Married 8 Apr 1939. Son of Haywood Cleveland Andrews and Rosa Harris Andrews.
Husband of Charlie Claiborne Andrews. Married 8 Apr 1939. Daughter of John H. Scarborough and Addie McFarland Scarborough.
Son of Mr. & Mrs. Claiborne Andrews: America can grow no finer, and you were ours. Good-Bye Mike, Good-Bye. L-CPL H&S Co. 4th Marines, 3rd Marine Div. Vietnam, Purple Heart, Killed in Action Military marker.
Wife of John Bernice Blalock. Daughter of William D. Blalock and Elizabeth Allen Blalock.
Son of E. S. and L. M. Blalock: Asleep in Jesus. Another view.
Wife of Eliza Barbee Blalock. Son of Christopher Columbus Blalock and Mourning H. Brown Blalock.
1860 Mortality Schedules list his death as November 1860.
Husband of Ann Boone Phillips Timberlake. Son of Francis "Frank" Timberlake and Frances Sneede Timberlake. Closeup.
Web page updated 25 June 2017
Index of All Cemeteries
Alphabetical Index of All Burials
Previous Page