Index of All Cemeteries
Alphabetical Index of All Burials
Previous Page
Use the following to search across all the cemeteries listed.
Example: "Smith, Roger" (yes, use the quotes)
054 BOWLES FAMILY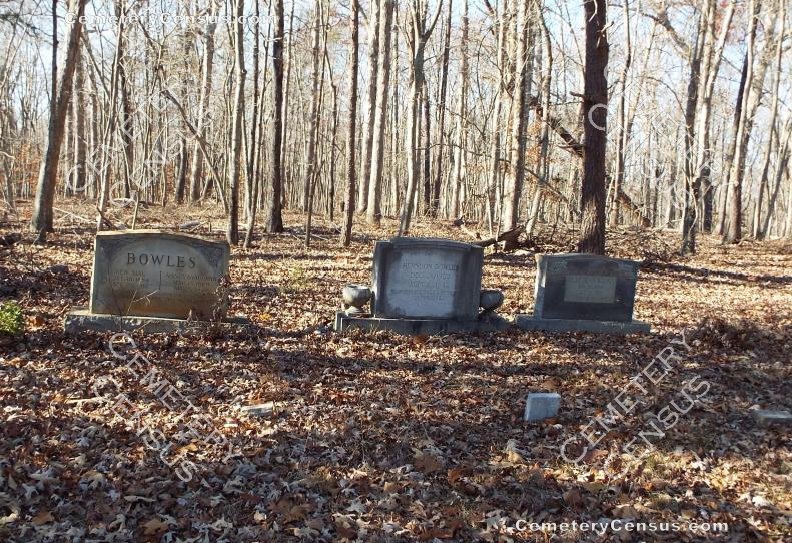 Location - 1575 Rougemont Rd (Moriah Rd., Rougemont.

Coordinates: 36d 14m 27.4s N; 78d 51m 09.8s W Click here for Google maps

Directions: from downtown Rougemont on Hwy 501, take Red Mountain Rd driving eastward. Dive about 4 miles and bear to the left fork on Moriah Rd. From the fork, drive about 0.7 mile more to the cemetery on the left side of the road. Cemetery is across the road from a mailbox at 1575 Rougemont Rd.

Survey and photographs by Melanie Sabins and John Sabins in November 2015.


Bowles, Ben Sial (b. 10 Oct 1854 - d. 20 Apr 1912)
Husband of Nancy A. Vaughan Bowles

Bowles, Clyde (b. 18 Apr 1898 - d. 9 Oct 1971)

Bowles, Herndon (b. 28 Dec 1903 - d. 12 Sep 1942)
Blessed Are The Dead That Die In The Lord

Bowles, Nancy A. Vaughan (b. 15 Mar 1860 - d. 5 Aug 1949)
Web page updated 25 June 2017
Index of All Cemeteries
Alphabetical Index of All Burials
Previous Page