Index of All Cemeteries
Alphabetical Index of All Burials
Previous Page
Use the following to search across all the cemeteries listed.
Example: "Smith, Roger" (yes, use the quotes)
052 WILSON FAMILY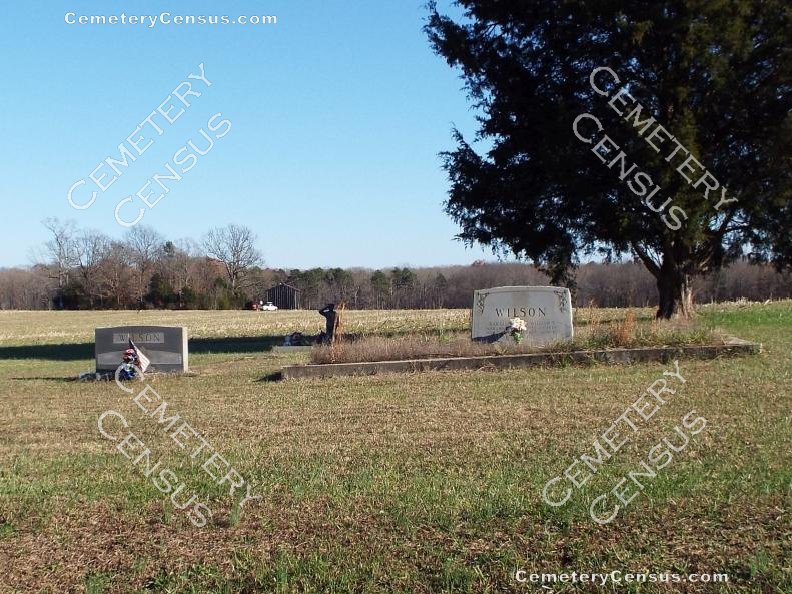 Location - 1601 Pulliam-Tingen Rd, Roxboro.

Coordinates: 36d 22m 32.6s N; 78d 52m 20.5s W Click here for Google maps

Directions: from Post Office in Roxboro, go north on Main St. to Depot Street and turn right onto Depot Street. Go 5.7 miles to Allensville four way stop signs and go straight ahead; the road's name changes to Denny's Store Rd. Go about 1.5 miles to Pulliam-Tingen Rd and turn right. Go 1.7 miles to the cemetery in a field on the left at 1601 Pulliam-Tingen Rd.

Survey and photographs by Melanie Sabins and John Sabins in November 2015.


Painter, S. Madison (b. 2 May 1881 - d. 22 Sep 1960)
Wilson, Donald Ray (b. 25 Feb 1950 - d. 28 Sep 2002)
Teacher JROTC Instructor. Beloved Son, Husband, Father. HTCS US Navy. Funeral marker.
Wife of Luther Thomas Wilson. Married 21 Apr 1949.
Husband of Gertrude Blalock Wilson. Married 21 Apr 1949. S-SGT US Army, WW-II Military marker.
Wife of William S. Wilson
Husband of Nannie F. Wilson
Web page updated 25 June 2017
Index of All Cemeteries
Alphabetical Index of All Burials
Previous Page