Index of All Cemeteries
Alphabetical Index of All Burials
Previous Page
Use the following to search across all the cemeteries listed.
Example: "Smith, Roger" (yes, use the quotes)
041 PAINTER FAMILY (Private)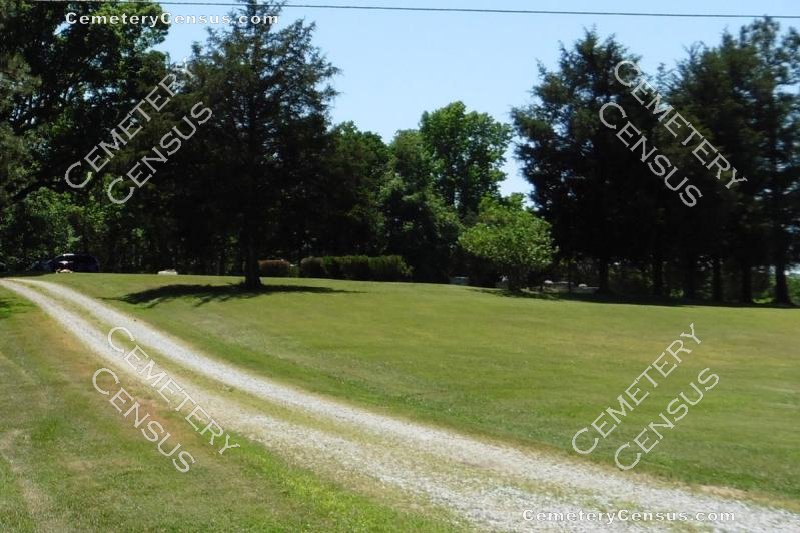 Location - 2242 Dink Ashley Rd, Timberlake.

Coordinates: 36d 17m 51.4s N; 78d 56m 06.0s W Click here for Google maps

Property of Thelma Medders Painter.

Directions: Going North on 15-501 to Antioch Church Road (across from Palace Pointe) turn right on Antioch Church Road, Go 0.6 mile to Dink Ashley Road. Turn right onto Dink Ashley Road and go 2.2 miles to address 2242. House is on the right and cemetery is to right of house in side yard.

Oldest Burial on the stones 1929: Oldest birth on stones 1858:
This cemetery is in a private home's yard. The cemetery is well cared for at this time: May 2015.

Survey and all photographs by Melanie Sabins and John Sabins in May 2015.


Blaylock, Doris Painter (b. 23 Mar 1931 - d. 22 Jun 1999)
Husband of Doris Painter Blaylock: US Army Veteran of WW-II

Bowes, Della P. (b. 14 Dec 1891 - d. 1 May 1931)

Bowes, Infant (b. Unknown - d. Unknown)
Baby of John Bowes and Della P Bowes

Bowes, John (b. 5 Apr 1888 - d. 14 Mar 1983)

Cash, Infant Son (b. 2 Dec 1951 - d. 2 Dec 1951)
Infant Son of B. L. Cash and Pauline Painter Cash

Howerton, Stanley (b. 25 Jul 1964 - d. 25 Jul 1964)
Infant Son of Arthur Howerton

Lunsford, Infant Son (b. 18 Oct 1980 - d. 18 Oct 1980)
Still born Son of Donald W and Bertha Lunsford

Painter, Ann Carol Hayes (b. 1 Apr 1944 - d. Reserved)
Wife of Jerry Onzlow Painter

Painter, Carrie Brown (b. 3 Jan 1907 - d. 27 Apr 1984)
Wife of John Dalton Painter: AKA Jack Painter

Painter, Danny R. (b. 2 Dec 1954 - d. Reserved)
Husband of Ramona L Painter

Painter, Edward Reed (b. 12 Mar 1940 - d. 1 Oct 1968)
AKA Reed Painter: Son of William Weldon Painter and Roxie Long Painter

Painter, George Washington (b. 2 Oct 1919 - d. 22 Mar 1952)
US Army Veteran of WW-II: Died in Person Co., NC Person Co. Register of Deeds records shows date of birth was 2 Sept 1919: Accident was cause of death, he worked at a sawmill, as a skinner: Died in Person Co., NC

Painter, George William (b. 16 May 1925 - d. 28 Sep 2003)
Husband of Peggy Meadow Painter: Son of John Dalton Painter and Carrie Brown Painter: US Navy Veteran of WW-II: Died in Person Co., NC

Painter, Infant (b. Unknown - d. Unknown)
Infant of John Dalton Painter and Carrie Brown Painter. (Field stone)

Painter, Infant Daughter (b. 23 Nov 1927 - d. 23 Nov 1927)
Infant Daughter of William Weldon Painter and Roxie Long Painter: Died in Person Co., NC

Painter, Infant Daughter (b. 1937 - d. 1937)

Painter, Infant Son (b. Unknown - d. Unknown)
Infant Son of William Weldon Painter and Roxie Long Painter

Painter, James T. (b. 18 May 1925 - d. 7 May 1984)

Painter, Jerry Onzlow (b. 16 Jan 1942 - d. 13 Sep 2007)
Husband of Ann Carol Hayes Painter

Painter, Jessie Bill (b. 14 Mar 1938 - d. 27 Nov 2001)
Husband of Thelma Medders Painter: Married 43 Years: Married 7 Nov 1958

Painter, John Dalton "Jack" (b. 27 May 1904 - d. 24 Feb 1984)
AKA Jack Painter: Husband of Carrie Brown Painter: Died in Person Co., NC

Painter, Luther W. (b. 5 Mar 1922 - d. 5 Mar 1957)

Painter, Marshall (b. 1938 - d. 1938)

Painter, Mollie Bet (b. 10 Jun 1858 - d. 11 Jun 1929)
Wife of William Painter: Daughter of Tom Yarborough and Sarah Rhew Yarborough

Painter, Peggy Meadows (b. 25 Dec 1929 - d. 23 Jul 2011)
Wife of George William Painter

Painter, Ramona L. (b. 23 Dec 1946 - d. 28 Jun 2008)

Painter, Rodney Hayes (b. 1 May 1974 - d. 19 Oct 1978)
Son of Jerry Onzlow Painter and Ann Carol Hayes Painter

Painter, Rose Demise (b. 11 Apr 1962 - d. 14 Apr 1962)
Infant of Edward Reed Painter and Linda Walker Painter: Granddaughter of William Weldon Painter. (Field stone)

Painter, Roxie Long (b. 5 Jun 1897 - d. 2 Oct 1969)
Wife of William Weldon Painter

Painter, Thelma Medders (b. 23 Oct 1939 - d. Reserved)
Wife of Jessie Bill Painter: Married 43 Years: Married 7 Nov 1958

Painter, William (b. 1859 - d. 1937)
Husband of Mollie Bet Painter: Did not die in Person Co., NC

Painter, William Odis (b. 21 May 1915 - d. 16 Jul 1962)
AKA Odis Painter: US Army Veteran of WW-II

Painter, William Weldon (b. 1 May 1893 - d. 12 Dec 1982)
AKA Weldon Painter: Husband of Roxie Long Painter: Son of William Painter and Mollie Bet Yarborough Painter

Pennington, Clifton C. (b. 2 Apr 1917 - d. 23 Feb 1980)
Husband of Lelia P. Pennington

Pennington, Lelia P. (b. 16 Apr 1916 - d. 27 Dec 2007)
Wife of Clifton C. Pennington
Web page updated 25 June 2017
Index of All Cemeteries
Alphabetical Index of All Burials
Previous Page