Index of All Cemeteries
Alphabetical Index of All Burials
Previous Page
Use the following to search across all the cemeteries listed.
Example: "Smith, Roger" (yes, use the quotes)
029 GENTRY, ZACHARY FAMILY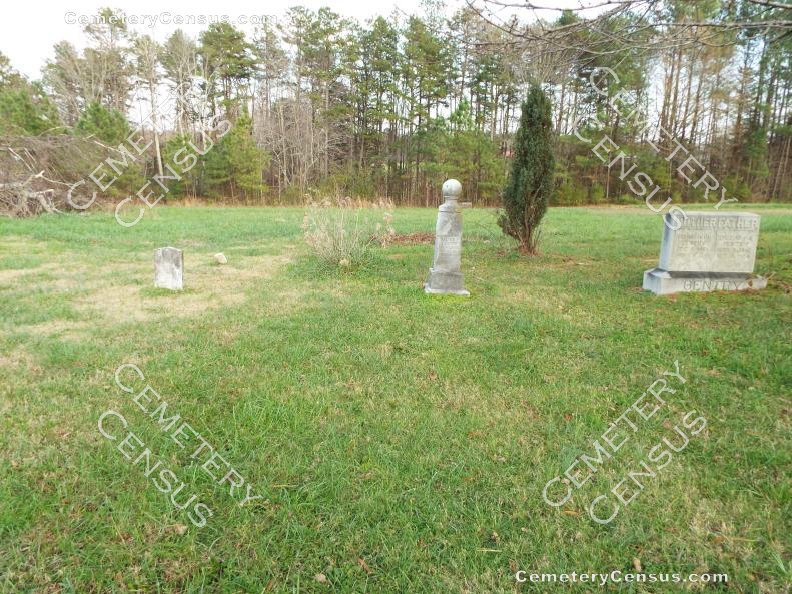 Location - Off Parham Road, at intersection with Gentry Ridge Rd, Allensville.

Coordinates: 36d 24m 52.5s N; 78d 54m 05.5s W Click here for Google maps

Directions: From Roxboro, take 501S. Turn left onto Old Durham Road. Turn left onto Allensville Road. Take the Allensville Road to Gentry-Ridge Rd. Turn left onto Gentry-Ridge Road. Take Gentry-Ridge Road to Parham Road and turn right onto Parham Road. Once on Parham Road, about 15-20 feet on Parham Road is a dirt pathway on the left beside a barn. The cemetery is located several yards down the pathway by a very large crabapple tree. It is not visible from the road.

Notes: This cemetery is somewhat maintained.

Surveyed by Karen D. Higgins on August 19, 2006. Updated survey and all photos by Melanie Sabins and John Sabins in December 2015.


Chandler, Lessie Gentry (b. 12 Jun 1896 - d. 16 Jun 1915)

Gentry, Nannie Wade (b. 8 Dec 1866 - d. 26 Jul 1949)
Wife of Zachary T. Gentry

Gentry, Walter F. (b. 1 Nov 1888 - d. 30 Mar 1914)
Those whom God love die young. Closeup.

Gentry, Zachary T. (b. 3 Sep 1860 - d. 31 Oct 1924)
Husband of Nannie Wade Gentry
Web page updated 25 June 2017
Index of All Cemeteries
Alphabetical Index of All Burials
Previous Page