Index of All Cemeteries
Alphabetical Index of All Burials
Previous Page
Use the following to search across all the cemeteries listed.
Example: "Smith, Roger" (yes, use the quotes)
022 BLALOCK - GARRETT FAMILIES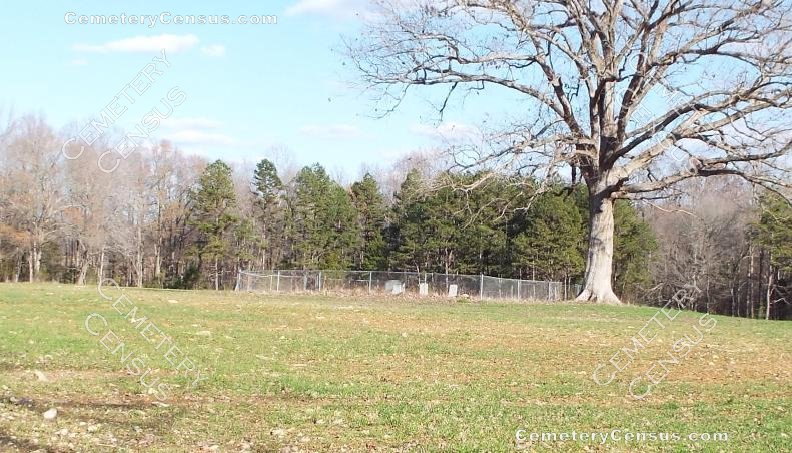 Location - on Hwy 158 east of Roxboro near Surl. North side of highway in a pasture; a little west of Ivey Day Rd.

Coordinates: 36d 21m 28.0s N; 78d 55m 23.2s W Click here for Google maps

Survey by W. Ernest Blalock in 1997. Cemetery is enclosed by a chain-link fence.

View #2 of the cemetery.

Updated survey and photos by Melanie Sabins and John Sabins in December 2015.


Blalock, Algy W. (b. 1912 - d. 1912)
Son of Aubrey Walton and Susan Katie Garrett Blalock

Blalock, Aubrey Walton "Arbert" (b. 6 Aug 1869 - d. 12 Jan 1928)
Husband of Susan M. Garrett Blalock. Son of Christopher and Mourning H Brown Blalock.

Blalock, Ella Ellen Garrett (b. 1867 - d. 12 Jun 1915)
Wife of William "Buck" Blalock. Daughter of Herman Hilman and Maria Allen Tilley Garrett

Blalock, George Washington (b. 15 Jun 1907 - d. 8 May 1932)
Son of Aubrey Walton and Susan Katie Garrett Blalock

Blalock, Hettie (Bettie) (b. 23 Mar 1898 - d. 17 Jan 1919)
Daughter of William Buck and Ella Ellen Garrett Blalock

Blalock, Infant Sons (b. 1896 - d. 1896)
Sons of Aubrey Walton and Susan Katie Garrett Blalock

Blalock, Stephen E. (b. 11 Aug 1902 - d. 32 Aug 1927)
Son of Aubrey Walton and Susan Katie Garrett Blalock

Blalock, Susan M. Garrett "Katie" (b. 1876 - d. 1913)
Wife of Aubrey Walton Blalock. Daughter of Henry Hillman Garrett and Maria Allen Tilley Garrett

Blalock, William "Buck" (b. 11 Jan 1859 - d. 10 Nov 1926)
Husband of Ella Ellen Garrett. Son of Christopher and Mourning H Brown Blalock

Garrett, Maria Allen Tilley (b. 15 Jun 1829 - d. 16 Dec 1904)
Wife of Herman Hilman Garrett. Mother of Ella Ellen Garrett and Susan Katie Garrett
Web page updated 25 June 2017
Index of All Cemeteries
Alphabetical Index of All Burials
Previous Page