Index of All Cemeteries
Alphabetical Index of All Burials
Previous Page
Use the following to search across all the cemeteries listed.
Example: "Smith, Roger" (yes, use the quotes)
006 STANFIELD FAMILY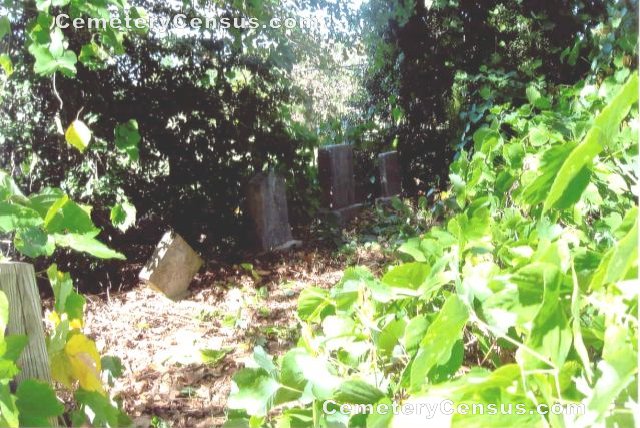 Location - on the north side of Hwy 158 (Leasburg Rd) about one mile west of Roxboro.

Coordinates: 36d 23m 17.3s N; 79d 01m 01.0s W Click here for Google maps

The Stanfield Family Cemetery is the family cemetery of Jeremiah Bradsher Stanfield and Minerva Catherine Fox Stanfield. It is located west of Roxboro, Person County, North Carolina, on the Leasburg Road (US Route 158).

Surveyed by William Gail and Phyllis Newton Clayton in 2009.

The following is a description by a family member 11 October 2009:

"The stones are not the best to read; rubbings might tell us more. The site is more accessible than originally thought. Thankfully no trees are growing on the graves except a small cedar at W. L. Stanfield's, which may come up easily. The site is covered with kudzu, but easy to remove. The site also is larger than once thought, with room available for more graves. The site was not measured, but it is a good size -- narrow but long (probably around ten feet wide and at least twenty to thirty feet wide. There are several holly trees near the site with one on the other side of W. L. Stanfield's, and two large trees on the outside of the iron fence (one with a big hornet's nest). The graves are within a 36-inch-high iron fence and then surrounded several feet out with a plank fence that surrounds the farm on which the cemetery is located. Horses are kept on this farm. A small, one-person, opening in the fence on the highway side makes entrance easy. The family now living on the farm was very nice when access to the site was requested. They have plans to "clean up" the cemetery. Their farm is beautiful. Only five graves were found. There may be others that are unmarked and under the holly tree and undergrowth. The five graves had headstones and footstones: RWS; JBS; MKS; and WLS. The Rainey Younger Stanfield footstone had no initials."


Stanfield, Jeremiah Bradsher (b. 10 Jun 1850 - d. 2 Nov 1891)
husband of Minerva Catherine Fox Stanfield. Closeup of his marker.
wife of Jeremiah Bradsher Stanfield. Her marker is the taller, middle one in the photo.
only son of Rainey Younger Stanfield. born after his father died. Closeup of his marker.
son of Jeremiah and Catherine Stanfield. Closeup of his marker.
son of Jeremiah and Catherine Stanfield. Closeup of his marker.
Web page updated 25 June 2017
Index of All Cemeteries
Alphabetical Index of All Burials
Previous Page