Index of All Cemeteries
Alphabetical Index of All Burials
Previous Page
Use the following to search across all the cemeteries listed.
Example: "Smith, Roger" (yes, use the quotes)
297 REGULATOR MARKER (1771)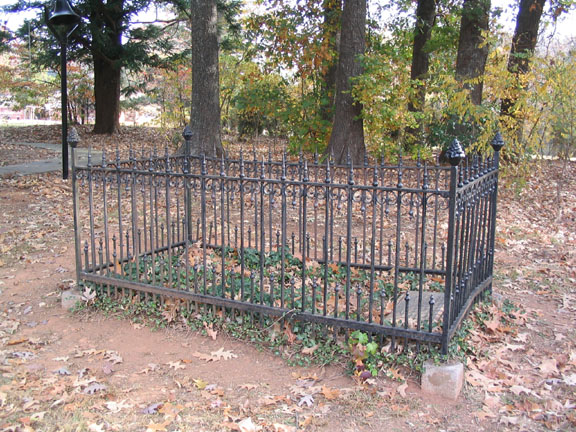 Location - At the end of the lane (the Old Halifax Road) leading eastward from the end of East King St.

Coordinates: 36d 04m 31.3s N; 79d 05m 39.8s W Click here for Google maps

The Regulator Marker may also be reached by following the access drive of the eastern boundary of St. Matthews Cemetery. This is supposedly the site of the hanging; the precise site of the grave of the 6 hanged men is now forgotten.

Survey - Site visited on June 7, 1971. Photographs by Milton Forsyth in 2005.

Plaque placed by Colonial Dames in America in April 1963.


Matear, Robert (Matter) (b. - d. 19 Jun 1771)
Merrill, Benjamin (Capt) (b. - d. 19 Jun 1771)

Messer, Robert (Capt) (b. - d. 19 Jun 1771)

Pugh, James (b. - d. 19 Jun 1771)

Regulators, Hanged 1771 (b. - d. )
A concrete slab placed inside an iron railing gives the illusion of a grave here but no one is buried at this spot. The bronze plaque, which replaces earlier black plaque, marks only the site of the hanging of six Regulators on June 19, 1771 before Governor Tryon's 'Army' and a vast concourse of spectators (people). The six bodies were buried in a grave nearer the Eno River, but the exact site of the actual gravesite has been forgotten.

The Durham-Orange Committee of the Colonial Dames in America placed the original Regular plaque and also its successor. The Hon. Mr. A. H. 'Sandy' Graham placed the iron railing.

Forrester Mercer was pardoned and survived the insurrection and he and his family moved first into the western part of North Carolina (Rutherford County) and then into Barren County, KY where he died prior to February 1813.

The marker reads:
'On this spot were hanged by order of the Tory Court June 19, 1771, Merrill, Matter, Messer, Pugh and two other Regulators.'
'Placed by the Durham-Orange Committee North Carolina Society Colonial Dames of America April, 1963.'
Web page updated 13 May 2017
Index of All Cemeteries
Alphabetical Index of All Burials
Previous Page