Index of All Cemeteries
Alphabetical Index of All Burials
Previous Page
Use the following to search across all the cemeteries listed.
Example: "Smith, Roger" (yes, use the quotes)
295 TATE, MARY JANE (STRAYHORN) [GRAVE OF]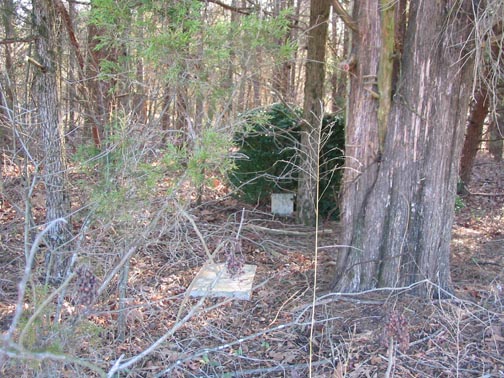 Location - In central SW Cedar Grove Township off Harmony Church Road (SR #1350) buried in front of the site of the former Capt. William T. Tate house, now destroyed. A single grave is on east verge of a lane north from the road that led to the house site and is marked by large cedar tree and boxwood. Private property.

Coordinates: 36d 10m 25.2s N; 79d 14m 21.4s W Click here for Google maps

Survey - This cemetery was surveyed on September 13, 1976, while the house was still standing; view the plat here. Margaret Jones of the Orange County Environment and Resource Conservation Department and Milton Forsyth visited the site on 7 February 2007 at the invitation of the landowners, Mr. and Mrs. Johnnie Parker. Photographs by Milton Forsyth.

Comments - Mrs. Tate died in a smallpox epidemic at the end of the Civil War. She was the first wife of Capt. William T. Tate (4 May 1824 - 3 Jan 1908). Together they had seven children. Her marriage on 28 Aug 1845 and death on 5 Jun 1865 are noted in the Hillsborough Recorder (4 Sep 1845; 27 Sep 1865). Capt. Tate married (2) on 7 Nov 1865 her sister, Sarah Rebecca Strayhorn (1 Sep 1834 - 25 Nov 1900). He and Sarah are buried in the Mt. Zion Christian Church Cemetery (#049). For information on the Tate Family, see "The Tate Hill Gang of Orange County: The Descendants of Capt. William T. Tate", by Jerry Blalock.


Tate, Mary Jane (Strayhorn) (b. 5 Jun 1831 - d. 7 Jun 1865)
Web page updated 13 May 2017
Index of All Cemeteries
Alphabetical Index of All Burials
Previous Page