Index of All Cemeteries
Alphabetical Index of All Burials
Previous Page
Use the following to search across all the cemeteries listed.
Example: "Smith, Roger" (yes, use the quotes)
294 TAYLOR, JOHN [GRAVE OF]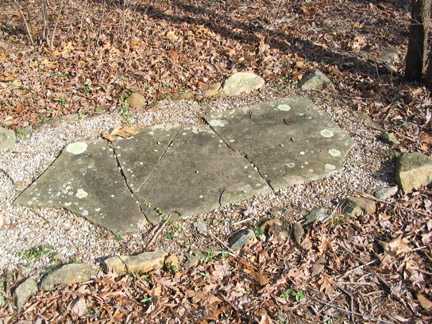 Location - On the lot north of 105 Buck Taylor Drive in the Cates Farm Subdivision (ca. 1994) off Hillsborough Road in Carrboro. Turn north off Hillsborough Road onto Cates Farm Road, first right on Pathway Drive, first left on Buck Taylor Drive. Grave is to the west on the mound just northeast of the corner of the large brick residence at address 105. [1996 update]

Coordinates: 35d 55m 50.0s N; 79d 05m 36.0s W Click here for Google maps

Survey - Mary Claire Engstrom was unable to locate the grave on September 23, 1975, but in 1996 it was readily accessable and was visited by Milton Forsyth.

Status - The 'neighbor' had offered to buy the lot from the developer for a 'reasonable' price and preserve the grave, but financial arrangements could not be agreed to; the future of the site is not determined. In January 1996 there was some building materials trash on the lot.


Taylor, John (b. 23 Jun 1747 - d. 29 May 1828)
Battle, Vol I, P. 53:

''Sandstone Slab On John Taylor'S Place (Now Snipes') 3 Mi. West of chapel Hill (john Taylor Was A Steward of Unc) 'To The Memory of john Taylor Born June 22, 1747, Died May 28, 1828. A Patriot of 1776' ''
Web page updated 13 May 2017
Index of All Cemeteries
Alphabetical Index of All Burials
Previous Page