Index of All Cemeteries
Alphabetical Index of All Burials
Previous Page
Use the following to search across all the cemeteries listed.
Example: "Smith, Roger" (yes, use the quotes)
292 BENTON, SAMUEL (GENERAL) (1758-1810) [GRAVE OF]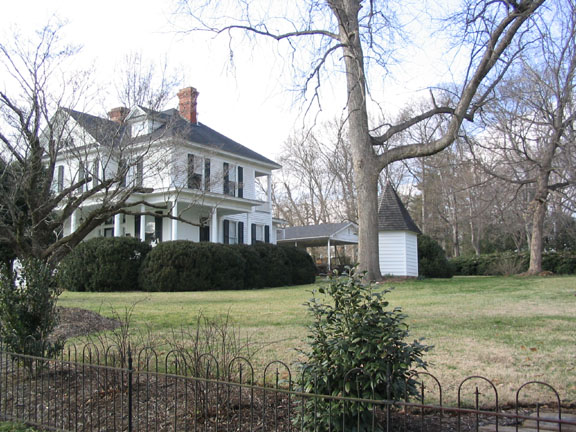 Location - General Samuel Benton, who died on October 10, 1810, aged 52, was buried in the garden behind his house on lot 22 in Hillsborough after an impressive public funeral.

Coordinates: 36d 04m 31.3s N; 79d 06m 04.9s W Click here for Google maps

Lot 22, where the Gattis house now stands, is diagonally across W. King Street from the Colonial Inn. There appears to be no trace of General Benton's grave behind the present house. General Samuel Benton was born in Oxford, N. C., the son of Samuel Benton and his second wife, Frances Kimbrough of Edgecombe county. He was general of the 6th brigade serving under General Moore. (See G. W. Bruce's letter in Hillsboro Recorder, June 30, 1875).


Benton, Samuel (General) (b. - d. 10 Oct 1810)
Web page updated 13 May 2017
Index of All Cemeteries
Alphabetical Index of All Burials
Previous Page