Index of All Cemeteries
Alphabetical Index of All Burials
Previous Page
Use the following to search across all the cemeteries listed.
Example: "Smith, Roger" (yes, use the quotes)
291 REDING, JOHN [GRAVE OF - 1847]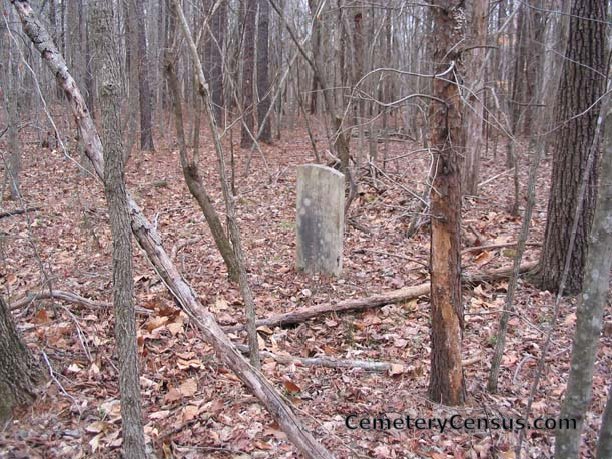 Location - In Cedar Grove Township north of Schley Rd (SR #1548) on the property of Colonel Joe Breeze. In a wooded area. Private property.

Coordinates: 36d 10m 14.2s N; 79d 05m 15.2s W Click here for Google maps

Survey - This burial was not visited in the 1970s survey. Margaret Jones of the Orange County Environment and Resource Conservation Department and Milton Forsyth surveyed this cemetery on 18 Mar 2008 with the permission of the landowner.

Grave - This is a single grave with a gravestone.

Comment - The remains of the foundation of a former farmhouse and a spring are nearby.


Reding, John (b. 23 May 1774 - d. 6 Feb 1847)
Inscription: "In Memory of the Dec'd John Reding Senior was Born May the 23rd 1774." [See Shirley J. Mallard, Death and Marriage Notices from the Hillsborough Recorder, 1997, p. 141, 11 Feb 1847: "Died - John Reding, 74, in this county Saturday 6th inst."]
Web page updated 13 May 2017
Index of All Cemeteries
Alphabetical Index of All Burials
Previous Page