Index of All Cemeteries
Alphabetical Index of All Burials
Previous Page
Use the following to search across all the cemeteries listed.
Example: "Smith, Roger" (yes, use the quotes)
290 BURKE, GOVERNOR THOMAS (1747-1783) [GRAVE OF]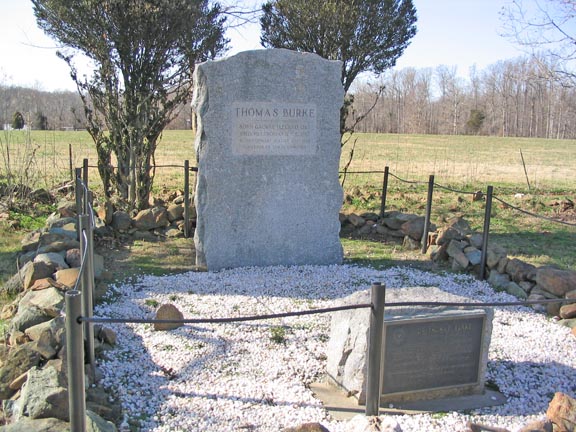 Location - In Hillsborough Township north of Governor Burke Road (SR #1556), which runs between Hwy 57 on the west and Miller Rd (SR #1555) on the east. The former site of the Governor's plantation, "Tyaquin", is 0.8 mi. east of Hwy 57. The monument site is 320 ft. north of the road. Access is through the drive to 400 Governor Burke Road.

Coordinates: 36d 06m 09.9s N; 79d 05m 17.3s W Click here for Google maps

Survey - Mary Claire Engstrom checked site on August 15, 1973. Margaret Jones of the Orange County Environment & Resource Conservation Department and Milton Forsyth visited the site on January 26, 2006 through the courtesy of Mr. L. E. Latta of Latta's Egg Ranch, on which the cemetery site is located and near to the buildings of which business the cemetery site sits. They provided the photographs and site update.

Status [2006] - In 1973 the site was described as "A low circular dry wall of loosely laid fieldstones encloses an area 36' in diameter. The grave itself is not in the center of the stone circle but is in the northwest quarter of the circle to which there appears to be two entrances. A grove of trees shelters the circle on the North." In 2006 the monument site was enclosed with a rock pile wall and a nice post and single-cable fence, and covered in white stone gravel. There were several piles of stones east of the monument site and scattered stones around the area. Mr. Latta suggested someone had come to "clean up" the area at one point and had left it in some disorder. The site is not especially "visitor-friendly" as one must climb a rise and step over a low electric fence to access the area, which is apparently sometimes occupied by cattle. There are no signs directing one to the site other than a North Carolina Historical Marker on Hwy 57. Interestingly, some references to Governor Burke's death and burial say he was buried at "Mars Hill Churchyard." Orange Co. PIN: 9875-36-6106


Burke, Thomas (Gov.) (b. 1747 - d. 3 Dec 1783)
Inscriptions At Grave Site:

Stone 1: A small Revolutionary military marker, apparently placed about 1920 at the extreme end of the grave. The inscription: Thomas Burke North Carolina Troops Rev. War.
Stone 2: An impressive granite monolith, 6'7' in height above the ground and 16' in thickness, was erected and dedicated in a formal ceremony in 1944. The monolith stands in front of the military marker. Its western face is blank; the eastern face reads: Thomas Burke born Galway, Ireland, 1747 died Hillsborough, N. C. 1787 Revolutionary soldier and war governor of North Carolina. (the death date, 1787, on the monolith is unfortunately incorrect. Governor Burke died on December 2, 1783.)

Stone 3: A black castiron plaque, now broken and discarded, was formerly mounted on a 20' X 30' granite block, itself mounted on a plinth at the foot of Governor Burke's grave. The inscription on the discarded (but preserved) plaque: Governor Thomas Burke 1747-1783 governor of North Carolina 1781-1782

Stone 4: The new bronze plaque, erected May 27, 1973, on the old block and plinth at Governor Thomas Burke's grave site: (seal) Sons of the American Revolution Dr. Thomas Burke born Galway, Ireland 1747 died and buried Tyaquin Plantation, Hillsborough, N. C., 1783 physician-attorney-poet-patriot member of conventions at New Bern and Hillsborough 1775 representative to Provincial Congresses at Halifax, 1776 Delegate to the Continental Congress, Philadelphia 1776-1781 war governor 1781-1782 helped draft the first constitution of North Carolina. Placed by the North Carolina Society of the Sons of the American Revolution under the auspices of the General Francis Nash Chapter 1973 'Triumph America! thy patriot voice has made the greatest of mankind rejoice.' - Thomas Burke.
Web page updated 13 May 2017
Index of All Cemeteries
Alphabetical Index of All Burials
Previous Page