Index of All Cemeteries
Alphabetical Index of All Burials
Previous Page
Use the following to search across all the cemeteries listed.
Example: "Smith, Roger" (yes, use the quotes)
288 HARVEY'S CHAPEL A.M.E. CHURCH [OLD CEMETERY]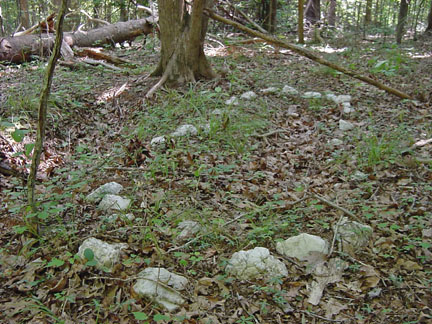 Location - In Cheeks Township west of the Moorefields estate off Moorefields Rd (SR #1135). In a wooded area that was the site of the original church; the old road to the site is overgrown and difficult to follow. A new church building was constructed on Dimmocks Mill Road.

Coordinates: 36d 03m 25.5s N; 79d 09m 03.4s W Click here for Google maps

Survey - Information on the cemetery was provided by a Mr. Price in the 1970s, but there was no survey. Pictures taken June 23, 2004 by Margaret Jones of the Orange County Environment & Resource Conservation Department. Location confirmed by a group from the church in about 2001 and the church took possession of the property (Orange County PIN: 9853-59-3781). Thanks to Mr. Clinton Thompson of the church for information about the site. Aerial photograph of the site. (Update by Milton Forsyth in December 2005).

Burials - One military service gravestone, some fieldstone marked graves and one stone encircled grave (photo above); total number not specified. Another view of the cemetery.

Status - Unattended and overgrown. Difficult to locate.


Haithcock, Eddie (b. - d. 30 Aug 1935)
North Carolina, Pvt. 534 Engineer Service BN.

Smith, Wallace (b. - d. )
Web page updated 13 May 2017
Index of All Cemeteries
Alphabetical Index of All Burials
Previous Page