Index of All Cemeteries
Alphabetical Index of All Burials
Previous Page
Use the following to search across all the cemeteries listed.
Example: "Smith, Roger" (yes, use the quotes)
283 UNIDENTIFIED CEMETERY - OFF EDMUND LATTA RD (SR-1550)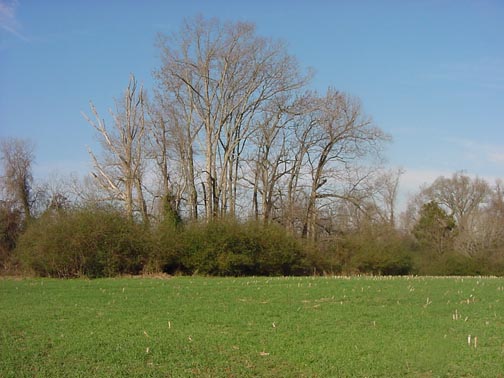 Location - In Cedar Grove Township off Edmund Latta Road (SR #1550) 0.3 mi. north of Phelps Road (SR #5051) in a field 788 ft west of the road and westward of the residence there. Private property.

Coordinates: 36d 08m 09.3s N; 79d 05m 07.5s W Click here for Google maps

Survey - This cemetery was identified to the survey by Mr. James Latta in the 1970s, but was apparently not visited. Margaret Jones of the Orange County Environment and Resource Conservation Department and Milton Forsyth surveyed this cemetery on 19 Jan 2007 through the courtesy of the landowner, Mr. Tate Latta. Photo by Margaret Jones.

Graves - No graves were evident in this cemetery, thought to have been an old African-American burial ground.

Comments - The area measures about 50 paces by 45 paces, and is very overgrown with fallen trees making access to part of the area difficult.


Web page updated 13 May 2017
Index of All Cemeteries
Alphabetical Index of All Burials
Previous Page