Index of All Cemeteries
Alphabetical Index of All Burials
Previous Page
Use the following to search across all the cemeteries listed.
Example: "Smith, Roger" (yes, use the quotes)
282 UNIDENTIFIED CEMETERY - OLIVE CREEK DEVELOPMENT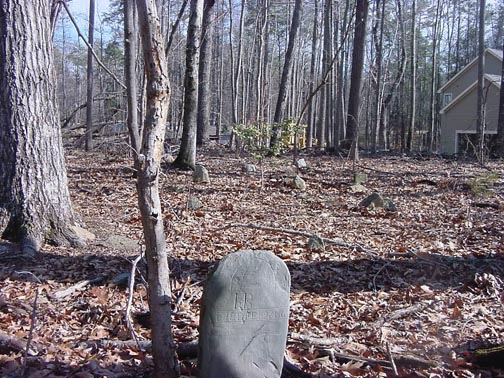 Location - In Cheeks township 0.1 mile west of Dimmock's Mill Road (SR #1134) on the east side of Olive Creek Court next to Lot 8 of the Olive Creek development.

Coordinates: 36d 02m 46.7s N; 79d 08m 26.0s W Click here for Google maps

Survey - Margaret Jones of the Orange County Environment and Resource Conservation Department and Milton Forsyth surveyed this cemetery on 19 Jan 2007. Photographs by Margaret Jones.

Graves, Marked - There was one grave marked with an engraved stone. The date on this gravestone appears as "18L3" which is thought to be "1843."

Graves, Unmarked - Some 8 to 10 rows of graves marked with fieldstones, estimated at about 60 to 75 graves total.

Comments - The cemetery is partially enclosed by a fence constructed by the developer. The origin of this large cemetery has not been determined.


R., I. (b. - d. 22 Feb 1843)

Unknown, Unknown (b. - d. )
(fieldstones surrounding a grave)
Web page updated 13 May 2017
Index of All Cemeteries
Alphabetical Index of All Burials
Previous Page